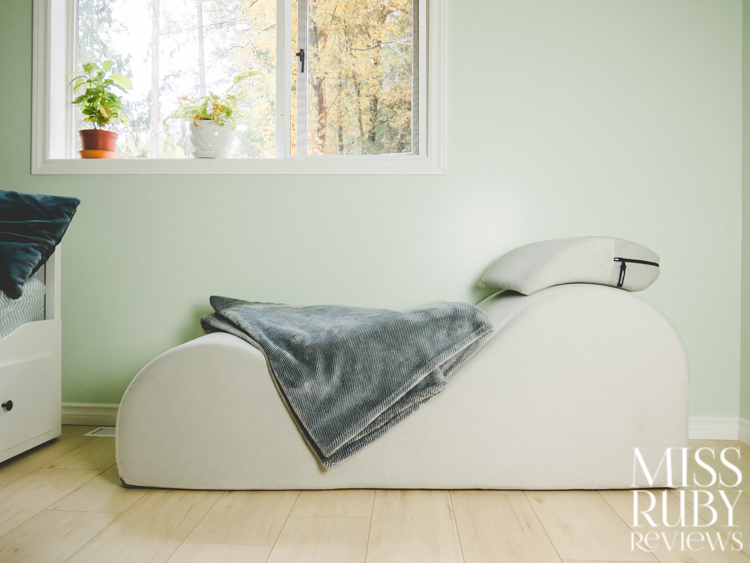 Sooo…this may be the first time a sex blogger/expert has actually physically tested the Liberator Esse and written a genuine review of this famous piece of sex furniture! There are a lot of "reviews" of the Liberator Esse Lounger online, but they all use generic stock photography so I suspect they aren't true reviews and weren't written by people who actually physically tested it. I'm thrilled that I got my hands on it and can test it out! Read on for my Liberator Esse review!

---
Design | Accessibility | How to Use | Packaging | Material and Care | My Experience | Overall
---
Design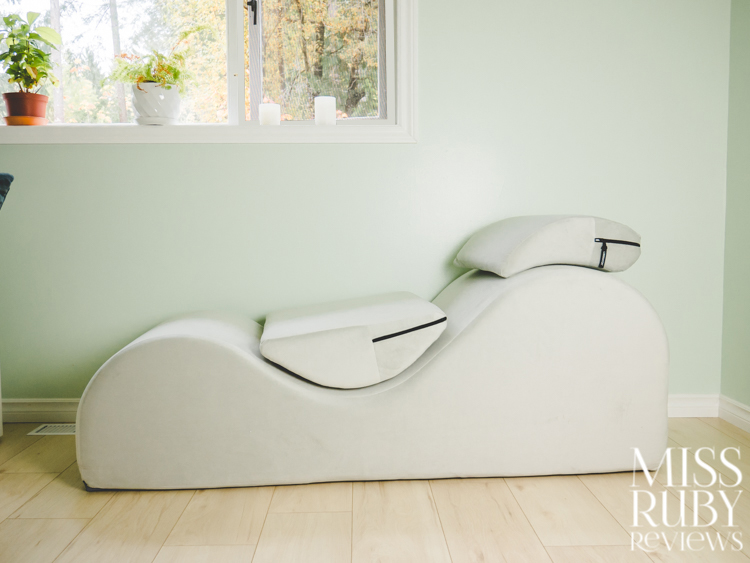 The Liberator Esse (link for Canadians here) is a full-size sex lounger. It has quite the presence in the room — at over 60″ long, it's only a little smaller than most loveseat couches.
It's designed to expand your options during sex and give you access to positions you might not otherwise be able to do… all in a luxurious fashion. Though my partner and I are mostly able-bodied, I also think a sex lounger like this is great for accessibility. I think it'll equally appeal to able-bodied people, seniors, and people with physical limitations — it props the body up and supports you in a way you just don't get with a bed.
The Liberator Esse comes vacuum compressed — its main material is a foam (one strong enough to support body weight), and that gives it a lightness and maneuverability that is handy.
Liberator Esse Lounger Structure
The are three parts to the Liberator Esse: the lounger itself, the headrest, and the mini-scoop pillow.
The lounger itself is a large swoopy structure. There's a bump at each end, one larger than the other. It dips steeply in the middle.
The first removable pillow is the headrest. This props your head up to a more comfortable angle for many positions, though you can also kneel on it or use it elsewhere on the couch. You can pick it up and move it around whenever you want to but, while it's on the Esse, the grabby textures of the velvish cover keep it nicely locked in place. In my opinion, the headrest is essential for any position where one partner is lying down. Side note: This headrest is also fabulous for non-sexy reasons (it makes a GREAT back pillow on my bed whenever I read).
The second removable pillow is a large semi-circle called the Mini Scoop. It slots snugly into the deep concave curve in the middle of the Esse. The Mini Scoop used to be sold separately as well, but no longer, so buying the Esse is the only way to get your hands on it. It fits perfectly inside the Esse's center dip and, while I know it's designed to be used with the Esse, I think it's also a great standalone pillow by itself. It can kind of accomplish what the lovely Liberator Wedge does during missionary PIV sex.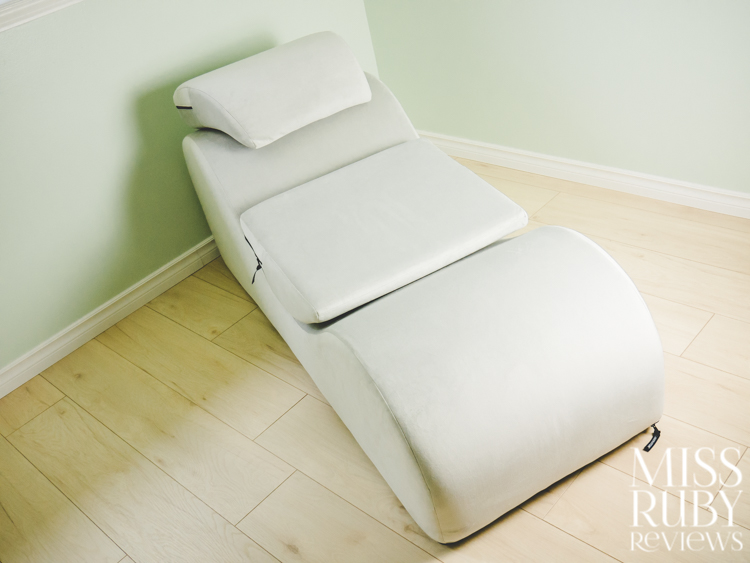 Accessibility
This section is to help folks determine if they might have any issues using/accessing the Liberator Esse:
Size: Height at Head: 22.5″ (with headrest is 29″) | Height at Center: 9.5″ | Height at Foot: 16.5″ | Width: 24″ | Length: 60.5″ (*Note: My measurements are slightly different from the manufacturer's official reported measurements. I'm not sure why there's a discrepancy, but these are the measurements I'm finding).
Weight (box): The box itself was only about 36 lbs, but once it's out of the box and decompressed it becomes heavier as it's filled with air.
Weight (lounger): My scale is too small for me to balance this on top and get an accurate reading. Sorry! Once it's fully decompressed, it's still light enough that I can push it around on my hardwood floors without much difficulty, but it's heavy enough that it doesn't move by itself during use.
Price: At $675 USD, this is a pricey piece of furniture. BUT: if you buy the Liberator Esse at Betty's Toy Box, you can get 15% off your whole purchase with coupon code RUBY. That brings it down to only $573 USD, which I believe is the best price available for this! (And Canadian shoppers can use my coupon MISSRUBY for 12% off the Esse here at Naughty North).
How to Use the Liberator Esse Lounger
The only real limit to the Liberator Esse is your imagination. It can be used in sooooo many different ways. Pictured above is a graphic from Liberator showing just 11 ways that hetero couples can use. I can't see any reason why groups of people/orgies or queer partners can't use this too.
Packaging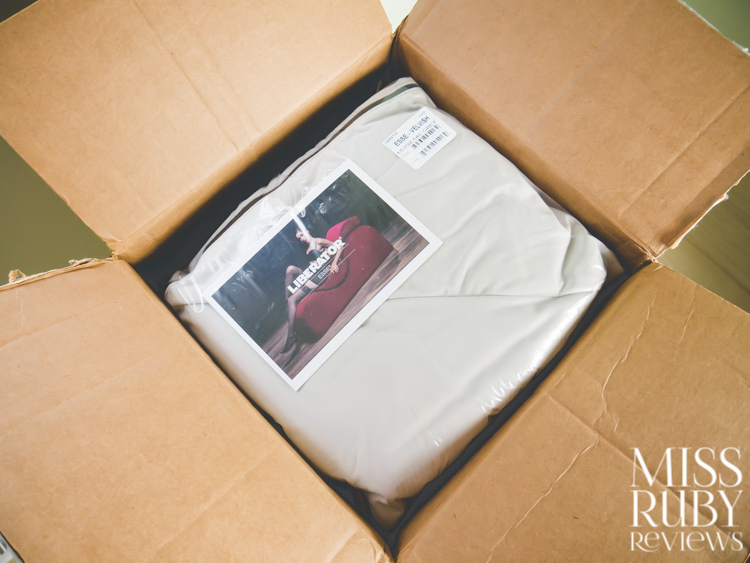 I had a lot of questions about how on earth something so large would be transported, and how tough it would be to unbox it and set it up.
A few weeks back, I wrote an unboxing post which you can read here. It'll walk you through the dimensions and the setup process.
Material and Care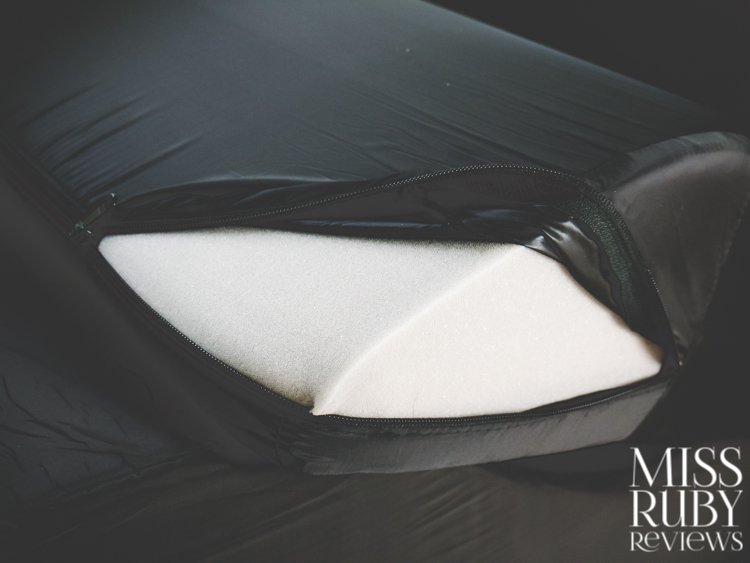 There are three material components to the Liberator Esse:
The coloured cover is a "velvish" exterior made from 100% polyester. It has a thick, velvety feel to it. It's removable and washable.
The black liner is also 100% polyester, shiny, and waterproof.
The foam pillow itself is a polyurethane that is strong enough to support body weight.
The cover is, essentially, a perfectly fitted Liberator Throw blanket, so it's soft yet waterproof and washable.
To clean the velvish exterior, Liberator recommends washing it in cold water and drying it on low heat. I always put my Liberator covers through my washer and dryer first thing, and I had no issues with shrinkage or damage.
One thing to note is that when you first set the Liberator Esse up, you'll notice a kind of factory smell as the foam off-gases (I complained about it in my unboxing post). This is typical for compressed foam furniture, whatever the brand. I had my Esse off-gas in a separate room for a month before I was happy that enough of the scent had cleared.
My Experience with the Liberator Esse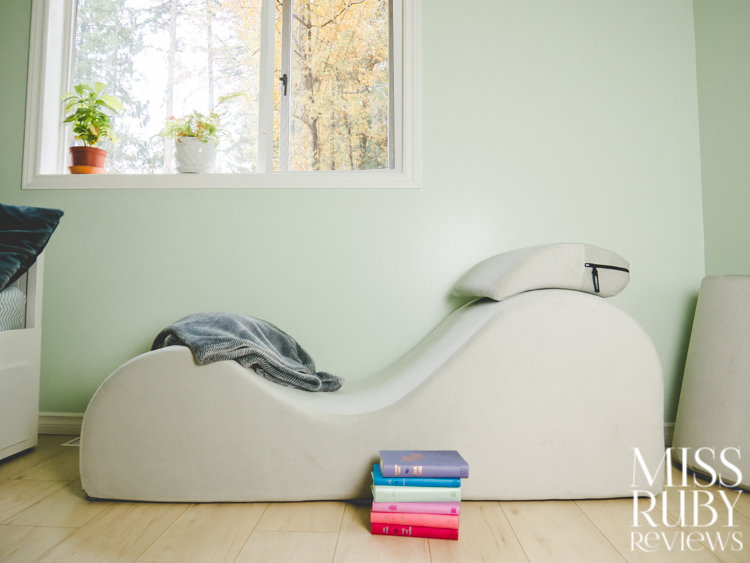 I have to say, it feels amazing to have an entire piece of furniture dedicated to intimacy. I'm very aware that it's a luxury. But, to my husband and me, its physical presence is a great reminder that intimacy is an important part of our relationship.
Bow Chicka Wow Wow
I can attest that the Liberator Esse spices up our sex life in a way that no (smaller) piece of sex furniture ever has. Being able to support both of our bodies, propped up at different angles, increases positional options A LOT.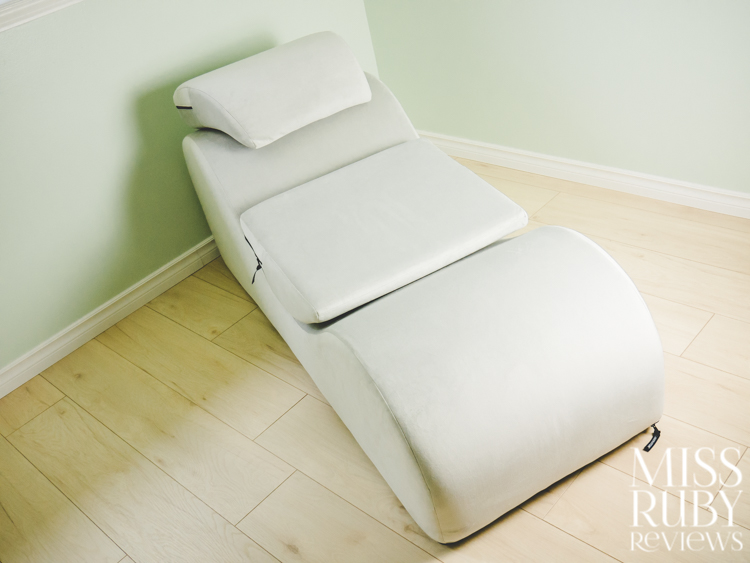 Simply put, the Liberator Esse enhances sex for us. Certain PIV sex positions feel a lot deeper than usual, and even cunnilingus feels more luxurious. It's just FUN, and makes us feel young again. I've been dealing with chronic hip issues for the past few years and that has limited me — I wasn't expecting this to make me forget about my hip issues, but it does.
There's also the visual aspect — I can't naturally hold my body in a lot of these positions (not for long), but now suddenly I can, which is exciting for both of us.
Lastly, if you are a pillow princess (or pillow prince), you're in luck — whichever person is lying underneath feels like sex royalty.
Body dimensions
Really, the success of any position is depending on you and your partner(s) dimensions. But I think the Liberator Esse does a fairly good job at trying to accommodate different bodily dimensions.
My legs are a bit longer than my partner's, so that absolutely influences the kinds of positions that are comfortable. For example, my legs are just waayyy too long for the "Let's Bounce" position pictured below — I can't frog-leg like that, so I place my feet on the ground instead. Doggy style can also require some creativity — depending on you and your partner's leg lengths, you'll need to find the angle and placement on the swoops that work best (for example, the "Curve Control" position works great for us, but if your partner's legs are a lot longer than yours, you'll want to change tactics). Fortunately, this is pretty versatile so if one pictured position doesn't work for your body, keep trying different ones.
For plus-size readers — this can hold a lot of weight — the foam doesn't sag or compress with use over time. There are nearly 450lbs between myself and my partner. We've had it for months and the foam still springs back perfectly. The overall weight limit is 700-800 lbs according to Liberator. 
It's also soft and supportive, with no hard bits. That means it doesn't cut off circulation or cause discomfort over time like a sex swing might.
The downside: Price
The price was off-putting and will make this a tough decision for many. When comparing it to the cost of an actual couch, though, it doesn't seem so bad. This is an expensive piece of furniture, but I honestly think this will last us  YEARS. (And remember, if you buy the Liberator Esse at Betty's Toy Box, you can get 15% off your whole purchase with coupon code RUBY. That brings it down to only $573 USD… And Canadian shoppers can use my coupon MISSRUBY for 12% off the Esse here at Naughty North).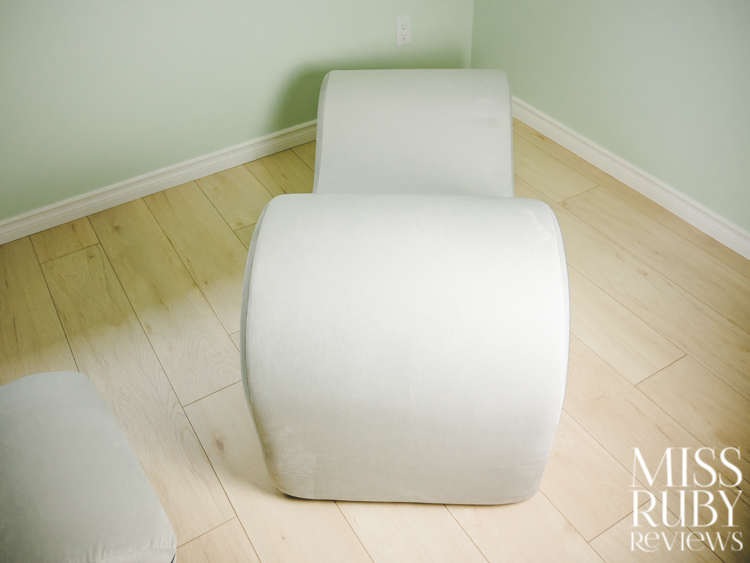 Discreet?
The Liberator Esse does more or less look like a normal chaise. Still, we've been keeping the Liberator Esse in our bedroom. The grey cover is very discreet, but some more knowledgeable guests might catch onto what it is. Last year's popular show, "How To Build A Sex Room" by Netflix, featured a bunch of Esse Loungers, so I wouldn't be surprised if the general population is more aware of sex couches nowadays. Still, I found that putting a couch throw on it goes a long way to making it look more innocent.
If you don't care about discretion and want something a little more colourful, I suggest the Merlot (deep red) or Plum (purple) shades. I wish we were brazen enough to get it in those colours!
On that note — if a certain colour is out of stock at Betty's Toy Box, try contacting them to ask when they'll next have it in stock. They are super friendly to chat with.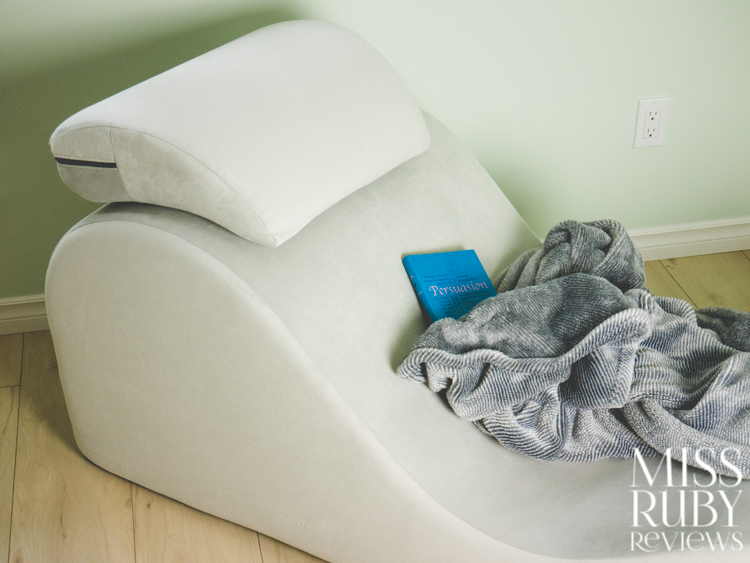 Liberator Esse Review – Overall Thoughts
The Liberator Esse is an expensive — but fabulously luxurious and pleasurable — piece of sex furniture. We wanted it to bring something novel into the bedroom, but I think it'll also appeal to people who want to recapture some of their vitality again. There's also an appeal from an accessibility standpoint — it can hold plus-size people and can help you or your partner(s) with physical limitations do positions you might not be able to otherwise. It's also sturdy, very well made, easy to clean, and made in the USA.
You can pick up your own Liberator Esse at Betty's Toy Box (US) or Naughty North (Canadians)! Why do I like Betty's Toy Box? They ship discreetly to the continental US for free on all orders over $69, plus you can get 15% off your whole purchase with coupon code RUBY. And at Naughty North, you can get 12% off your order with coupon code MISSRUBY

See below for my Liberator Esse review breakdown.


Liberator Esse Review Summary
Overall thoughts - 10
10
$675
PROS
Endless positions
Sex positions feel fabulous
Soft, yet supportive
<800lb weight limit
Cover is removable, washable, and waterproof
Makes us feel young again!
Made in the USA
CONS
Different leg lengths will = different position comfort
Pricey
Shop Now
Last Updated on February 25, 2023 by Miss Ruby