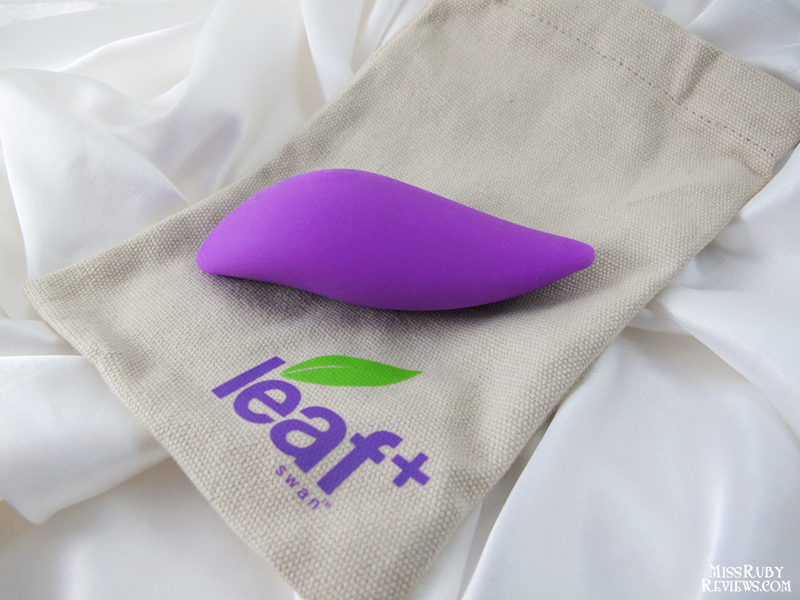 When you're not using this as a vibrator, it can totally double up as a prosthetic purple tongue.
Update: This toy is now discontinued. Leaf has made a similar vibe, the Leaf Spirit +.
Physical Details | Material and Care | Shipping and Packaging | My Experience | Overall
Physical Details
I've been interested in the whole Leaf line for quite some time. They've won multiple sex toy awards for being eco-friendly, and their whole line is nature-themed. These products sport clean lines and plant-based stylized designs.
Design: 
The Leaf Life+ is a palm-sized clitoral vibrator. Shaped roughly like a leaf, the Life+ is an updated, 2nd generation model of the original Leaf Life. The original came in a vibrant shade of green. I really wish that this 2nd generation of vibes also came in green, because it's so hard to find green vibes nowadays. Unfortunately, the Life+ comes in bright purple (which saddens me), but it's also more powerful than the original.
Despite my annoyance at the colour, the design is quite neat and intuitive. No matter which way I position it in my hand, it's extremely comfortable to hold. Part of this is due to its thickness. For longer playtime sessions, grasping a bulbous body like this means less painful handcramps.
Vibrations:
When you look at the shape, the vibrator looks like it might be able to give broad stimulation. However, the strongest vibrations actually lie in the small pointy tip. This tip is slightly narrower than the We-Vibe Tango. In other words? Don't think about broad stimulation with this baby. This toy is strictly for pin-point pleasure.
The Life+ has 3 steady vibration modes and 2 patterns, which you can cycle through using the single button on the top surface. I'm not a pattern kind of girl, but if you're interested in patterns, you get a wave pattern and a pulse pattern.
At its strongest mode, this vibe delivers moderately strong vibrations (7/10). I think absolute power queens would be happier with something stronger like the We-Vibe Tango. For everyone with a more sensitive clit, this may be enough to satisfy.
I'm pleased to find that this toy isn't buzzy. The vibrations are fairly rumbly. The vibrations feel strongest with light pressure, but the vibrations continue to carry even when I apply firm pressure.
Noise:
I have to hand it to the folks over at Leaf: they definitely know how to make a quiet vibrator. You can hear it if you're standing close to it, but the sound will be muffled by any blanket or duvet you have. It definitely can't be heard behind closed doors or through walls. So, ya know, if your neighbour hears you groaning through the wall they at least won't hear the loud buzzing of a vibrator.
Other Features:
The Leaf Life+ is also packed with the features I expect from a luxury toys.  It 100% waterproof and submersible, so go all-out in your hot tub.  It's also rechargeable via a USB port, so just plug it into your computer or a USB wall adapter. It'll charge 2.5 hours for ever 4 hours of run time. Lastly, there's a travel lock feature (just hold down the button for 4 seconds), so you don't need to worry about your vibrator buzzing around in your purse on the train.
Material and Care
All of the Leaf toys are coated it 100% silicone. Silicone is is non-toxic, phthalate-free, and bodysafe. It's also non-porous, meaning that germs and bacteria won't be growing beneath the surface of the toy. This toy's silicone finish is matte. Though the body of the toy is hard, the silicone that'll be against your clitoris is squishy and can be bend around. Always use a water-based lubricant with silicone toys. I wash mine with warm soapy water before and after each use. When it's dry, I store it in the included drawstring pouch.
Shipping and Packaging
My order was processed on June 18 and I received it on June 24. This was pretty quick for an international delivery. AfterDarque ships to customers within the USA, so you Americans might receive it even faster. Shipping was discreet. "AfterDarque" did not appear anywhere on the box.
I absolutely love this vibrator's packaging. In keeping with the eco-friendly theme, there's no plastic packaging. All the packaging is made from biodegradable cardboard. Within the box, you receive the Life+, a charging cable, an instruction booklet and a linen drawstring pouch.
My Experience with the Leaf Life+
I have a love/hate relationship with this toy. Or, rather, a love/like.
I wasn't totally sure about the Leaf Life+ at first. When I first opened the package and pressed the Life+ against my fingertip, the vibrations didn't wow! me. They felt fine, but they didn't feel like they'd be strong enough for my difficult clitoris. I detest reviewing toys I don't like (seriously, who loves spending hours testing, photographing, and writing about a toy that doesn't get them off?), so I put off testing this toy. 
I finally got around to using this toy by accident. I'd neglected charging my other favourites and found myself very quickly in need of something to get me off. The natural solution was to use to rummage through my crammed to-do-later box. My hands found this lonely vibe.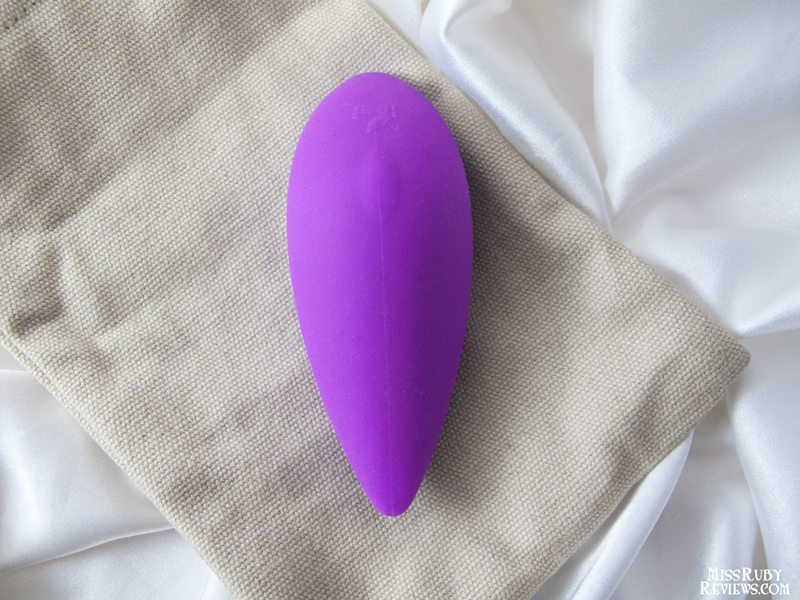 To my delight, the pin-point vibrations got me off within a few minutes. Mind you, my clitoris was definitely feeling more sensitive than usual, but I was still impressed by its performance. And when I say pin-point, I mean super pin-point. That vibrator's tip targets the clitoris with marvelous purpose. And, because the tip is slightly squishy and bendy, it doesn't feel uncomfortable or pokey.
During subsequent uses (when my clitoris returned back to its usual difficult demeanor), I've struggled to reach orgasm with this toy. It hasn't proved impossible, but it's not as effortless as I would have liked. I need to work for these orgasms, which is sometimes fun. But not always.
I think the issue is this:
For me, personally, the vibrations are just a bit too weak to make orgasms plentiful. It's as simple as that. There's nothing really else I can fault this toy for (other than that it's no longer green…)
But, at the same time, this vibe excels in three things:
First, the rumbles are rumbly! Even though only the tip is pressed against my clitoris, my surrounding vulva also feels stimulated. My pubic mound vibrates slightly. It's great.
Second, this vibe is a serious contestant for most comfortable firm pressure pin-point stimulation ever. If you're not into pin-point or firm pressure, look elsewhere. The pointed tip is the perfect firmness for comfortable pressure when you're pressing it against your clitoris.
Third, the nature of its pin-point shape means I can kind of use it like it's my finger. It kind of feels like my finger, except — ya know — vibrating. I notice that my orgasms are sped up considerably if I continuously circle over my clitoris (like I would if I was just using my hand). This is totally comfortable to do (which I can't say about the Tango).
Overall
For people passionate about supporting eco-friendly brands, this Leaf Life+ is definitely something to look into.
The Leaf Life+ isn't a perfect vibrator. My difficult iron clit finds it just a smidgen too weak for it to be all-around amazing.
Despite this, I find that the Leaf Life+ has so many other good things going for it. It's rumbly. It delivers amazing pin-point stimulation (like, amazing amazing). And it has everything I want from a luxury vibe, including that it's waterproof, rechargeable, and has a travel lock. For these reasons, I can still definitely recommend this toy, but only if your clitoris prefers pin-point stimulation (if you know you need broad stimulation, look elsewhere).
To buy the Leaf Life+, here are some recommended stores: