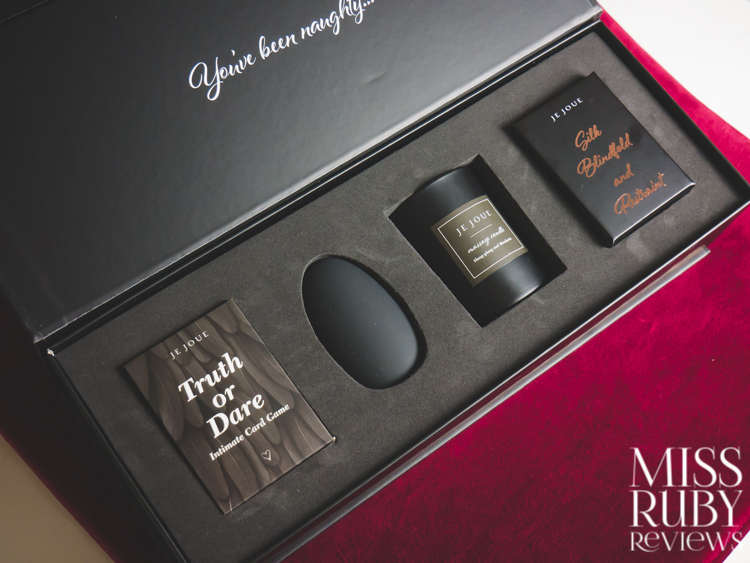 One of my favourite vibrators has been released in a fancy gift set! Read on for my Je Joue Naughty Gift Set review!
---
Je Joue Naughty Gift Set Review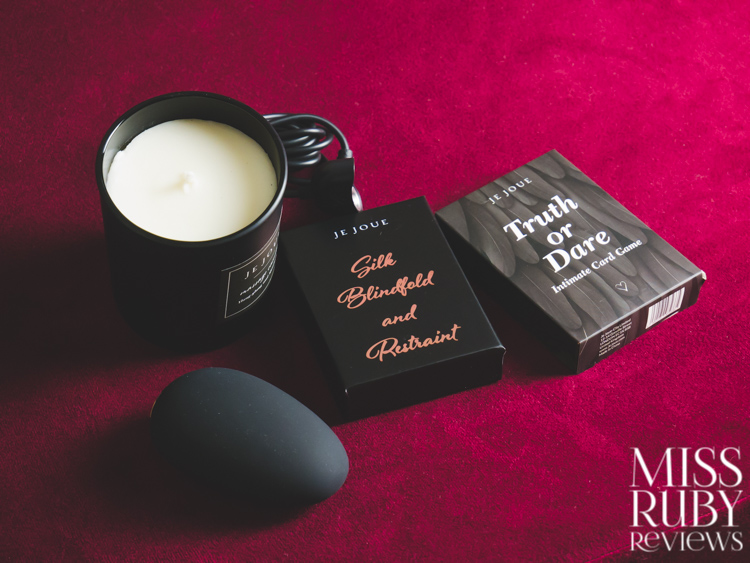 With the holiday season just around the corner, October is a perfect month for me to start indulging in gift sets.
The Je Joue Naughty Gift Set caught my eye with its prize toy — the Je Joue Mimi Classic Vibrator ($95), which I reviewed way back in 2015. I loved it then and it's remained something I often recommend as a gift idea for people with vulvas — it's strong, rumbly, and just feels so gloriously luxurious in your hands. And now Je Joue has one-upped themselves and created a gift set for it!
This Je Joue Naughty Gift Set ($129 USD at Peepshow Toys, but you can get 10% off with coupon code RUBY bringing the price down to $116) includes the Je Joue Mimi Vibrator along with three bonus gifts. All in all, you receive:
The Je Joue Mimi Vibrator in a limited edition black & rose gold colour.
A satin blindfold/restraint
A scented massage cantle
A Truth or Dare Intimate Card Game
All of these items are in a sleek black colour tone. The black colour scheme makes it accessible for all holidays, whether Valentine's or a birthday or Christmas. Black goes with everything!
Packaging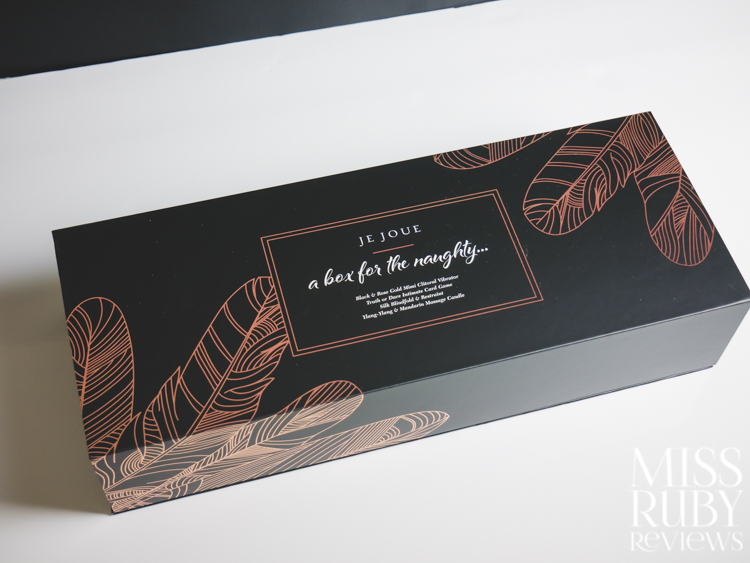 Je Joue spared no expense when it came to the packaging. The Je Joue Naughty Gift Set is encased in a black and gold gift box. It reads "a box for the naughty…" and is adored with gold embossed feathers.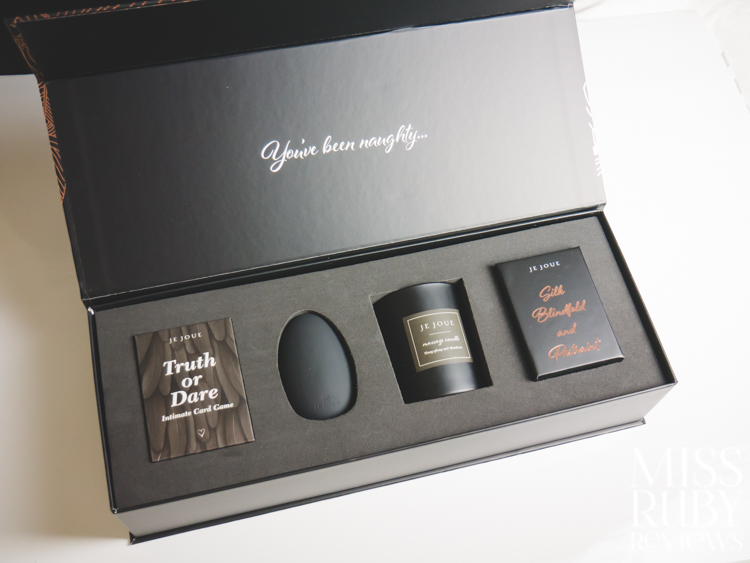 The box is opened by lifting the lid like a flap. Inside, the gifts are neatly nestled in a black foam cushion.
All in all, you receive the Je Joue Mimi Vibrator, The massage candle, the satin blindfold, the card game, a USB charging cord for the Mimi, a booklet on the Je Joue collection, and the Mimi's instructions.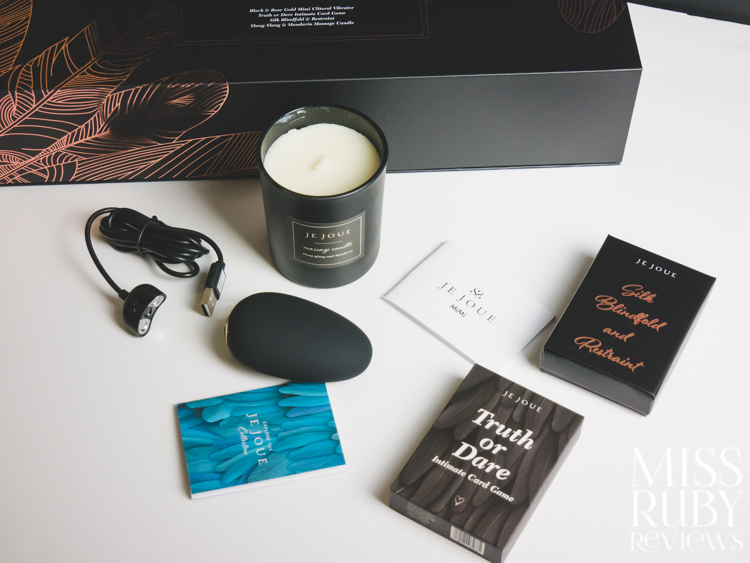 Below I'll discuss each gift in depth.
Satin Blindfold and Restraint ($15 value)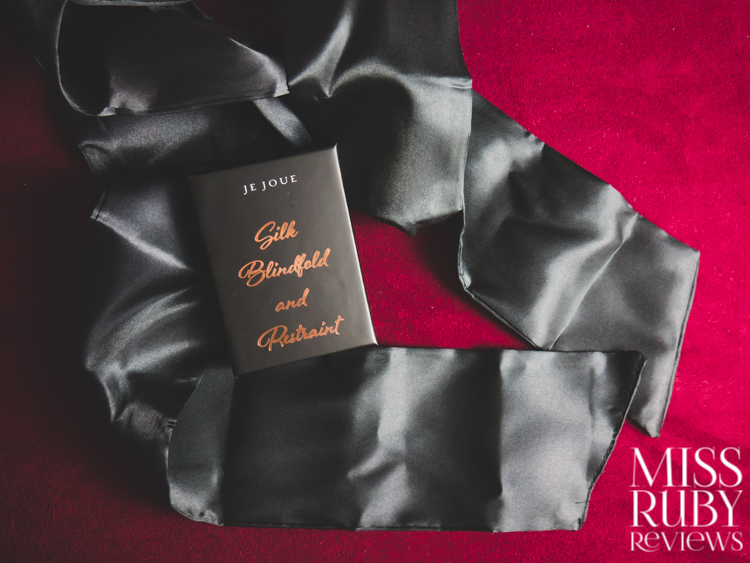 The blindfold in the Je Joue Naughty Gift Set arrives in a black and gold box. The box reads "Silk Blindfold and Restraint" so I think this is technically a satin-weave silk blindfold, which is fancy. With that black colour, it does a decent job at blocking out light when using it as a blindfold and it feels cool and smooth against my head.
The blindfold is approximately 59″ long and 3.14″ wide, giving me plenty to work with as a restraint. It's long enough to tie wrists (or ankles) together or tie my wrists to a hard point. It's strong and no amount of me pulling at them is able to fray or weaken the fabric.
Truth or Dare Card Game ($15 value)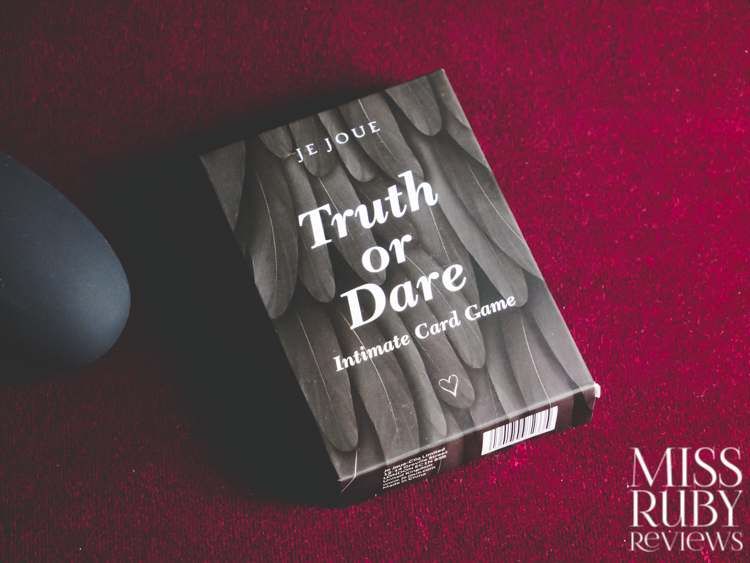 The Je Joue Naughty Gift Set includes a "Truth or Dare Intimate Card Game." I counted 52 cards, so there's a ton to work with here. There are no instructions included, but we just shuffled the cards and then took turns each selecting a card, one at a time.
There are two card types: the white cards are "Truth" prompts and the black cards are "Dare" prompts.
The "Truth" prompts are really about getting to know your game partner — emotionally and factually. Some of them aren't sexual (for example, "How do you like to be comforted when you are sad?"), some of them are emotionally intimate ("Describe three of our best memories together") and some of them are very sexual ("What is your secret sexual fantasy? Can we make it happen?").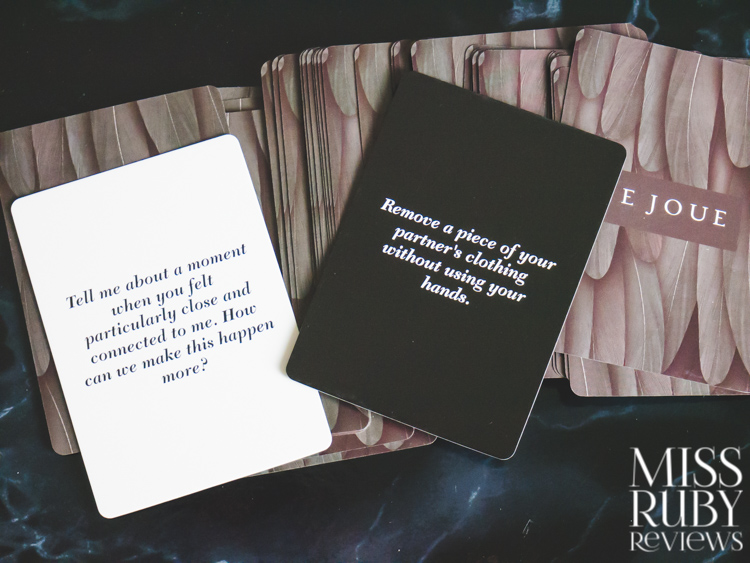 The black cards are the Dares and they are explicitly physical and sexual. For example, "Find three sex positions you've never tried" and "Show your partner how you pleasure yourself" and "Let me get you to the edge of climax then I'll stop. Let's see how long you can stand it."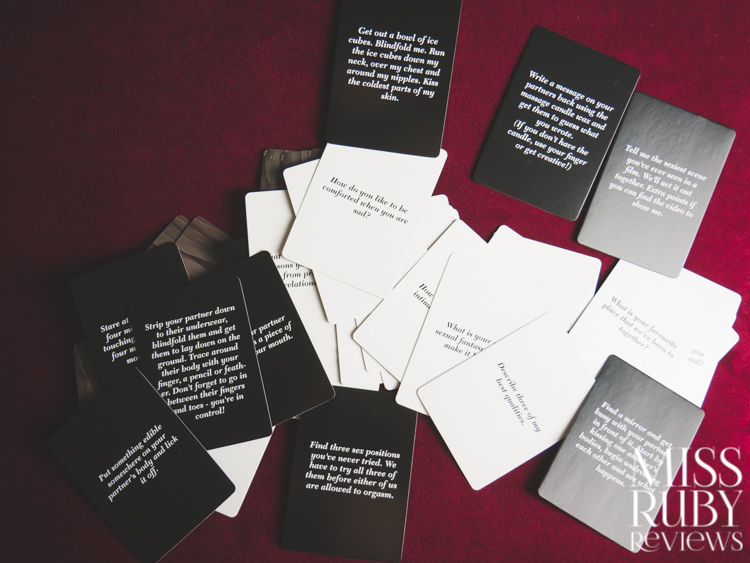 The cards were fun and I think would be useful for both getting to know your partner deeper (emotionally and physically) and adding something novel to the bedroom if you feel things could use a little zing. My only change to this card game is I recommend reminding your partner that if any card doesn't feel right, you're able to skip it. While it's fun exploring new things, your boundaries don't disappear just because you're playing a game!
Massage Candle ($25 value)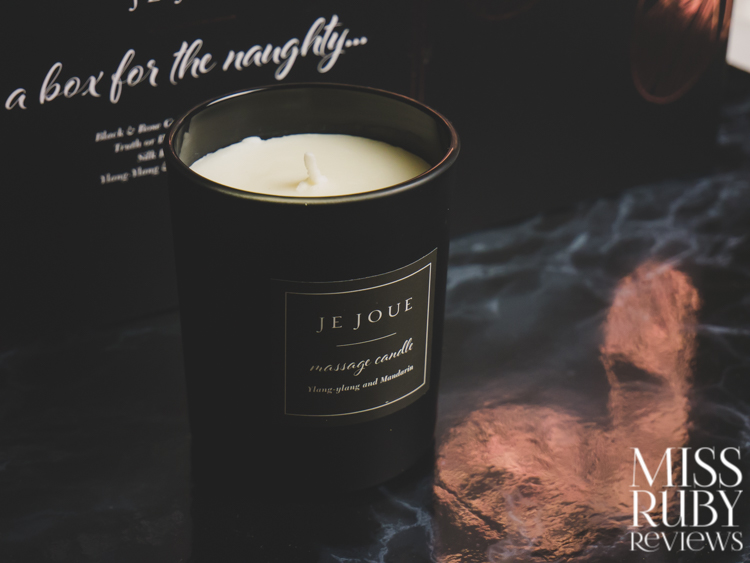 The Je Joue Naughty Gift Set also comes with a massage candle. It's scented with ylang-ylang and mandarins. I'd never heard of ylang-ylang before — it's a yellow tropical flower that grows in countries surrounding the Indian Ocean, and its oil is used on the skin for relaxation and to increase sexual desire.
The result is a sweet, flowery, fruity scent.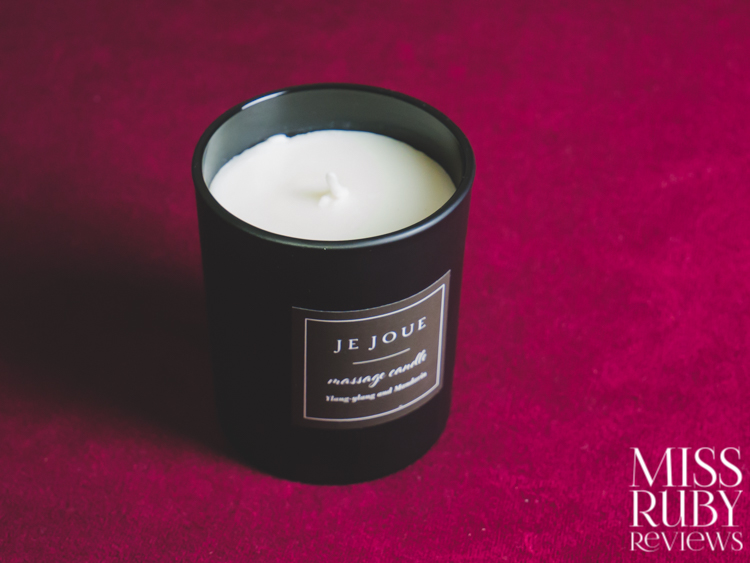 Massage candles are made from soybean wax, which has a lower melting point than regular candle wax. This means that the wax melts and pools at a lower temperature and can be safely poured onto your skin without burning. Je Joue recommends burning the candle for 20 minutes so that enough oil pools. Then blow out the candle and pour it on your partner's skin.
Unfortunately, I have pretty bad asthma and can't use scented products or aromatherapy, so I wasn't able to try this candle out myself. It's such a shame, because the scent is lovely and I'd love to partake in it.
Massage candles are great for giving (or receiving!) erotic massages. The ylang-ylang scent can help relax and calm your brain and give you a quiet and peaceful way to start foreplay. If you're not sensitive to scented products, this can be a fun treat.
Je Joue Mimi ($95 value)
The pièce de résistance in the Je Joue Naughty Gift Set is the Je Joue Mimi Classic Vibrator.
The Je Joue Mimi is a clitoral vibrator shaped like an oval pebble. It's a basic shape but its clean lines and smooth design feels so well-constructed and luxe in your hand. It fits perfectly in your palm and is coated in firm, matte silicone.
The vibrations are deep and rumbly. When I press the MiMi against me, the vibrations feel strong and tactile even when I apply a lot of pressure (which is great for people who need firm pressure…some vibrators just weaken when you press them hard against you).
The vibrations are focused on the narrowest, top third portion of the body; I can use the flat broad section or the narrow edges. This means there's some versatility in broad or narrow/pinpoint style stimulation so you're not limited to just one or the other. Though designed for clitoral use, you can also rub this along your partner's body (ie, nipples or penis).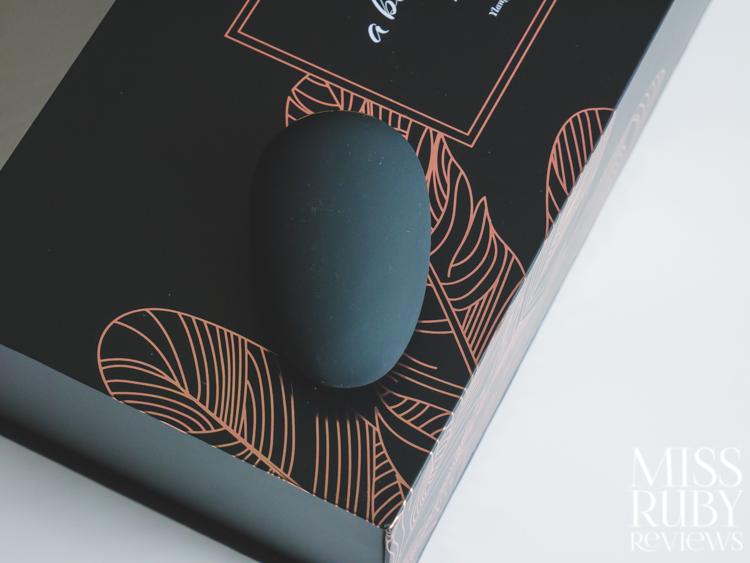 The Je Joue Mimi has 5 vibration speeds and 7 vibration patterns, giving you some variation between soft to strong modes.
The silicone material makes it body-safe and hygienic, and it's also fully waterproof and rechargeable.
You can read my full review of the original Mimi here in this old post. In short — I love this vibrator and the orgasms it gives me!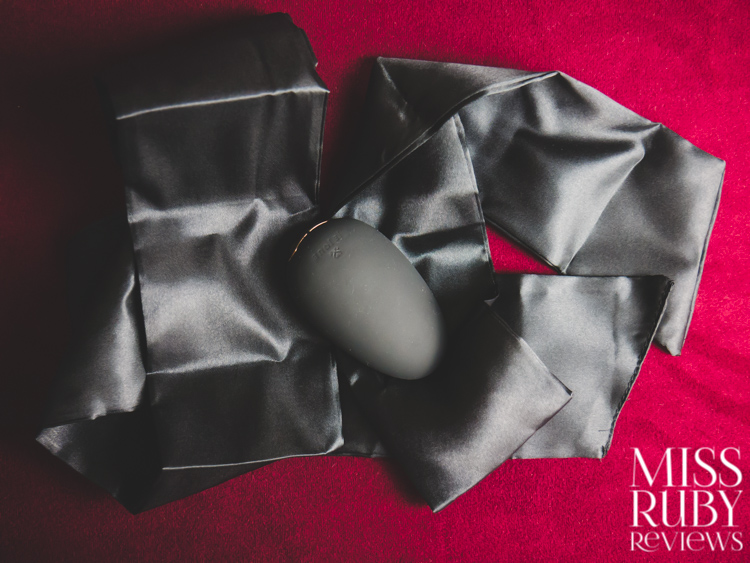 Je Joue Naughty Gift Set Review – Overall Thoughts
The Je Joue Naughty Gift Set makes the Je Joue Mimi even more giftworthy. The Mimi, by itself, is a wonderful vibrator. But now it's in a limited edition colour combination and it comes with a card game, a blindfold, and a massage candle. If you're looking for a sex toy gift set this holiday season, this is definitely one to consider.
You can pick up your own Je Joue Naughty Gift Set here! Why do I like Peepshow Toys? They ship internationally, only carry body-safe products, and you can get a 10% discount off your whole purchase with coupon code RUBY. 

See below for my Je Joue Naughty Gift Set review breakdown.

Je Joue Naughty Gift Set Review
Overall thoughts - 9.5
9.5
$129
PROS
Get $150 worth of items for $116 when you use my coupon
Mimi is a popular and strong vibrator
Card game can add some zing to your bedroom
Massage candle can add an erotic foreplay option
Beautiful packaging
CONS
Massage candle will be too heavily-scented for people who are sensitive to scents
Shop Now
Last Updated on March 18, 2023 by Miss Ruby