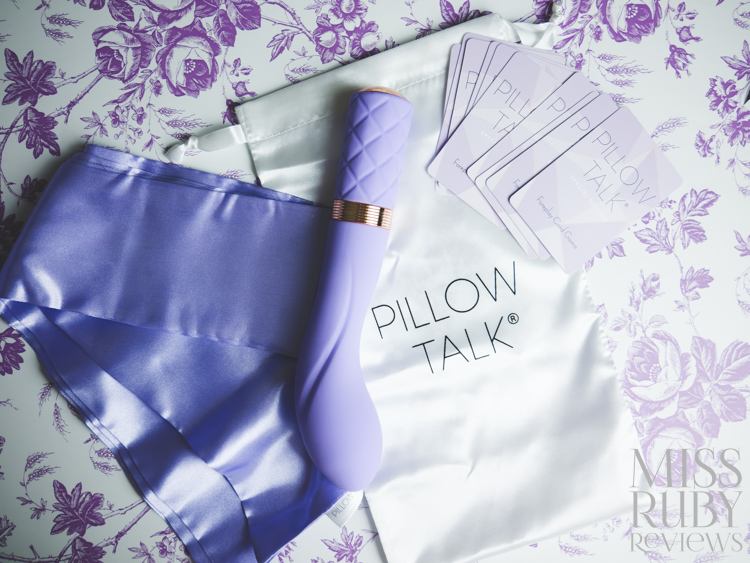 The popular Pillow Talk Sassy is back in a new edition! Read on for my Pillow Talk Sassy Deluxe review!

---
Design | Accessibility | How to Use | Packaging | Material and Care | My Experience | Overall
---
Design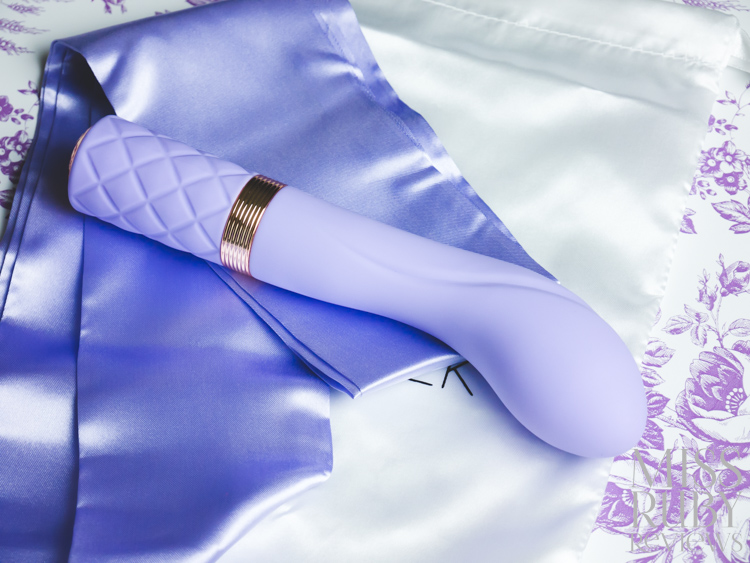 The Pillow Talk Sassy Deluxe Edition (sometimes referred to as the Special Edition) is a new repackaging and spin on the intensely popular Pillow Talk Sassy. The Pillow Talk Sassy Deluxe Edition brings you the Sassy in a new colour: lilac purple, and it adds in a bonus of a long satin blindfold (long enough to work as wrist or ankle restraints!) and a Foreplay Card Game. In other words, it makes the Pillow Talk Sassy a little more gift-worthy and fun for people with partners.
But first-things-first.
The Pillow Talk Sassy is a G-spot vibrator with an amazing design. That girthy, bulbous head and that curved shaft make for a killer combination for G-spot stimulation. But if you're more of a clitoris person, then there's nothing stopping you — this size is also handy for targeted vulva and clitoral stimulation.
The design is pretty. The curved shaft is smooth apart from a light groove that runs down the side. There's a gold-coloured (ABS plastic) band that separates the shaft from the handle. The Handle is crisscrossed which gives you a better grip (and looks nice). At the base, there's a gold plate surrounding a beautiful white Swarovski crystal (which acts as the power button).
The Pillow Talk Sassy is also USB rechargeable, water-resistant, and coated in silky smooth silicone.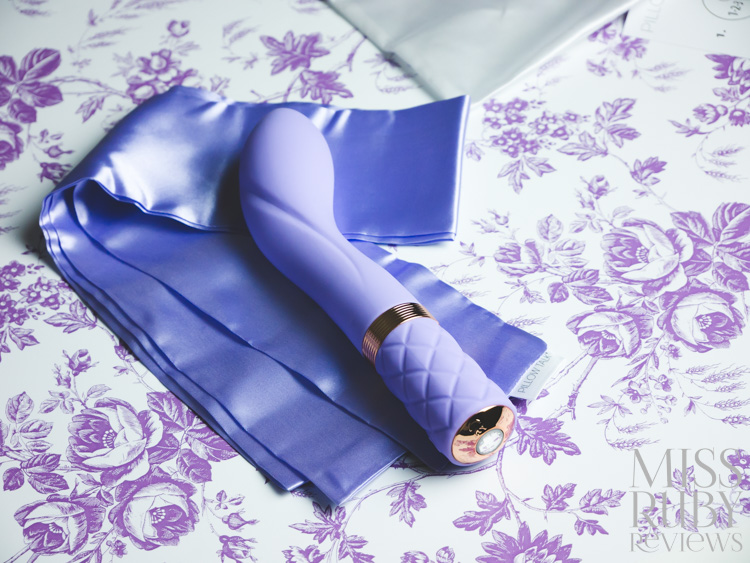 The Pillow Talk Sassy Deluxe Edition sets it apart from the Basic Sassy Edition with three things:
A new colour: Lilac + Gold accents (instead of Pink or Teal with Silver accents).
A satin blindfold
A Foreplay Card Game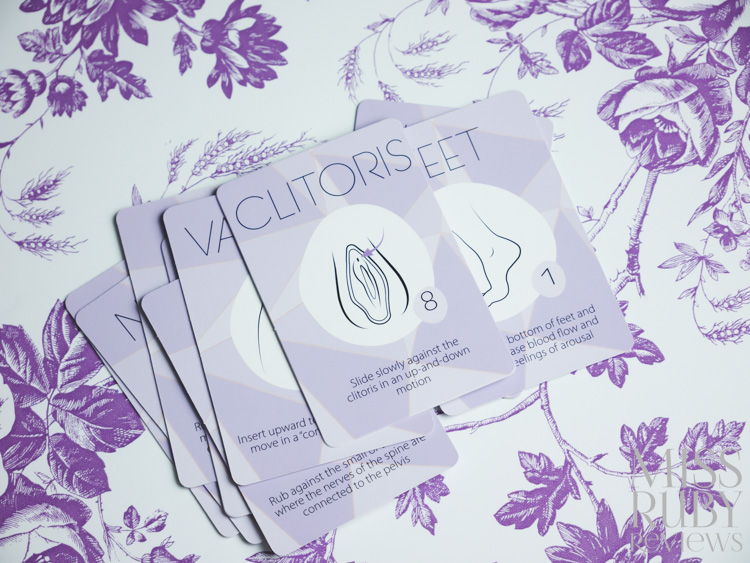 The card game is, essentially, a set of prompts or suggestions. They increase in explicitness as you go and are fairly flexible: you can use them with the vibrator (or not) or use them with a partner (or solo). For people who are looking for some novelty, this could be a welcome change.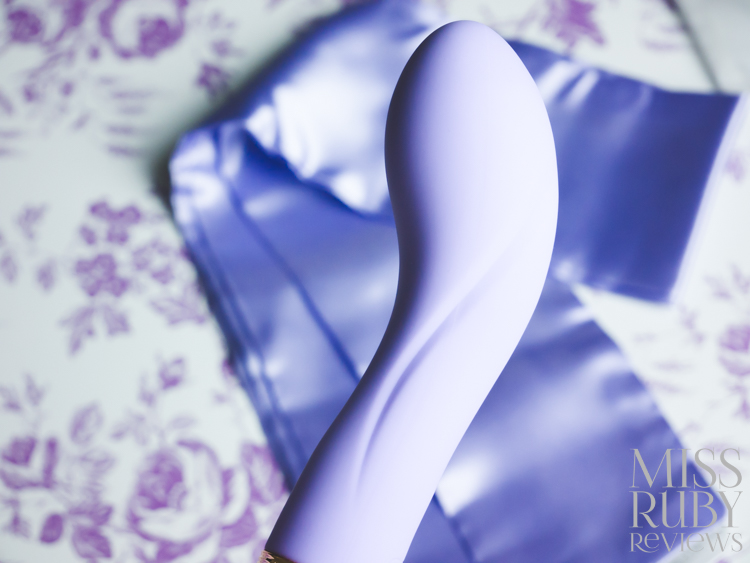 I really like the Pillow Talk Sassy Deluxe's Lilac colour. Though I'm usually not a fan of purple sex toys, this tone is lovely: cool and refreshing and reminds me of lavender.
Accessibility
This section is to help folks determine if they might have any issues using/accessing this toy.
Size (Pillow Talk Sassy Vibrator): The Pillow Talk Sassy is an average-sized G-spot toy. It's approx 7.75″ long (total) with 5″ of insertable length. The widest part of the shaft is about 1.5″ across.
Size (Foreplay Card Game): The Foreplay Card Game cards are 3×2″. There are 10 cards in total (one of the cards is the instructions).
Size (Blindfold): The blindfold is approx 59″ long and 3″ wide.
Weight: My scale clocks the Sassy in at 156 grams, making this a fairly lightweight toy.
Buttons: There's one round button at the base, 12mm wide and flush with the surface. It takes light pressure to click and makes a nice 'click' sound.
Vibration transfer: A moderate amount of vibrations transfer to the handle, so your hand may feel the effects of vibration.
Price: At $72.99 USD, this is a somewhat cheap price for a vibrator gift set. Seeing as the basic version is $68.99, the $4 price difference is pretty minimal. You can also knock off 10% at Peepshow Toys with coupon code RUBY
How to Use the Pillow Talk Sassy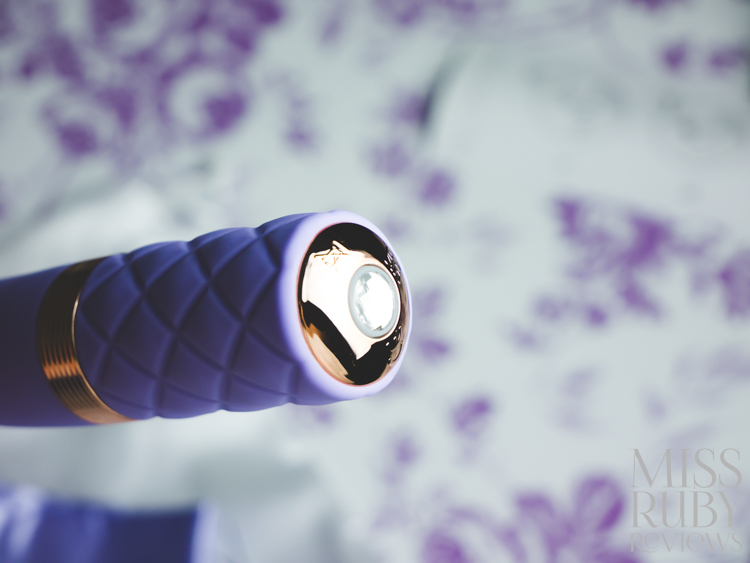 The Pillow Talk Sassy is controlled by a single white gem-decorated button at the base of the handle.
To turn it on, press the power button. The LED light will light up when the vibrator is on.
While it is on, you can turn it off at any time by pressing the button once.
To increase intensity, press and hold the button.
Apply it to your body. Though designed for clitoral and G-spot use, this could also be used against nipples or the shaft of a penis. However, as there's no flared base, do not use this anally.
The Pillow Talk Sassy can be travel Locked. Quickly press the button 3 times until you feel 2 vibrations.
The blindfold is self-explanatory. It's a blindfold! Use it to blindfold your partner or use it as a restraint.
The Foreplay Card Game does have an order to them (a number is printed on each card) so you can draw them in order, or shuffle them. Simply take turns drawing them. It can be played solo or with a partner.
Packaging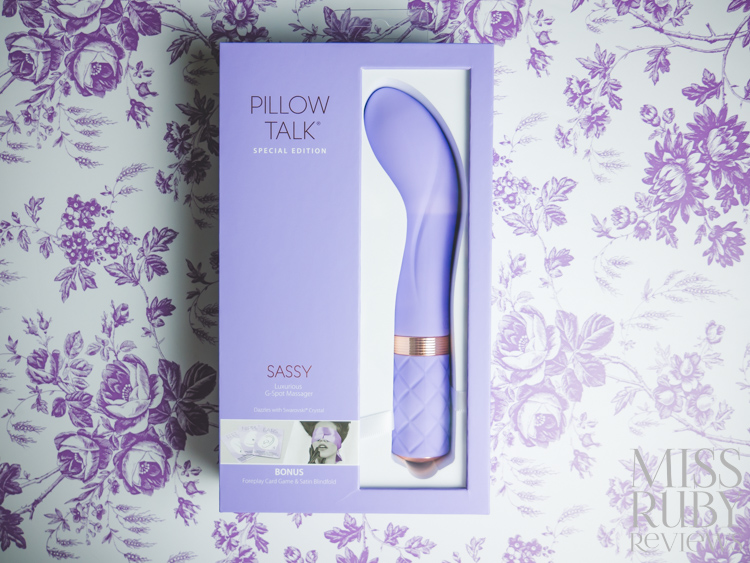 The Pillow Talk Sassy Deluxe Edition comes packaged in a lilac-coloured box (instead of the basic edition's white box). The box does say this is called the Pillow Talk Special Edition, but everywhere refers to it as the Deluxe Edition. ¯\_(ツ)_/¯ They are the same.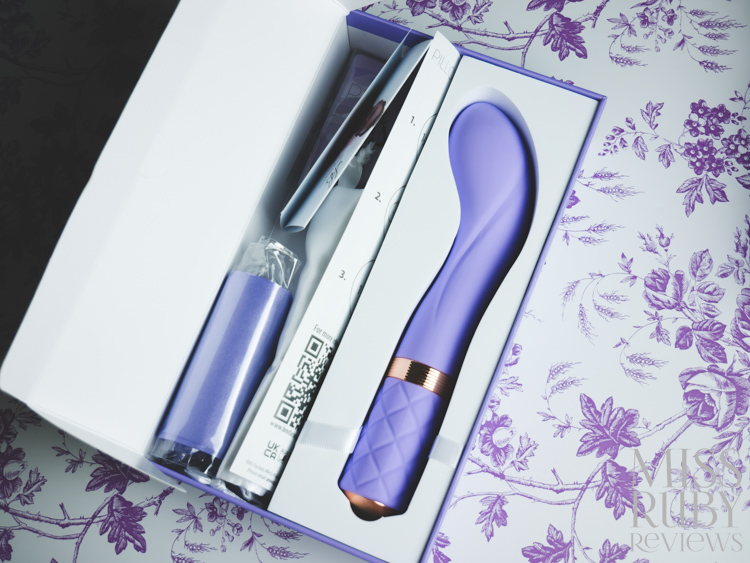 The contents of the box are organized neatly inside. The Pillow Talk Sassy rests on a foam pillow, and the rest of the items are nestled beside it.
All in all, you receive the Pillow Talk Sassy, a blindfold, the Foreplay Cards set, instructions, a message from the founder, a little brush to clean the gold-coloured band on the handle, and a USB charging cable. You also receive a white satin storage pouch to store everything.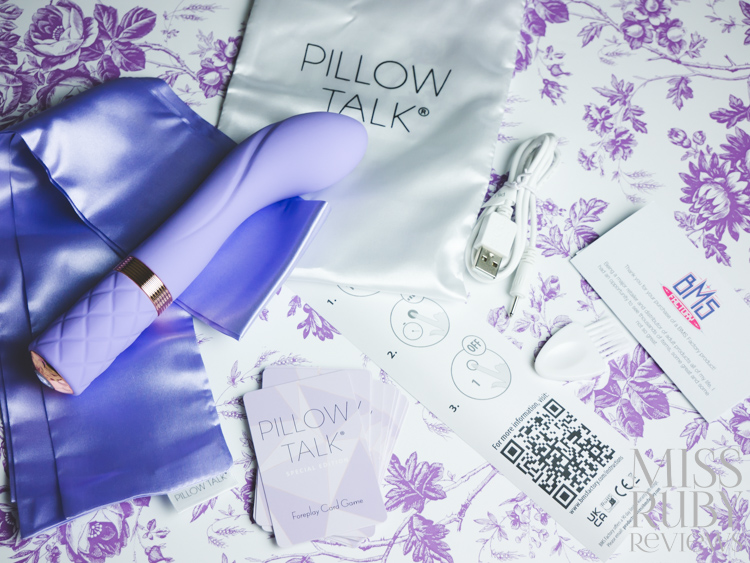 Material and Care
The Pillow Talk Sassy is made from silicone with a silky smooth finish. Silicone is the material I recommend the most for sex toys because it's effectively nonporous (so it cleans well) and it's non-toxic (as well as hypoallergenic).
The blindfold has a satin feel to it (though I suspect it is made from polyester). I can't find any specific cleaning instructions for it, but I haven't had any issues gently hand washing it in cold, soapy water (and hung to dry).
The Pillow Talk Sassy is water resistant, but NOT fully waterproof or submersible. This is my biggest (and only) issue with this toy. BMS Factory recommends wiping it clean with a damp cloth and toy cleaner, or warm soapy water. But do not submerge.
The Sassy comes with a little brush to help clean out the grooves of the gold-coloured band in the middle of the shaft.
If you'd like to add lubricant (which I always recommend), try a good quality, water-based lube like my favourite basic Sliquid H2O.
To charge, insert the needle-end of the charger (included) into the charging port on the side of the handle, close to the bottom. Connect the cord to your computer or a USB wall adapter. An LED light at the base will flash while it's charging and become solid when fully charged. A full charge takes up to 90 minutes and gives you up to 2.5 hours of playtime.
All BMS products come with a 90-day limited warranty against defects through the manufacturer.
My Experience with the Pillow Talk Sassy Deluxe Edition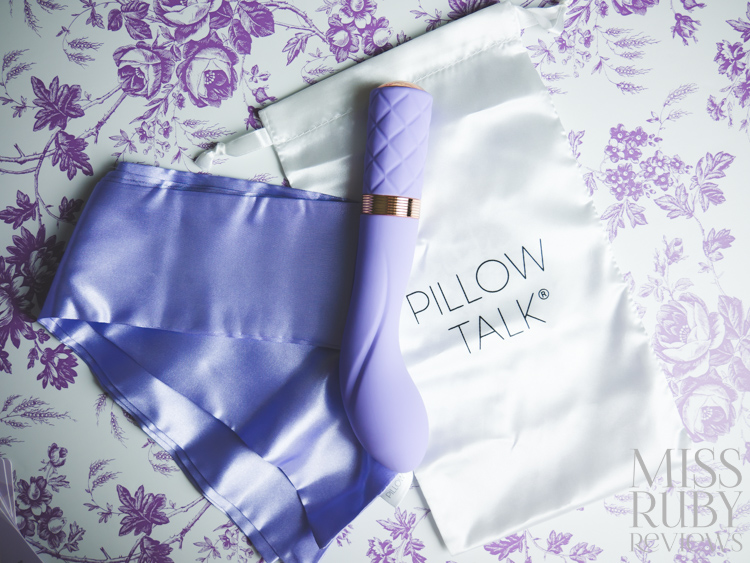 I never tried the original Sassy — it made waves through the blogging world several years ago but I figured it was overhyped and I wasn't up to getting one myself.
But when I saw that BMS Factory was re-releasing the Sassy under the new Special Deluxe edition, I figured I should finally give it a go. And I'm glad I did.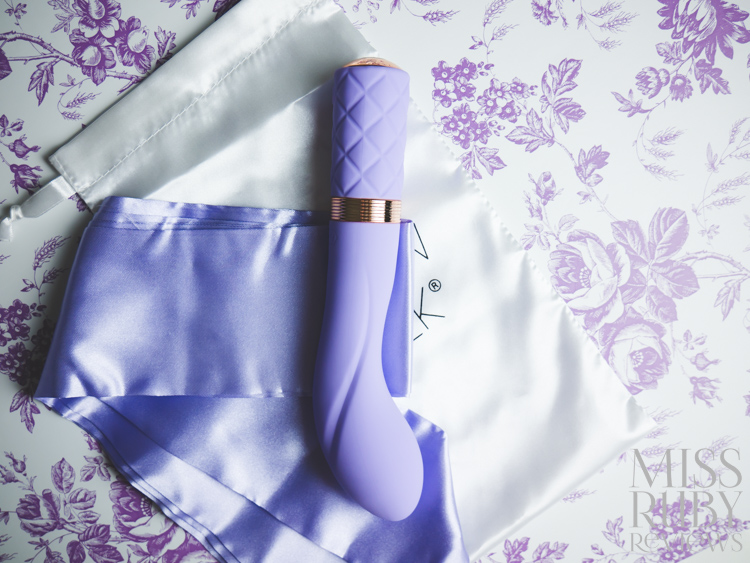 The Pillow Talk Sassy is a BEAST. It's gloriously rumbly and very strong. I was honestly shocked. It's rare that a vibrator at this price point delivers so well.
Internally, the G-spot is made happy. With the curved girthy shaft and bulbous tip, it's very easy to locate the G-spot (or A-spot if you go farther). The motor focuses its vibrations along the whole length of the curved section, so the G-spot gets the brunt of vibrations. This feels amazing — even with the vibrations turned off it feels amazing.
I'm generally more of a clitoris-centric person, and this didn't disappoint. The tip of the shaft is perfectly sized to target the clitoris; it provides a happy medium between wand-style broad stimulation and bullet-style pinpoint stimulation, so there's something for everyone. I don't stand a chance against those rumbles — I've had so many great orgasms with this toy.
In short, the Pillow Talk Sassy is A++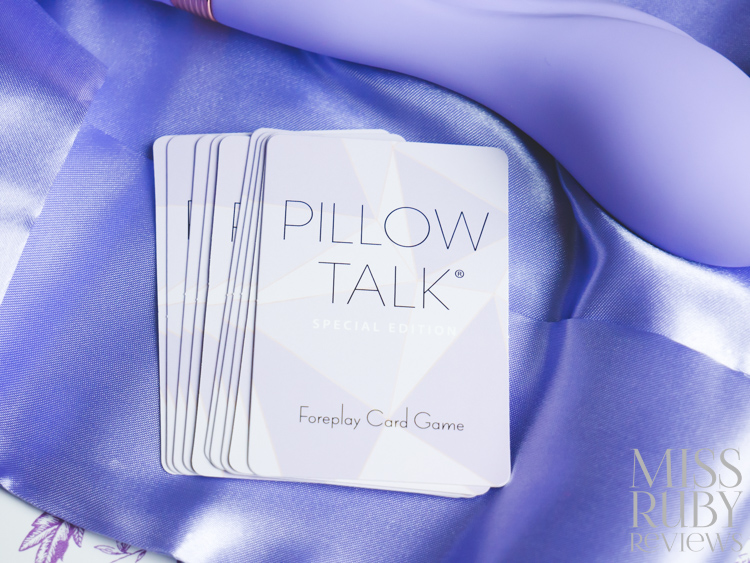 The original Sassy can be purchased for a few dollars cheaper, but it's missing the Card Game and the Blindfold. Is the upgrade worth it?
Given the minimal price difference between the two editions, I'd say that yes the upgrade is worth it. Buying a blindfold alone (like the Sportsheets Beginner Sash Restraint) will put you back another $14 or $15. The blindfold included in this kit is long enough to be used as a restraint (tested, and it's strong!) and as a blindfold it works reasonably well too (you can see daylight through it though).
The cards are fun. Each card focuses on a body part (i.e., thighs, neck, nipples, clitoris). You may only use them once, or maybe you'll use them for a year. It's something novel and you may find that's exactly what you need right now.
Pillow Talk Sassy Deluxe Review – Overall Thoughts
The Pillow Talk Sassy is an amazing vibrator. It's not overhyped like I thought it was. It's strong and rumbly and that shape is just perfect. The Deluxe Edition will get you this pretty lilac colour as well as the Foreplay Card Game and Blindfold. The inclusion of those makes these feel more like a gift set, so could be something to consider for Christmas or Valentine's.
You can pick up your own Pillow Talk Sassy Deluxe here! Why do I like Peepshow Toys? They ship internationally, only carry body-safe products, and you can get a 10% discount off your whole purchase with coupon code RUBY. 

See below for my Pillow Talk Sassy Deluxe review breakdown.

Pillow Talk Sassy Deluxe Review
Overall thoughts - 9.5
9.5
$72
PROS
Very strong
Rumbly
Effective shape for G-spot stimulation
Cute blindfold and card game included in this edition
Rechargeable
Bodysafe silicone construction
CONS
NOT fully waterproof (only water-resistant)
Shop Now
Last Updated on March 18, 2023 by Miss Ruby