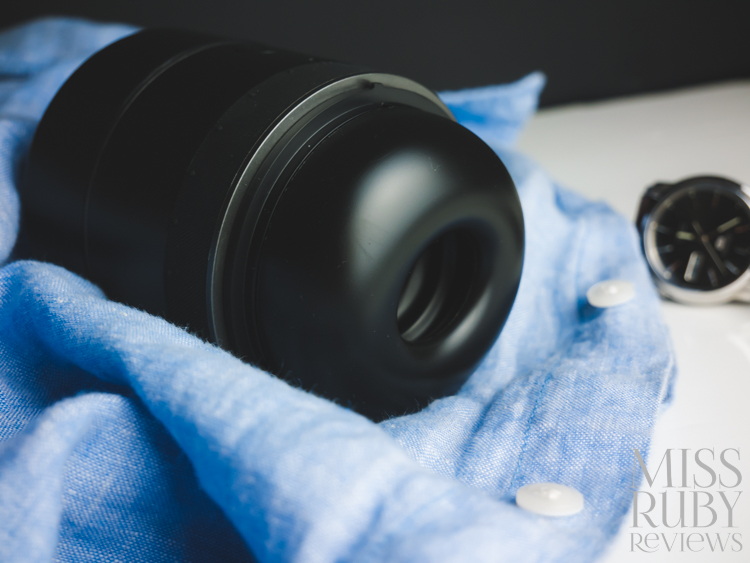 This toy was just released today! It's a penis masturbator that gives you a custom fit. Read on for my Arcwave Voy review!

Design | Accessibility | How to Use | Packaging | Material and Care | My Experience | Overall
Design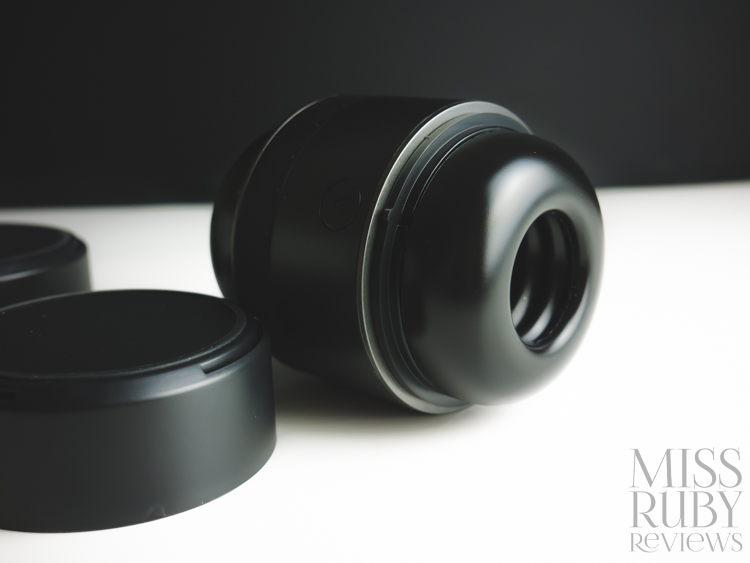 The Arcwave Voy is a luxury penis sleeve with a lot of intriguing features.
Adjustment system to give you a custom fit
Discreet appearance
Bodysafe silicone sleeve inside in a sleek plastic case
Easy to wash and no need to dust it with cornstarch (like with real-skin type materials).
Removable caps and compact size for easy storage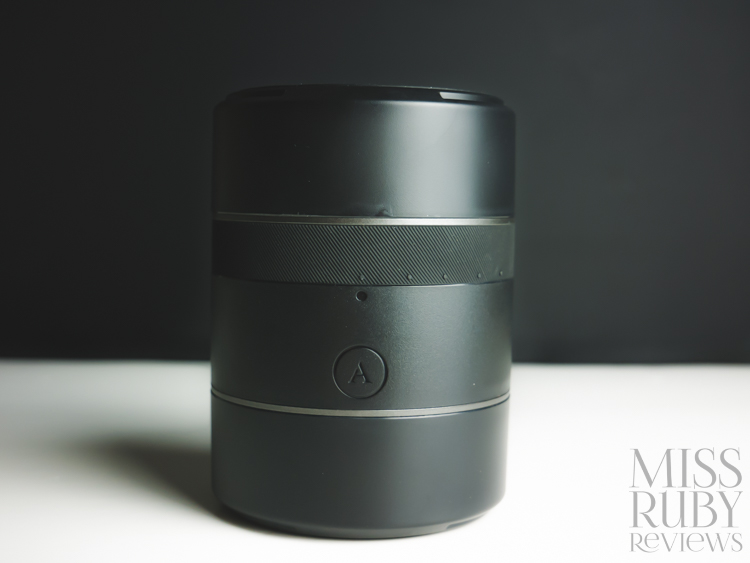 At first glance, the Arcwave Voy looks quite ordinary and innocent. It comes housed in a hard, black plastic case with no discernable elements that would immediately make you think this was a penis masturbator. If anything, it looks like a camera lens. The outer body features two removable caps (one on each end), a discreet logo (the letter A in a circle), and a grip ring with dots.
It's only when you unscrew the caps that you realize what this is.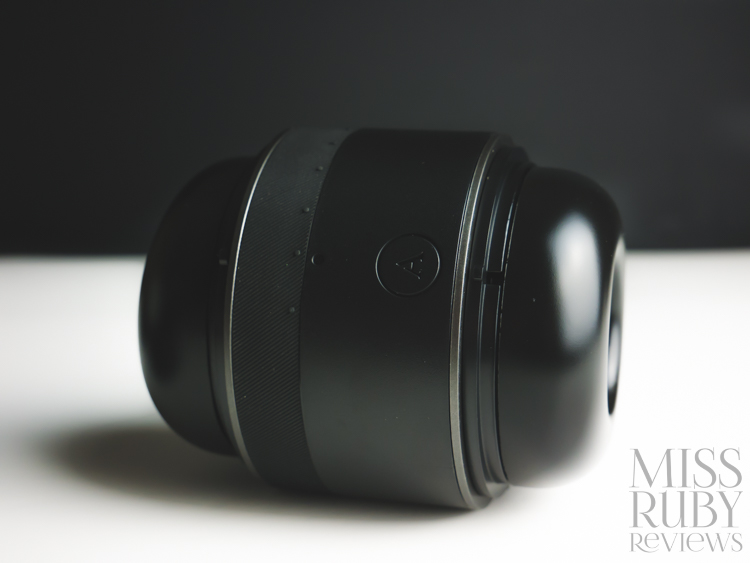 When you remove the caps, you find the Arcwave Voy's inner shiny, black, silicone canal. The silicone openings are rounded and swollen and delightfully squishy, and the inside is ribbed all along the length of the canal.

The Arcwave Voy's most unique feature is its adjustment system that lets you choose from 8 levels of increasing tightness. This isn't suction adjustment — this is an actual physical change in the narrowness of the canal.
What size penis do you need to enjoy the Arcwave Voy?
Girth
The size of the Arcwave Voy's internal canal is restricted by the outer case, which (without any tightened adjusted set) has a circumference of about 5.5 inches. That's without the silicone sleeve, which adds about 1/3 an inch. We think that your penis girth will need to be under 5.5 inches to be able to use this without adjustment. The smaller your penis, the more you'll be able to comfortably adjust the canal. At full 100% adjustment, we think the case and sleeve would fit snugly around a penis that has an approx 4″ girth (this was hard for us to measure, so give or take a little).
What feels comfortable and pleasurable to you will depend largely on your own particular dimensions. But if you have a penis with a girth over 5.5 inches, this isn't the toy for you; it will be too tight to begin with.
Length
There are really no restrictions on how long or short your penis needs to be to enjoy the Arcwave Voy. If your penis is less than 4″ long, then it won't pop out the other end, but you can still get the full physical sensation. The canal's ribbed texture is uniform throughout, so you won't miss out.  If your penis is over 4″ long, then you'll pop out the other end.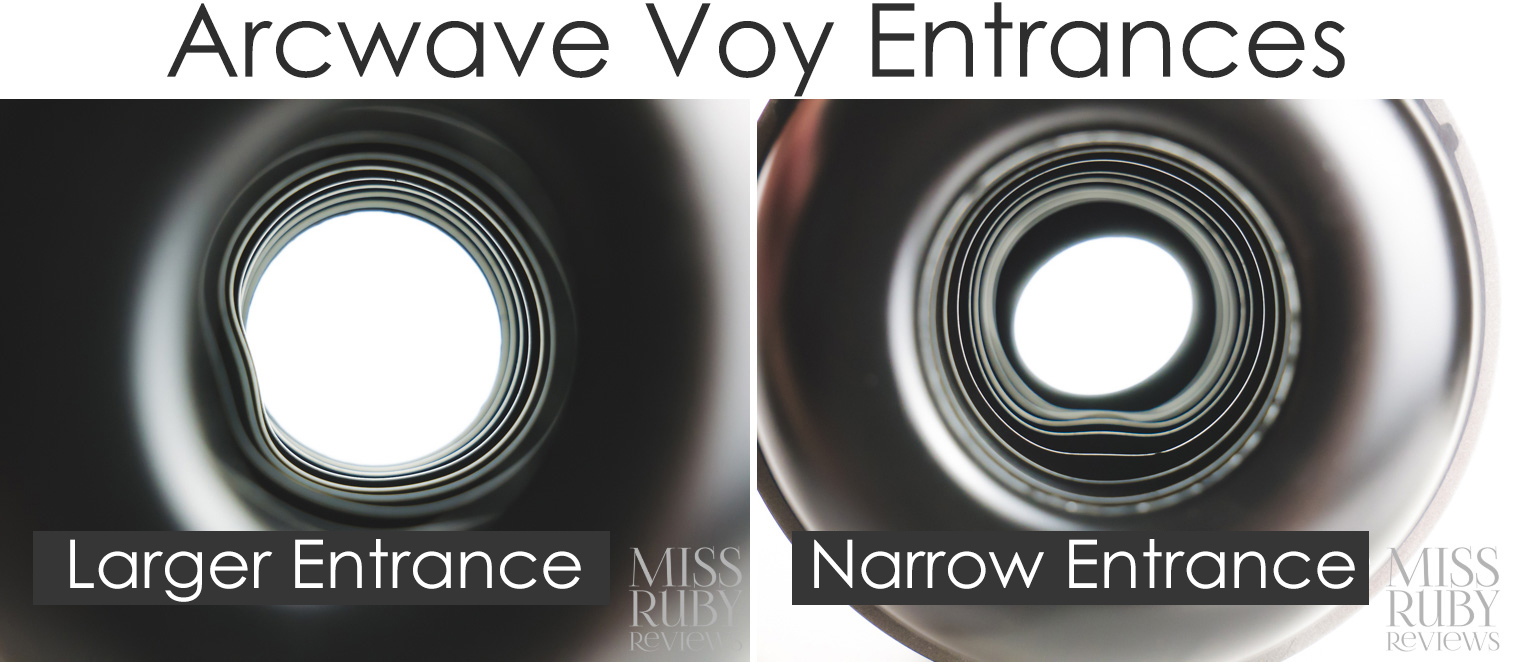 The Arcwave Voy is open on both ends, so your penis slides out the other end during use. Each end has a different entrance size. The narrow entrance is a 2.5cmx3cm oval (though can stretch much wider) and the larger entrance is a 3.5cm circle (though, again, it can stretch much wider).
The entrance you choose will obviously affect the sensation/snugness at the head of your penis (if you want a snugger fit on your head, use the wider entrance, and vice versa).
We love that the Arcwave Voy is gender-neutral — it doesn't specifically look like a butt, vagina, or mouth. This keeps things more discreet and neutral and allows a wider variety of users to enjoy it.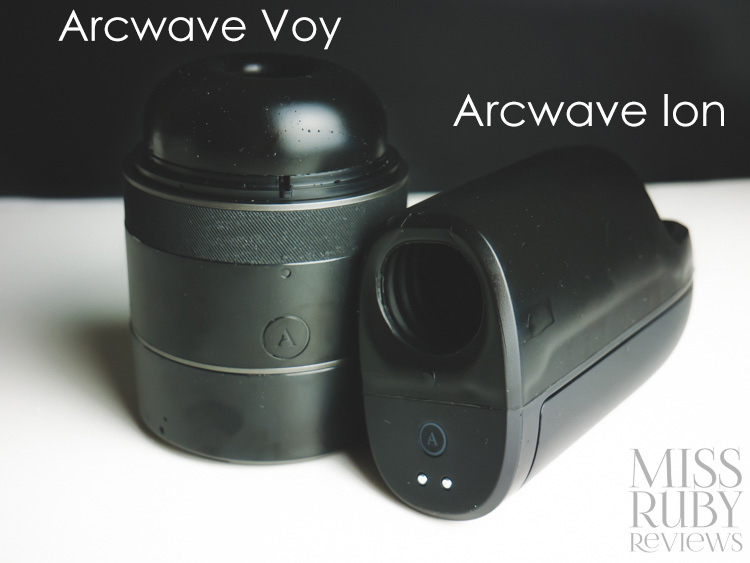 The Arcwave Voy is the second product by Arcwave. Their flagship product, the Arcwave Ion, is pictured above. We loved it last year but it was a considerably different product to this one — the Arcwave Ion is a motorized pressure wave stimulator, whereas the Voy is a more traditional sleeve without a motor.
Accessibility
This section is to help folks determine if they might have any issues using/accessing the Arcwave Voy.
Size: By my measurements, it's approximately 10cm long and 8.5 cm wide. This was rather large to hold in my hands, though Mr. Ruby found it easy to hold (larger hands). My best guess is that it will be suited to people whose penis girth is between 4″ to 5.5″.
Weight: 300 grams.
Adjustment system: The tightness is adjusted by a ring around the hard plastic body. You can find the ring by touch alone (it has a grippy texture compared to the smooth hard case). You need to hold the Voy in place (ie, with one hand or between your knees) and use your other hand to turn the ring. The ring requires moderate force to twist.
Price:

At $99 USD, this is on the expensive end for a non-vibrating penis masturbator, but when you consider that it's made of silicone and is adjustable (which is rare for penis masturbators), the price seems more reasonable. 
How to Use the Arcwave Voy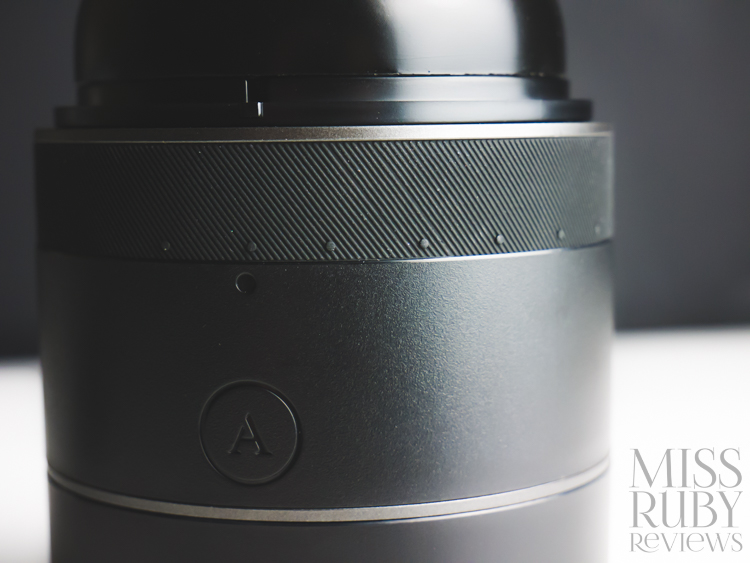 Remove the Arcwave Voy's caps on both ends.
Twist the Tightness Adjustment ring to one of the 8 levels.
Apply water-based lubricant to your penis and inside the sleeve. This is a MUST.
Insert your penis into either the larger opening or the narrower opening.
If you choose to adjust the tightness further, remove your penis before tightening.
Enjoy!
Can you use the Arcwave Voy with one end cap still on? Arcwave doesn't recommend it. If you choose to do this anyway, take care not to thrust too hard you'll bump into a flat hard surface if your penis is longer than the case.
Packaging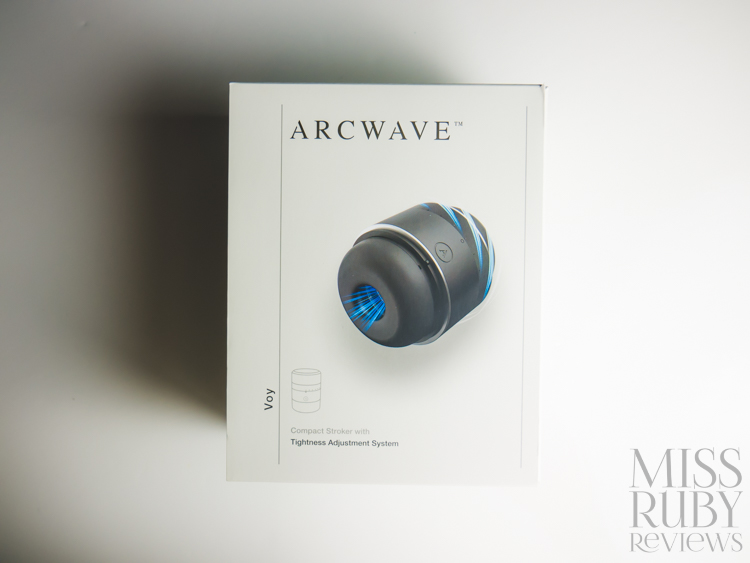 Arcwave packages its products beautifully. The Arcwave Voy arrives in sturdy, luxurious white packaging. Once you remove the sleeve, the box opens on a hinge and the contents are nestled within.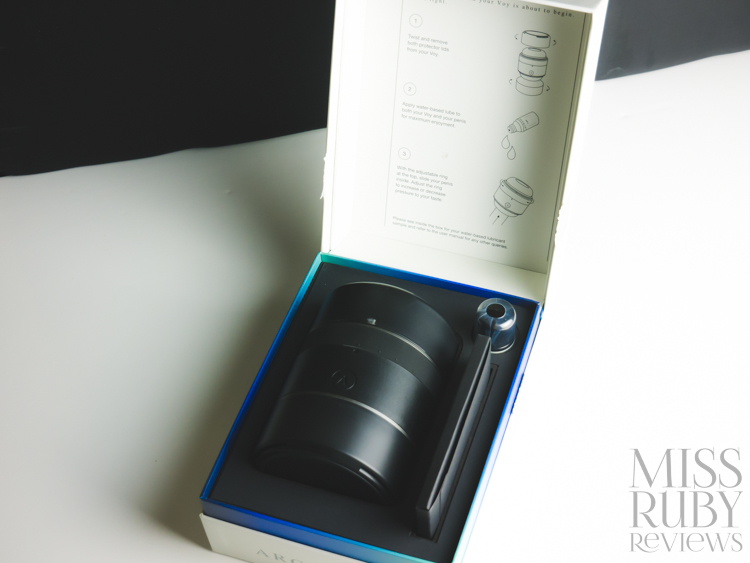 All in all, you receive the Voy, a small sample bottle of lubricant, the Manual and the Safety Instructions.
No fabric storage pouch is included because the end caps on the body turn this into a dust-proof storage case by itself.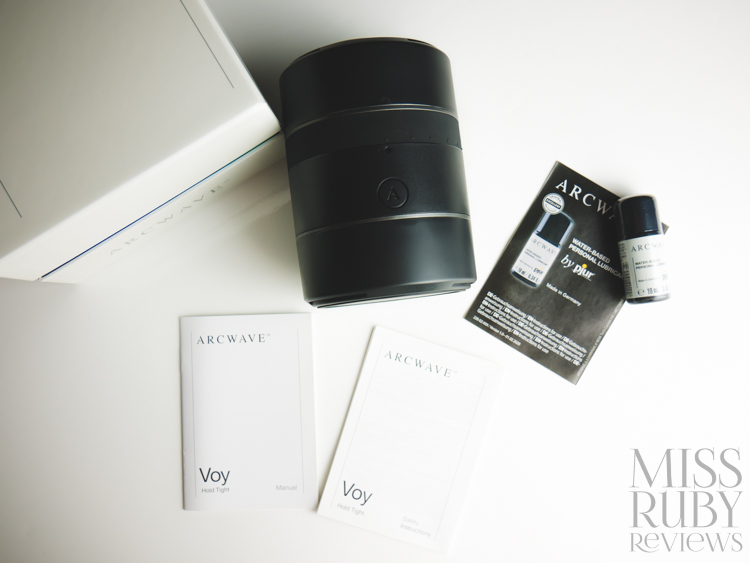 Material and Care
The Arcwave Voy is made of ABS plastic (the hard case) and silicone (the sleeve). This makes it bodysafe. It's uncommon to find a silicone sleeve. Sleeves for penises are still generally made from porous real-skin type materials. While those toys aren't always necessarily toxic, they are porous (so not very hygienic) and have a finite lifespan. Silicone is non-porous and very durable, so this can be sanitized and will last longer than other materials.
This particular silicone has a sticky, stretchy, rubbery texture. When you add water-based lubricant, it becomes very slick and slippery. Note: Because this is a silicone sleeve, you need to use water-based lubricant. Using an oil-based or silicone lubricant will degrade the silicone. 
To clean the Arcwave Voy quickly, you can just rinse the whole thing with warm, soapy water.
To clean it more thoroughly, open the end caps and carefully push and pull the inner sleeve out so that you have 4 separate pieces (as shown in the picture above).  Wash all parts in water (you can submerge them and use regular antibacterial soap or a specific toy cleaner).
To dry, leave one lid off and allow to air dry. I find it useful to turn the sleeve inside out so that the inside can dry better.
Arcwave Voy is covered under their manufacturer's 2-year warranty. See this page for more details.
Our Experience with the Arcwave Voy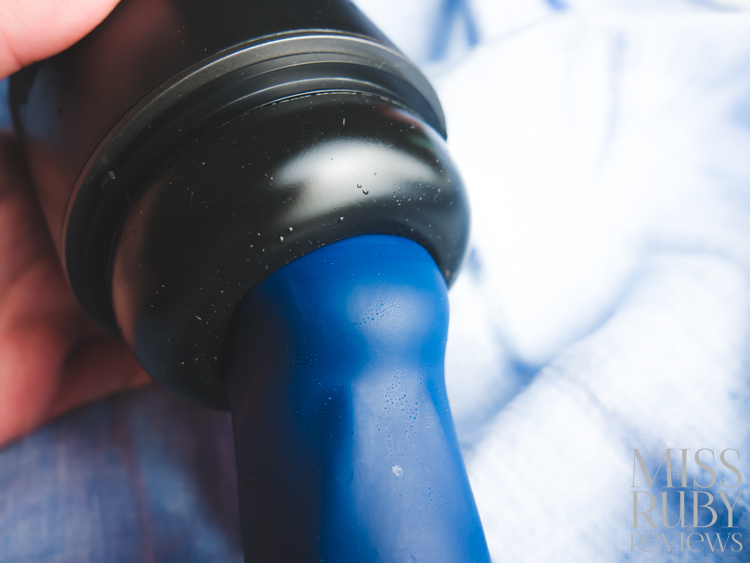 Mr. Ruby kindly tested the Arcwave Voy for me, so the information in this section is drawn from his observations.
---
The Arcwave Voy feels great. Different to PIV sex (like with all penis masturbators) but satisfying. The tightness adjustment dial is very useful for getting a perfect fit. While 0% adjustment felt nice already, Mr. Ruby likes being able to dial it up a couple of notches to get a VERY snug fit. He can't adjust it very much given his dimensions, but that is the magic of this design — its fit will be unique to each user.
One thing about the adjustment — the Arcwave Voy is definitely designed to be tightened before insertion, not during insertion. He recommends finding one that feels good and just sticking to it, rather than fiddle halfway though. The case gets quite slippery once you add lubricant, making it hard to adjust bigger or smaller (plus, it wouldn't be comfortable to tighten it too much when your penis is inside).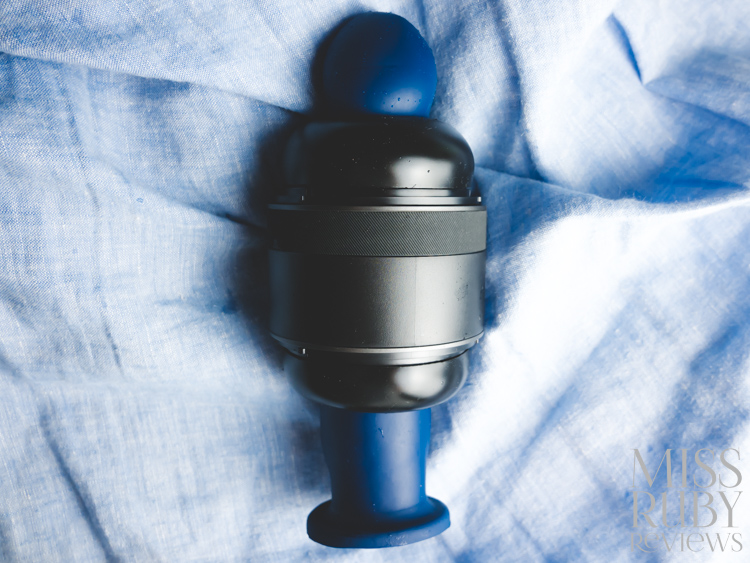 He also recommends running warm water through the Arcwave Voy's canal before use because it's fairly chilly otherwise.
How was the actual sensation? Mr. Ruby is a man of few words, but we enjoyed using this together. Unlike some of the previous experiences with sleeves (which weren't pleasurable enough for him to orgasm) he found this very orgasmic. You will need a towel or something nearby though, as there's nothing to catch your liquids when you orgasm.
One thing neither of us was a fan of was the sound. The Arcwave Voy makes a cracking, crinkly sound during each thrust. We rarely come across a penis masturbator that doesn't make some sort of off-putting sound, so this was expected, but keep this in mind!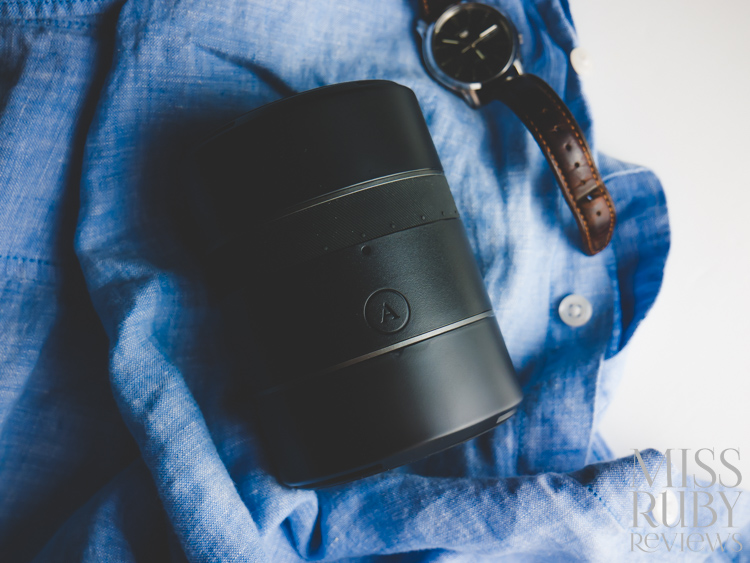 Arcwave Voy Review – Overall Thoughts
The Arcwave Voy is a great option for people who are looking for a custom fit penis sleeve. It's not everyday that you find a penis sleeve with 8 adjustable tightness options! Plus, with that bodysafe silicone sleeve, you know you're avoiding unhygienic materials. It does have size restraints though; if you're packing a penis with a 5.5″ girth or bigger, this may be too snug for comfort. But for everyone else, this is a solid option.
You can pick up your own Arcwave Voy here! Why shop from arcwave.com? They ship in plain boxes with a discreet label, their billing is discreet, and you get free shipping with orders over $30! Plus, by buying directly from the manufacturer, you are guaranteed to get a genuine product rather than a knock-off. 

See below for my Arcwave Voy review breakdown.
Arcwave Voy Masturbator Review
Overall thoughts - 9.2
9.2
$99
PROS
8 adjustable tightness levels
Bodysafe silicone sleeve
Gender neutral openings
Discreet appearance
Compact size for easy storage
CONS
Needs LOTS of lubricant
Off-putting crinkly sound during each thrust
Shop Now