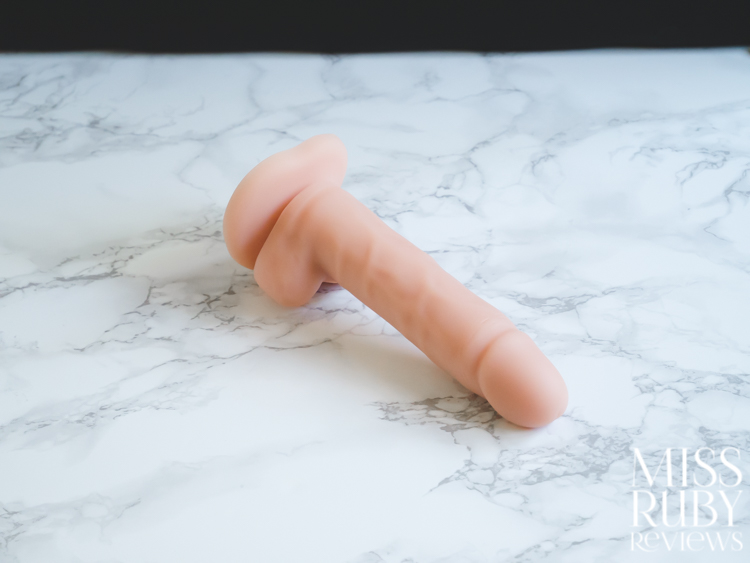 Ooooo! A dildo with silicone skin that can be tugged and pulled? Read on for my Strap-On-Me Sliding Skin Dildo review!

Design | Accessibility | How to Use | Packaging | Material and Care | My Experience | Overall
Design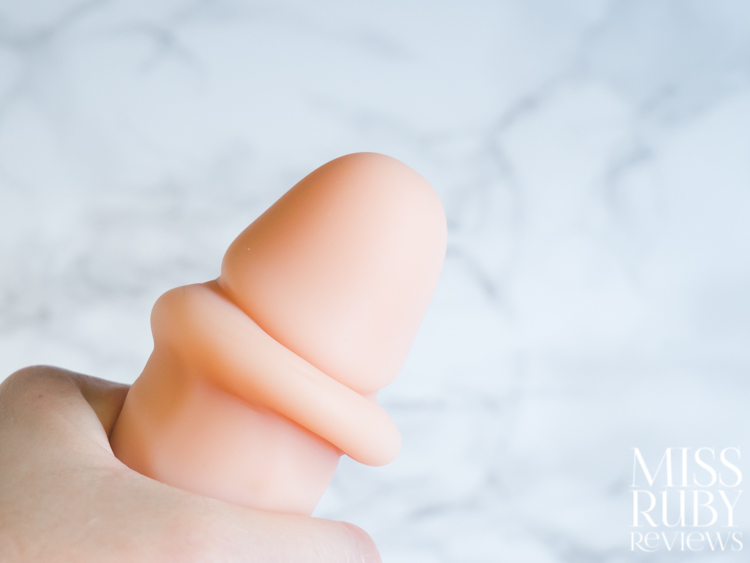 The Strap-On-Me Sliding Skin Dildo sets itself apart from the rest with its attempt to create a sliding skin experience. It has an extra soft sliding skin layer (ontop of a firm silicone core) that can be pulled and tugged and (theoretically) stroked as it if were a real penis.
I've seen this concept before, but only once — in the VERY expensive ultra-realistic RealDoll RealCock 2s. Those run for around $500 USD, so I was eager to test the Strap-On-Me Sliding Skin Dildo. At $59-$89 USD (depending on size) it's a considerably less expensive way to experience sliding skin.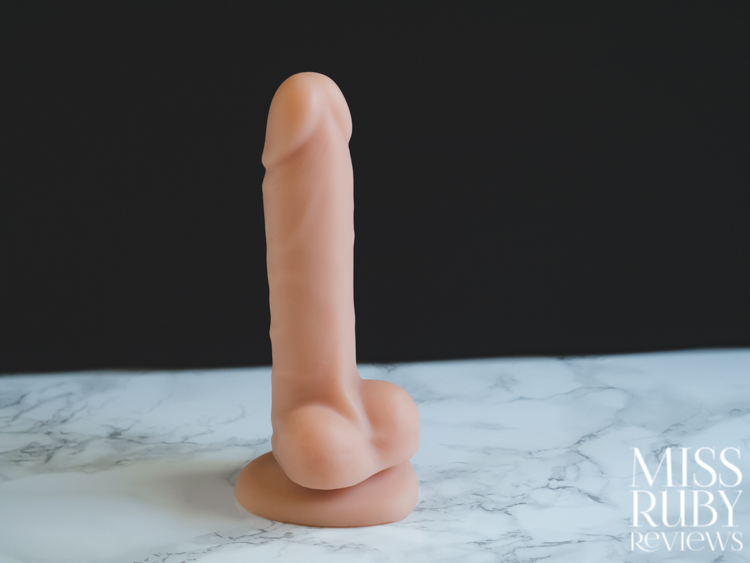 The Strap-On-Me Sliding Skin Dildo is a semi-realistic representation of a penis. The shaft is straight and lightly veined. The soft head has a subtle coronal ridge, urethral dent, and frenulum. The testicles are symmetrical very lightly puckered.
This toy is dual-density (a soft outer layer surrounds a firm inner core) but it's still got a lot of bend and flex to it. The flex, squish, and overall feel is surprisingly realistic in my hands.

The Strap-On-Me Sliding Skin Dildo comes in multiple sizes. Peepshow Toys currently carries sizes S to XL, which gives you a good range of sizes to choose from. I got mine in Small so that is what's pictured here. It's 5″ insertable length (7″ total length) and 1.41″ diameter.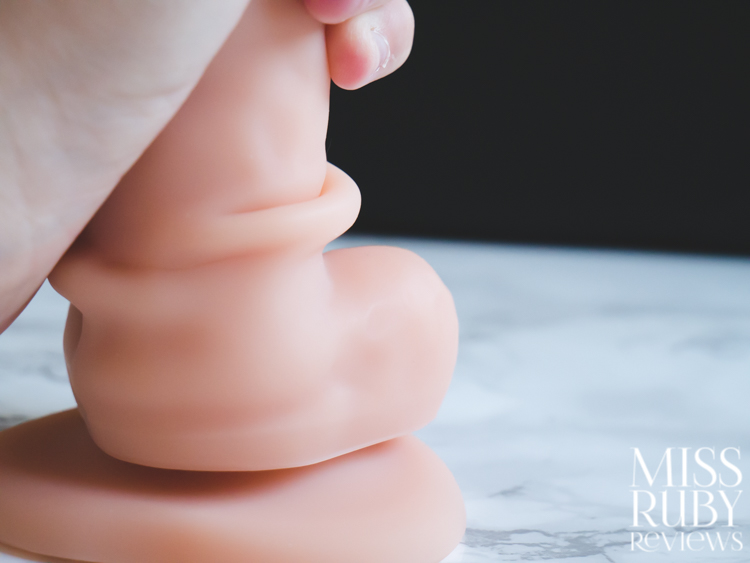 As made obvious in the name, the Strap-On-Me Sliding Skin Dildo is strap-on harness compatible. It also has a heart-shaped suction cup base for hands-free play, and is made from 100% silicone.
If you like this concept but want to make it less realistic, Peepshow Toys also carries it in a bright pink Fuschia colour. I got mine in "Vanilla" though, which is a very standard pale peach colour with cool undertones. I do wish it came in more skin tone options.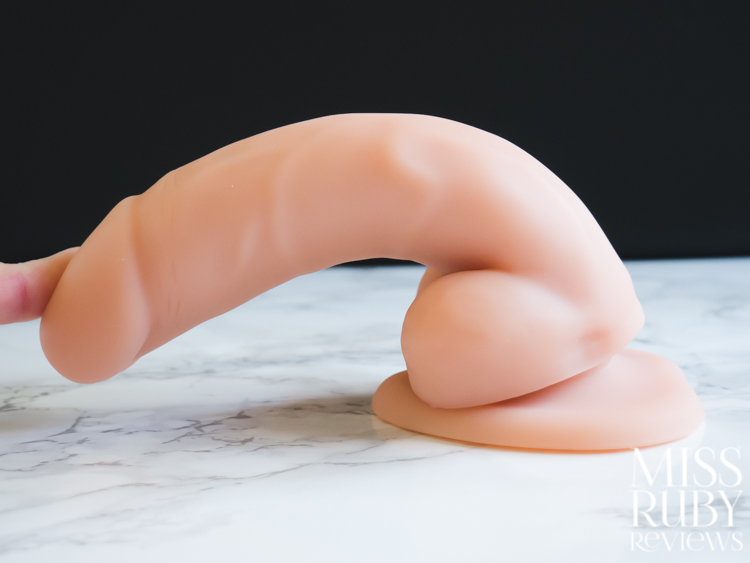 Accessibility
This section is to help folks determine if they might have any issues using/accessing this toy.
Size: The Strap-On-Me Sliding Skin Dildo comes in multiple sizes ranging between 5″ insertable (S) and 5.9″ insertable (XL)
Weight: I'm not sure about the other sizes, but my Small version weighs 240 grams.
Buttons: N/A
Vibration transfer: N/A
Price: Prices range between $59-$89 USD through Peepshow Toys depending on size. You can also get 10% off with coupon code RUBY. This is somewhat pricey for a dildo but MUCH cheaper than the only other sliding-skin dildos I know… the RealCock2s, which go for $500 USD.
How to Use the Strap-On-Me Sliding Skin Dildo
Packaging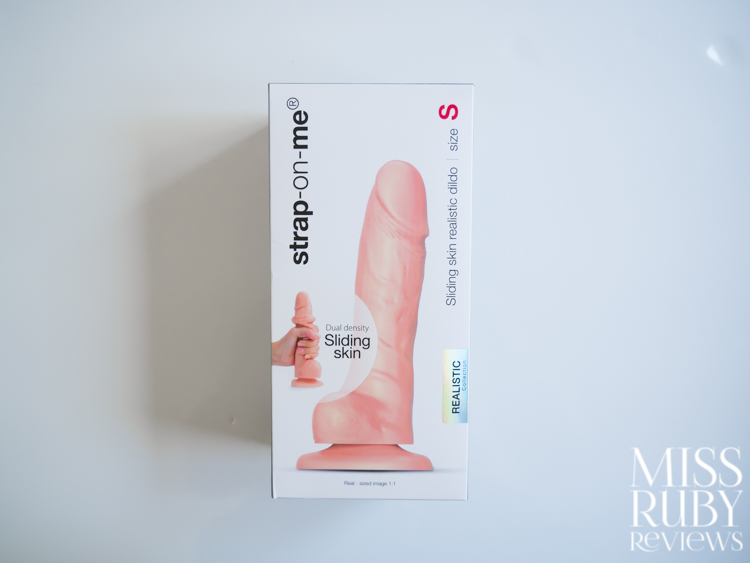 The Strap-On-Me Sliding Skin Dildo comes packaged in a white and grey box. An image of the dildo is displayed right on the front. The box also denotes the size option purchased (S, M, L, XL or XXL).
Inside the box, the Sliding Skin Dildo is cushioned in a black plastic container. You also receive a generously-sized satin drawstring pouch and a pamphlet of instructions.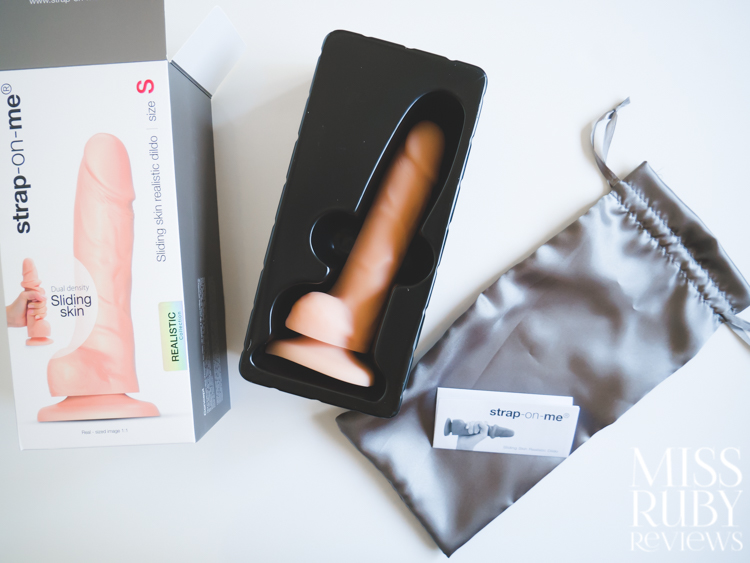 Material and Care
The Strap-On-Me Sliding Skin Dildo is made from silicone. This makes it bodysafe (nonporous, nontoxic, free of phthalates, etc). This particular silicone finish is sticky to the touch, which attracts a lot of lint/dust.
To clean it, I wash mine in warm, soapy water before and after each use. If you use this anally, you can also boil it at 100°C to sterilize it.
If you'd like to add some lubricant (highly recommended), opt for a good quality water-based option like Wicked Simply Aqua, Aqua Jelle, or Sliquid H2O. I particularly recommend the Aqua Jelle if you'll be using this dildo anally. Whatever you do, avoid silicone lubricants; those will bond with the silicone in this toy and degrade the surface.
My Experience with the Strap-On-Me Sliding Skin Dildo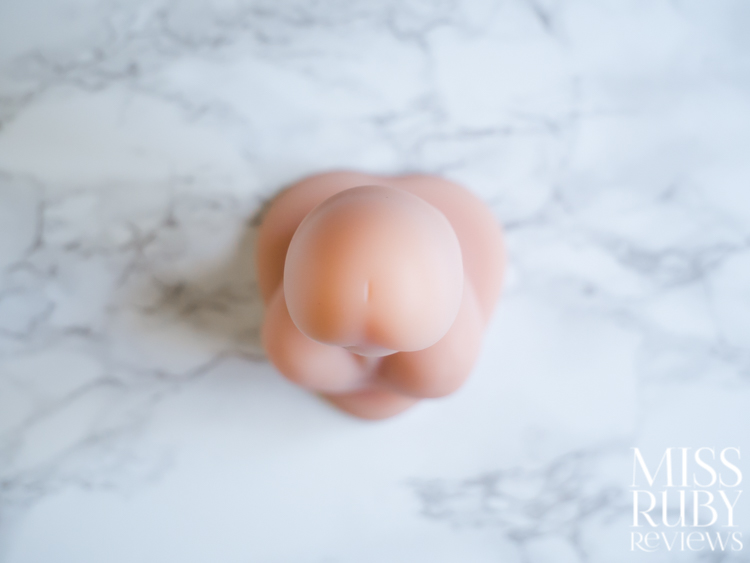 To date, I've tested over 60+ silicone dildos. It feels like I've seen and done it all, so it's not every day that a new release catches my eye. But this one did!
The Strap-On-Me Sliding Skin Dildo appears to advertize sliding skin and a tuggable shaft. Because I've only seen this done before in pricey RealCock 2 dildos, I really wanted to give this a test and see how it measures up.
As a dildo by itself, the Strap-On-Me Sliding Skin Dildo is pretty stellar. The design isn't ultra-realistic, but rather smoothed out and creamy as if it belongs in a CG animated film. Because of this, insertion is very smooth and easy. The tapered glans and veins are soft and supple enough to just glide in. The suction cup is effective and didn't pop off during tests.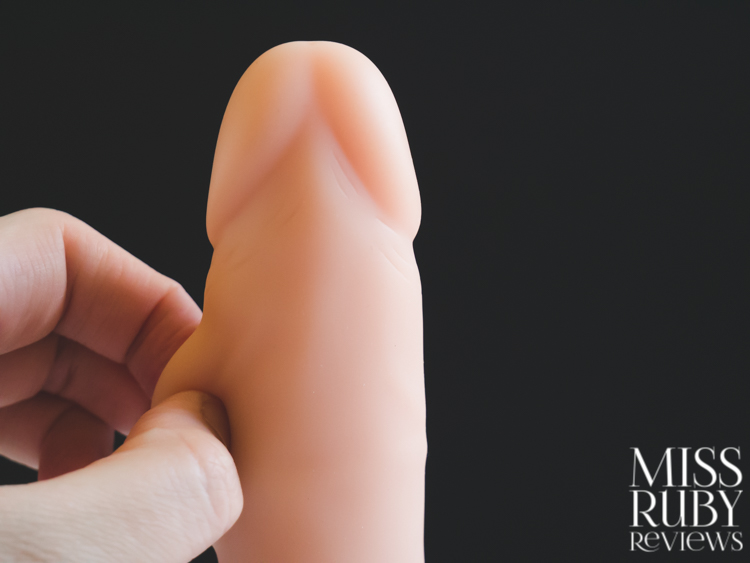 In terms of stimulation, I've no complaints. It feels great. With straight shafts like this, you do need to be a bit creative with your angles if you're going for G-spot stimulation, but the shaft is long enough (even with size Small) that you've plenty to work with. The size Small is smaller than typical dildos, so if you want something a bit chunkier I'd opt for the Medium or Large (or XL if you're a size-queen!).
So how about the actual sliding skin? Sliding the skin takes physical effort — the soft outer layer is a tad more resistant to movement than with the RealCock 2 dildos. You've really got to squeeze hard and pull firmly to see the skin slide up and down. I was surprised at how tricky it was to do, but it is better than nothing.
Where the dual-density really shines, though, is when you massage the dildo in your hands. It feels MUCH more realistic than a regular single-density silicone dildo. When you squeeze the shaft, the squishy skin shifts under your touch as you clutch the firmer inner core. There's a bit of bend and flex. And the head, just like a real penis head, feels spongey and squishy. This is pretty sexy.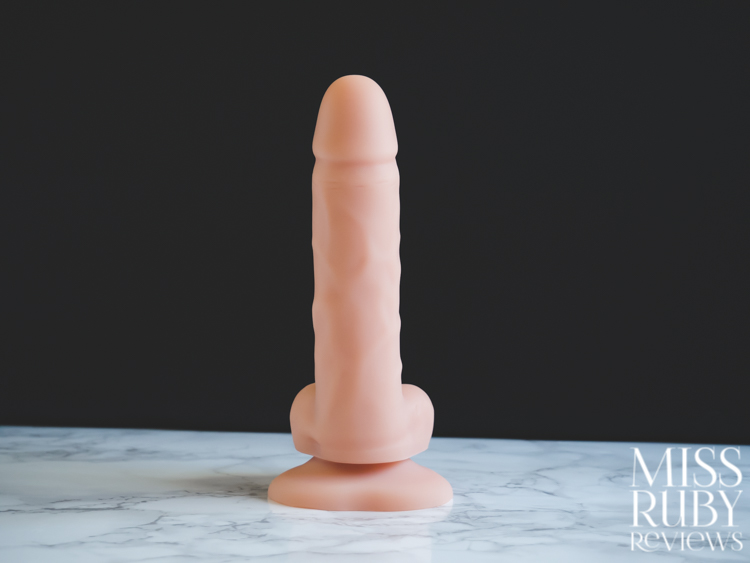 Strap-On-Me Sliding Skin Dildo Review – Overall Thoughts
The Strap-On-Me Sliding Skin Dildo is a bodysafe realistic dildo with a tidy design and some great features. It's strap-on compatible, made of silicone, and features a dual-density design. With a bit of effort, the skin does slide and down, but it's not easy. You may have more fun just feeling the skin subtly shift as you massage it. I like that it comes in a wide range of sizes to accommodate different bodies, but I do wish it came in more colour options.
You can pick up your own Strap-On-Me Sliding Skin Dildo here! Why do I like Peepshow Toys? They ship internationally, only carry body-safe products, and you can get a 10% discount off your whole purchase with coupon code RUBY. 

See below for my Strap-On-Me Sliding Skin Dildo review breakdown.

Strap-On-Me Sliding Skin Dildo review
Overall thoughts - 8.4
8.4
$59-89
PROS
Dual density squish!
Bodysafe silicone construction
Strap-on harness compatible
Built-in suction cup
CONS
Not easy to slide the skin up and down
Few colour options
Shop Now