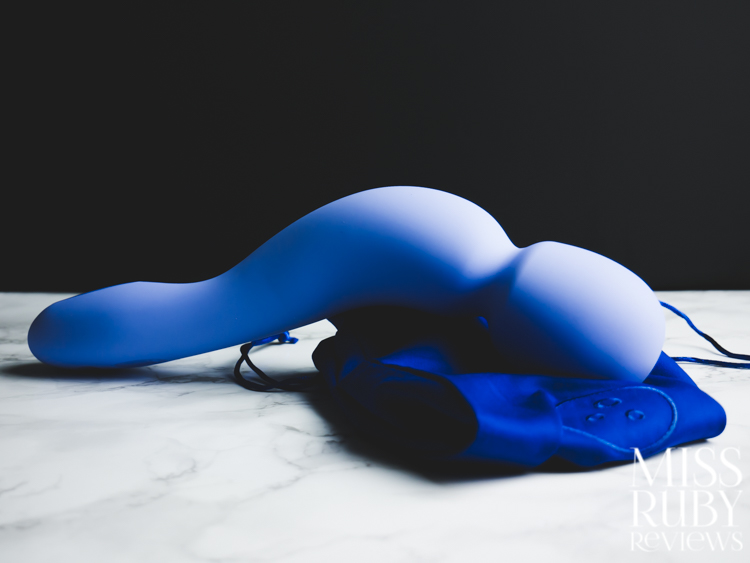 A wand that's emphasizing Comfort. Read on for my Dame Com Wand review!

Design | Accessibility | How to Use | Packaging | Material and Care | My Experience | Overall
Design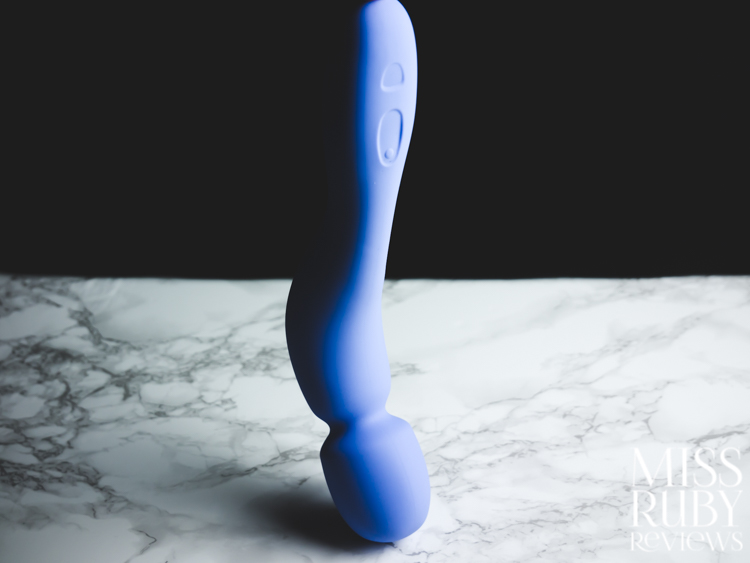 The Com Wand is Dame Products' first go at creating a vibrating wand massager. I've never tried any products by Dame, but I've certainly heard of them. When I saw this beautiful wand released, I figured it was time to put Dame to the test.
The Dame Com Wand is a medium-sized wand vibrator encased in creamy, bodysafe silicone. It's waterproof, rechargeable, and features 5 intensity and 5 patterns.
The Com is trying to be as comfortable and ergonomic as possible, aiming to be an extension of your arm rather than an awkward bulky wand. The body is rigidly firm, but perfectly curved so that it reaches your vulva with ease.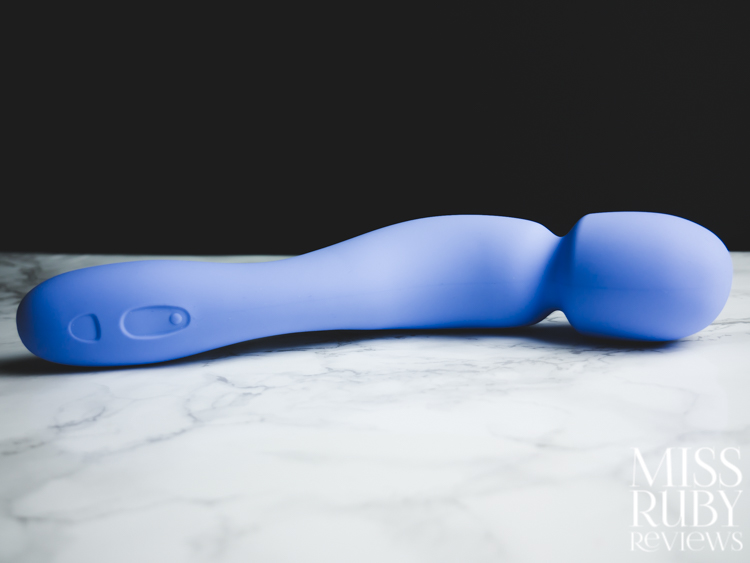 The Dame Com Wand's handle (the bottom half of the body) is also tidily designed; it tapers inwards so that your palm grips the bulky part of it while your fingers get the narrow part, making for a surprisingly comfortable fit.
The neck is (slightly and stiffly) flexible, purportedly for comfort, though I've never figured out why this makes things better. Just about all wands on the market have a flexible neck, though, so there's no escaping it.
The head is a classic oblong shape, softly rounded with a slight amount of squish to it.
The overall appearance is curvy, yet sleek. Feature-rich, yet streamlined.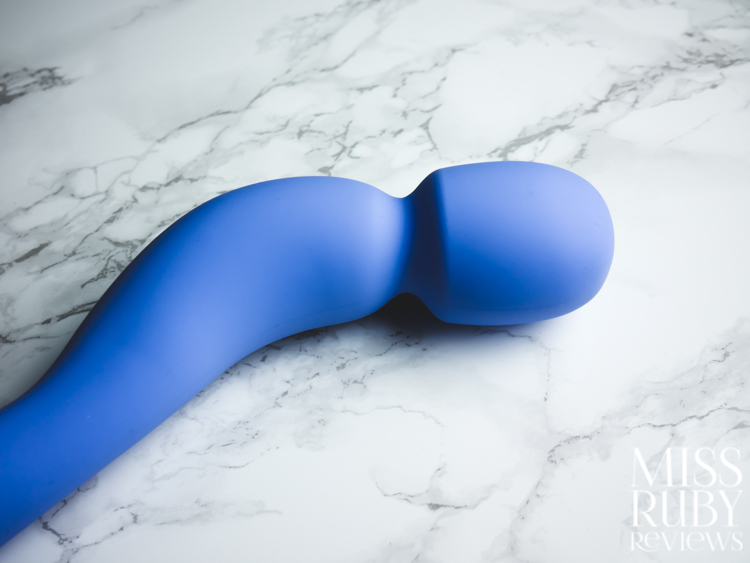 I got the Dame Com in this gorgeous Periwinkle colour. Periwinkle just happens to be one of my favourite colours, so I'm biased when I say that I think it's stunning. Periwinkle is nostalgic and romantic and calming all at the same time. It's also available in the colour Quartz, which is a lovely fluffy blush pink.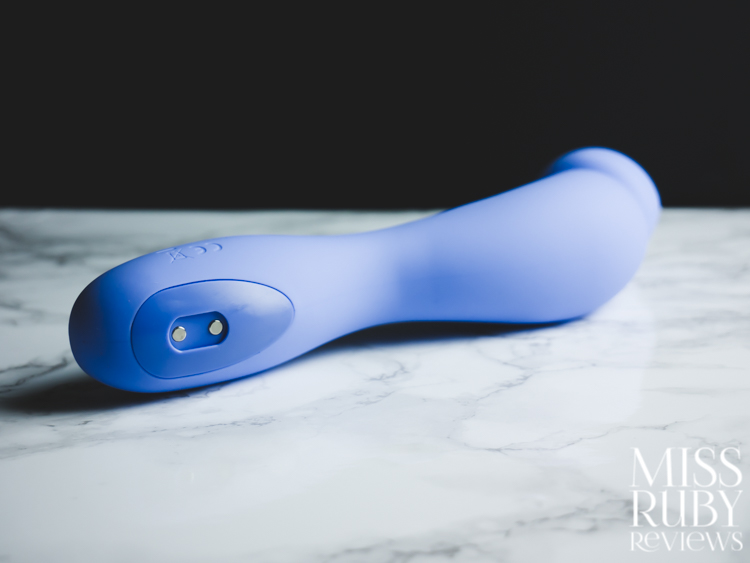 Accessibility
This section is to help folks determine if they might have any issues using/accessing this toy.
Size: The Dame Com Wand is a moderate-sized wand. It's larger than a petite wand, but smaller than other full-sized wands out there (like the Doxy Die Cast). Its measurements are 10.5" Long x 1.75" Wide x 3.5" Deep. The head itself is nearly 2″ wide and it's just over 2″ long.
Weight: My scale weighed this at 272 grams, making it a fairly light wand.
Buttons: There are 3 buttons, not well distinguished visually or by touch. The power button is a recessed half-circle, about 9mm wide. About 9mm above that, there's another recessed oval; within this is the (–) button (which stretches ~7mm and doesn't look or feel like anything) and the (+) button, which is a raised circle about 4mm across. All three buttons take little-to-moderate pressure to press and make a nice loud 'click'
Vibration transfer: Vibrations only slightly transfer to the tip of the handle, so your hand will buzz a tiny bit while holding this.
Price: At $125 USD, this is a fairly typical price for a wand vibrator with these features. You can also knock 12% off your whole order at Betty's Toy Box with my coupon code RUBY .
How to Use the Dame Com Wand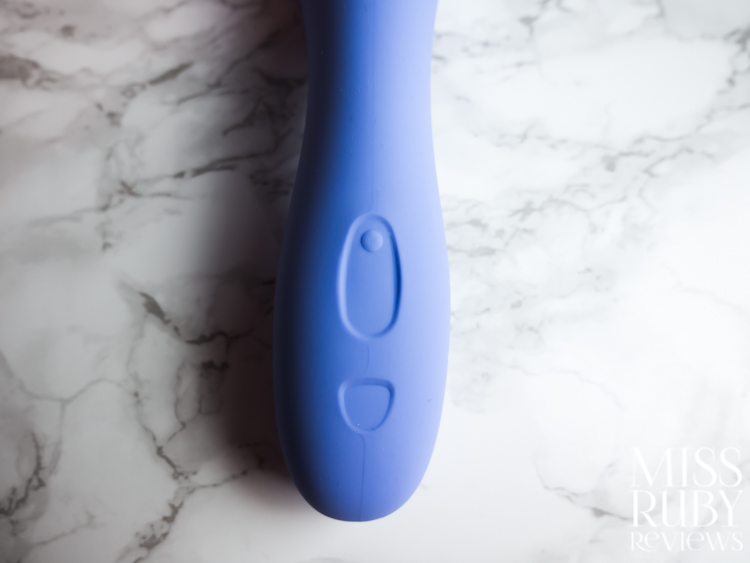 There are 3 buttons on the Dame Com Wand; a recessed half-circle (power button), a raised circle (+), and a (–) which is below the (+) but not distinguished by any shape.
To turn it on, press and hold the power button.
Apply it to your body. Though designed for clitoral stimulation, it could be used against other parts of your vulva, your nipples, or the shaft of a penis. However, don't use this anally or internally.
For more strength, tap the increase button or hold it for continuous increase.
For less strength, tap the decrease button.
Tap the power button to work your way through the 1 steady speed and 4 patterns.
To turn it off, press and hold the power button.
The Dame Com Wand supposedly has a travel lock, but I can't find mention of it in the manual or figure out how to turn it on, so the jury's still out on that one.
Packaging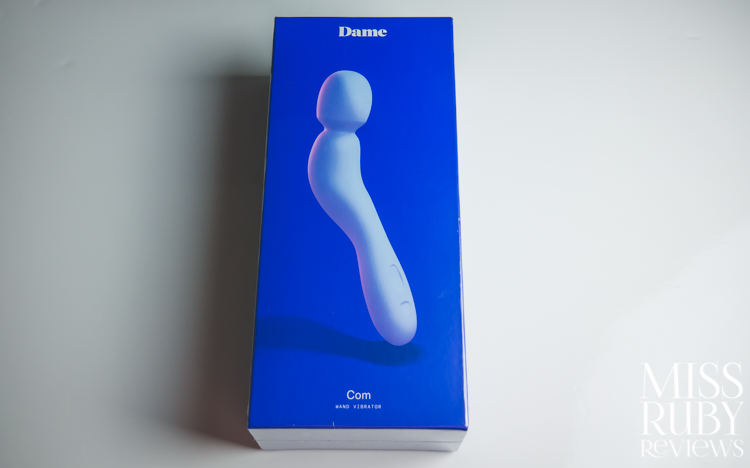 Call me shallow, but I love beautiful, luxurious packaging. The more superfluous, the better. And the Dame Com hits the spot.
This is the first time I've tried a Dame product, so I'm not sure if all their products are packaged so beautifully. But hot damn.
The periwinkle Dame Com Wand is packaged in a bright, electric blue box. The cardboard used is high quality. When you lift the cover, the Com is nestled in a contoured blue pillow. The photos here speak for themselves… I was just floored. This is so gift-worthy!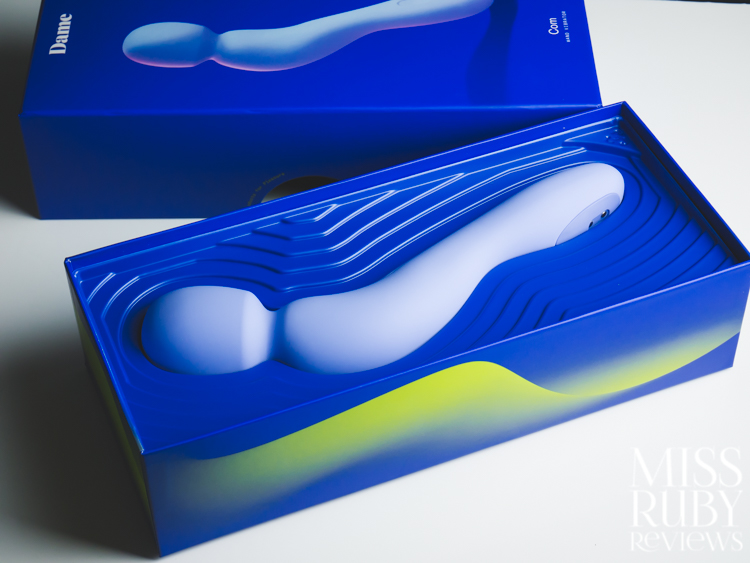 All in all, you receive the Com Wand, the instructions booklet, the USB charger, a logo sticker, a QR code card, and a large drawstring pouch.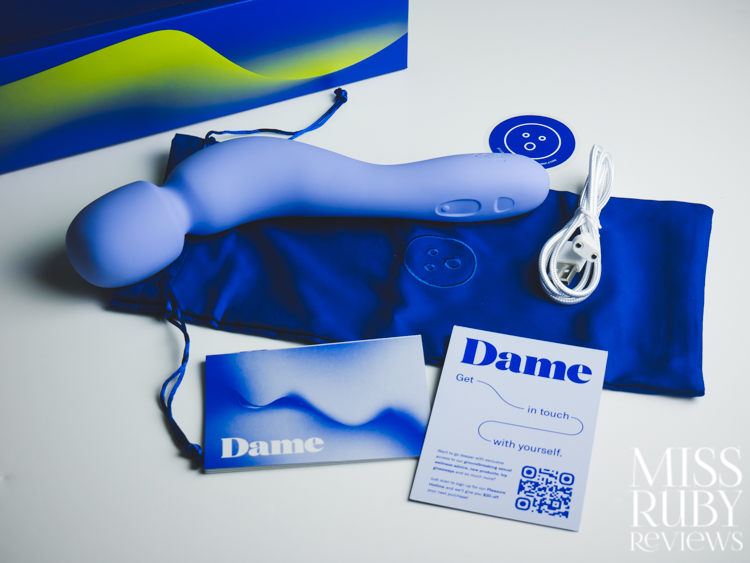 Material and Care
The Dame Com Wand is made from silicone (the majority of the body) and plastic (the small area around the charging port). This makes the Dame Com bodysafe. Silicone is the best material you could ask for in a sex toy because it's nonporous, nontoxic and hypoallergenic. 
The Dame Com Wand is waterproof, so you can submerge the whole thing underwater. 
To clean, I wash with warm, soapy water before and after each use. If you'd like to be particularly thorough, you can add a silicone-safe toy cleaner.  I wait for it to be dry before storing it away.
If you'd like to use lubricant with this toy, choose a good quality water-based lube like my favourite basic, paraben-free Sliquid H2O. Whatever you do, don't use silicone-based lubricants as that will damage the silicone finish of this toy.
To recharge the Dame Com Wand, use the included USB charging cable; attach the magnetic end against the two little metal dots at the base. Plug that cord into your computer or a USB wall adapter. A full charge takes about 2 hours and will get you 1 hour of playtime on the highest mode. This toy also has a low battery indicator (the LED will blink red). 
The Dame Com Wand comes with a 3-year manufacturer's warranty against defects. This gives great peace of mind.
My Experience with the Dame Com Wand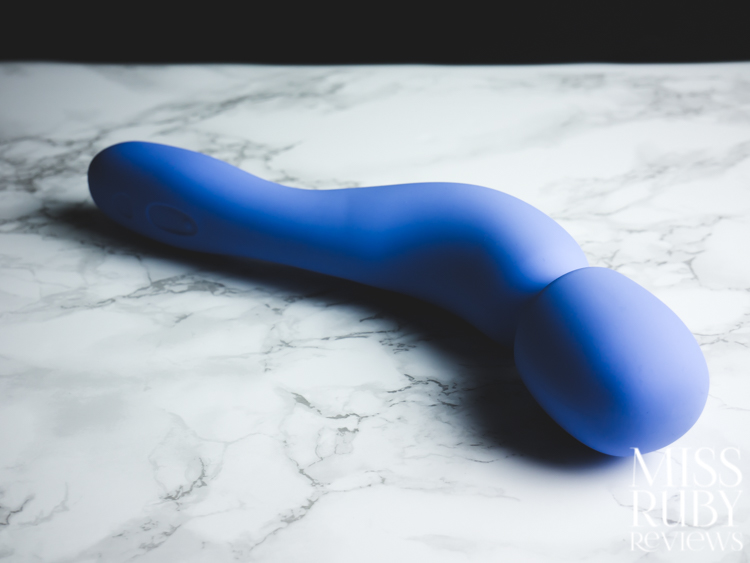 To date, I've tried upwards of 30 wand vibrators, so I know my wands. So how does the Dame Com Wand actually perform?
The Dame Com Wand induces orgasms left, right, and center. I personally found it very easy to orgasm with it, and this is why: While not the strongest wand I've ever experienced, it is very rumbly. The max strength is decently strong (I'd say 8/10 compared to wand giants like the Magic Wand or Doxy Die Cast) but that rumble alone is top-notch. It makes my whole vulva rumble, and I feel these clitoral orgasms all the way deep in my G-spot.
The shape of the head is effective as well. It's the classic oblong that you see everywhere in wands, so it's no surprise to see it here too (if it's not broken, etc etc). It's big enough that you can fit it over most of your vulva if you want, yet narrow enough that you can zero in on your clitoris when you use just one corner.
Dame says that the Com Wand houses their most powerful motor yet, so I suspect their other products wouldn't work for me or other power queens. But the strength that the Com gives, coupled with its rumble, makes for some amazing orgasms.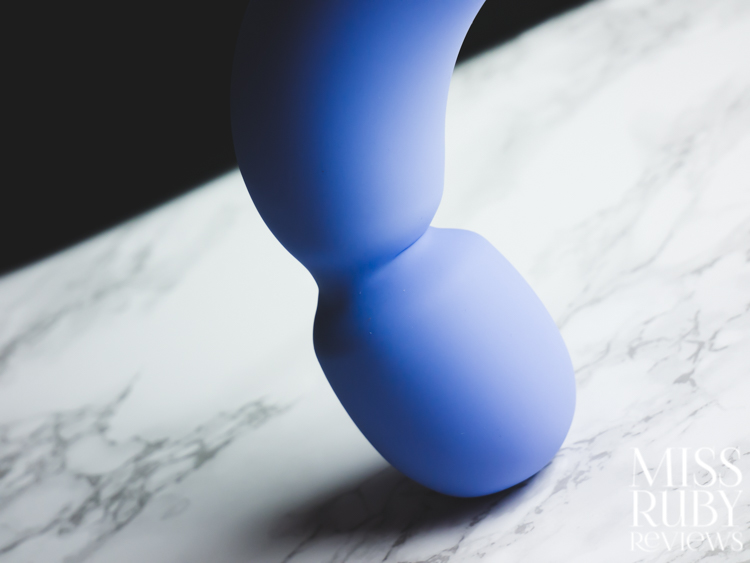 Interestingly, despite the impressive motor, the Dame Com Wand is very quiet. It's possibly one of the quietest wands I've ever owned. You simply cannot hear this through my closed door, so this is a great option for those of you who have kids or roommates in the other room.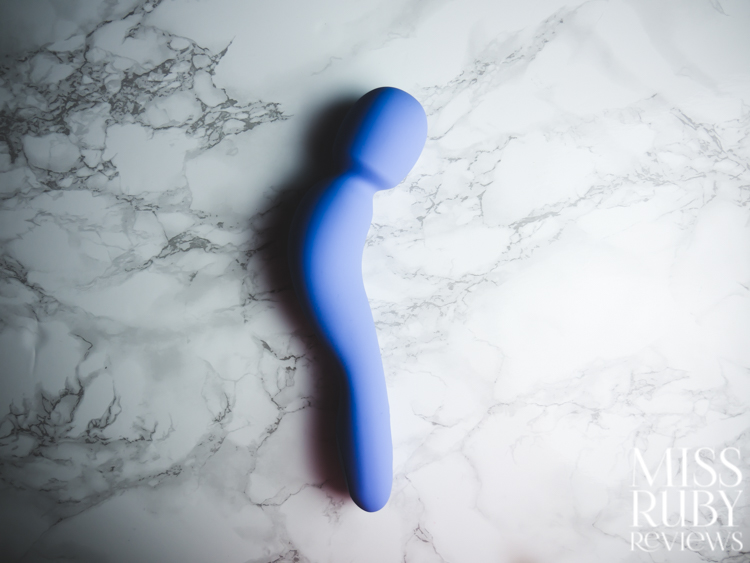 I'm trying to find criticisms of Dame Com Wand. My biggest gripe is that there's only 1 hour of playtime on a 2-hour charge, which isn't great. But, asides from that, I can't really fault it. It's a bit pricey, but not atypical for luxury wands in the current market. There are stronger wands out there, but that rumble really makes up for it (in my opinion).  It's honestly just a pretty great option.
Dame Com Wand Review – Overall Thoughts
The Dame Com Wand is a gorgeous luxury mid-sized wand vibrator. It's bodysafe, waterproof, rechargeable, and comes with a 3-year warranty. Its mix of strength and rumble means it can deliver amazing orgasms. And that periwinkle colour is just superb!
You can pick up your own Dame Com Wand here for $110.87 USD with coupon RUBY ! Why do I like Betty's Toy Box? They ship discreetly to the continental US for free on all orders over $49, plus you can get 15% off your whole purchase with coupon code RUBY. 

See below for my Dame Com Wand review breakdown.

Dame Com Wand Review
Overall thoughts - 9.5
9.5
$125
PROS
Decently strong and rumbly vibrations
Very quiet
Waterproof
Rechargeable
Gift-worthy packaging
Bodysafe silicone material
Gorgeous design
3-year warranty
CONS
1 hour playtime on a single charge
Shop Now