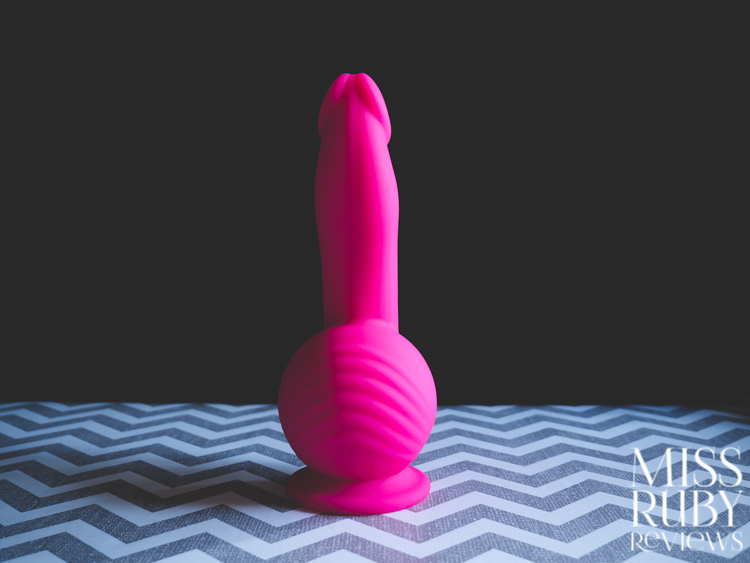 A dildo that acts as a powerful rabbit vibrator? I'm listening! Read on for my Evolved Ballistic Vibrating Dildo review!

Design | Accessibility | How to Use | Packaging | Material and Care | My Experience | Overall
Design
The Evolved Ballistic is a vibrating dildo with a funky-looking design.
A large ball sits at the base, textured with rippling waves. Visually, the ball acts as stylized testicles. Effectively, though, they transform this dildo into a dual-stimulator (kind of like a rabbit vibrator). That's because a powerful motor sits inside the ball, making it rumble against anything it touches (ie, your clitoris).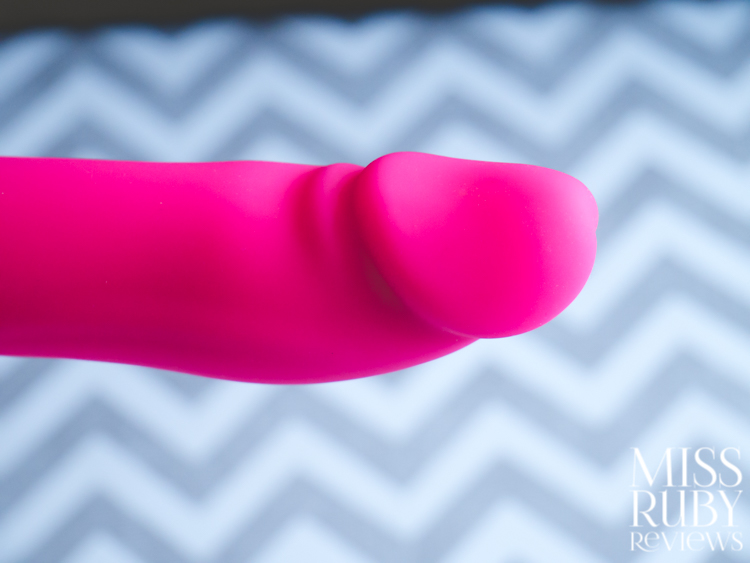 The lightly veined shaft gracefully extends from the ball, growing thick before it tapers into the head. The head is defined and realistic with a coronal ridge and frenulum, but, given how bright pink this toy is, I wouldn't say this toy is a realistic representation). Another motor lies in the shaft.
The ball also acts as a great flared base if you want to use this anally. But my designs on this are purely vaginal — once the shaft is inserted all the way, the internal vibrator stimulates your G-spot while the vibrating ball pleasures your clitoris.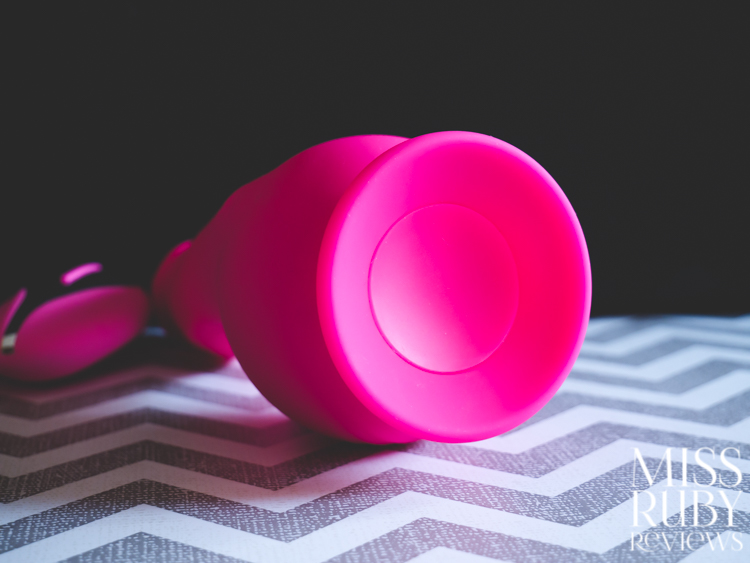 At the very bottom of the Evolved Ballistic Vibrating Dildo's base is a suction cup. This suction cup is powerful — it firmly sticks to my laminate floors and walls. It also passed my fridge-opening test. This will let you go hands-free.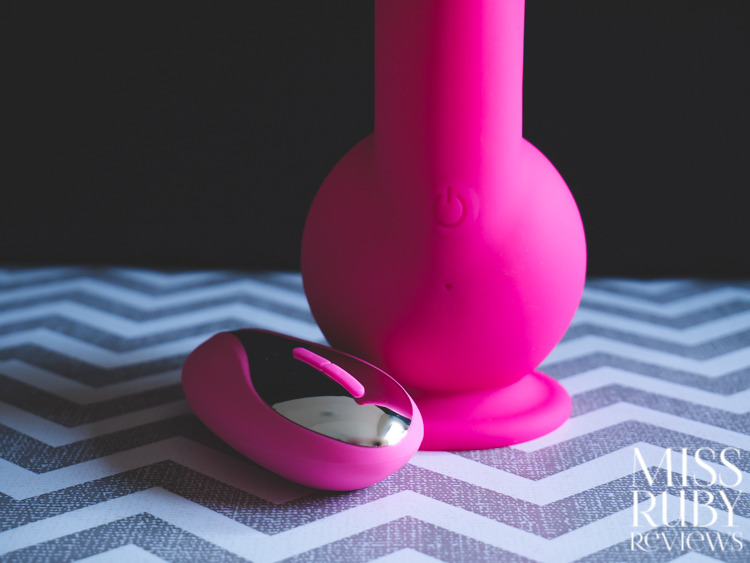 The Evolved Ballistic Vibrating Dildo is controlled via a button on the base, but it also comes with a remote control (with about a 15 to 20-foot range, making it great for partner play). It also comes with a range of luxury features: It's waterproof submersible, coated in creamy bodysafe silicone, rechargeable, and comes with a 5-year warranty.
The Evolved Ballistic Vibrating Dildo is available in pink. It's a shocking, BRIGHT, Fuschia pink. I know it won't appeal to all users so it's a pity it doesn't come in more colours.
Accessibility
This section is to help folks determine if they might have any issues using/accessing this toy.
Size: The Evolved Ballistic Vibrating Dildo is approximately 7.75″ long with 4.5″ of insertable length. The shaft has a 4.75″ girth at its widest point. The ball is nearly 3″ in diameter.
Weight: At 323 grams, this is a moderately heavy sex toy.
Buttons: There is one big power button on the base of the toy (about 13mm round and 1mm tall). Its edges aren't distinct but you can feel the raised button with your fingertips. It takes light pressure to press and makes a soft 'click' sound. The remote control has two, thin rectangular buttons (15 mm long x 2 mm wide x 1 mm tall). A small 1mm gap is between them. They take moderate pressure to press and make a loud 'click' sound.
Vibration transfer: There is really no part of this dildo that doesn't vibrate. There is a motor in the shaft and the round ball, so vibrations are felt throughout. If you have joint issues that are affected by vibrations, you will not want to hold this. However, seeing as this comes with a suction cup, you can always suction cup it to a flat surface and go hands-free.
Price: At $94.99 USD, this is on the expensive end for a vibrating dildo. However, given the strength of the motors inside and the exceptionally good warranty this comes with, the price sounds reasonable to me. Also, remember that you can get 10% off your order through this link when you use coupon code RUBY.
How to Use the Evolved Ballistic Vibrating Dildo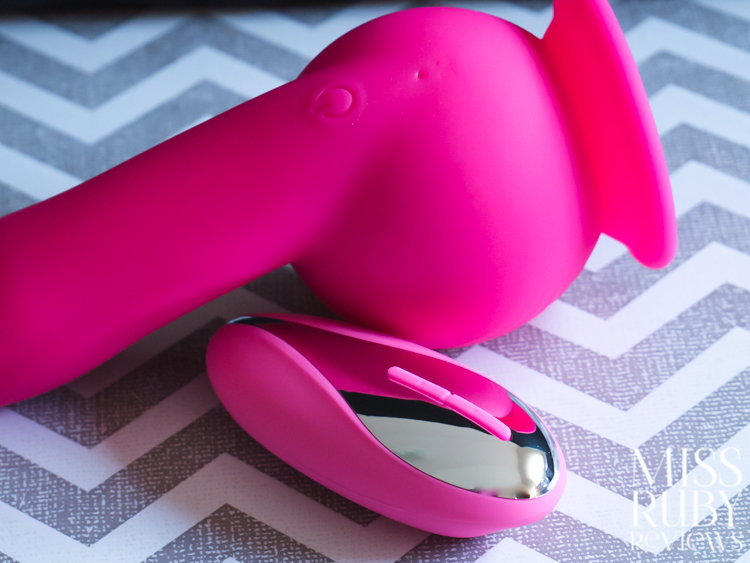 The Evolved Ballistic Vibrating Dildo can be controlled via a button on the base or with remote control.
Press the power button on the base for 2 seconds. A light will come on and the Ballistic will enter Standby mode.
If you want to use the Remote Control, you can now do so by pressing the top (increase) button. Press the decrease button for 2 seconds to turn it off.
If you want to skip the remote control, you can just tap the power button on the base to cycle through the 3 steady speeds and 7 patterns.
Enjoy the Ballistic. This can be used vaginally. The internal shaft stimulates you internally while the large vibrating ball stimulates your clitoris. You can also use this anally (up until the ball).
To turn it off, press and hold the power button again for 2 seconds (or the bottom button on the remote control).
You can also use the suction cup to slap it on the wall, floor, or shower. This would also work in a strap-on harness. I recommend a 1.75″ O-ring. Peepshow Toys has some gorgeous harnesses (this one comes with a 1.75″ O-ring).
Packaging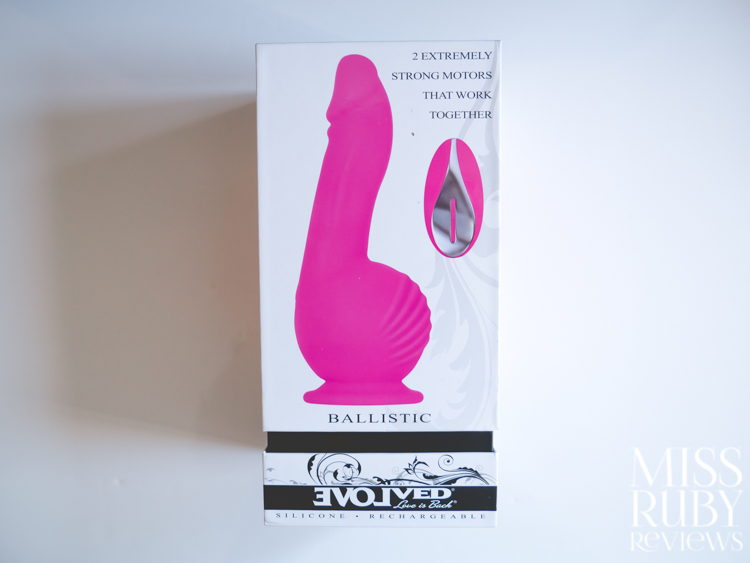 The Evolved Ballistic Vibrating Dildo comes packaged simply in a black and white box. The dildo is pictured on the front. The box opens by lifting up the top portion and inside the contents are in a plastic sleeve.
All-in-all, you receive the Ballistic, the remote control, a 5-year warranty card, and the instructions.
No storage pouch is included. If you'd like a storage box (not necessary, but it's always nice to keep all the contents in one place), you can browse for some here. The anti-microbial SugarSak in Large should fit.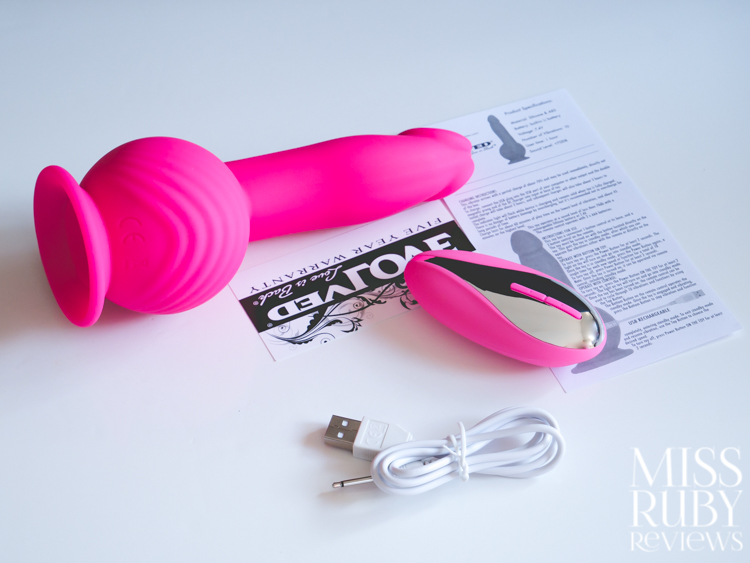 Material and Care
The Evolved Ballistic Vibrating Dildo is made from silicone with a silky smooth finish. Silicone is a fabulous material for sex toys because it's effectively nonporous (so cleans well) and nontoxic. The remote control is plastic.
The Evolved Ballistic Vibrating Dildo is completely waterproof and submersible. To clean, I rinse the whole thing in warm, soapy water before and after each use.
If you'd like to add lubricant (which I always recommend), try a good quality, water-based lube like my favourite basic Sliquid H2O.
To charge, insert the needle-end of the charger (included) into the charging port below the Power button (it's a small, faint, self-sealing hole). Connect the cord to your computer or a USB wall adapter. An LED light at the base blinks while it's charging and becomes solid when fully charged. A full charge takes 3 hours and gives you up to 1 hour of playtime. This is a pretty bad Charge-to-Play ratio.
The Evolved Ballistic Vibrating Dildo comes with a 5-year warranty against defects. That's a remarkable warranty period, one of the best I've seen in the industry.
My Experience with the Evolved Ballistic Vibrating Dildo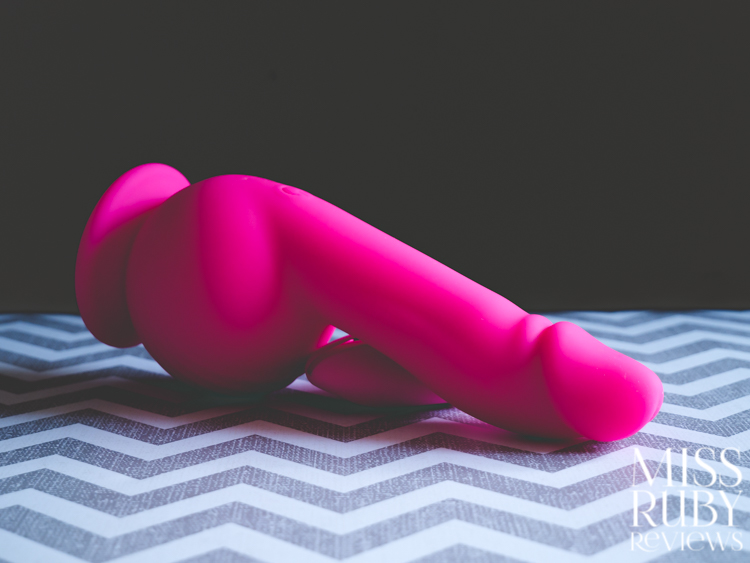 The Evolved Ballistic Vibrating Dildo is possibly one of the strongest non-wand vibrators I've ever owned.
This toy's two vibrating motors are INTENSE. Woah!
The shaft has slightly stronger vibrations than the balls. They focus in the top/tip portion of the head, and rumble so strongly that they give the Magic Wand a run for its money. (And, to my surprise, they let this toy double as an effective pinpointed clitoral vibrator).
The vibrations in the balls disperse over a wider surface area, so while they don't feel as shockingly focused as the shaft, they're still satisfyingly strong.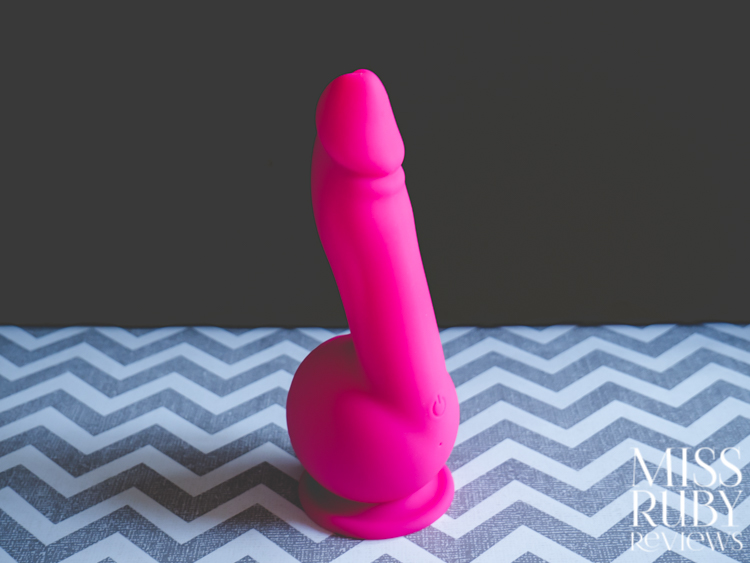 Using the Evolved Ballistic Vibrating Dildo vaginally feels great. Because I use this as a clitoral/G-spot dual stimulator, I angle it upside-down so that the balls are against my clitoris. At this angle, the shaft is tapering/swelling a bit so it conveniently juts out into your G-spot. The ball gives you 1″ of vibration before it starts tapering away to form the round sphere. This means that 1″ above your entrance will definitely get stimulated. But I find that, with some creative angling, I can get up to 2″ of coverages (which is great because my clitoris sits about 2″ away from my vagina).
Pleasure-wise, the Evolved Ballistic Vibrating Dildo delivers. With vibrations like these, it's hard not to. I've personally found it very easy to orgasm with. I like moderate-to-strong vibrations, and I'm happy with the first or second strength level.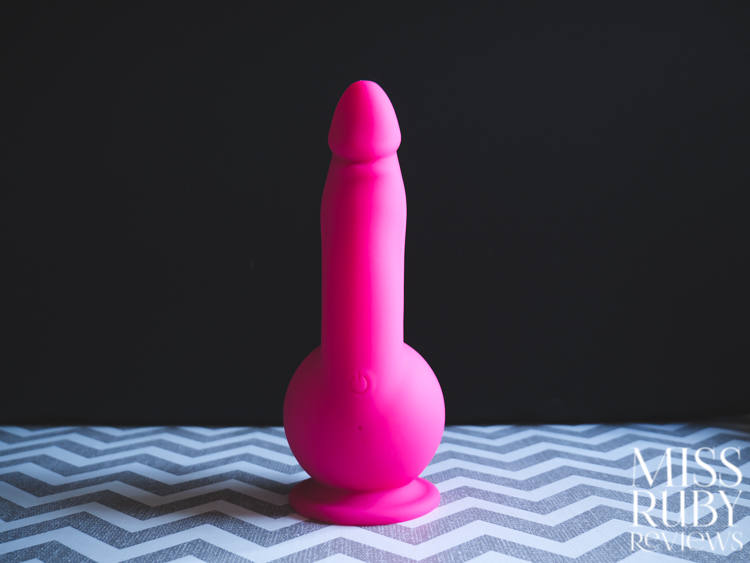 However, for people who are very sensitive to vibrations, you may find this TOO strong. The first level is already very strong and there's no way to make it softer. If you know your clitoris, G-spot, or prostate gets overwhelmed easily (in a way you don't like), you may want to look elsewhere.
Lastly, the Evolved Ballistic Vibrating Dildo is loud. It's listed as being 70 decibels, which is about as loud as a typical washing machine. I would not turn this on if you share a thin wall with a roommate — wait until you have the place to yourself!
Evolved Ballistic Vibrating Dildo Review – Overall Thoughts
The Evolved Ballistic Vibrating Dildo is an absurdly strong vibrating dildo. The shaft vibrations are INTENSE and provide amazing G-spot stimulation (or can double as a pinpoint clitoral vibrator). The ball vibrations rumble nicely against the clitoris during thrusts. And with its luxury features (rechargeable, bodysafe silicone, waterproof, and a 5-year warranty) I'm totally sold on the $94 price tag. Be warned, though, that this is a pretty noisy toy and will be too strong for you if you consider yourself sensitive to vibrations.
You can pick up your own Evolved Ballistic Vibrating Dildo here! Why do I like Peepshow Toys? They ship internationally, only carry body-safe products, and you can get a 10% discount off your whole purchase with coupon code RUBY. 

See below for my Evolved Ballistic Vibrating Dildo review breakdown.

Evolved Ballistic Vibrating Dildo Review
Overall thoughts - 9.3
9.3
$94
PROS
VERY STRONG
Two motors
Seamless, bodysafe, silicone construction
Rechargeable
Waterproof
5-year manufacturer's warranty against defects
CONS
Long 3-hour charge for only up to 1 hour of playtime
Noisy
Only comes in pink
Shop Now
Last Updated on March 18, 2023 by Miss Ruby