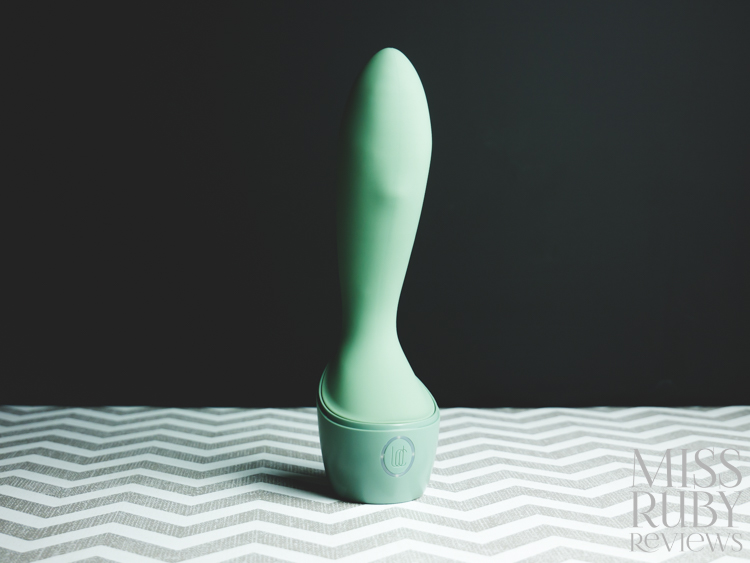 A vibrator with a "micro-robotic" fingertip? Read on for my Lora DiCarlo Onda review!

Design | Accessibility | How to Use | Packaging | Material and Care | My Experience | Overall
Design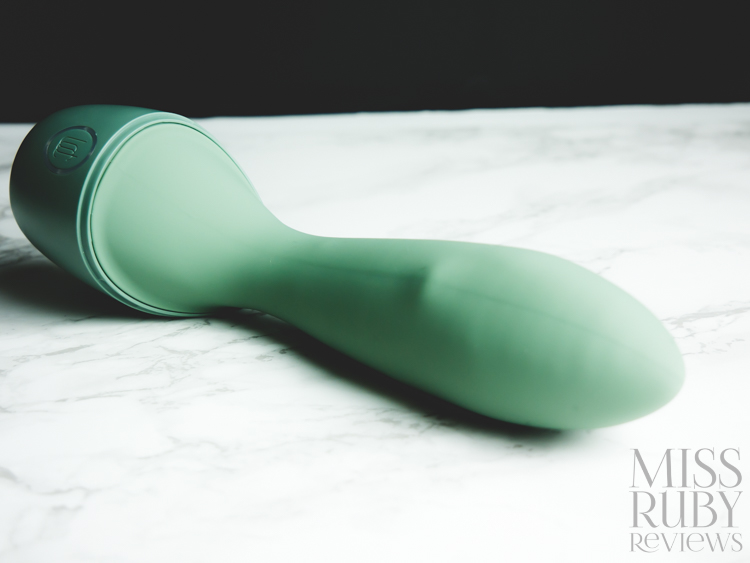 The Lora DiCarlo Onda is a G-spot vibrator. While it does, indeed, have a vibrating motor, it sets itself apart with "micro-robotic" technology. A small, robotic ball (about the size of a fingertip) bulges out from the shaft and strokes up and down, right around where the shaft hits your G-spot. You can customize the speed of how fast the "fingertip" glides along the shaft, as well as choose from 4 stroke positions.
Pretty neat, huh?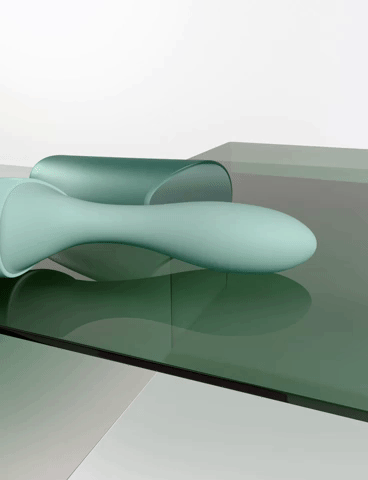 Lora DiCarlo also features this micro-robotic technology in the Ose 2 but, unlike the Osa 2, the Onda does not specifically cater to the clitoris. Instead, it includes a vibrating motor so you can have some rumble along with your fingertip strokes.
Lora DiCarlo products don't come cheap — when you purchase one of their toys, you expect to receive something innovative and ultimately luxurious. And I have to say, the Onda certainly ticks those boxes for me.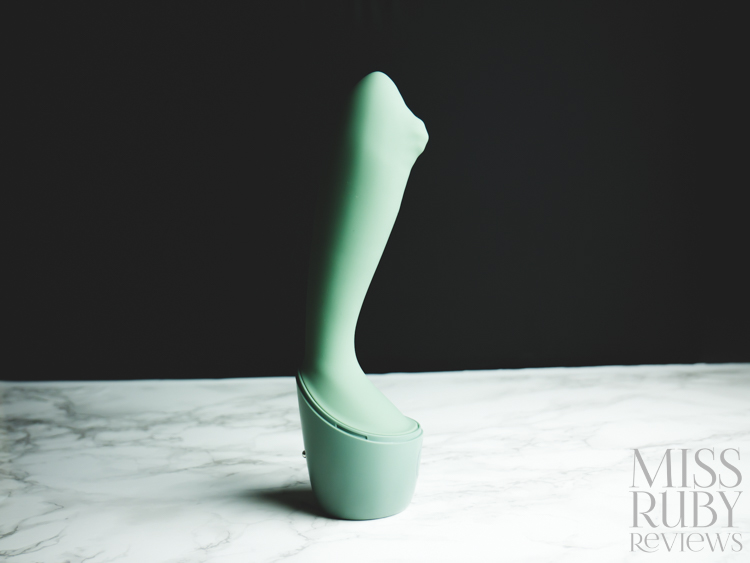 Visually, the Lora DiCarlo Onda is stunning. The top half of the shaft is wide and bulbous, which allows the ball to hone in on your G-spot easier. This is where the rolling fingertip works its magic. The silicone shaft is and gracefully curves inwards towards the base. The base is plastic and features a flat bottom so you can stand it upright on your bedside table. The base houses the metal charging nodes and 4 control buttons.
The Lora DiCarlo Onda is bodysafe, IPX7 waterproof, and rechargeable. It has 10 vibration speeds and (if I'm counting correctly) 10 stroke speeds. There are 4 stroke positions/lengths (the smallest is approximately 2 cm short and the widest is about 4 cm long).
It also comes with a plastic cap that slips right over the shaft and clips into the plastic base, protecting the shaft from dust during storage.
The Lora DiCarlo Onda is available in this gorgeous Sage colour. It's a soft, gentle, clean shade of green, one that I don't see often in this industry.
Accessibility
This section is to help folks determine if they might have any issues using/accessing this toy.
Size: The Lora DiCarlo Onda is an average-sized G-spot product. By my measurements, it's about 19 cm tall and 5.3 wide (at the widest part of the base). There's about 12 cm of insertable length.
Weight: At 180 grams, the Lora DiCarlo Onda is fairly light.
Buttons: There are 4 buttons. The power button is a large 15 mm oval and plastic button that sits flush with the side of the handle; it takes light pressure to press down. There are three silicone buttons on the base — a small 4mm round one (the toggle button for the long vs short strokes), a middle oval button (17x4mm), and a long oval button (21x4mm). These last three buttons sit 1mm tall and 4mm apart, and take firm pressure to press.
Vibration transfer: When you activate the vibration mode at top strength, some light buzz does go into the handle. You can independently turn on the massaging, stroking G-spot ball, so you can have that going and ignore the vibrating mode if you have sensitive joints.
Price: At $245 CAD, this is fairly expensive for a vibrator. In terms of the rolling G-spot ball function, the closest toy I can think of to this is the LELO Ora 3, which is similarly priced.
How to Use the Lora DiCarlo Onda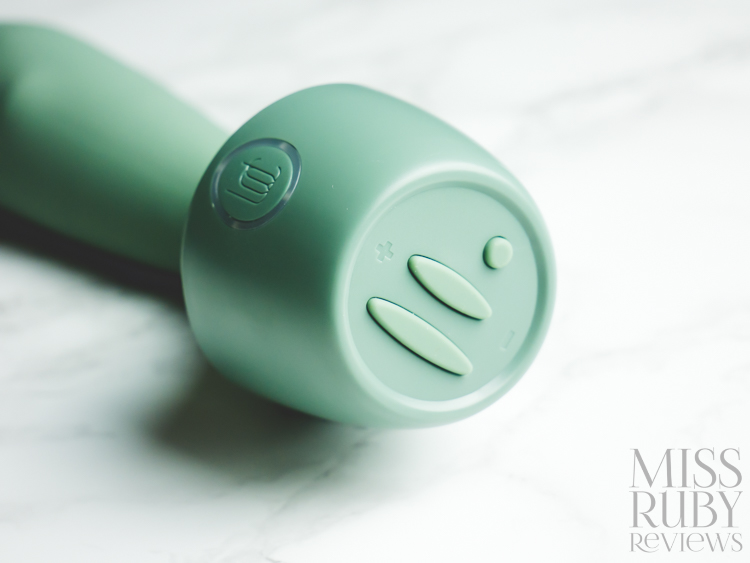 There are 4 control buttons: one round Logo button on the side and 3 buttons on the base (a circle, a medium oval with (+) and (–), and a long oval).
Insert vaginally when the power is off. Though designed for G-spot stimulation, this could theoretically also be used over a clitoris.
Turn on the Lora DiCarlo Onda by pressing and holding the large logo button on the side of the base. The button will pulse with a white LED light to indicate it's on.
Tap the (+) and (–) buttons to increase and decrease the speed of the G-spot massaging ball.
Tap the small round button beside the +/– buttons to toggle between long and short strokes.
To turn on the "G-spot Boost" (which is just a vibrating motor), press the longest oval button. Use each opposite end of the button to increase or decrease vibration.
To turn it off, press and hold the logo power button again. Turn it off before removing it from your body.
Be sure to only activate the rolling finger once the toy is already in place, and to turn it off before you remove it. The safety instructions are very particular about this.
Lastly, this toy comes with a travel lock feature. Activate the travel lock when you don't want it to turn on at the wrong time (ie, travelling!). Simultaneously press and hold the large power button and the tiny G-spot stroke toggle button for a few seconds.
Packaging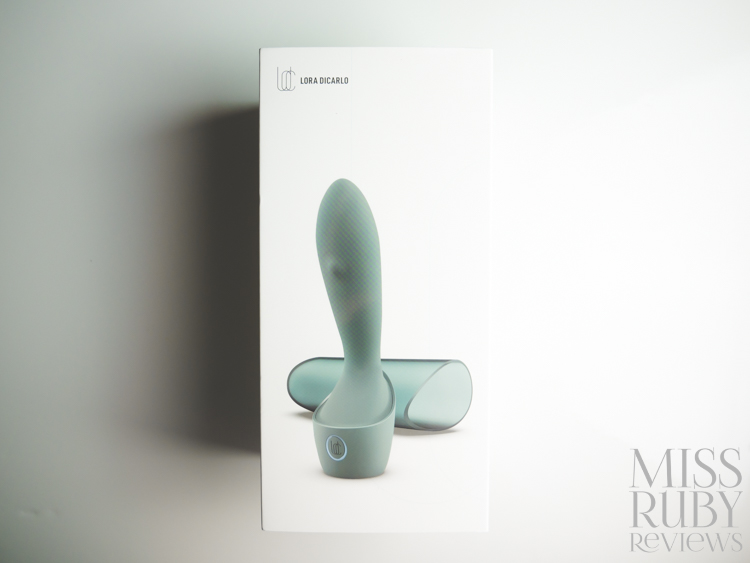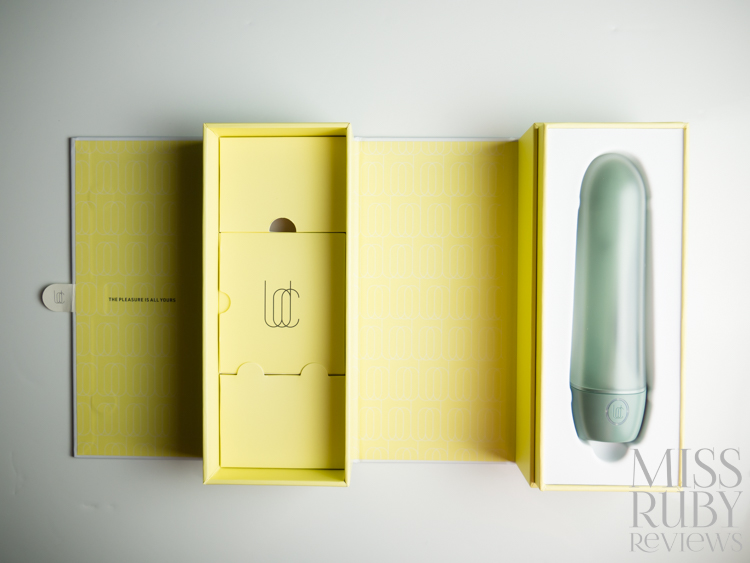 Lora DiCarlo products are packaged beautifully and the Onda is no exception. The Lora DiCarlo Onda box has a simple sleeve picturing the logo and the Onda. When you remove the sleeve, you find a plain white box. Opening the white box is like opening a treasure chest — you're created by bright, golden packaging inside. The Onda is nestled in a cushion within its protective cover.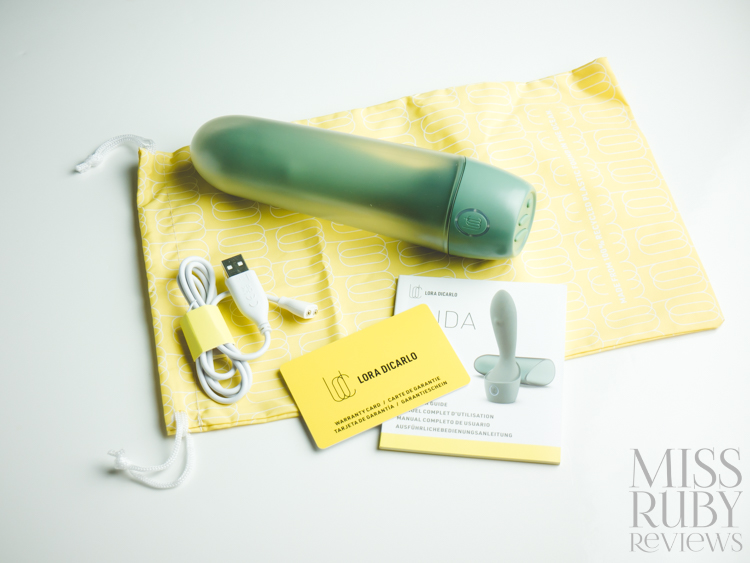 All in all, you receive the Lora DiCarlo Onda (and its cover), a warranty card, a user guide, the USB charging cord, and a large drawstring pouch large enough to fit all these contents.
I think this packaging is superb and would make for a very impressive first impression if you're thinking of gifting this to your partner.
Material and Care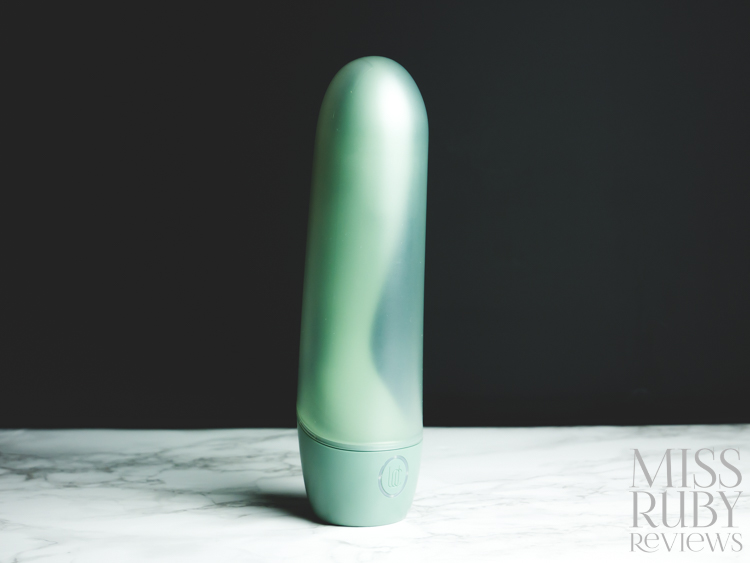 The Lora DiCarlo Onda is a bodysafe vibrator coated with medical-grade silicone (the insertable portion) and ABS plastic (the base). Silicone is nonporous and hypoallergenic, making it the best option for a sex toy. This particular silicone has a silky, smooth finish that attracts minimal lint/dust.
This toy is waterproof and submersible. To clean the Lora DiCarlo Onda, I rinse with warm, soapy water before and after each use. You can also use a silicone-safe toy cleaner, though I'm a fan of just normal, mild bar soap. I let mine air dry for a couple of hours before I replace the plastic cover and store it in its storage pouch.
To charge your Lora DiCarlo Onda, connect the magnetic USB charging cord (included) to the 2 metal pins at the back of the body; plug that into your computer or a USB wall adaptor. A full charge takes about 2 hours and gets you up to 1 hour of playtime. If you want to quickly test to see how charged it is, just plug it in and look at the circular ring that lights up around the main button; only a quarter of the ring lights up when it's 25% charged, with more of the ring lighting up towards 100%.
This toy will also give you a low power warning if the toy only has <5 minutes of playtime left. The light ring will flutter a bit as a warning.
I highly recommend you use lubricant — I suggest opting for a water-based lubricant like my favourite Sliquid H2O.
Lastly, this toy comes with a 1-year warranty against defects. Be sure to register your product using the included warranty card.
My Experience with the Lora DiCarlo Onda
I'll preface this section by saying that the Lora DiCarlo Onda's rolling finger G-spot is the closest I've ever seen a toy come to feeling/acting like an actual human finger. Are there big differences? Absolutely. But it's still fairly impressive to experience.
Lora DiCarlo Onda Movement Demo
The Lora DiCarlo Onda's rolling fingertip is pretty incredible. Once this toy is inserted against my G-spot, the fingertip provides me with a very unique (for a sex toy) and pleasurable sensation. I do need to apply some upward pressure so there's firm pressure against the G-spot (the shape of the shaft can only take it so far), but the end result is deeply satisfying. I haven't experienced anything like this from a sex toy before.
I'm glad that I can customize the stroke position because some of the positions definitely feel more 'on target' than others, and I think Lora DiCarlo included this versatility because our bodies are all so different. The stroke speed settings are also great — there's slowwww come-hither all the way to frantically fast.
Because I personally can't orgasm from G-spot stimulation alone, I pair this toy with a strong clitoral bullet vibe; the rolling fingertip adds a lot of sensation and speeds up my orgasms considerably.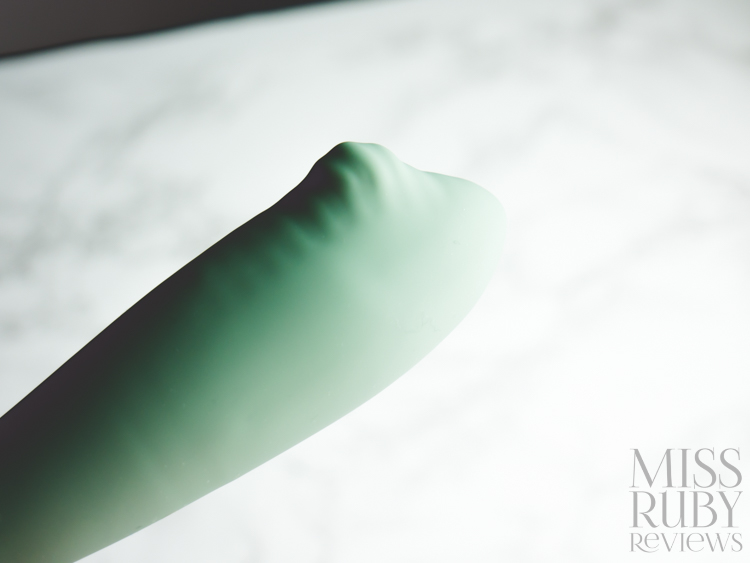 The rolling fingertip/ball is quite hard, though. While firm pressure against the G-spot is generally good, it does not and cannot feel exactly like the texture of a real finger. If you use this for long lengths, I suspect the unrelentingly rock-hard ball will start to feel uncomfortable. If you're a marathon masturbator, you'll probably need to turn off the rolling ball after 20 minutes or so to give your G-spot a break.
There's also the vibrating motor. While it does add some pleasant buzz, the vibrating motor is not what I'd consider strong. It gives off fairly surface-level and buzzy vibrations, which was disappointing. The Onda's main draw is certainly not its vibrating prowess, but its fingertip.
Though the shape alone does hold a lot of sway with my body — if I turn off everything electronic, thrusting the shaft feels fantastic. The ball can still be felt in its 'standby' stationary position (it gives the G-spot a little nudge as it glides along).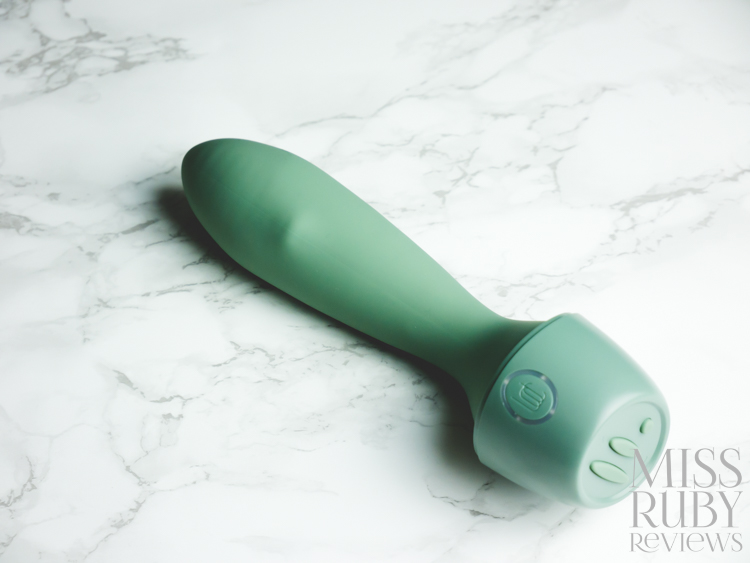 I also tried to use this clitorally. To be clear, it's not designed for clitoral use, but I figured other people would probably try using it this way too. I'm not sure if this is every clitoris' cup of tea — the ball feels especially hard against the clitoris, and it doesn't make a circle motion around/on the clitoris which a lot of folks enjoy. But I was able to orgasm this way, a bit to my surprise.
If you have roommates and you're concerned about noise, this may not be the toy for you. Though the vibrator isn't too loud, the robotic ball gives off a high-pitch whir as it strokes back and forth. If you have thin walls, you'll want to wait until everyone's fast asleep before using this!
Lora DiCarlo Onda Review – Overall Thoughts
The Lora DiCarlo Onda is a unique G-spot toy. I've never experienced a sex toy that feels so similar to a human fingertip against my G-spot. It's not an exact replication, obviously (it's made of metal and silicone, after all!) but I enjoyed the novelty immensely. I'm not thrilled about the quality of the vibrating motor, nor the noise it generations, but the stroking robotic fingertip, the shape and the aesthetics were a big hit for me!
You can pick up your own Lora DiCarlo Onda here at LuxuryVibrators.ca! Why do I like LuxuryVibrators.ca? They're Canada-owned (but can ship from within USA to USA customers too), offer free shipping on $100+ purchases, and promise to ship discreetly in a plain, unmarked box. You can also get 12% off your order with coupon code MissRuby !

See below for my Lora DiCarlo Onda review breakdown.

Lora DiCarlo Onda Review
Overall thoughts - 8
8
$245
PROS
Unique fingertip stroke sensation
Gorgeous design
Bodysafe materials
Waterproof
Rechargeable
1-year manufacturer's warranty
CONS
Rolling ball is quite hard
Noisy
Weak/buzzy motor
Expensive
Shop Now
Last Updated on May 18, 2022 by Miss Ruby