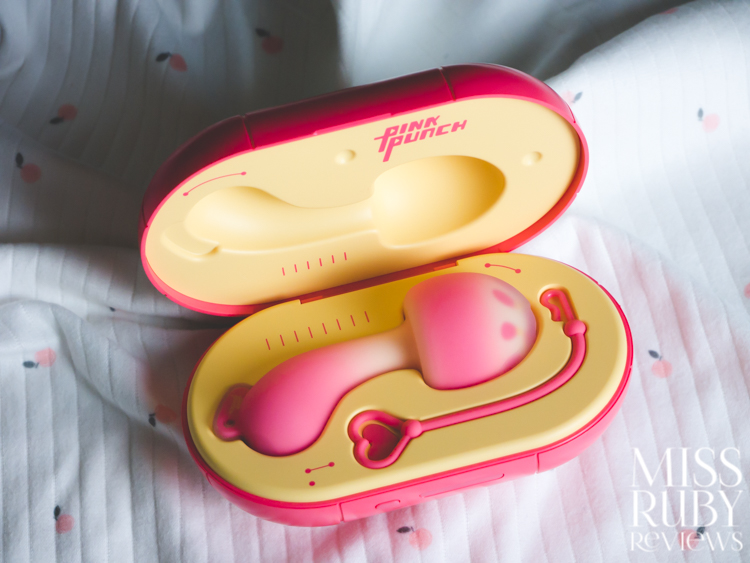 A cute peach-coloured egg vibrator with its own wireless charging case. Read on for my PinkPunch Sunset Mushroom Vibrator review!

---
Design | Accessibility | How to Use | Packaging | Material and Care | My Experience | Overall
---
Design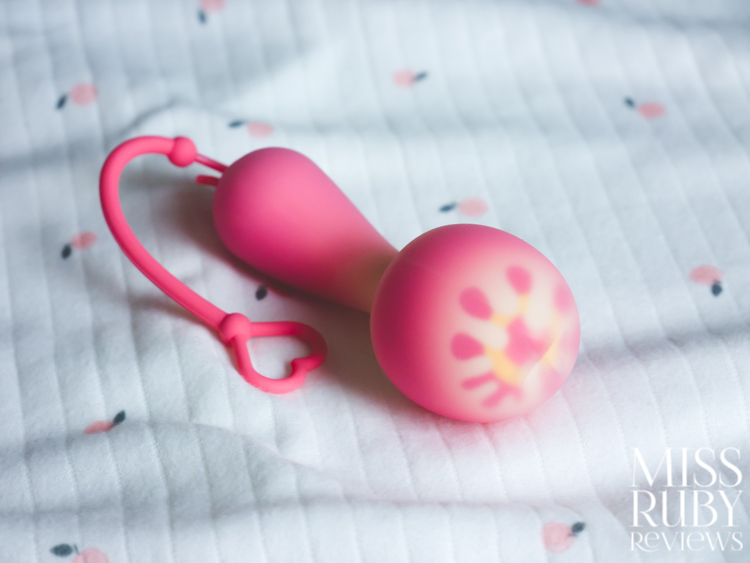 The Sunset Mushroom Vibrator is an adorable little vibrator from PinkPunch, a new company that launched only last year. This is an egg vibrator: a small vibrator that you use clitorally, or insert it vaginally and even walk around with.
It snagged my eye with its unique, sunny, and cuddly appearance. As per its name, its design was inspired by the shape of a mushroom. A wide, mushroom head sits at the top and displays fantastic colours: a pink, orange, and pale cream decorative design. This is where the vibrating motor lies.
Under the mushroom head, the steam is pale cream and narrow, and as it extends downwards it swoops out to form a thick, pink handle.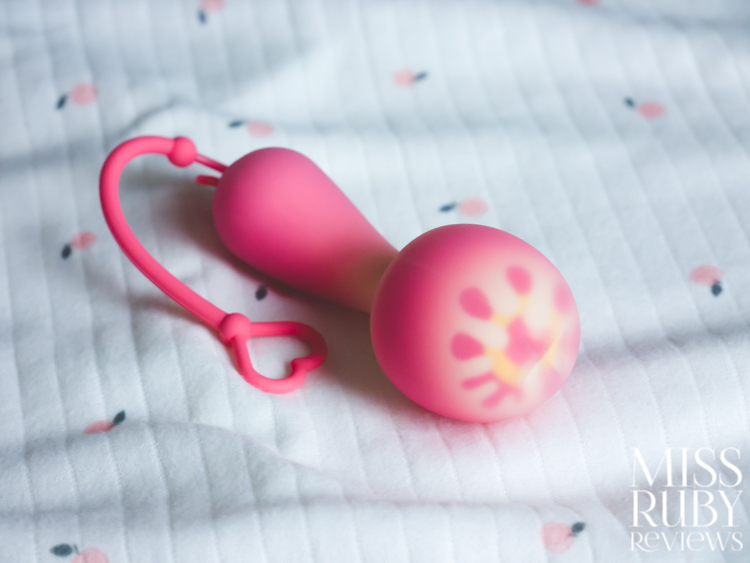 At the very tip of the handle, there's a hole where you have the option to connect a silicone strap. This is designed as a pull string if/when you use this vaginally (basically, like a tampon string; it just helps you pull it out easier).
The PinkPunch Sunset Mushroom Vibrator is made from silicone. The other layer is translucent and it creates a glowing, soft, misty appearance that I love.
It is also waterproof and rechargeable and can be (optionally) controlled via App.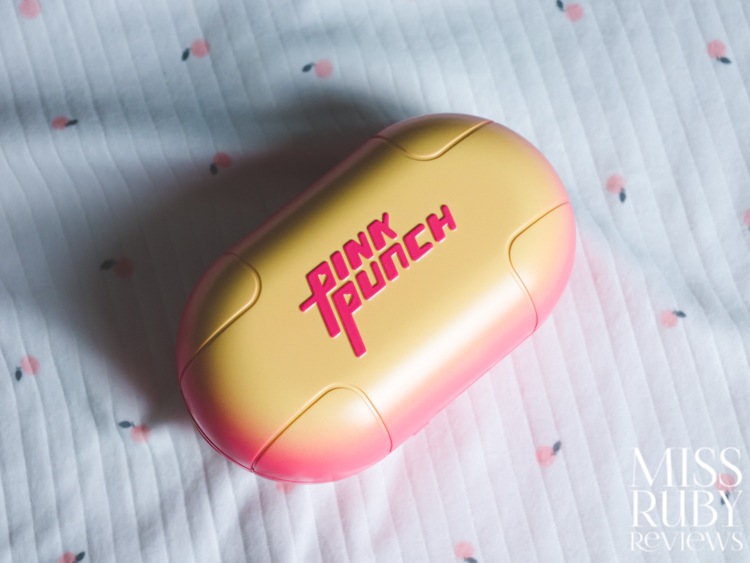 It is also extremely travels friendly, because you don't necessarily need to connect to a wall outlet or computer to USB charge this. That's because it comes with a special wireless charging case, that you can charge beforehand; it holds its own charge, which you can then use to charge the vibrator. I haven't seen this with a sex toy before, and the idea is great.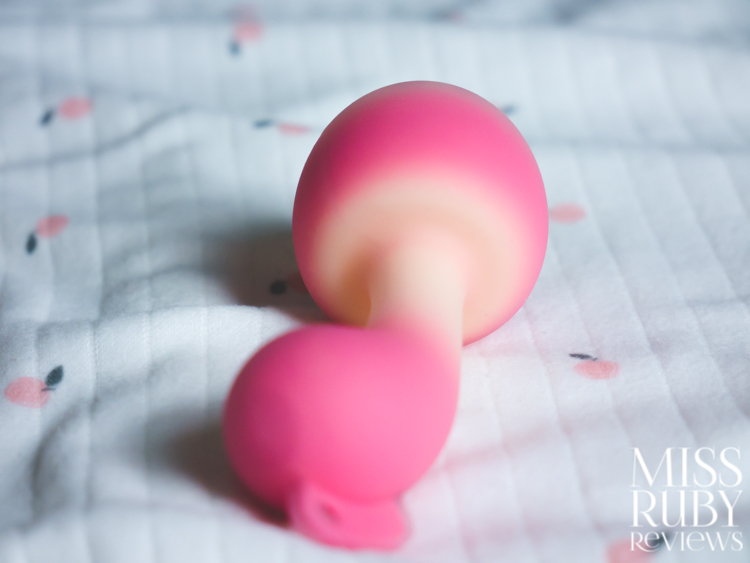 Accessibility
This section is to help folks determine if they might have any issues using/accessing this toy.
Size: The PinkPunch Sunset Mushroom Vibrator is a small vibrator. It's approximately 9 cm (plus another 9cm if you count the string). The mushroom head is 3.5cm wide and tall.
Weight: The vibrator alone is 37 grams, making this very lightweight. When you add the case, the total weight is 150 grams.
Buttons: There's one round button at the base of the mushroom stem, about 9mm wide. It's at the very tip, besides the little fin (where you'd connect the safety strap). You cannot feel the button with your fingers, so if you have visual difficulties just keep trying to press spots around the bottom of the stem. It makes a nice 'click' sound when pressed, but it does take firm pressure to press down.
Vibration transfer: A large percentage of the vibrations transfer to the tip of the handle/stem. This wouldn't be an issue if you're using this vaginally (as the whole thing would be inside you, save for the strap) but if you're using this clitorally your hand will begin to feel funny from holding it. This will affect users with joint issues (ie, arthritis).
Price: For $99 USD, this is on the expensive end for vibrators with similar features (ie, waterproof, silicone, rechargeable). I think you're paying extra here for the cute design and the gorgeous wireless charging case. You can also get 20% off your purchase with code MRR20
How to Use the PinkPunch Sunset Mushroom Vibrator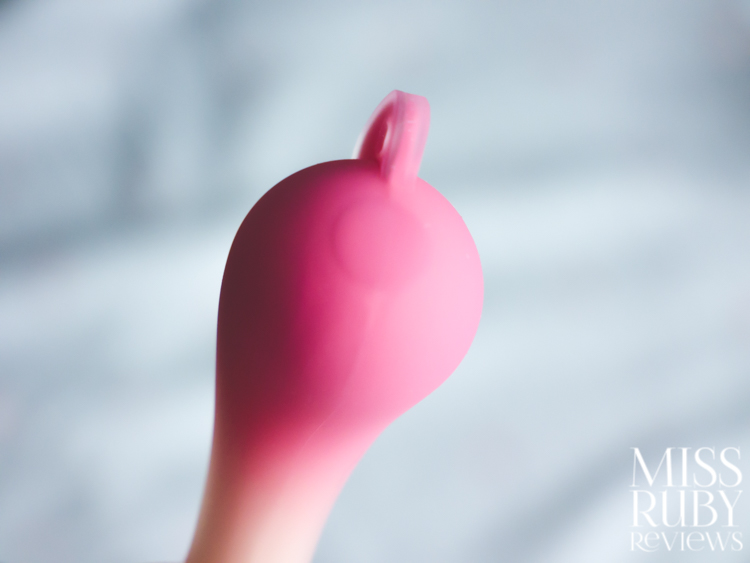 The PinkPunch Sunset Mushroom Vibrator is controlled via a button at the base or via App.
To use the button. press and hold the button at the base for a few seconds. It'll turn on at the lowest speed (or the last speed you used).
This toy can be used externally (ie your clitoris, nipples, or the shaft of a penis) but it can also be used vaginally. PinkPunch recommends you attach the silicone safety strap (included) before using it internally (so you have something to pull out). I don't recommend this anally as it does not have a flared base.
Keep tapping the button to cycle through the 3 steady speeds and 5 patterns.
To turn it off, press and hold the button for a few seconds again.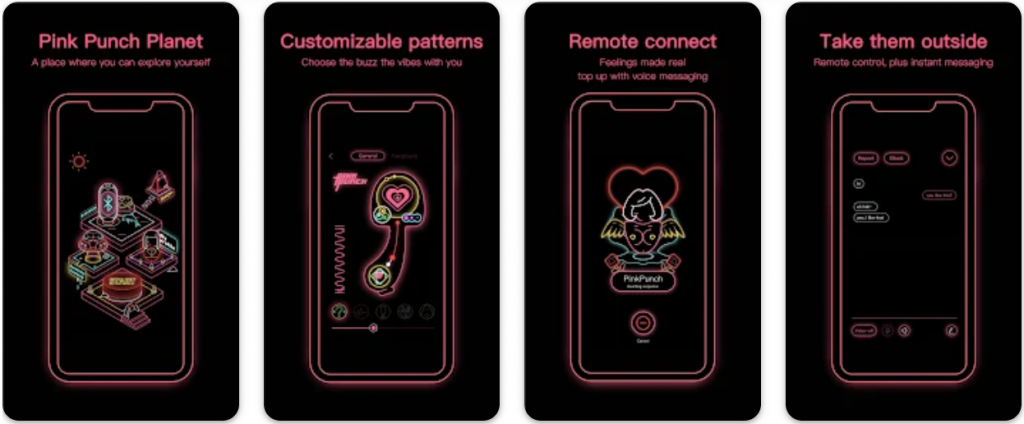 You can also control this via App to customize your patterns, connect with your partner remotely, and instant message/voice message with your partner.
Packaging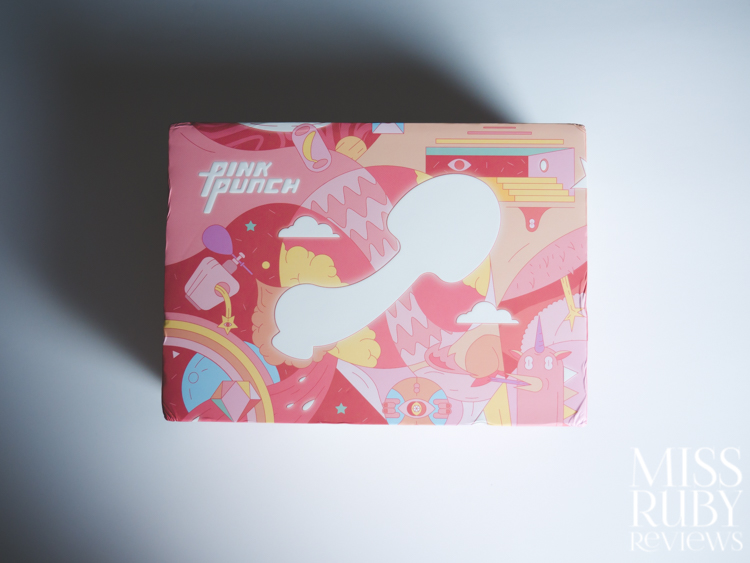 The PinkPunch Sunset Mushroom Vibrator is packaged beautifully. The other box is peach-toned. An outline of the vibrator is pictured but you really wouldn't be able to tell, at first glance, that this is a vibrator.
When you open the lid (and remove the ribbon-tied black compartment) you find the PinkPunch storage container nestled within. The mushroom vibrator and safety strap are inside the case.
In total, you receive the PinkPunch Sunset Mushroom Vibrator, the safety strap, the storage/charging case, a USB charging cable, a wearable pinkpunch pin, stickers, and the instructions.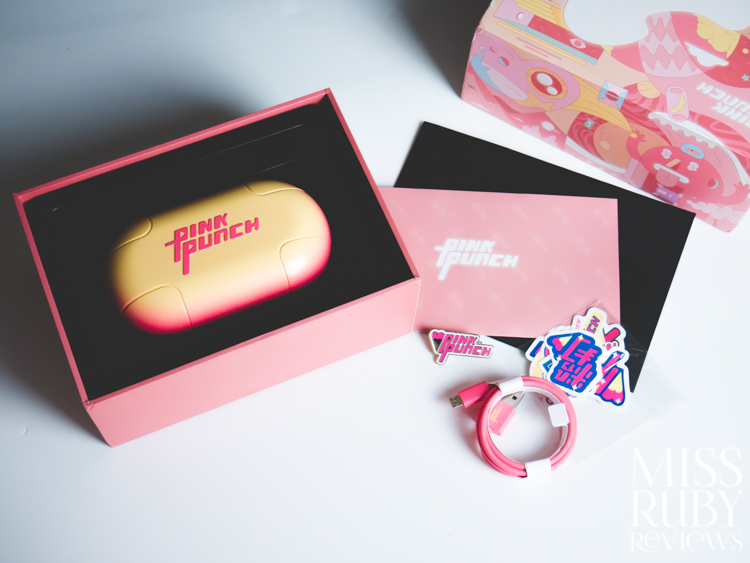 Material and Care
The PinkPunch Sunset Mushroom Vibrator is made from silicone with a matte smooth finish. Silicone is a fabulous material for sex toys because it's nonporous (so it cleans well) and non-toxic.
The PinkPunch Sunset Mushroom Vibrator is waterproof to level IPX7 (not just splashproof), making it submersible. To clean, I rinse the whole thing in warm, soapy water before and after each use. Take care not to get the charging box wet, though, as that's not waterproof.
If you'd like to add lubricant (which I always recommend), use a water-based lube. Any silicone-based lubricant will damage the silicone of this toy.
What's neat about this product is that the charging case has its own rechargeable battery, so that you can charge the mushroom vibrator just by using the case itself (ie, if you're travelling and don't have access to external power).
To charge the case, insert the USB cable (included) to the side of the charging station and connect it to power via your computer or a USB wall adapter. An LED bar light will pulse while charging and become steady when fully charged. It takes about 2 hours to charge the case. You can charge the mushroom vibrator at the same time by just putting it inside the case while it's charging.
To charge the vibrator using the case (no external power), slot the PinkPunch Sunset Mushroom Vibrator into the charging station. A little heart light will come while it's charging. It'll take about 30 minutes to charge the vibrator, and you'll get 1 hour of playtime.
My Experience with the PinkPunch Sunset Mushroom Vibrator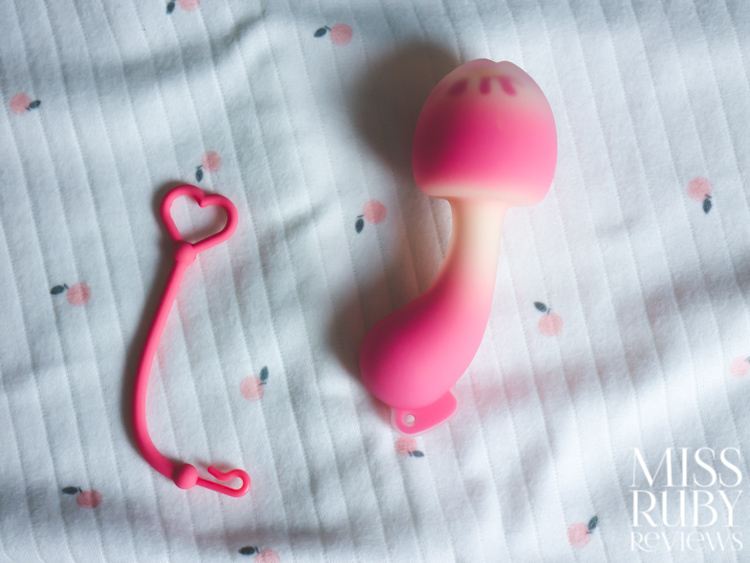 Let's start with the good.
I really love the concept of the PinkPunch Sunset Mushroom Vibrator. The colours are delicious. The packaging and overall appearance are top-notch, and I can see that a lot of effort and thought went into its design. It's super easy to maintain — with that seamless, waterproof body, cleaning is quick and easy under some warm water.
The shape is interesting. The motor's strongest point is in the wide mushroom head, but this toy is petite, so when you use this clitorally you get miniature broad-style stimulation (like a petite wand).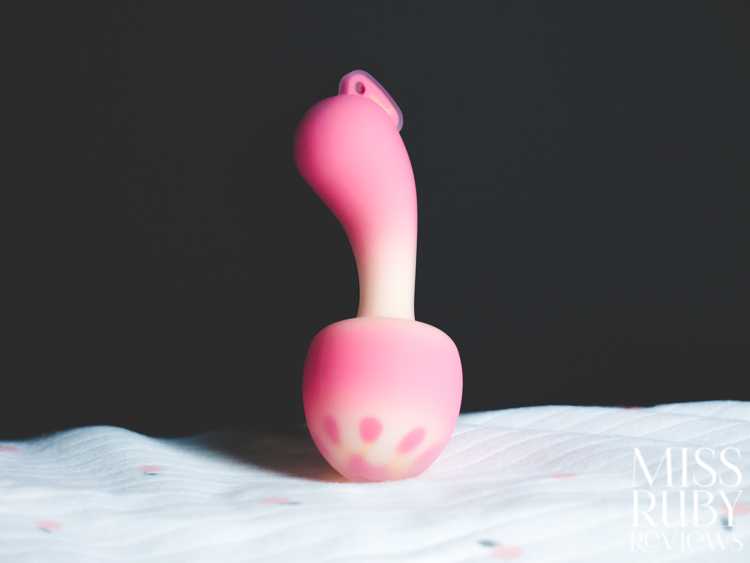 I like that there are multiple ways to control the PinkPunch Sunset Mushroom Vibrator. I'm a button girl (I love controlling my toys with an actual, tactile button) but the App option is very useful when using this as an egg. When this is inserted inside you, the button is hard to reach, and that's when the App comes in. You can control it via your phone, or link it up with your partner's phone (long distance or nearby) and have them control it. The App also has an instant message function.
Possibly the best thing about this toy, honestly, is that wireless charging case. If you're a fan of camping, or travel a lot and don't always know when you'll have discreet access to wall power, then a storage case that charges your toy for you is just fabulous.
If you plan to use this outside, I can attest to its quietness — PinkPunch obviously prioritized silence.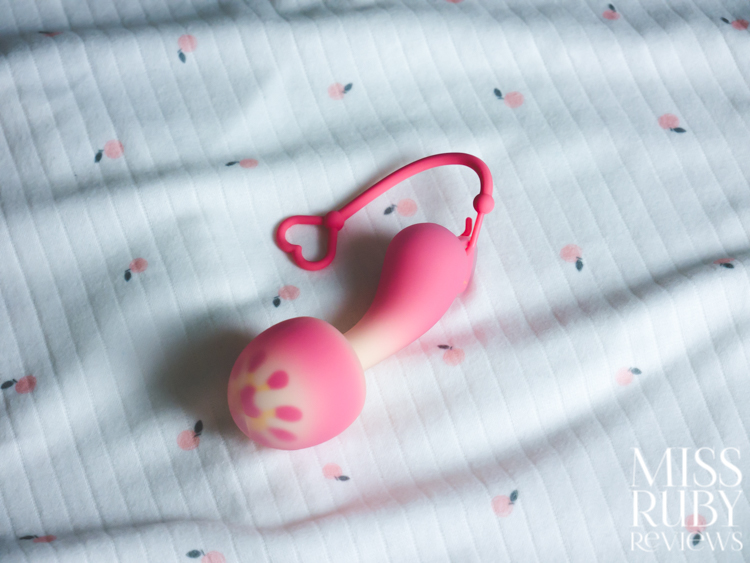 Now for the drawbacks.
When using the PinkPunch Sunset Mushroom Vibrator as an egg — I am able to fit this all inside, but this is a much longer egg toy than usual. Usually, there's an egg-shaped/round head and then a flexible withdrawal string, but this is much larger given the rigid stem. I didn't find it uncomfortable, but with the mushroom head so deep it couldn't hit my G-spot while I moved around. This is something to consider. It's much better to insert only the head, so that the bulbous mushroom part is pressing into your G-spot — but I don't think it was designed for use like that, because then you have a thick, inflexible stem sticking out into your underwear, and you cannot easily walk around with it.
Lastly, but importantly, is the strength and quality of the vibrations. Because this design prioritized smallness and quietness, they ended up with a motor that's buzzy and does not emit strong vibrations. In my mental inventory of the hundreds of vibrators I've tested, I'd consider these vibrations to be moderately weak (3-4 out of 10). As such, I personally wasn't able to clitorally orgasm. If your clitoris is quite sensitive, though, you may have better luck than I did.
(Side note: In general, egg vibrators do struggle to be strong, so this isn't the only one. Probably the strongest egg vibrator I've ever tried was the We-Vibe Jive, and even that I wanted stronger.)
These two points are big ones, unfortunately. There's a lot to like about the PinkPunch Sunset Mushroom Vibrator, but without a strong motor, or G-spot effectiveness, I find it hard to recommend wholeheartedly.
PinkPunch Sunset Mushroom Vibrator Review – Overall Thoughts
The PinkPunch Sunset Mushroom Vibrator has a lot of good things going for it: it's silicone, rechargeable, quiet, and waterproof. It has a beautiful design and I love the travel-friendly wireless charging case. The overall appearance is top-notch. Unfortunately, I personally found it lacking when it came to vibration strength and G-spot pleasure. I personally wasn't able to orgasm with this. But… if you are more sensitive, it may work for you.
You can pick up your own PinkPunch Sunset Mushroom Vibrator here! Why do I like PinkPunch? By buying directly through them, you ensure you're receiving a genuine product. They also ship internationally and you can get 20% off your purchase with code MRR20 !

See below for my PinkPunch Sunset Mushroom Vibrator review breakdown.
PinkPunch Sunset Mushroom Vibrator Review
Overall thoughts - 5
5
$99
PROS
Cute design and colour scheme
Wireless charging case included
Quiet
Waterproof
Smartphone app option
Bodysafe silicone construction
CONS
Difficult to target the G-spot when used internally
Vibrations will not be strong enough for some users
A bit pricey, but get 20% off with code MRR20
Shop Now
Last Updated on October 13, 2022 by Miss Ruby