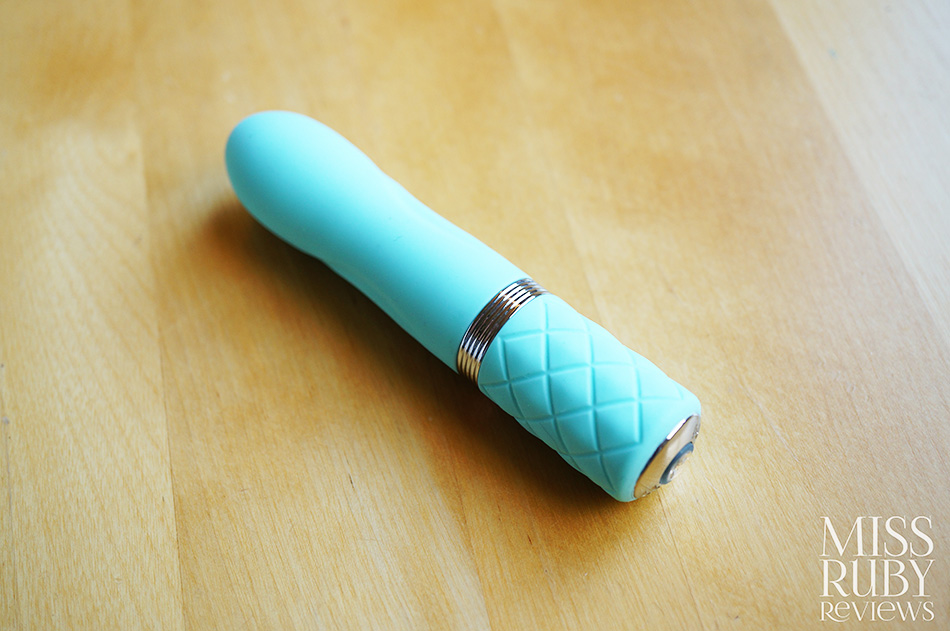 Another one bites the dust. Read on for my BMS Factory Pillow Talk Flirty review!

Physical Details | How to Use | Packaging | Material and Care | My Experience | Overall
Physical Details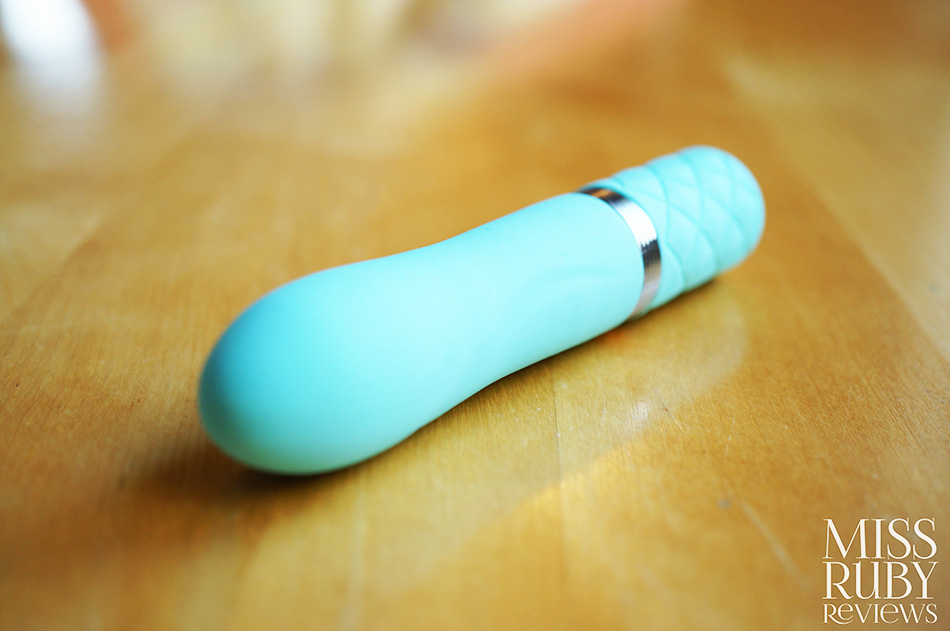 The Pillow Talk Flirty is a small bullet-style vibrator. Roughly the same size as the FemmeFunn Ultra Bullet (about 3.5 inches long) it's designed to provide firm, pin-point stimulation.
Design wise, it has the same aesthetic as the Pillow Talk Cheeky — princessy, cutesy, crisscrossed. I got it in blue, which reminds me of bubblegum ice-cream. At the base of the toy is a small Swarovski crystal, which doubles as the power button.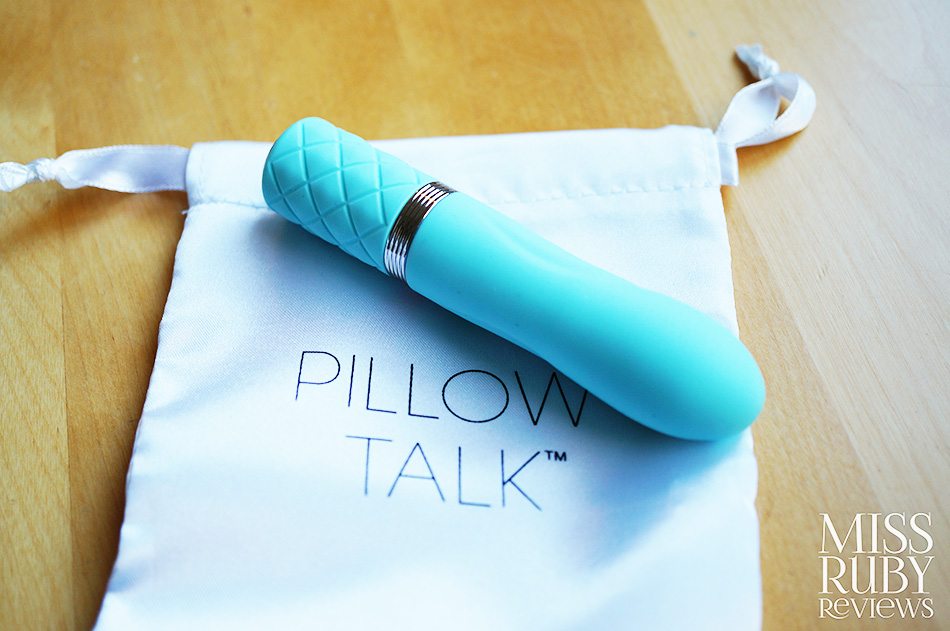 How to Use the Pillow Talk Flirty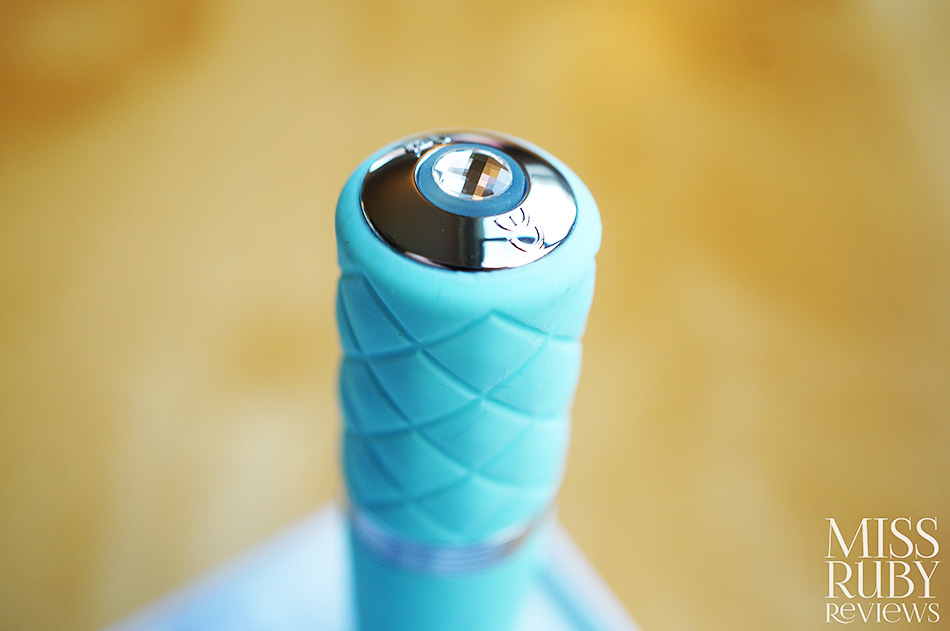 The BMS Factory Pillow Talk Flirty  is controlled by the Swarovski crystal gem button, pictured above at the base of the toy.
Turn it on by pressing the power button.
Press and hold the button to increase vibration strength. When you stop pressing the button, it'll remain at that strength.
Apply against your body. Though designed for clitoral use, the Flirty can be used anywhere and against whatever body part you have (external). But be sure to not use it anally, as it doesn't have a flared base.
To turn off, tap the power button.
To activate the travel lock, press the button 3 times (quickly). You'll feel 2 vibrations, and then it'll be locked. To deactivate travel lock, do the same thing.
Packaging
The BMS Factory Pillow Talk Flirty is packaged cleanly and simply in a white box. When you lift the top cover, it's embedded snugly in a white container, and can be lifted via a white ribbon. I love the overall look of this packaging.
Inside the box, you receive the vibrator, a short instruction manual, a USB charger, and a white satin pouch.
The box also contains a little white cleaning brush to clean the ribbed metallic section around the base of the Flirty.
Material and Care
The BMS Factory Pillow Talk Flirty is made from silicone and ABS plastic. This makes it bodysafe, non-porous, and non-toxic.
It's not fully waterproof. It's water-resistant, so you can clean it using a damp cloth/toy cleaner or warm, soapy water, but don't submerge it in water.
If you'd like to add lubricant (which I recommend), try a good quality water-based lubricant like my favourite Sliquid H2O.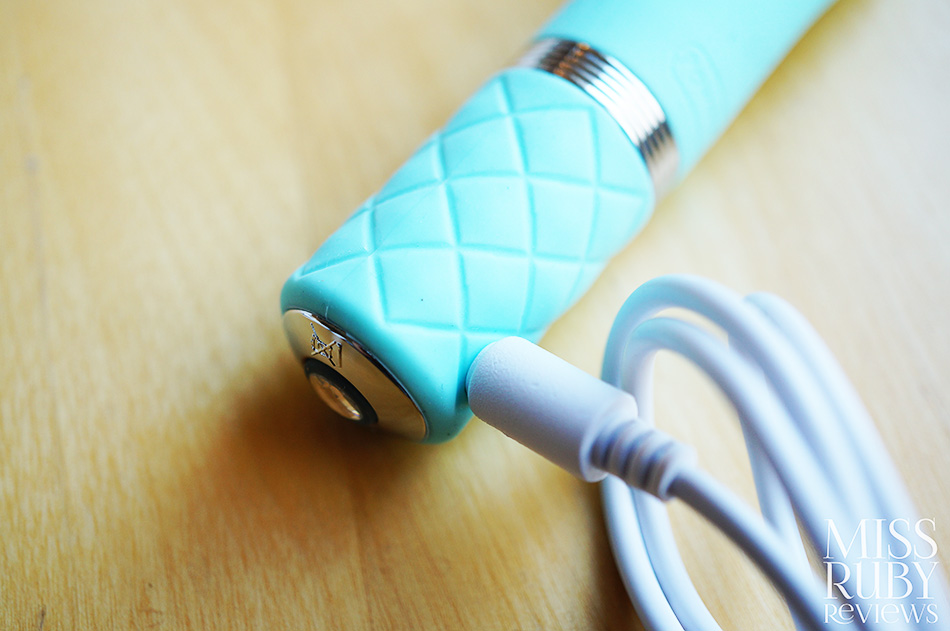 This toy is charged via an included USB charging cable. The Flirty's charging hole is near the base, on the side. It looks nearly invisible, but you can push the little pin of the charging cord into it. While it's charging, an LED light will flash. The light will be solid once it's finished charging.
My Experience with the BMS Factory Pillow Talk Flirty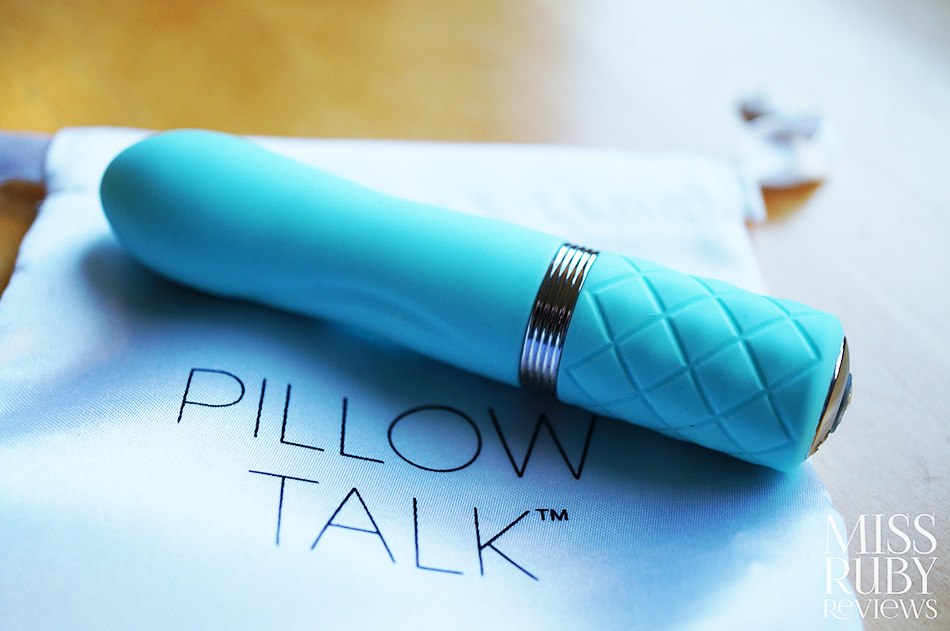 The BMS Factory Pillow Talk Flirty is a relatively inexpensive toy. It's $36 USD, which may sound like a lot compared to those tiny $5 nubby TPE finger vibes you can get, but this here is a toy with luxury features. Another huge plus is that it's rechargeable. It's bodysafe, which is a must-have. And, while not waterproof, it is at least water-resistant. I usually complain when a toy isn't waterproof, but for this price-bracket, water-resistant is pretty good.
It's also a pretty quiet toy. No one will hear this if you have roommates in the other room.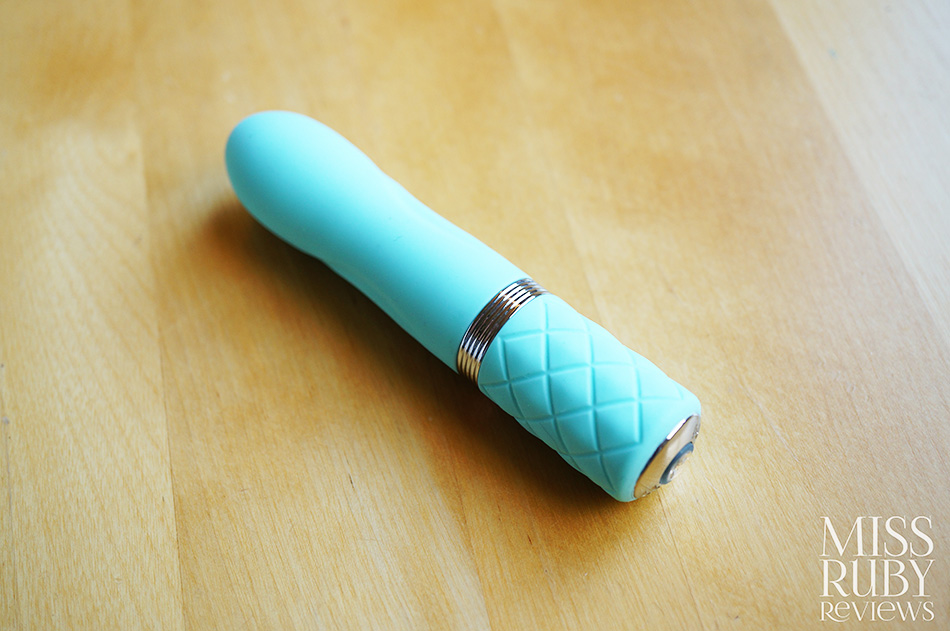 Where things start to fall apart for me is where it matters a lot: vibration strength.
For the life of me, I just can't get excited about this toy. I personally don't find it strong it all — it's moderately weak instead. While there's even some rumble to its motor, the vibes are mostly surface level. Orgasms stay far out of reach for me..
With a low price point, it's expected that it can't be as strong as some of the top of the line items (like the We-Vibe Tango).
But the FemmeFunn Ultra Bullet, which is only $13 more than the Pillow Talk Flirty, is sooo much stronger and more rumbly.
I can't recommend a weak $36 toy when a $49 toy like the Ultra Bullet is available for purchase (plus, that one is properly waterproof).
Sorry, BMS Factory — this one just doesn't rock my world. Of course, other people will have other experiences… be sure to google around for multiple reviews for any toy you're interested in to read other peoples' perspectives.
Overall thoughts – BMS Factory Pillow Talk Flirty review
The BMS Factory Pillow Talk Flirty has a lot of great features, especially considering its low cost. But, at the end of the day, I personally find the motor too weak to recommend. This toy now lives buried and untouched at the bottom of my toy pile.
If I haven't dissuaded you, head on over to Peepshow Toys to purchase the Flirty. And remember – You can get 10% off (bringing it down to $32.40) with coupon code RUBY
And see below for my BMS Factory Pillow Talk Flirty review summary!

BMS Factory Pillow Talk Flirty review summary
Overall thoughts - 4.9
4.9
$36
PROS
Cute design
Bodysafe
Rechargeable
Inexpensive
Quiet
CONS
Shop Now