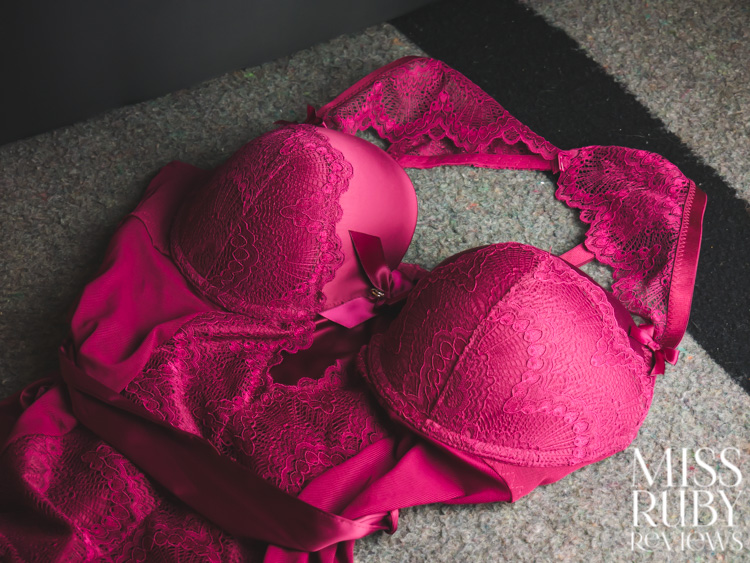 *whistles* This is such a beautiful piece of lingerie. Read on for my Lovehoney Moonlight Wine Plunge Body review!

Overall Design | Wearing it | Accessibility |  Material/Washing | Overall
Overall Design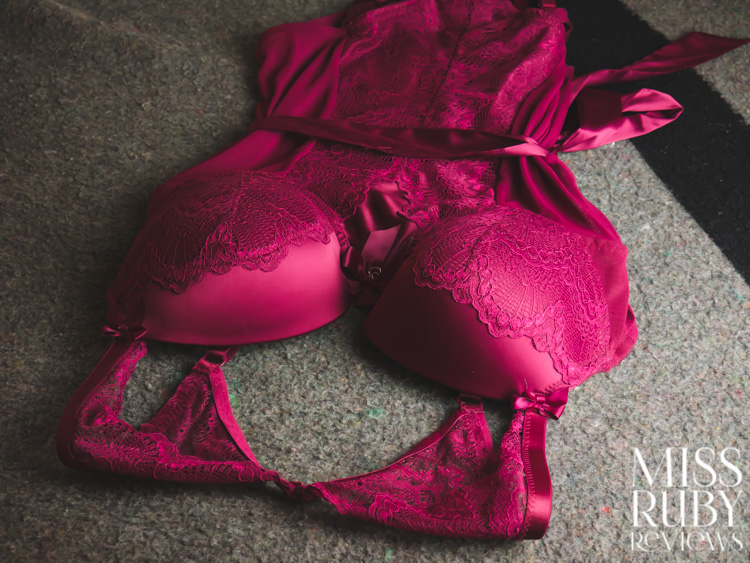 The Lovehoney Moonlight Wine Plunge Body is a gorgeous teddy in a deep wine berry colour. I have a weakness for anything this colour, and can you blame me? It's impossible not to feel sexy wearing this shade, especially with all this satin and lace.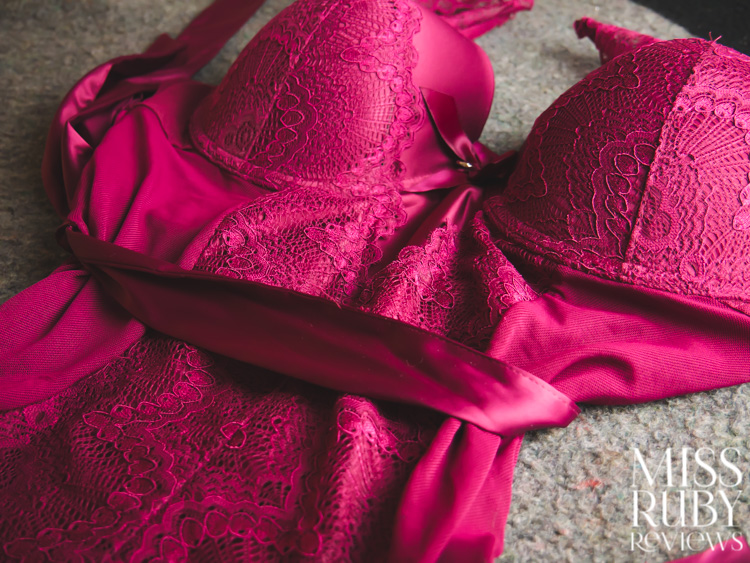 I wanted this teddy because it accentuates an hourglass figure.  There's a plunging neckline with underwire cups. Down the front, there are two panels: lacy and sheer, creating a slimming illusion. A satin belt at the waist tightens the waist. The shoulder straps are adjustable and feature a lacy keyhole back design (which is SO rare to find in lingerie, and I adore it!). The remainder of the back is completely sheer.
At the waist, there are four removable garter straps. If you don't have tights, I really recommend you grab some because it really completes the look. I wore Lovehoney's $10 sheer black thigh high tights in One Size Queen and they fit great.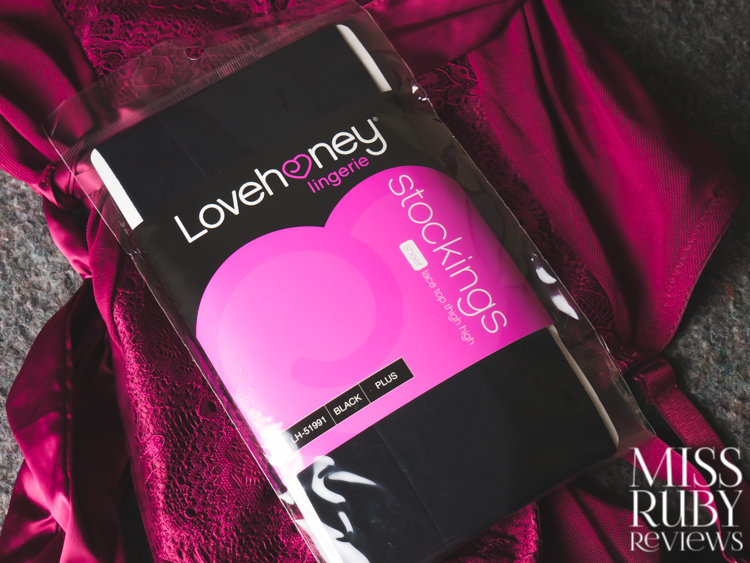 Though I'm highlighting one size of this Teddy, it does come in smaller and larger sizes. It comes in USA Size 2 to 20.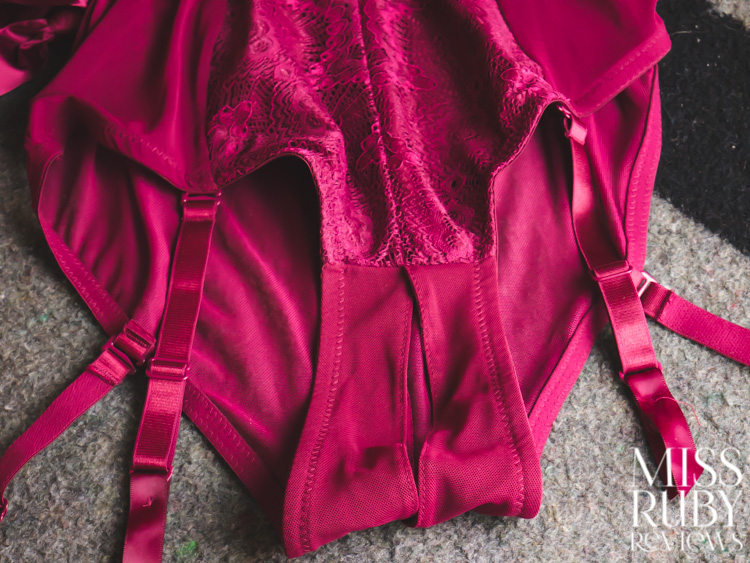 Perhaps the most daring part of the Lovehoney Moonlight Wine Plunge Body is the built-in crotchless panty. A slit runs all the way down. You don't really notice it when you're standing, but when you open your legs you're left completely exposed.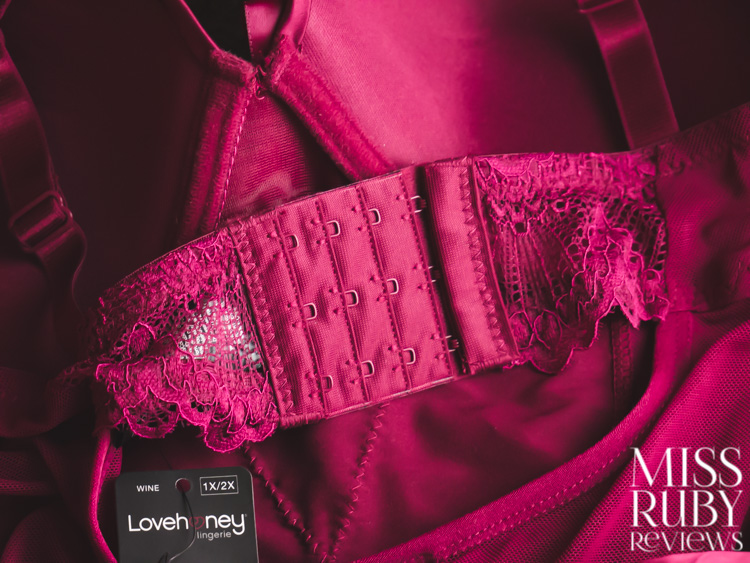 The Lovehoney Moonlight Wine Plunge Body has three sturdy rows of hook-an-eye clasps at the back part of the bra, which provides great support if you're larger chested. The bra straps are average width.
Wearing the Lovehoney Moonlight Wine Plunge Body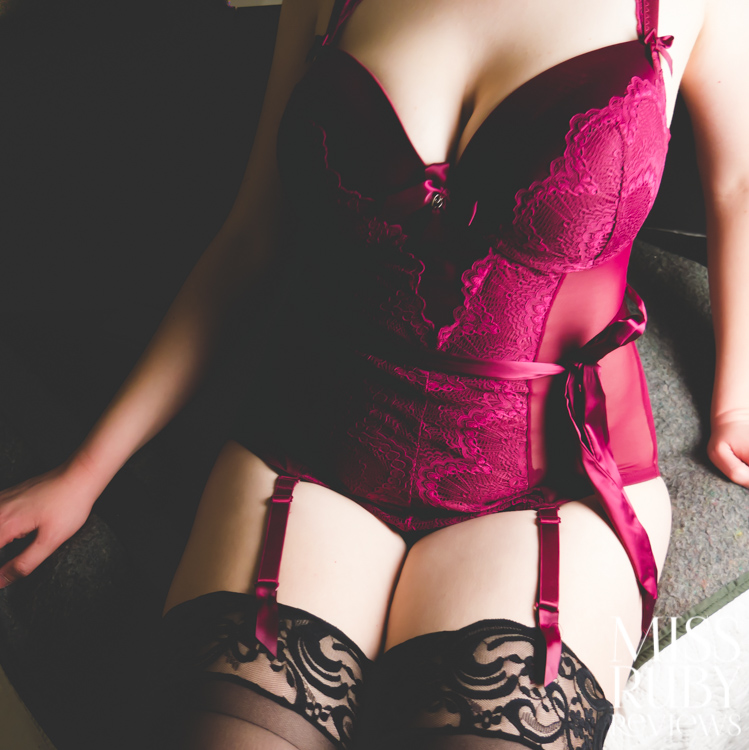 The Lovehoney Moonlight Wine Plunge Body is a joy to slip into. Nothing digs into me uncomfortably, it holds my in belly snugly, and I feel like I'm wearing a sliver of luxury. The wine red satin and lace feel decadent against my skin.

I got the Lovehoney Moonlight Wine Plunge Body in size 1X/2X. I'm 5ft 10 and my current measurements are 41-36-42 and it fits well. Perhaps slightly loose.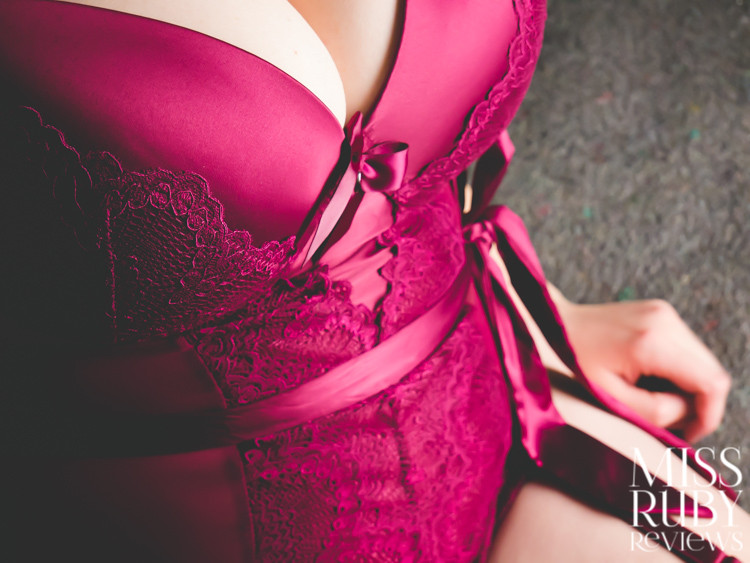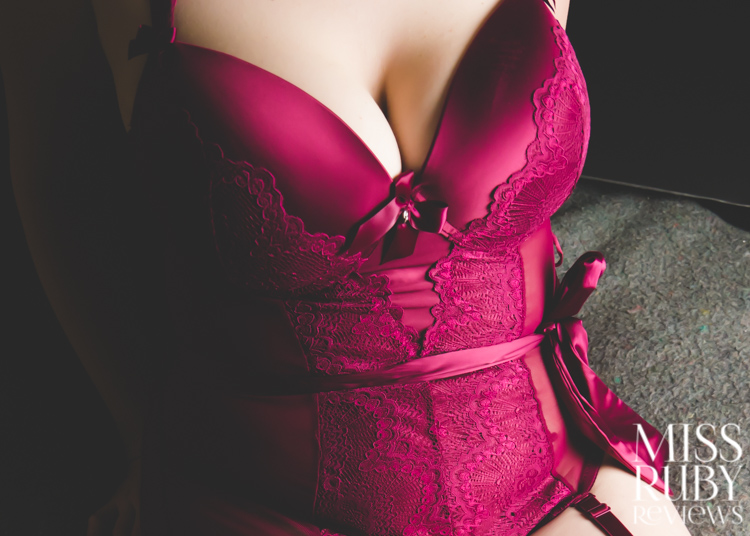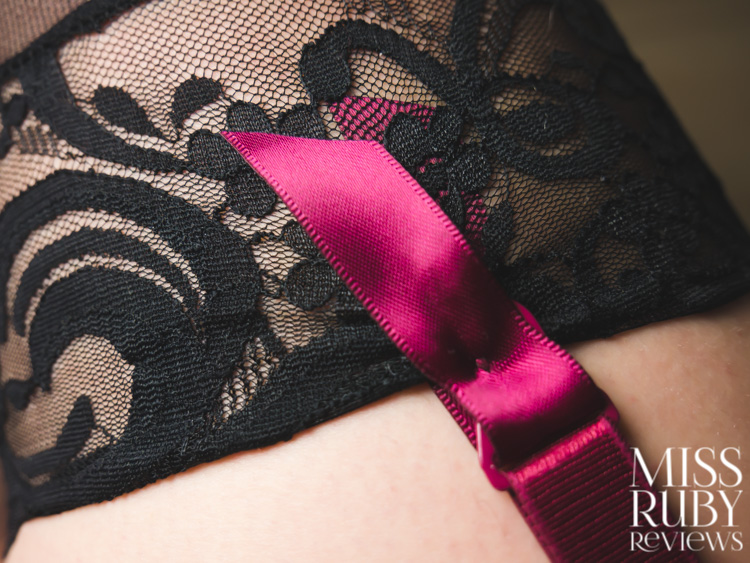 Accessibility
This section is to help folks determine if they might have any issues using/accessing this product.
Mobility issues: There are two clasps you'll need to be able to manipulate: the hook-and-eye bra strap at the back and the tiny lacy keyhole button (at the back of your neck). If you can't do up clasps and buttons behind your back, you will need someone to assist you.
Price: At $49.99 USD, this is on the inexpensive end for lingerie of this high quality.
Material and Washing Care
The Lovehoney Moonlight Wine Plunge Body's satin portions are made from 92% polyester and 8% spandex. The lace is made from 92% nylon and 8% spandex. The mesh portion (which is down the back and your sides) is made from 90% nylon and 10% spandex. The sling of the panty (that has the slit through) is 100% cotton.
To clean, Lovehoney recommends hand washing it separately in cold water, and then line drying. Don't bleach, iron, or dry clean. I've hand-washed and line-dried mine and had no issues with warping or fraying.
Review – Overall Thoughts
I'm happy with the Lovehoney Moonlight Wine Plunge Body. I love the lace and satin and that deep berry colour. I appreciate the side illusion panels that accentuate an hourglass figure. This is definitely one of my favourites!
You can pick up your own Lovehoney Moonlight Wine Plunge Body here! And here are the black tights! Why do I like Lovehoney? They have international sites in your currency, carry thousands of great products, and you can get a 10% discount off your whole purchase with coupon code HONEYX10. 

See below for my Lovehoney Moonlight Wine Plunge Body review breakdown.

Lovehoney Moonlight Wine Plunge Body
Overall thoughts - 9.8
9.8
$49
PROS
Just beautiful!
Lace and satin create decadent feel
Beautiful keyhole back feature
Crotchless design
Available in US sizes 2-20
CONS
Shop Now