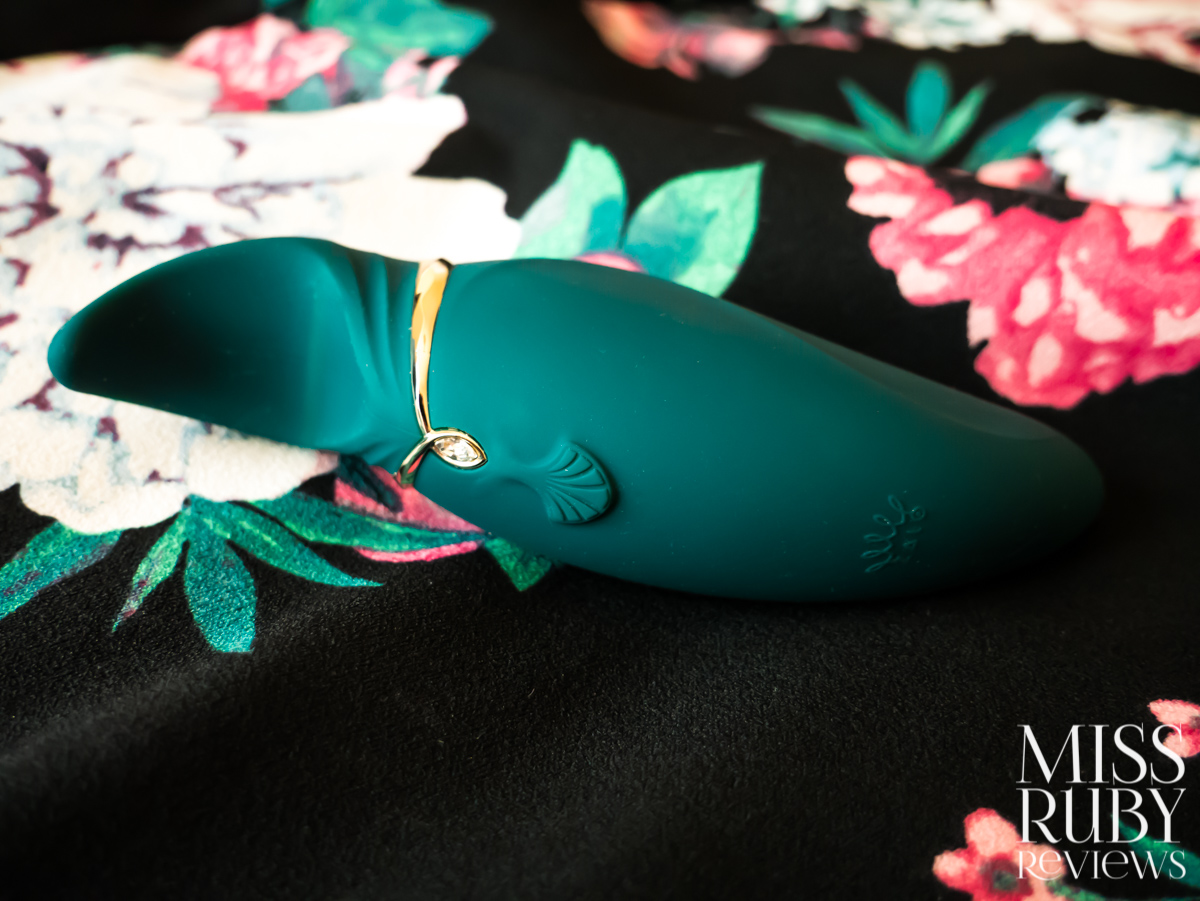 The Zalo Hero is the first emerald green vibrator I've ever owned. Thrillllllingggg! ♪ Read on for my Zalo Hero review!

Design | 360° View | How to Use | Packaging | Material and Care | My Experience | Overall
Design
The Zalo Hero is no conventional vibrator. It uses Zalo's PulseWave technology to swing its spoon-shaped tip up to 3cm width, and up to 75x per second.
The goal? Imitate oral sex.
This isn't the first time a manufacturer has tried to mimic a flickering tongue — notable efforts have been made by the Fun Factory Volta and the Lovehoney Squeel.
More or less S-curved, the Zalo Hero's thin, spoon-shaped tip flaps at high frequency to provide stimulation, while the body itself can cycle through vibration modes. This body can be used against the clitoris, or inserted shallowly into the vagina.
It's a compact little package, and eye-catching. I'm a rather shallow, fickle blogger — I'm very easily drawn in by beautiful design and packaging. And the Zalo Hero is, well, beautiful.
The gold neck, the sparkly crystal, the curved designer lines… This really caught my eye in a big way.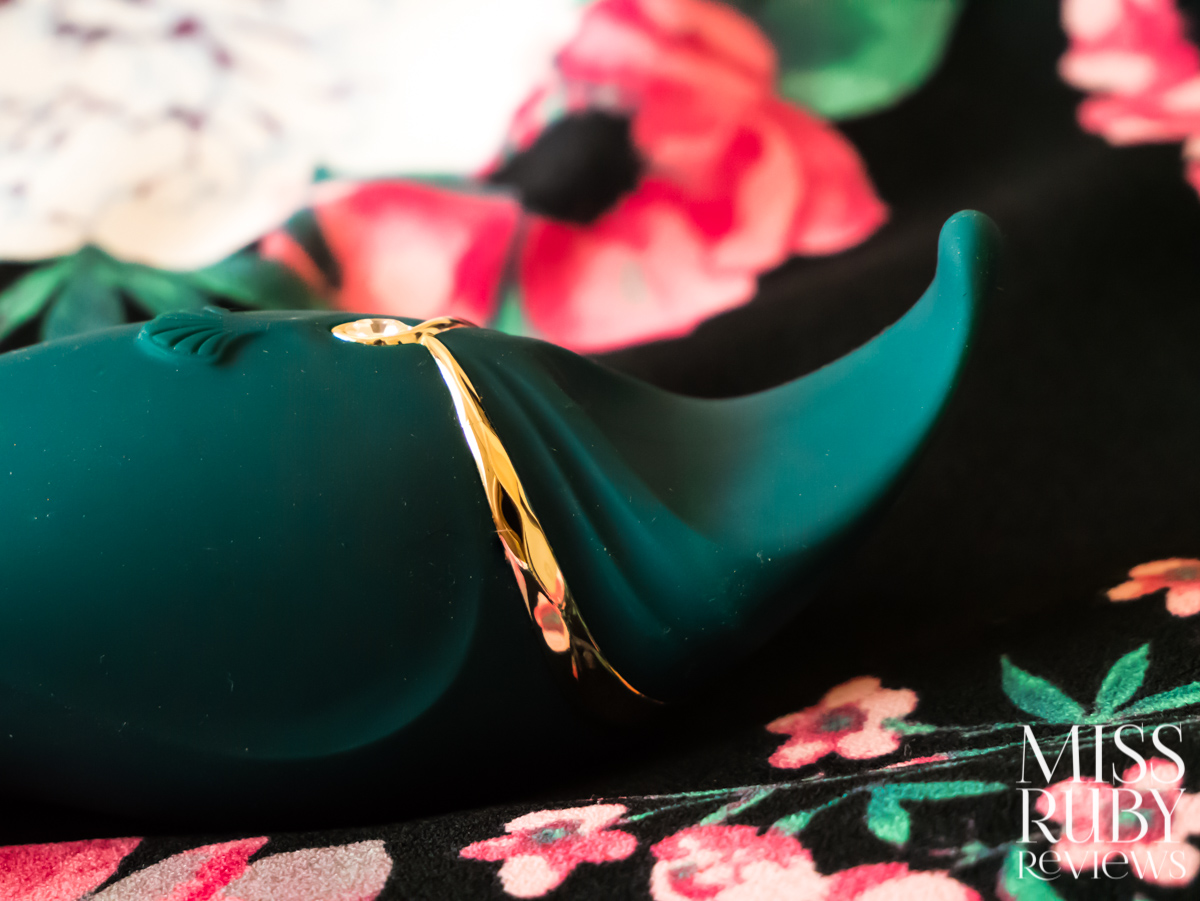 And that colour! The Zalo Hero comes in three colours: Jewel Green (pictured here today), Wine Red, and Twilight Purple. When I started blogging in 2015, red vibrators weren't nearly as common as they are now, and green was basically unheard of. I've ALWAYS wanted a dark green vibrator. This is a deep, emerald/peacock green. Très Chic. 
Measurements: 
Total length: 5.7 inches
Width: 1.6 inches
Thickness: 2.1 inches
Weight:  114 grams
360° View
Click and hold the image above to move it around.
How to Use the Zalo Hero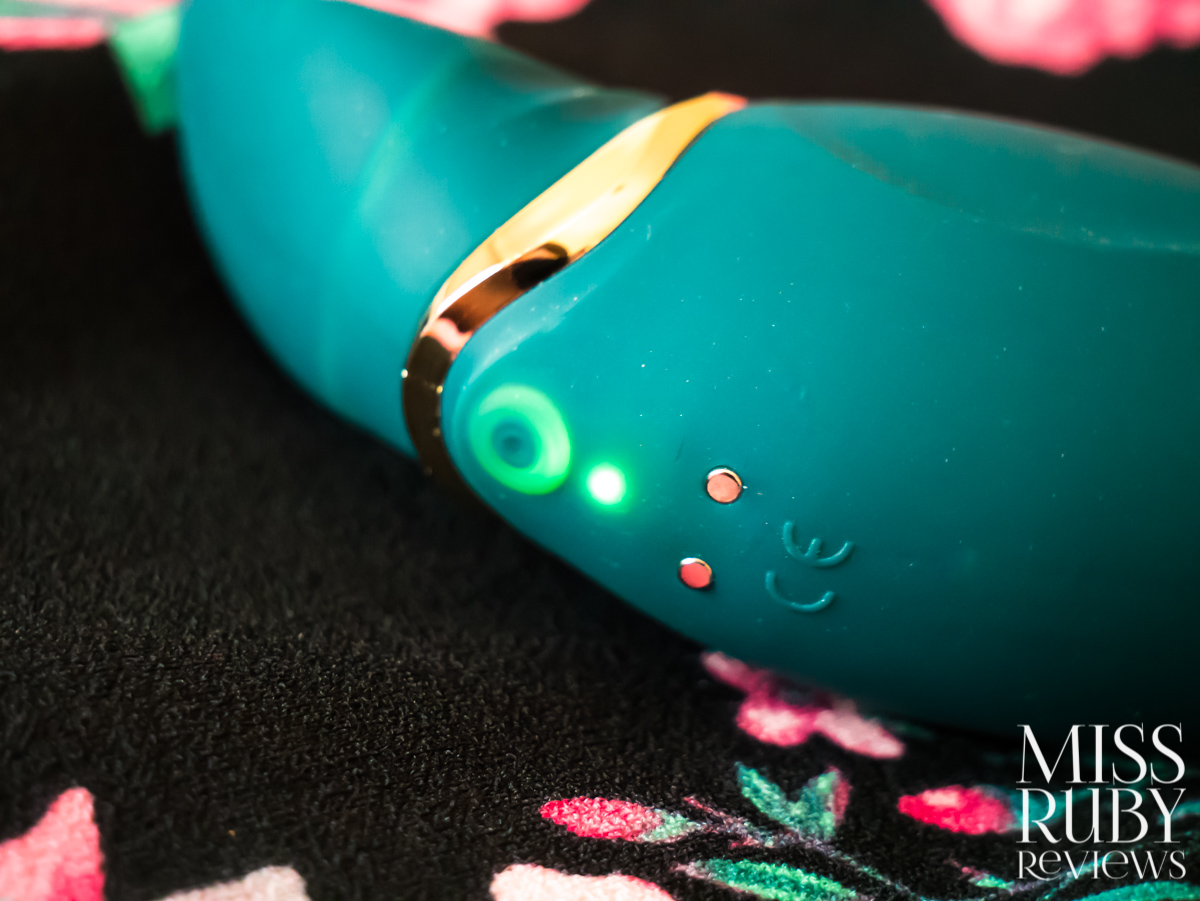 There are two buttons on the Zalo Hero:
A circular button at the back, which controls vibration (for the lower half of its body)
A shell-shaped button on the front, which controls the flickering tongue-like arm.
To use the Zalo Hero:
First press either of the two buttons to switch on standby mode.
Then press the shell button to activate pulse wave mode (the flickering motion at the tip). Press the same button to cycle through 4 pre-set modes.
Press the circular button at the back to activate vibration mode, then continue pressing to cycle through 4 pre-set vibration modes.
To turn off, press either of the buttons for 3 seconds.
There's a travel lock (just press both buttons at the same time for 3 seconds; unlock by doing the same thing).
The flickering tip is designed for clitoral stimulation though it can, of course, be used on whatever body part you have (ie, penis head, nipple).
The vibrating body can be pressed against your clitoris/penis or inserted vaginally (you'll only get about 2 inches in). Do not insert anally, as this does not have a flared base.
Packaging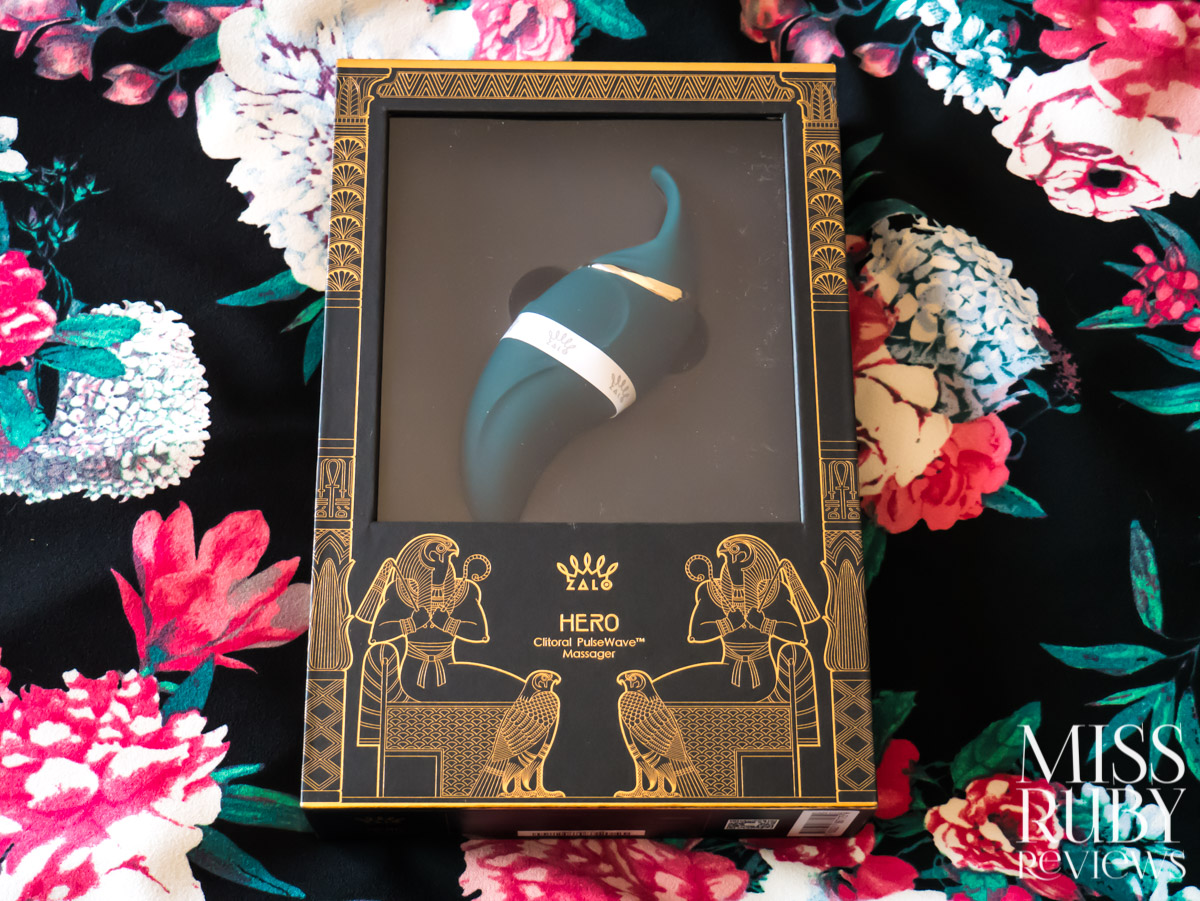 Zalo has really created a name for itself with its packaging. Fact: the first time I agreed to review a Zalo toy (the Zalo Marie), it was 100% because of the amazing beautiful packaging it came with.
The Zalo Hero still impresses. It carries on the same packaging style as the Zalo Queen Set – black and gold Ancient Egyptian style. It's unique, stylized, and so much more interesting than most packaging on the market. The packaging is important because good packaging makes a toy more gift-worthy, and this one doesn't disappoint.
Inside the box, you receive the Hero, an instruction manual, a one-year warranty card, a silver satin storage pouch, and a USB charging cable.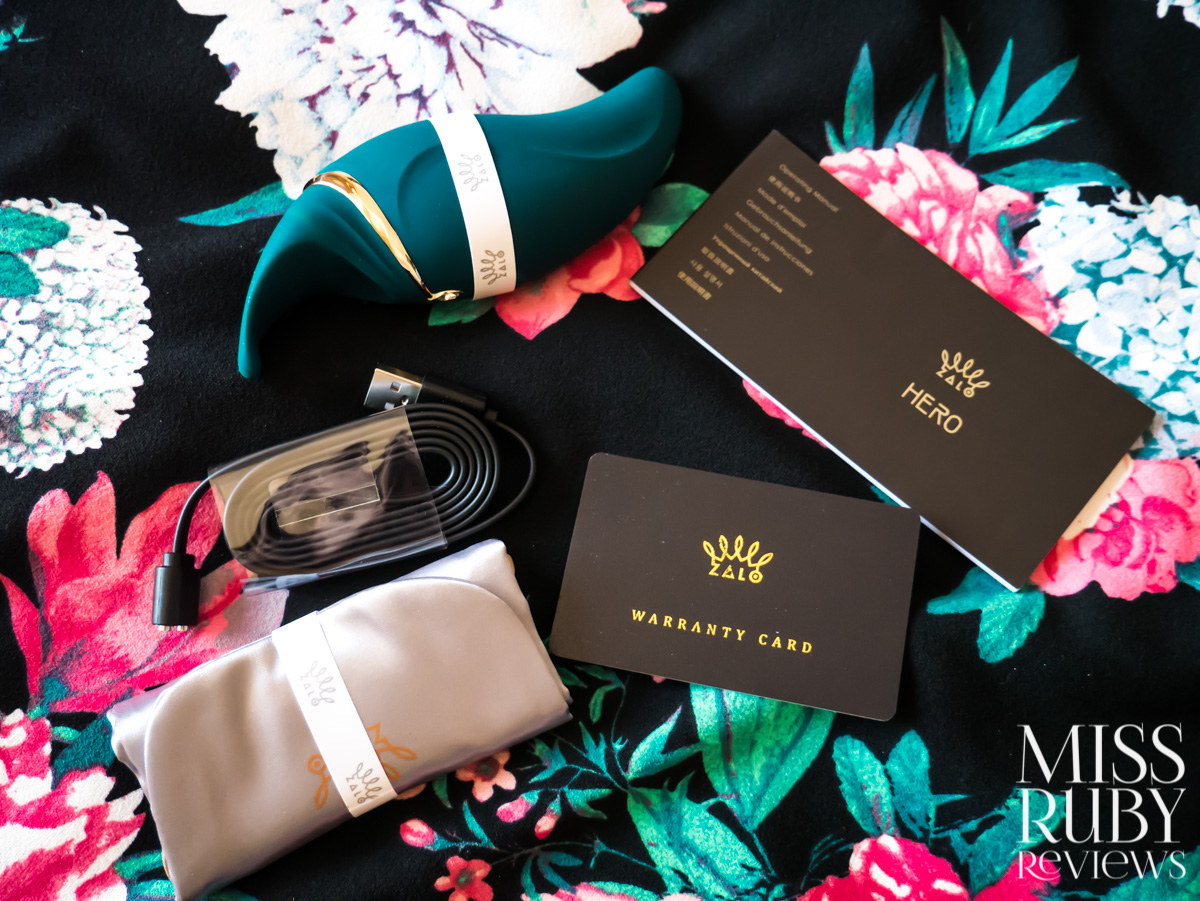 Material and Care
The Zalo Hero is covered in silky soft silicone, making it bodysafe (non-porous, non-toxic, and free of phthalates). It's matte and incredibly smooth to the touch.  Wrapping around the neck is an ABS plastic gold band, adorned with a cute little SWAROVSKI crystal.
The Zalo Hero is splashproof.  To clean, I rinse in warm, soapy water. While it can be washed all over, it should not be immersed in water or used underwater.
To charge, attach the magnetic side of the storage cable to the two metal pins at the back of the Hero. Then insert the charger and plug into your computer or a USB wall adapter. An LED light will pulse while it's charging, and become solid when it's fully charged. A full charge will get you about 2 hours of use.
This comes with a 1-year warranty against manufacturing defects, which is fantastic. Within 1 year, Zalo will replace the Hero. There's also a 10-year commitment (if there are manufacturing defects within 10 years, Zalo will provide a 50% discount off any other product). It always helps to know that a company stands behind their product. Just keep your receipt!
If you'd like to use lubricant, choose a good quality water-based lubricant like my favourite Sliquid H2O.
My Experience with the Zalo Hero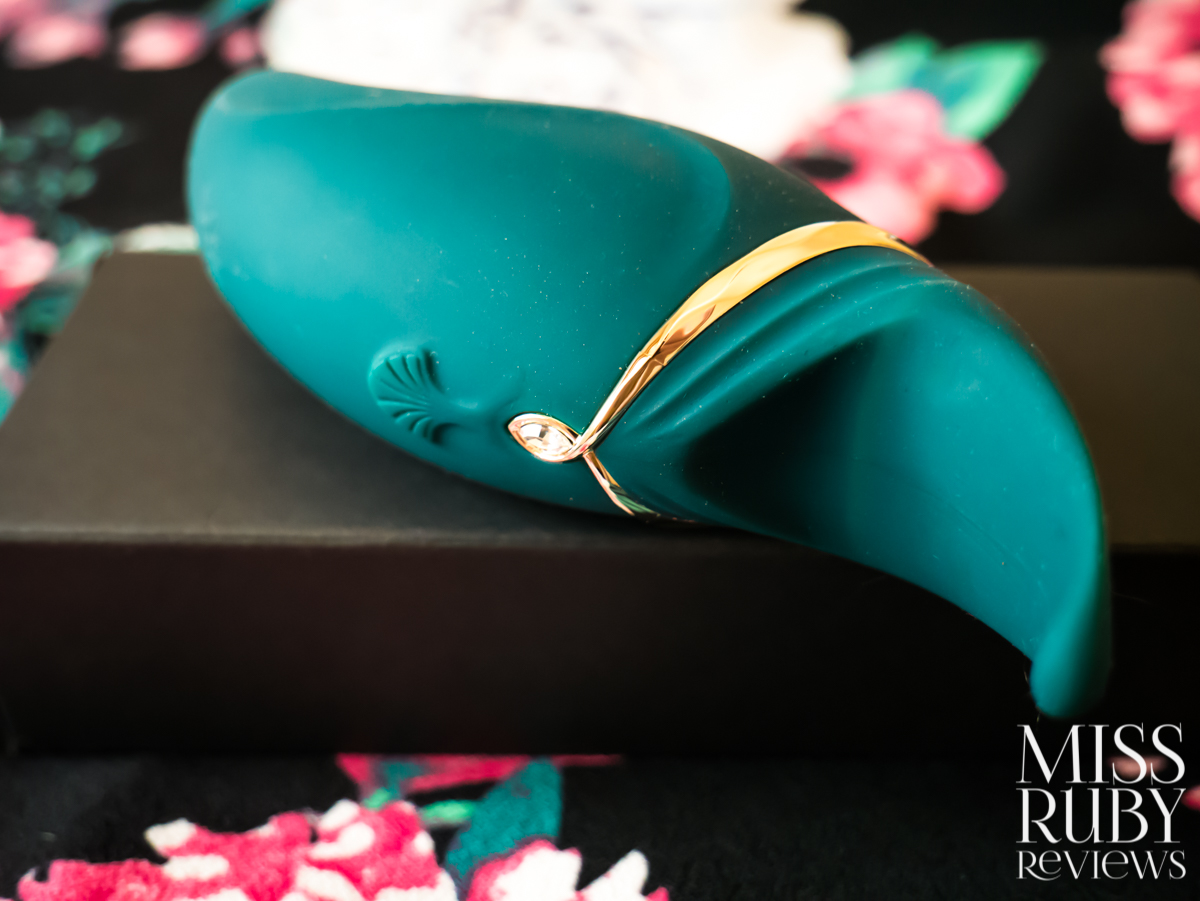 I realllllly wanted to love the Zalo Hero!
I tried very hard to like it, even. It's clear to me that a lot of care went into this toy, but I simply never got $99 USD worth of pleasure from it.
"It's not you, it's me."
Truer words never were spoken.
The Zalo Hero does certainly, to some extent, mimic a tongue. It flickers, it's gentle, it's nice.
The flickering arm is much narrower than a tongue, mind you, and has a very pin-pointed head — but I thought I'd enjoy that. I'm a perpetual pin-point lover. Pointy vibes like the We-Vibe Tango are my gel. I'm also a firm pressure kind of gal, so smushing a vibrator against me is kind of what I do. Which obviously I didn't think about when I went ahead and got the Zalo Hero.
The Zalo Hero's PulseWave flickering tip can only work if held lightly against you. The lighter the touch, the better. It flaps like a hummingbird against the clitoris at amazing speeds — but despite this, it never provides me with any solid stimulation.
The light, constant flickering certainly gets me started, but it can't go anywhere. The first 3 modes are especially disappointing — to me, they just come across as a light hum. The fourth, strongest mode, is titillating, but not enough to satisfy.
I suspect this isn't the Hero's issue — I think it's doing a good job at what it was designed to do, but it's just not compatible with my body. This has been a sharp reminder that I need continuous, firm pressure. Flickering and I don't mix well. If your clitoris is similar, you'll want to stay away from this toy.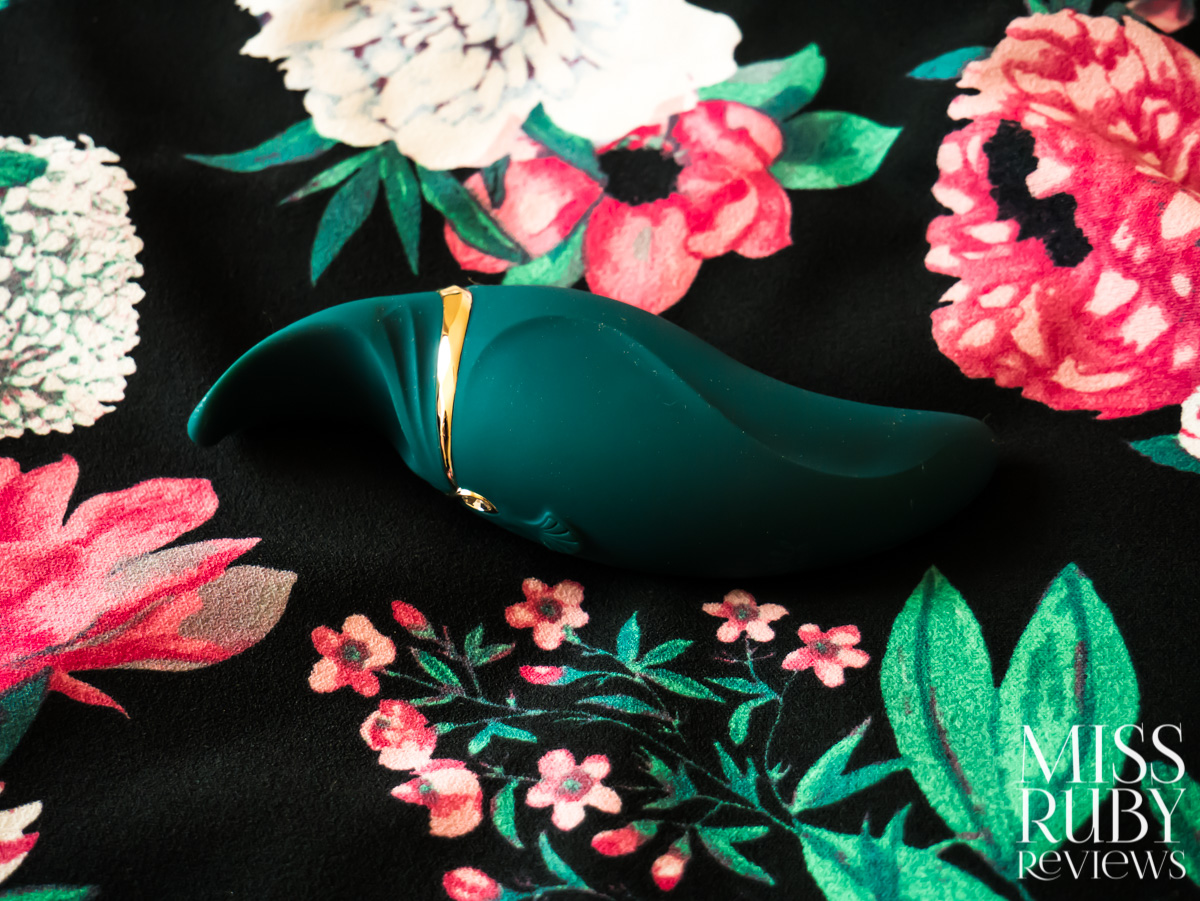 You might be wondering about the vibrating body itself. Does that redeem the toy at all? Unfortunately, nope. The vibrations in the body are meh. They're somewhat strong and somewhat rumbly, but not enough to get me to orgasm. No redemption today.
Overall – Zalo Hero review
My experience with this toy wasn't great — my body needs firm, continuous pressure. The Zalo Hero's pin-pointed, flickering arm just wasn't enough. Without firm pressure, my body couldn't respond.
That doesn't mean this won't work for you.
This could be your dream toy if you: 
LOVE gentle flickering sensations like those provided during oral sex.
Don't need firm pressure.
Enjoy pinpoint stimulation.
Avoid this toy if you: 
Need firm pressure.
Need strong vibrations.
Want a toy you can use underwater.
You can pick up the Zalo Hero at SheVibe! At the time of posting, it's $99 USD.
And see below for my Zalo Hero review summary.
REVIEW SUMMARY
Overall Thoughts - 4.9
4.9
$99
PROS
Bodysafe
Gorgeous design
Fun colours
Rechargeable
CONS
Flickering relies on light touch
Vibration mode not super strong
Not fully waterproof
Shop Now