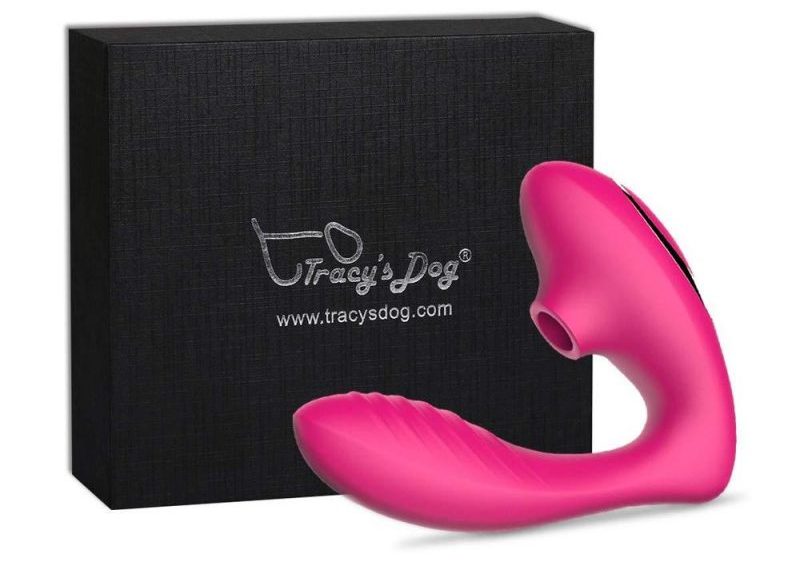 I'm going to be brutally honest with you… I'm quite a sex toy snob. And being a writer in the adult industry for quite a few years now, I've learned the ins and outs of just about any sex toy you can think of, either from research or via actually using the toys. 
From luxury brands to low-end products, I'll give, and probably have given, anything a whirl at least once. 
Have I got a favourite toy? I sure do. And I thought that nothing could shatter my love and adoration for said-toy. In fact, everything I've used since comes in at completely subpar in comparison… until I tried the Suction Vibrator from Tracy's Dog. 
Now I'm definitely a clitoral stimulation kind of girl. I rarely use G-spot vibrators. Actually, I'd only ever come twice from this kind of stimulation pre-Tracy's Dog. (Full disclosure: I'm horrendously single, so there's really not much going on for me, penetration-wise.)
And then it arrived… a new pleasure product ready for a test spin. 
Honestly, I did not have high expectations. This is because my fave vibe had essentially ruined me for all other sex toys. But I was so pleasantly surprised that my cooch basically erupted into song and dance. 
A cold winter's night, I cuddled up in bed with three blankets, a hot water bottle, and my new toy. Teasing my clitoris in an attempt to get wet (I don't have lube, but I usually get wetter than hurricane season, naturally), I relaxed into my sexual state, and decided it was go-time.
The head was slightly wider than what I'm used to, so I definitely felt it penetrating me. Slowly, I inserted the toy deeper until it slipped right in beautifully. 
Comfortable and ready to go, I turned on the vibrations and placed the suction onto my clit. It took some time to get it in the perfect position, but when I did, it jolted my body into a new kind of trance. 
I felt the ribbed silicone tease my G-spot while the suction part tickled and caressed my sweet spot. Like a wave of uncontrollable pleasure, I came harder and for longer than perhaps ever!
My left arm almost felt numb and my right was sprawled out across my bed, fingers stretching out in absolute ecstasy. I let out short and erotic moans as I continued to ride this pleasure wave. And after, flushed and smiling, I couldn't believe how utterly delicious this toy was!
For good measure, however, I decided that I should at least give it another try. This was just to make sure that I wasn't actually daydreaming or just highly aroused the first time I used it. And actually, I found myself craving the orgasm it brought me! 
So, throwback to a Saturday morning, cold and rainy. I placed my hand over the soft silicone, and got ready for round two.
Again, I felt the awkward fullness of the wide tip as it entered me, which was transformed into a pleasurable glide. I positioned the toy for maximum stimulation, and turned it on. Pulses of suction got to work and again, my G-spot experienced a throbbing erotic euphoria. 
Breathing heavily, I came hard once again after a mere few minutes. But this time was different… I felt the intense urge to pee right after climax! And I know what that feeling means…I was about to squirt! Not wanting to deal with a clean up, I persisted to remove the toy and bring everything to a halt. Phew! That was close! 
Have I gone for round three? Not yet! But just thinking about it makes me feel a little aroused. And who knows, maybe I'll put down some towels and allow myself that big release!
Bottom line? These are the thoughts from someone who doesn't particularly like G-spot sex toys, and yet… it managed to cast a sexual spell on me. My opinion? You need this suction vibrator from Tracy's Dog in your pleasure toy chest, period!
This sponsored guest post has been provided by Your Pleasure Toys.