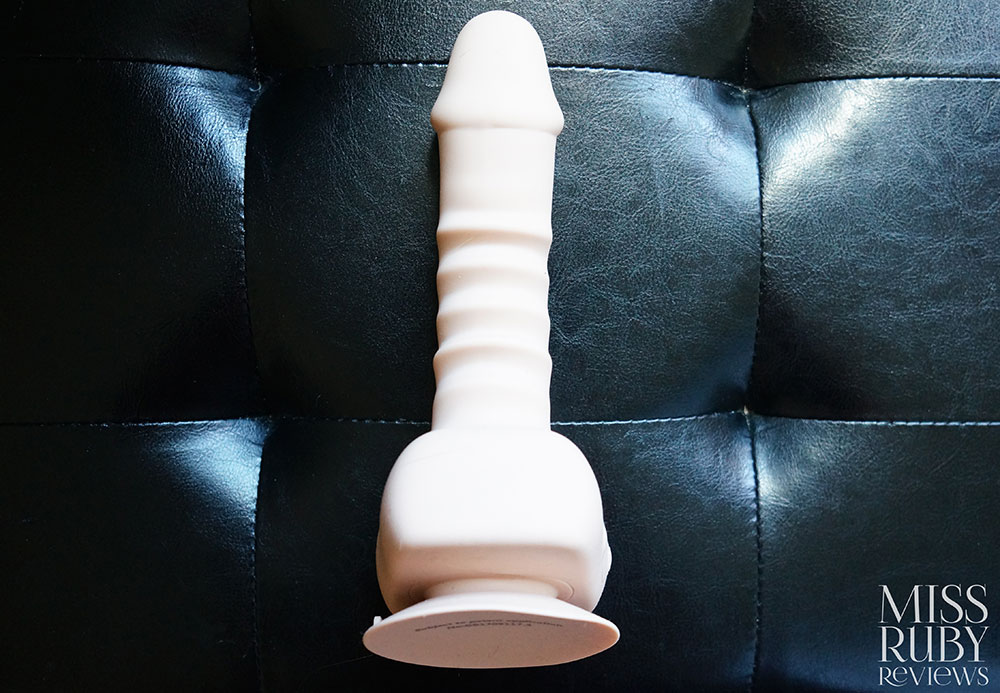 A bionic dildo? YES PLEASE. Read on for my UPRIZE AutoErecting Dildo review!
Physical Details | How to Use | Packaging | Material and Care | My Experience | Overall
Physical Details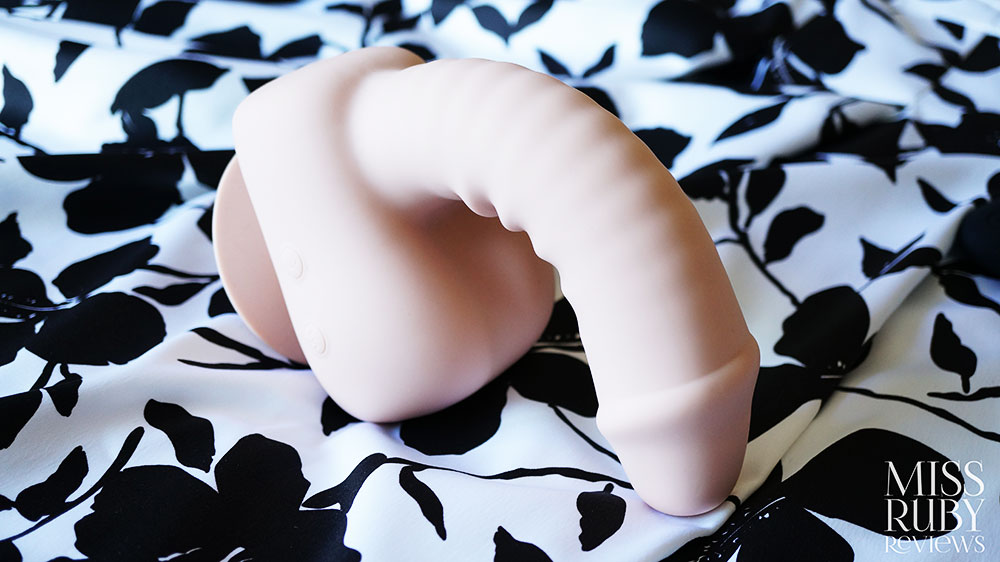 When you're used to companies boasting about their latest "new" technology, you kind of get cynical because rarely are new products truly revolutionary. But then I saw this toy at SheVibe: the UPRIZE AutoErecting Vibrating Dildo by Lovehoney.
The UPRIZE is, as far as I'm aware, the first motorized erecting dildo. There are some bend 'em yourself toys out there (notably the New York Toy Collective Mason collection), but I've never heard of something like this before: a dildo that will change from a flaccid to erect position by itself (via a button or the remote control). (a GIF of the movement is down below in Experience).
COOOOL. Nerd Ruby is geeking out here.
To do so, the UPRIZE has some sort of bendable internal structure (which feels like a series of subtle rings beneath the silicone). It repositions itself into a curved or straight shape.
When "flaccid," there are gathered silicone on the underside. When erect, the gathered skin appears on the top. While this isn't realistic, I can see why it's necessary: I don't think silicone is stretchy enough otherwise, so while the ridges/crinkles might take away from realism, it makes this toy bodysafe.
Note: the firmness of this toy does not change. The silicone is silky, but this toy is always hard, whether or not it's in the flaccid position or the erect position.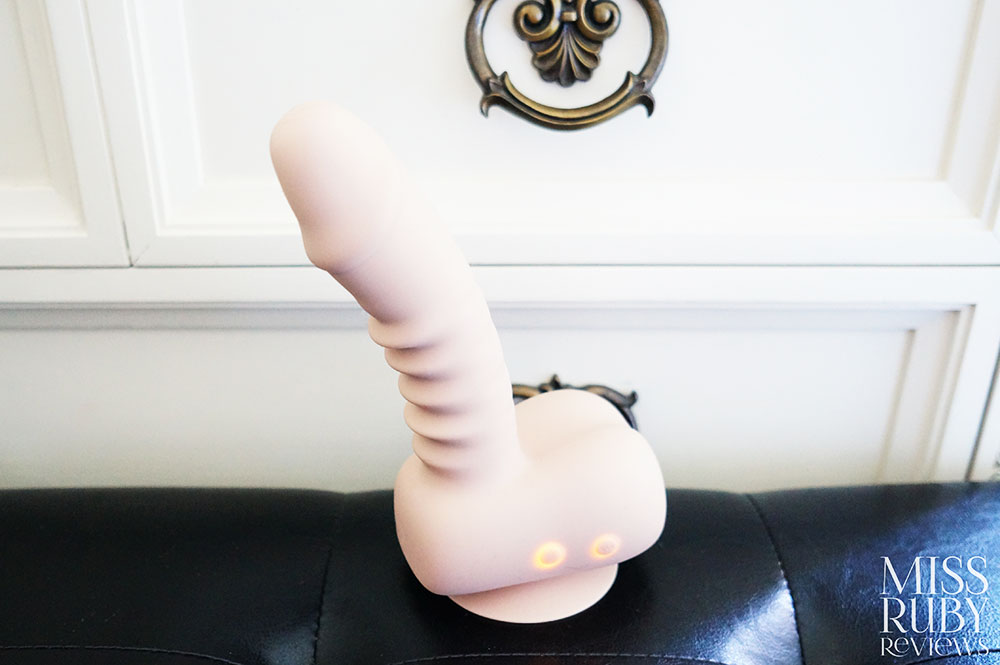 The UPRIZE also vibrates.  It has 10 vibrating functions, which includes 3 steady states and a series of patterns.
The quality of the vibrations definitely isn't the best on the market. They're okay — but not super strong, nor rumbly. But this is one of the rare circumstances where I can forgive it…  this product's main draw is its erecting function. The vibrations are just an extra addon and not the main show.
Noise-wise, the UPRIZE is pretty quiet. It definitely can't be heard through walls / a closed door. When it's changing shape, there's a short-lived robotic sound for a couple of seconds.
I got the UPRIZE in the 6″ vanilla version, but it also comes in 8 inches vanilla, purple, and black. I wish there were more realistic skin tones available, as the pasty light skin tone won't appeal to everyone.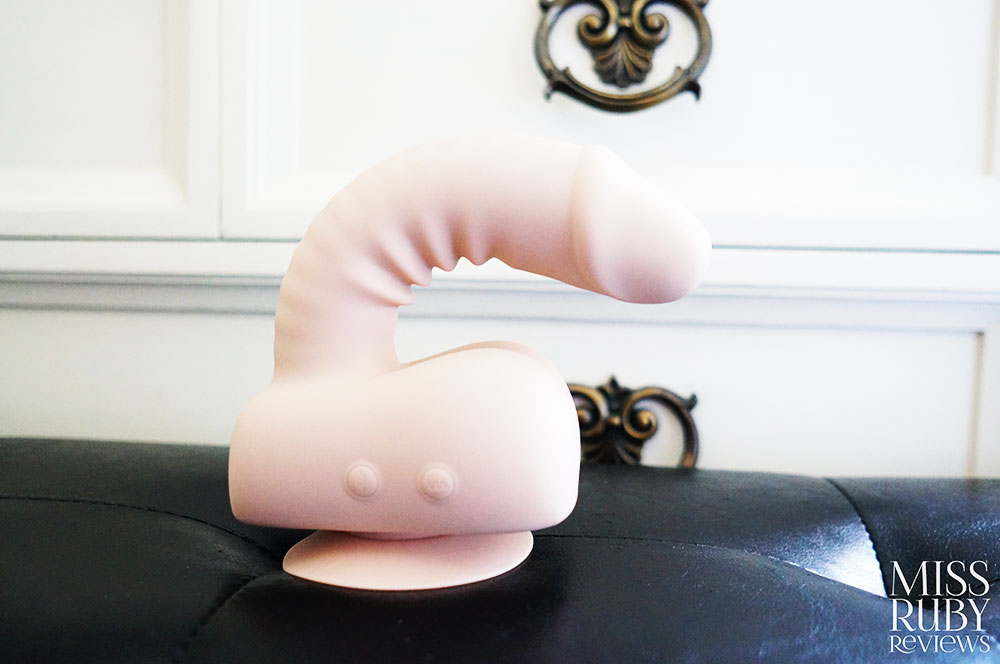 How to use the UPRIZE
The UPRIZE can be used by buttons (on the base of the toy) or by a remote control (included).
Buttons: Using the buttons, use the button on the left (pictured in the image above) to create the erection. Just press it once, and it'll go erect. Press it once again to make it unerect. Press the other button to start cycling through the vibration modes. To turn off the vibrations, press that button for 2 seconds.
Remote: To use the remote control, remember to first remove the battery cover so you can take out the little plastic slip over the battery (which is included, yay!). You'll need to pair the Uprize with the remote. You can do that by pressing the vibration button on the toy once.
Once it's paired, the two buttons will flash. They don't seem to stop flashing while paired with the remote, which is a little annoying. But, using the remote, you can control the erecting and vibrating functions from afar.
Charging: To charge the UPRIZE, plug the USB charger (included) into your computer or a USB wall adapter.
Harness: The UPRIZE is O-ring harness compatible! Put the O-Ring around the suction cup. Quick measurement with a ruler tells me a 1.75″ ring or 2″ ring should do it.
Other:
There's a travel lock function with this toy. When the toy is off, just press and hold for 5 seconds. To unlock it, do the same or just plug it into the charger.
This toy has a suction cup! It's not the strongest suction in the world, but it'll do fine if you use a very smooth surface.
Packaging – UPRIZE AutoErecting Dildo review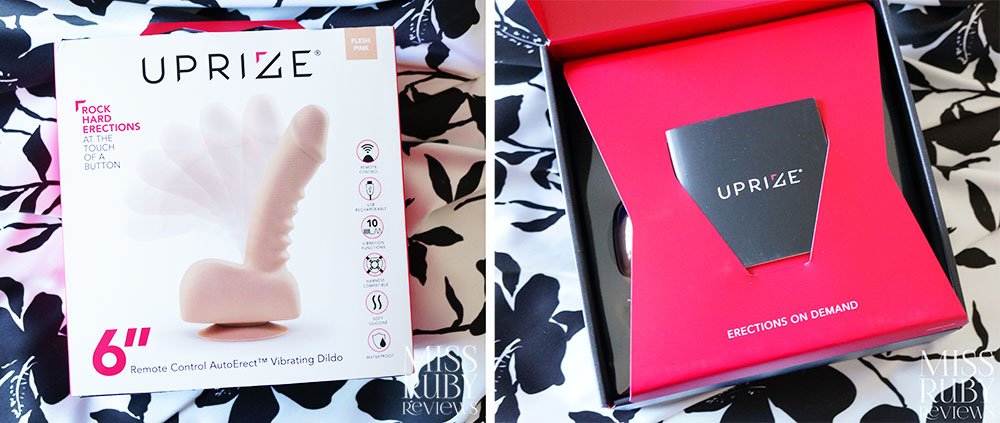 The UPRIZE comes in a pink and white box. It's not at all discreet ("Rock Hard Erections") but, hey, it does the job.
Inside the box, you receive the UPRIZE, an instructions booklet, the USB charger, and the remote (with a battery inside the remote).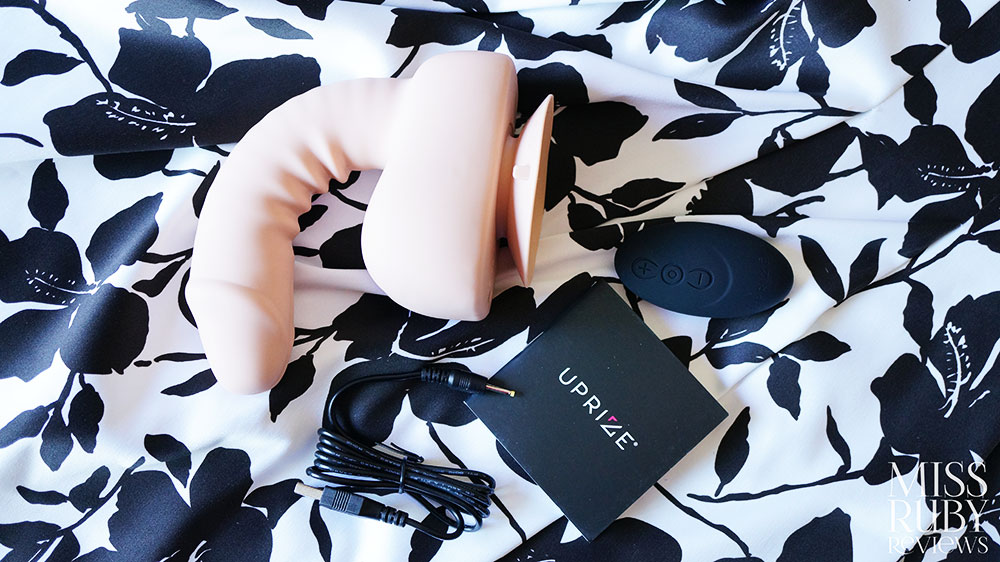 Material and Care
The UPRIZE is made of silicone, making it non-porous, non-toxic, and bodysafe. This specific silicone has a silky, soft texture to it. It doesn't attract too much dust.
The UPRIZE is waterproof. I give it a rinse in warm, soapy water before and after use.
When choosing a lubricant, I recommend opting for a good quality water-based lube like my favourite Sliquid H2O.
My Experience with the UPRIZE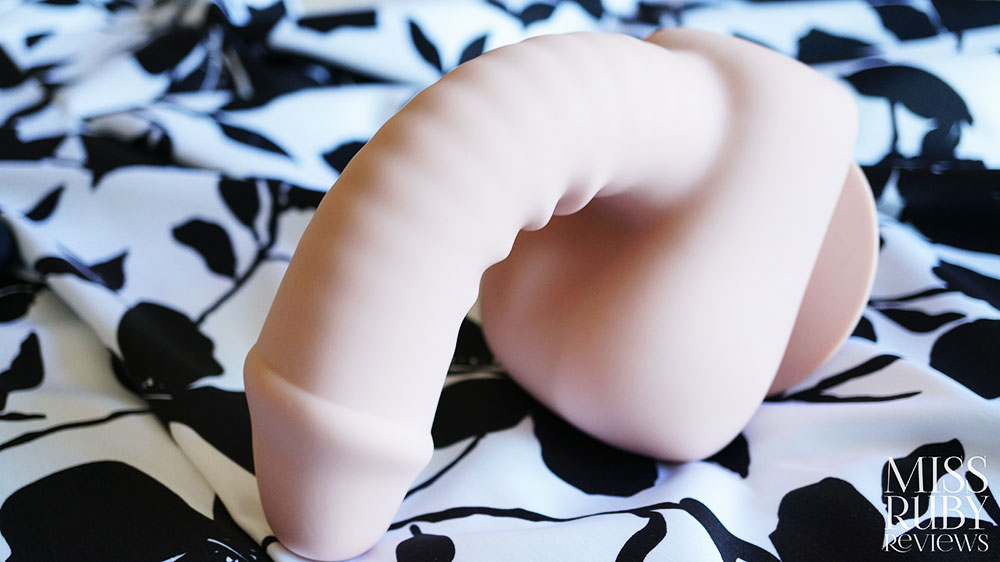 Most people, I suspect, will want the UPRIZE for pegging or packing. Unfortunately, I can't speak to that because I only wanted the UPRIZE for use as a dildo and because the UPRIZE is so novel. It's new. It's neat. It's revolutionary. New technologies are hard to come by in this industry. And I LOVE the sight of flaccid → erect (is there anything better?).
So this toy certainly satisfies my visual needs — it's absolutely bewitching to press that button and watch this toy grow tall and erect.  That alone is worth it.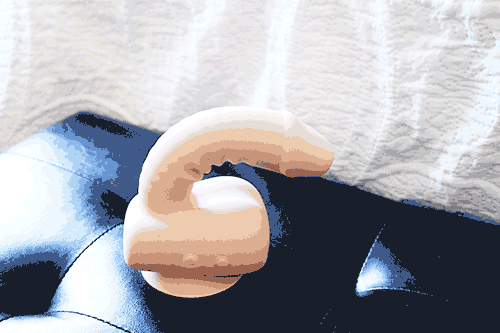 So how does this toy actually feel though?
Hard. The box description isn't kidding – it's a rock hard erection. But there's a reason I keep raving about dual-density toys: soft, squishy silicone dildos are to die for. Super firm, super hard dildos like this are much harder to take: they feel larger because they're unyielding, and this sounds awesome but it has its downsides: it takes ages to warm up for, it needs a lot of lubricant, and you have to be careful to not poke your cervix.
I'm actually a fan of the ridges though. When the UPRIZE is inserted deep enough, the ridges glide along the G-spot and feel fantastic. And when combined with one of my favourite bullet vibes, I've had some amazing orgasms. So I do like using this, but I think this toy will be hard to handle for people who are used to smaller, narrower toys.
UPRIZE AutoErecting Dildo Review – Overall
The UPRIZE AutoErecting Vibrating Dildo is a revolutionary toy. I wanted it to watch an erection grow, which is really mesmerizing.  In use though, it's not without its drawbacks: it's super firm, which makes this a formidable toy to use. If a second generation of this toy is developed, I hope that it'll be made softer (dual-density? 🙂 ) and made in more realistic skin tones.
To purchase yours, head on over to SheVibe! At the time of this post, it's on for $119 USD.
See below for my UPRIZE AutoErecting Dildo review summary.