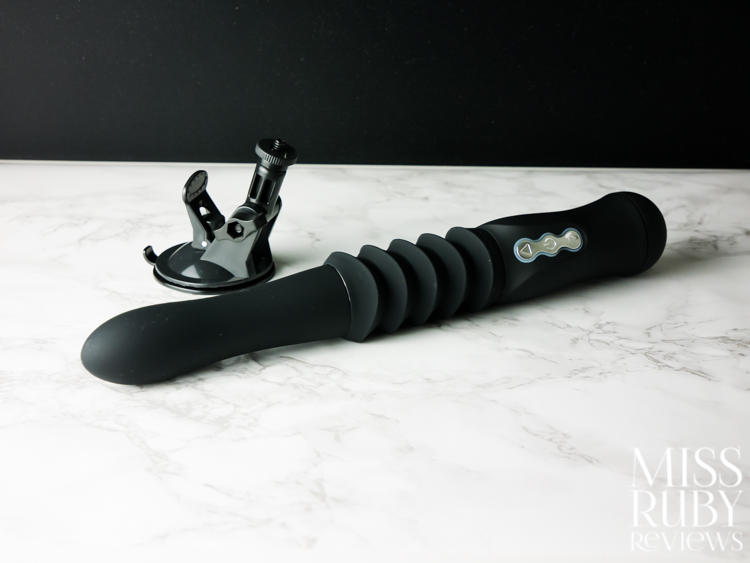 A self-thrusting dildo that's waterproof, comes with a strong suction cup, and vibrates. Read on for my Maia Max review!

Design | Accessibility | How to Use | Packaging | Material and Care | My Experience | Overall
Design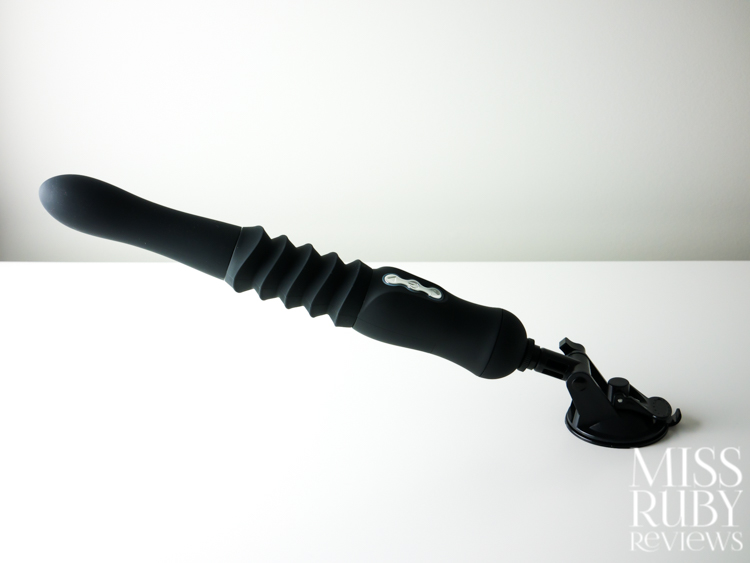 Let's face it: self-thrusting sex toys are amazing. If you're going to have a sex toy, why not have one that can do all the work by itself?
The Maia Max is a compact little sex machine. There are 5 main components:
The insertable portion. This is about 5″ long and 1.25″ wide. It's unrealistic and streamlined.
An accordion section of the body. This retracts and extends during use to thrust.
The handle, which contains control buttons. The cap at the base screws off for a charging port.
A suction cup. If you want to use it, you just screw it onto the base of the toy. Unlike most suction cups, it can be angled. It attaches pretty easily to smooth hard surfaces like vinyl and tile.
A remote control. This gives you up to 30 feet of range for you or your partner to control.
Overall, the design isn't too shabby. I know the accordion part looks silly, but it's necessary for thrusting so I won't complain.
The Maia Max comes in black with silver accents.
Functions – Thrust and vibrate!
The three thrusting speeds can be seen in my video above.
The Maia Max has three thrusting speeds and several vibrating modes (3 steady vibration states and 7 patterns). They're controlled separately, so you can have it just thrust, or just vibrate, or thrust and vibrate at the same time. The stroke depth is 1.5″.
Thrusting speed 1: I count 70 strokes per minute.
Thrusting speed 2: I count 86 strokes per minute.
Thrusting speed 3: I count 92 strokes per minute.
As you can probably tell from the video, this isn't a quiet toy. Self-thrusting toys tend to be waaay noisier than conventional vibrators. If you have roommates, you'll want to wait until they're out of the house, because they'll be able to hear this when passing your bedroom door.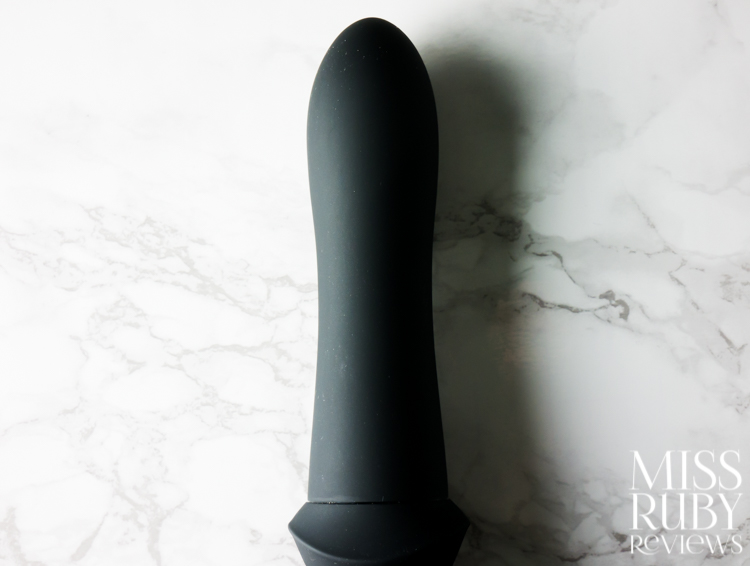 Accessibility
This section is to help folks determine if they might have any issues using/accessing this toy.
 Size/Weight: The Maia Max is a large self-thrusting dildo. By my measurements, it's 27.5 cm long at its compressed state, and 32 cm long when fully extended. There's 12.5 cm of insertable length. It weighs 360 grams.
Buttons on the body: The 3 control buttons are located on the body, just below the accordion area. They're ABS plastic. The buttons require little pressure to press down and make a quiet click noise. The buttons are small (about 1 cm wide and about 0.5 cm apart). To turn on, you must press for an initial 3 seconds.
Buttons on the remote control: The two buttons on the remote control require moderate pressure to press down and make a quiet click noise. The buttons are smaller (about 6 mm wide and 3mm apart).
Handle buzz: In vibrating mode, very few vibrations transfer to the handle. You won't particularly feel any vibrations/buzz in the handle when holding it.
Other notes: To access the charging port, you'll have to unscrew the cap at the base (this takes some effort). The suction cup is quite effective, which can free up your hands. However, it'll take two hands to attach the suction cup.
Price: At $109 USD, this is on the lower-price end for self-thrusting toys.
How to Use the Maia Max
The Maia Max can be controlled with buttons on the body or via remote control.
Using the buttons on the body: 
Turn on the Maia Max by pressing the power button for 3 seconds.
Press the up ᐃ arrow to cycle through the 3 thrusting speeds.
Press the down ᐁ arrow to cycle through the 3 steady vibrating modes and the 7 vibrating patterns.
Turn off by pressing the power button.
Using the remote control:
To use the remote control, press the power button on both the body and the remote for 3 seconds so they can connect.
Tapping the power button on the remote control will cycle through the 3 thrusting speeds.
Pressing the zigzag button will cycle you through all the vibrating modes.
Pressing and holding the power button for 3 seconds will power off the Maia Max.
Attaching the suction cup:
The suction cup is attached by screwing it inside the metal hole at the base of the Maia Max. Tighten it using the small ridged ring.
Attach the base of the suction cup to your surface (make sure both the surface and the suction cup are clean) and then snap down the locking lever.
Adjust the angle of the Maia Max by untightening the knob on the side, then tightening it.
Packaging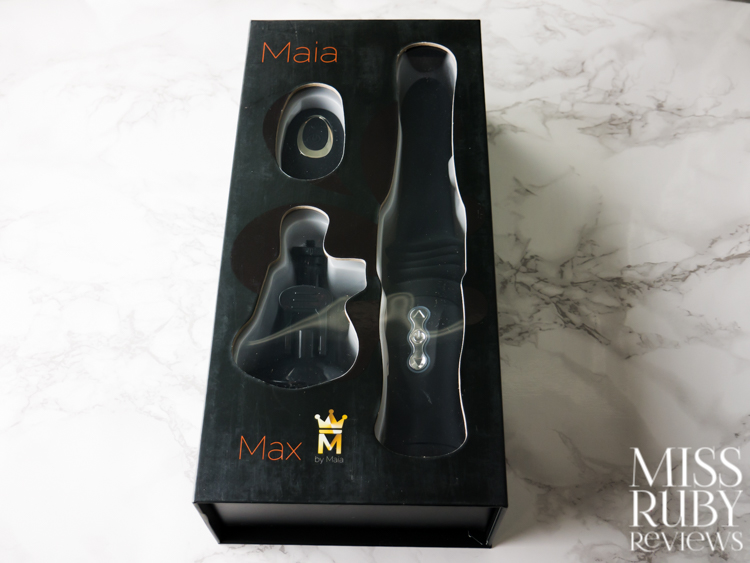 The Maia Max comes packaged simply in a black box with orange and yellow accents.
Inside the box, you receive the Maia Max, the remote control, the screw-on suction cup, an instruction manual, and USB charging cables for both the Maia Max and the remote control.
No storage pouches are included. If you want a dedicated storage pouch (unnecessary, but nice), you can find some here.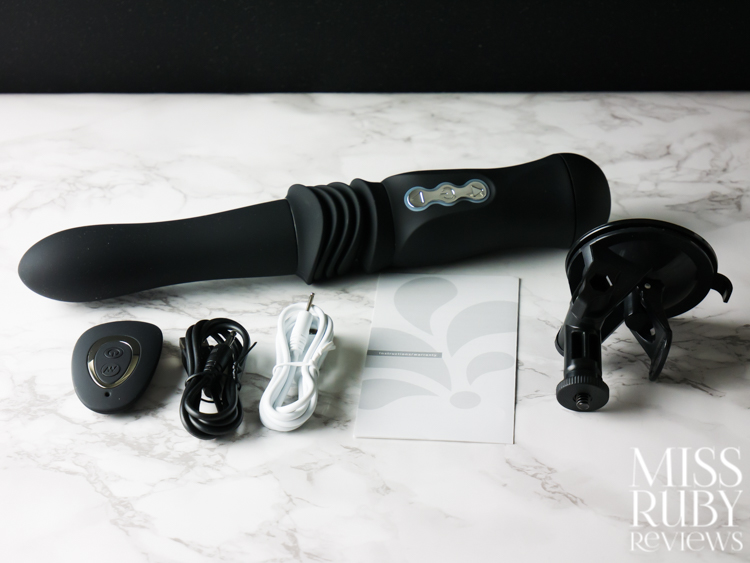 Material and Care
The Maia Max is made from silicone (the body) and ABS plastic (the handle). These materials are bodysafe (nonporous, nontoxic, free of phthalates, etc). This particular silicone finish is matte and silky to the touch and does a great job of not attracting lint/dust.
Maia states that the sleeve is made from TPE — I think they're referring to the accordion section. This is a non-toxic material but can often be porous, so take particular care with cleaning.
To clean, I wash the Maia Max in warm, soapy water before and after each use. This isn't fully waterproof, so you can't submerge it, but it is splashproof. Rinse it downward in the sink. If you want a dedicated sex toy cleaner (not necessary, but nice), you can browse for one here (I personally like this one).
If you'd like to add some lubricant (highly recommended), opt for a good quality water-based option like Wicked Simply Aqua or Sliquid H2O. Avoid silicone lubricants; those will bond with the silicone in this toy and degrade the surface.
The Maia Max comes with a 1-year manufacturer's warranty (for US buyers) that you need to activate within 10 days.  Read the instructions for details.
My Experience with the Maia Max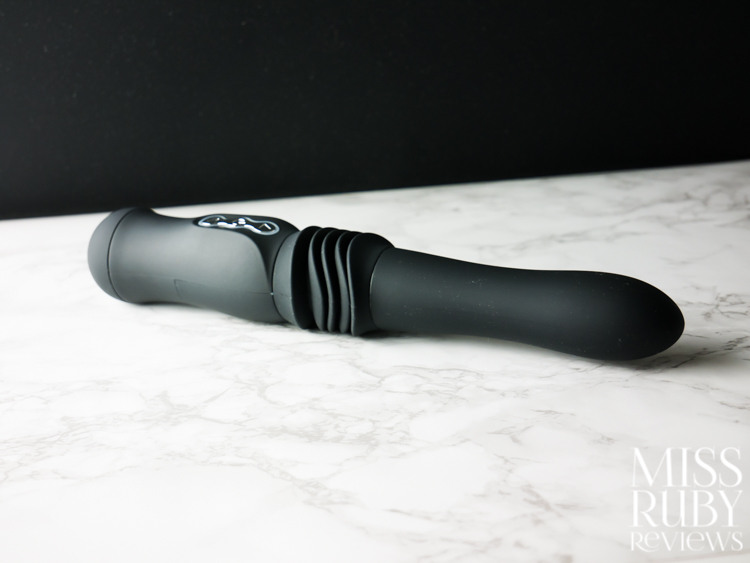 How pleasurable is the Maia Max?
A lot. There's just so much potential for fun with the Maia Max.
The suction cup makes this super versatile, obviously. Unlike most suction cups, this is positionable so you can play with angles. That means you're not limited to a 90° angle from the suction surface — you can prop the Maia Max to 45° or 135° or whatever you want. This is particularly great if a standard 90° angle doesn't target your G-spot enough.
You really do need a non-porous surface for the suction cup to work though. It doesn't want to cling to drywall. I've had success with it on my tile flooring, shower wall, and the surface of a new dresser.
If you have a partner, you're in luck — you can simulate a threesome fairly easily by suction cupping the Maia Max to a vertical surface, straddling it doggy-style, and having your partner in front of you. In my case, it's great for simulating a MFM threesome. The remote control here becomes particularly handy — Mr. Ruby can totally control the Max's thrusts when it's behind me.
The 1.5″ thrusts feel deep (deeper than Fun Factory's Stronic line) and satisfying. Because the shaft is narrow and streamlined, there's no problem with insertion — the shaft pops in and out easily. I also appreciate that the tip is slightly bulbous — this makes it hit the G-spot easier.
Coupled with a good clitoral vibrator (I'm currently hooked on this one), this gives you quite a ride.
Vibration strength
How are the vibrations? Pretty bad. Surface level and buzzy, even at the top speed. Nothing to write home about. I think Maia made this a self-thrusting dildo first, and tacked on vibration as an afterthought.
I don't particularly mind that the vibrations aren't good though, and this shouldn't stop you from buying it. If you're in the market for a self-thrusting dildo, vibration quality isn't really the most important selling factor — your main concern should be if it can thrust well. If you're looking for a dedicated vibrator, you have thousands of options for strong vibrations. But if you're looking for a self-thrusting sex toy, this is one to consider.
If you don't have a vagina, I think this is safe for anal use too if you use the suction cup. The insertable shaft is narrower than the handle-section, which should act as a flared base, and the suction cup would make it extra safe.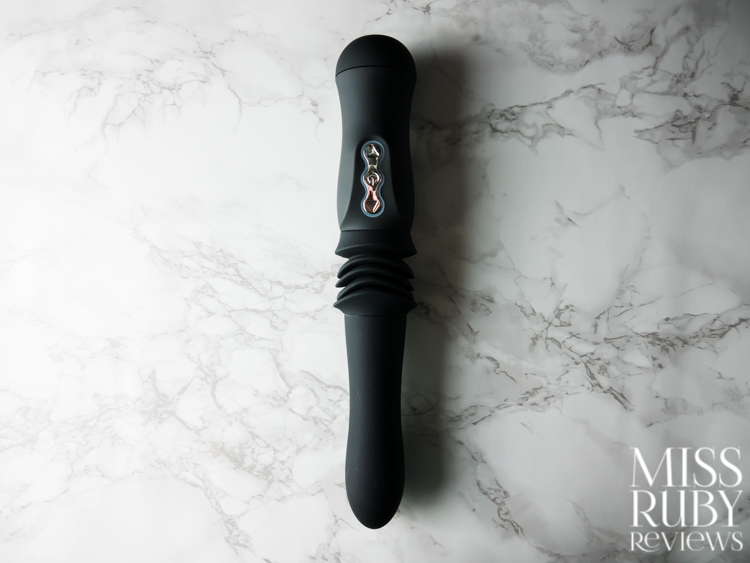 Maia Max Review – Overall Thoughts
The Maia Max is a decent little self-thrusting sex toy. I adore the removable suction cup, which lets you position the Maia Max at different angles. The remote control makes using it easier (and comes in handy if you have a partner to control it). The thrusts are decent (I count a max thrust speed of 92 strokes per minute, at 1.5″ depth).
Plus, it's only $109 (plus get 10% off your whole order with coupon code RUBY), which puts this at $99. This is a great price for self-thrusting technology.
If you're in the market for a self-thrusting sex toy, this should probably be at the top of your list.
You can pick up your own Maia Max here! Why do I like Peepshow Toys? They ship internationally, only carry body-safe products, and you can get a 10% discount off your whole purchase with coupon code RUBY. 
See below for my Maia Max review breakdown.
Maia Max Review Summary
Overall thoughts - 8.9
8.9
$109
PROS
Awesome detachable suction cup
Up to ~92 strokes/minute
A good 1.5" of thrusting depth
Control via buttons or remote
Insertable section is silicone
Cheaper than comparable toys
CONS
Only splashproof, not fully waterproof
Poor vibration strength
Noisy
Shop Now