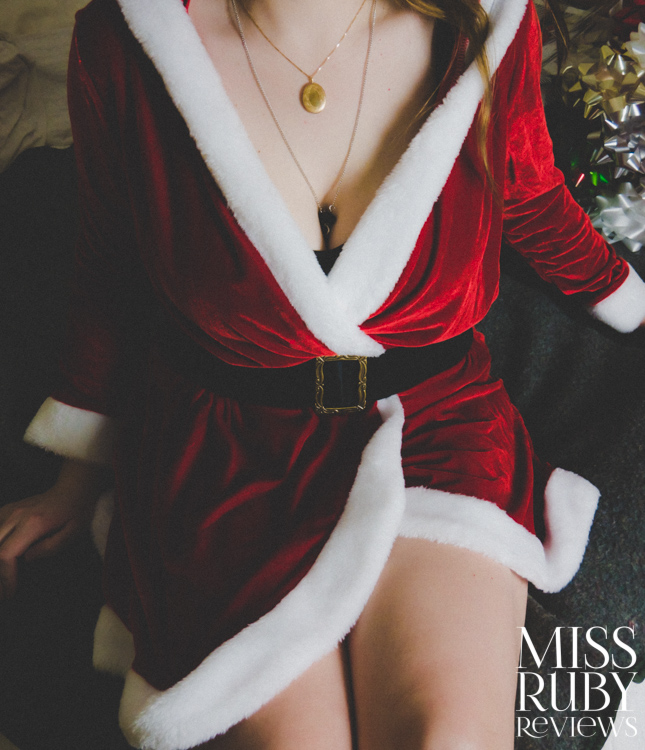 This one was on my holiday wishlist, and it should be on yours too! Read on for my Lovehoney Santa Cutie Hooded Wrap Dress review!

Overall Design | Wearing it | Accessibility |  Material/Washing | Overall
Overall Design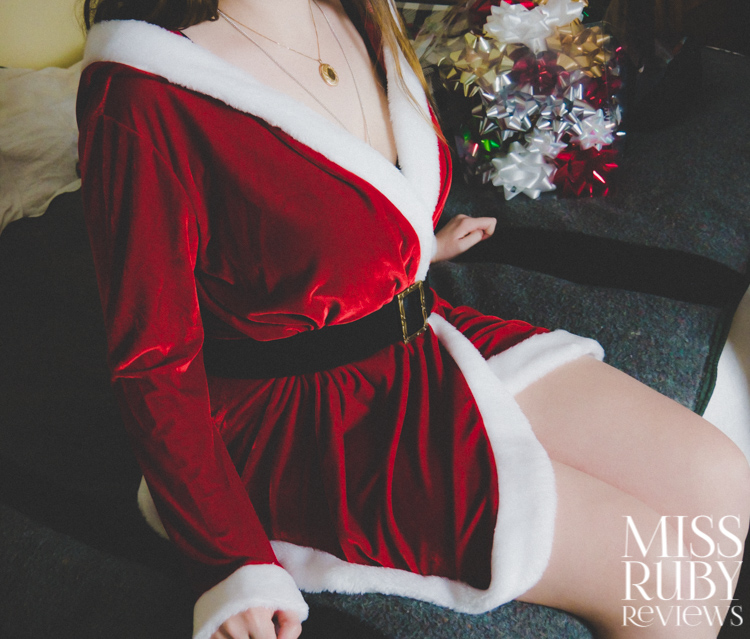 The Lovehoney Santa Cutie Hooded Wrap Dress empowers me to give off ALL the Sexy Mrs. Claus vibes.
It's simultaneously both a dress and lingerie, and it makes me feel dazzling.
This is a velvet wrap-style dress featuring a PLUNGING neckline and a butt-skimming skirt. The neckline is deep, the hem is short. For something that shows off so much, it's actually surprisingly cozy to wear.
The red velvet is a deep, flattering shade of wine. The bright white fur trimming embellishes the sleeve hems, skirt hem, and hood and gives it that classic Santa look.
The Lovehoney Santa Cutie Hooded Wrap Dress comes in Lovehoney's three standard Fantasy sizes: One Size, One Size Queen, and One Size Curve. I got mine in One Size Queen, which is for USA/CAN sizes 14-20. I'm US Size 12, but I decided to size up because I'm 5ft11″ tall and wanted some extra length in the sleeves and hem. It also gives the dress a slightly looser, cozier look, which is exactly what I was hoping for.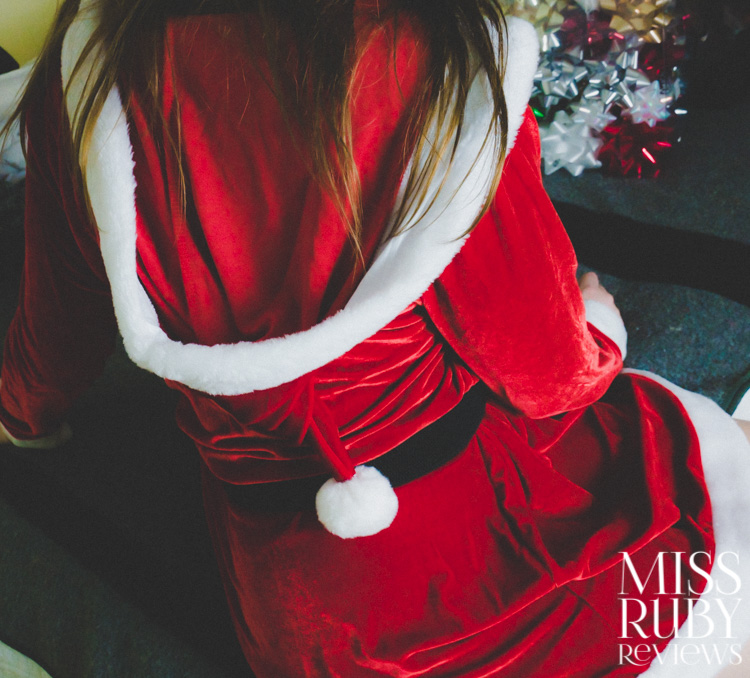 Above: This dress has a built-in Santa hat hoodie — complete with a pompom at the tip!
As with any wrap dress, you put this dress on like a dressing gown, then use an inside tie to partly close the dress. Once you wrap the leftover part of the dress around you, you slip on the brass-looking belt to cinch you in at your waist. There's a fuzzy Santa Hat hoodie built into the dress to complete the look.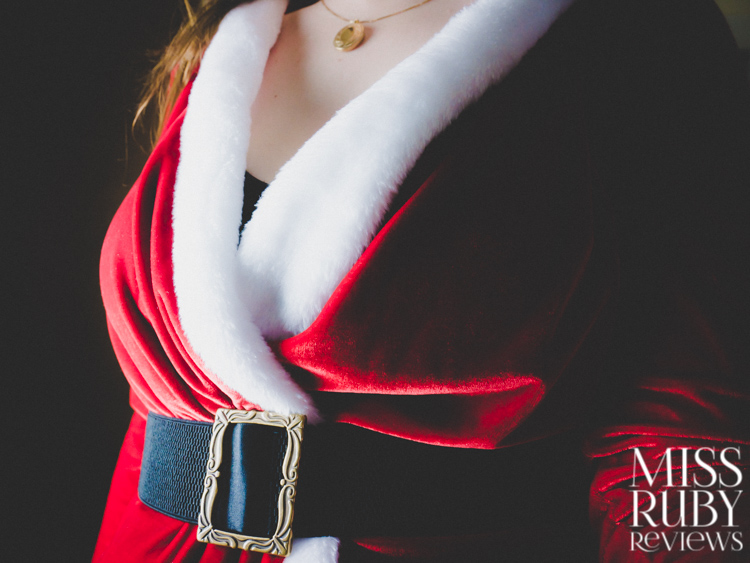 Above: a faux brass belt cinches your waist to give you an hourglass figure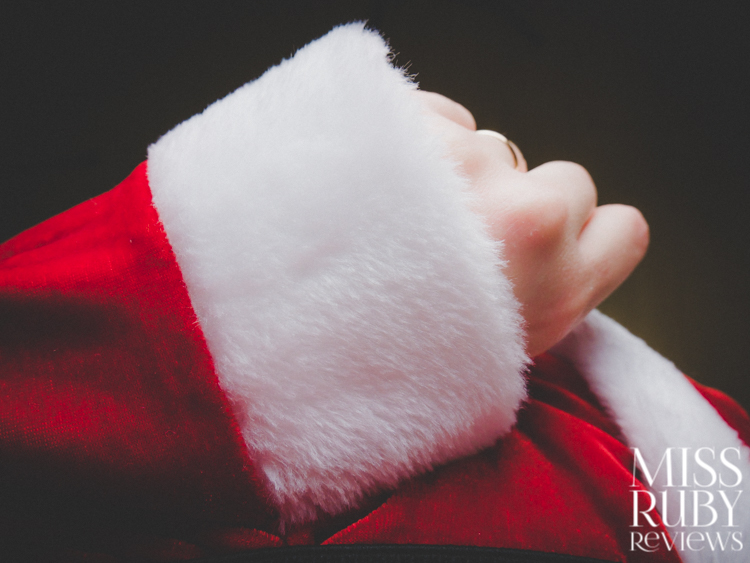 Above: Plush fur trim at the sleeves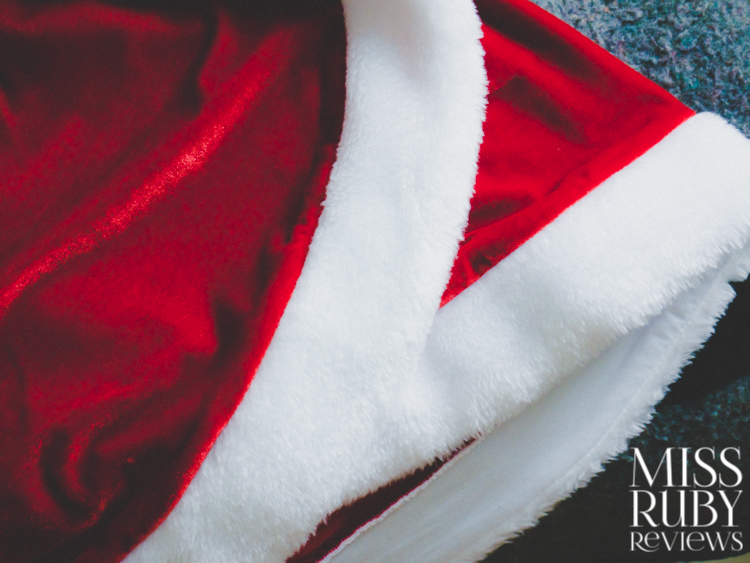 Above: A thick bank of white fur wraps all along the neckline and hem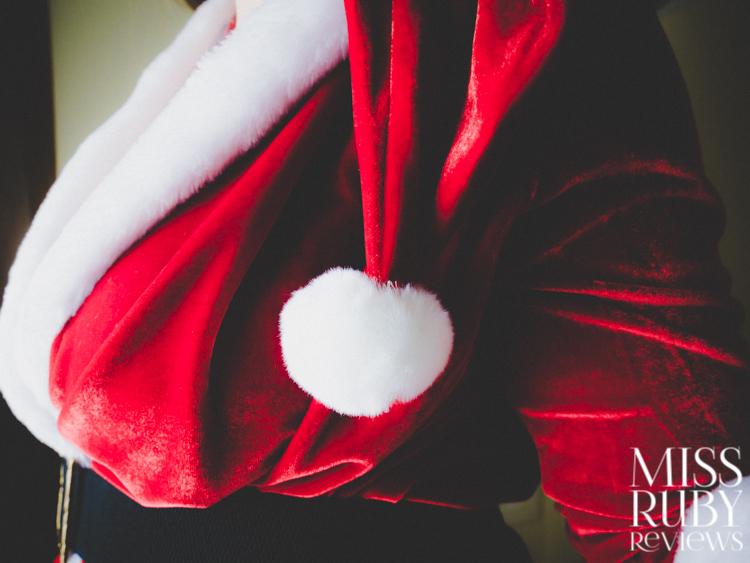 Above: A white pompom completes the Santa hat hoodie look
Wearing the Lovehoney Santa Cutie Hooded Wrap Dress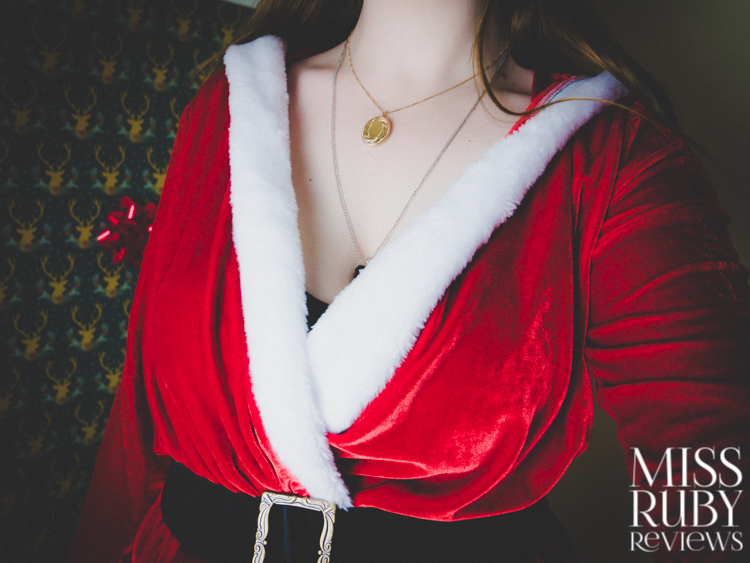 I find the Lovehoney Santa Cutie Hooded Wrap Dress very comfortable to wear. The fabric doesn't pull weird or scratch. It's cozy, but not too hot.
It's a flattering shape. I don't naturally have a very accentuated hourglass figure — it more leans towards rectangular, so a belt to cinch in the waist and mimic an hourglass figure does wonders. I also like that you can modify how much the neckline shows by moving the fabric on your shoulders (anything from quite covered up, to plunging, to off the shoulders).
It's also (importantly) loose around the hips — so when it's time for sex, you can open your legs easily or flip the skirt up out of the way.
Unlike most lingerie, I also think this can even be worn in a non-sexy setting. Pair it with black leggings and a tank top and you have a cute, respectable holiday outfit for a party.
My only gripe about this costume is the belt. I like the look of it, but it's not a real belt that opens up. It's a stretchy band that you awkwardly slip over your head (or your legs) and pull towards your waist. It's unnecessarily clumsy and it means you can't use this dress for a graceful striptease (not unless you use a different belt).
But, overall, how do I feel wearing this? Desirable and festive. This is fantastic for your holiday-themed fantasies. My partner agrees.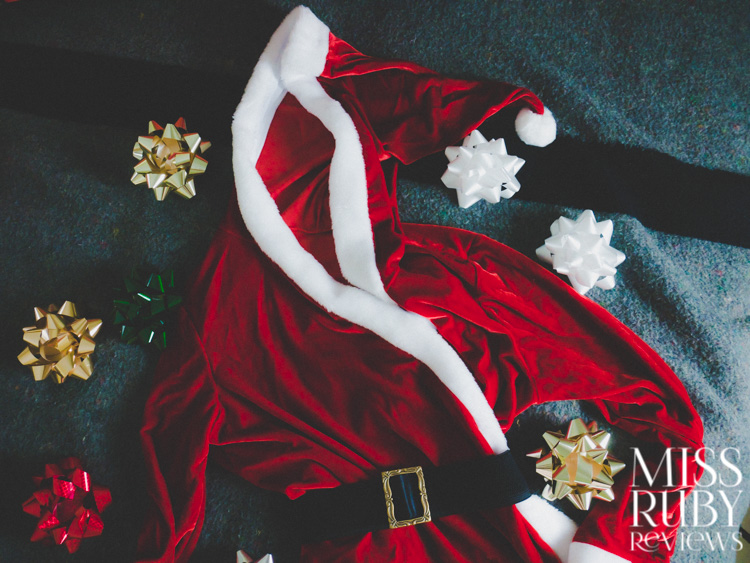 Accessibility
This section is to help folks determine if they might have any issues using/accessing this product.
Mobility issues: This is initially put on your arms like a dressing gown or a jacket, so you may need assistance if you have challenges moving your arms. The inside tie requires fine motor skills with your hands to tie up. Lastly, the belt does not open, so it's put on by stretching it and slipping it over your whole body (either your head/arms or your feet/hips). If you have challenges with any of these maneuvers, you may require someone to help you put this on.
Price: At $42.99 USD (at the time of posting), the Lovehoney Santa Cutie Hooded Wrap Dress is reasonably priced for a costume item of this quality. I've certainly seen more expensive Mrs. Claus-type lingerie out there.
Material and Washing Care
The Lovehoney Santa Cutie Hooded Wrap Dress' red velvet portion is made up of 80% polyester and 20% elastane. The white fur trim is 100% polyester. I couldn't find a tag for the belt, but it stretches quite a lot so I assume it is mostly elastane with some polyester. The brass-looking buckle is actually hard plastic.
To clean, hand wash cold and then dry it on a line. Don't bleach, iron, or dry clean. Given the deep red colouring, I'd wash this separately from your other clothing.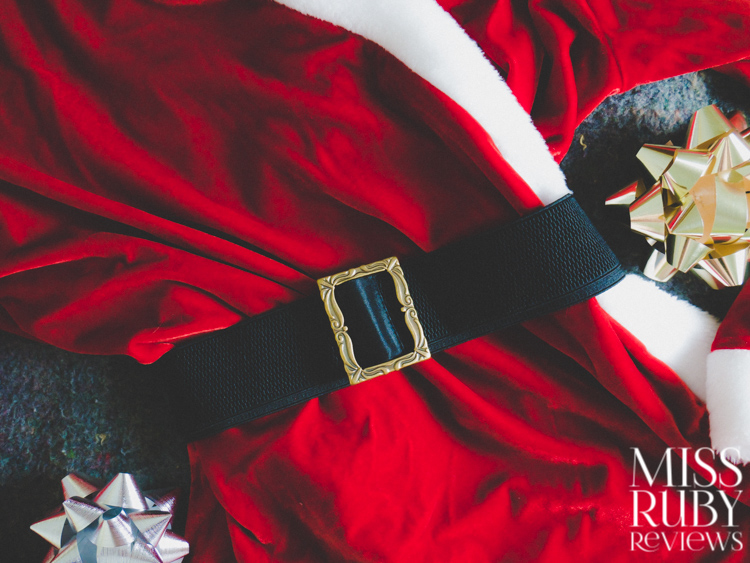 Lovehoney Santa Cutie Hooded Wrap Dress Review – Overall Thoughts
Asides from my gripe about the belt, I really do love the Lovehoney Santa Cutie Hooded Wrap Dress. It's beautifully made, hangs off your body gracefully, helps give you an hourglass figure, and helps you and your partner(s) explore your holiday fantasies!
Now I just need to find a Santa outfit for my partner…
You can pick up your own Lovehoney Santa Cutie Hooded Wrap Dress here! Why do I like Lovehoney? They have international sites in your currency, carry thousands of great products, and you can get a 10% discount off your whole purchase with coupon code HONEYX10. 
Direct International shop links:

See below for my Lovehoney Santa Cutie Hooded Wrap Dress review breakdown.

Lovehoney Santa Cutie Hooded Wrap Dress Review
Overall thoughts - 9.2
9.2
$42
PROS
Beautiful shade of red
Convincing faux velvet and fur appearance
Waist belt gives you an hourglass figure
Built-in Santa Hat hoodie
Comes in a variety of sizes
CONS
Belt needs to be slipped over your body
Hand-wash only
Shop Now