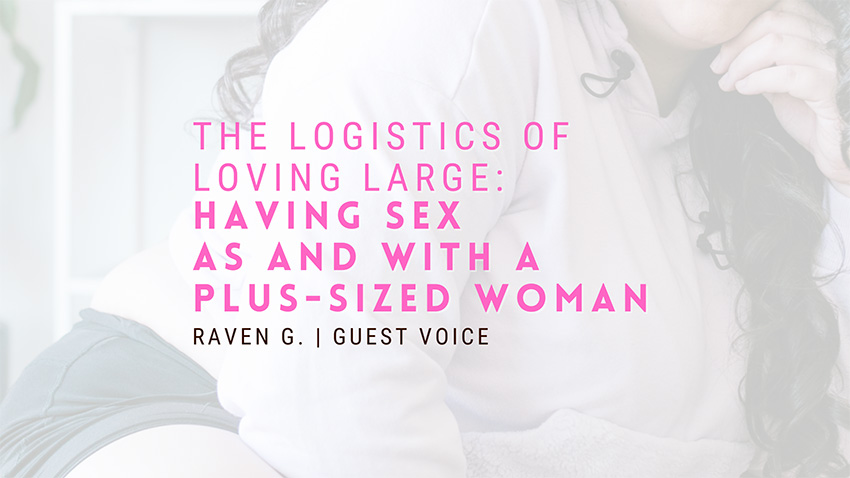 When the clothes come off, the questions start, but things can be a lot more fun if you have a little knowledge going in. Sex as or with a plus-sized woman, in most ways, is the same as sex with a non-plus-sized woman, but there are some areas that need some clarification. Each large body is different, but what I say here can act as a launchpad for an open dialogue with your partner. My perspective is from both the plus-sized woman and someone who's slept with plus-sized women.
---
Disclaimer: This is not medical advice. I am not a medical professional. This is not a debate on the merits of fat acceptance, Healthy at Every Size (HAES), the Body Positivity movement, or anything related to "fat logic." I am writing about enjoying sex, which everyone deserves. All bodies are unique, and pleasure is not something limited to one size group. No matter your size, please make sure that you're physically and mentally fit for sex. Use protection, no matter your orientation, if you engage in casual sex or a non-monogamous relationship. Any sexual activity can lead to an STD/STI if you're not safe. 
---
Okay, throw your playbook out the window and erase everything you've seen on a "Hub" or learned from a particular X-rated video. Sex with a plus-sized woman is not a fetish for everyone; sometimes, it's just finding someone attractive.
Here's the deal. Added size comes with extra padding in some places; the labia majora (outer lips/curtains) are typically thicker on a big girl and can seal the package a bit. When going down on a big girl using a bed wedge (the type used for elevating head or feet in bed) or even a wedge designed for sex since raising the hips can make access even more effortless. The elevation makes use of the wonders of gravity to shift things into a position that lets you get your face wet.
Communication is a forgotten aspect of sex since sometimes it can feel offensive to ask, "Am I am in yet?" or "Am I close?" The reasons for fear of asking are many, including that it can feel like insulting yourself or your partner. The truth is that there's no shame in asking for directions. During sex, especially with a  larger woman, I know that her "OMG SPOT" might not be in the same place as mine or a previous lover; I might need her to tell me to go in four centimetres, turn left, then proceed two centimetres to my destination. I know some people think that asking these types of questions "kill the mood," but what kills the mood is lying there feeling nothing while my partner hunt & pecks around your vagina like a new typist. I prefer giving point-by-point instructions and have a mind-blowing orgasm than start counting the ceiling tiles or mentally making a shopping list because nothing good is happening. This is especially true in fat sex because those folds of flesh can change the landscape.
In a larger body, the clit might have overlap by some folds of skin, and the sensitivity of that skin might not equal the sensation of direct contact with the clitoris.
Health films of the 1950s had two ways of describing the female genitalia; a hole between the legs or a flower with many petals. Neither of these is wholly accurate. Yes, the textbook definition of the vagina is the vaginal opening, and the rest of the area is labia majora/minora, vulva, and clitoris.
So, yes, the vagina is a hole between the legs; in the same way, the Grand Canyon is just a hole in the ground; there's so much more to it. The thing about fat is that it adds bulk and is not always fun, and things can be harder to reach or less sensitive due to padding. As mentioned above, raising the hips can make access more manageable, but let's talk about feelings (no, not those types, you can put the tissue box down for now). Nerves need stimulation for orgasm to happen. Depending on the person, weight, vibrator usage, sensitivity isn't always straightforward. In a larger body, the clit might have overlap by some folds of skin, and the sensitivity of that skin might not equal the sensation of direct contact with the clitoris. I have learned that I might need to change the pressure I use or spread her labia to give my tongue better access to her clit.
There is one last major "issue" to discuss when it comes to fucking while fat, and that's sweat. It happens, and on a larger body, it can be a tad shocking the first time. The bigger the woman, the more folds of skin that her body might have, and the area inside those folds are subject to condensation laws. The first time you run your hands over her and hit a wet spot, it might feel gross, but it's nothing nasty. I keep towels/washcloths near the bed to dry off if I am hot or get a bit sweaty.
Fat sex is a curvy road; it's a thrill ride at the right speed and focus.
---