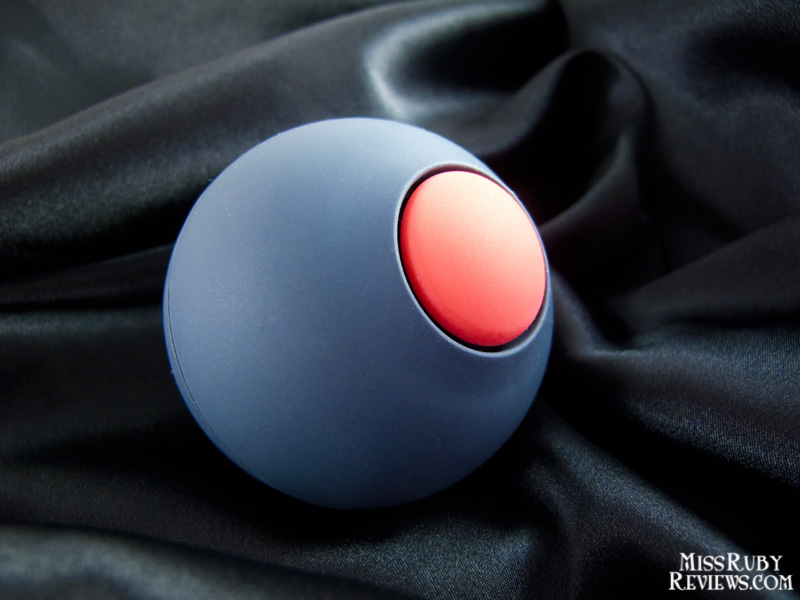 Physical Details | Accessories (Clitoral/ REACH/ Travel Case) | Packaging | Material and Care | My Experience | Overall
Physical Details
Is it a webcam? Is it a space droid? No! It's a sonic vibrator!
The Revel Body SOL is a weird, unique-looking toy. It's a tennis ball-sized orb with a hollow cylinder going down the middle. A removable core snaps into place, and this core holds red attachments for clitoral stimulation. It may be unconventional, but I love this about it.
Function:
It also functions uniquely. Instead of using a standard rotary motor to vibrate, it uses Revel's patented TrueSonic technology. Now, I'm no tech-expert, so bear with me here. The SOL uses a linear motor, which employs polarizing magnetic pulses that rapidly move its removable core back and forth. Because there's only one moving part, it's more reliable than standard rotary motors.
Just to be clear, the whole orb isn't meant to be what stimulates you. The stimulating part of this sex toy is the core that moves back and forth, pulsating against your clitoris. This is one of the ways this toy is meant to give you pleasure: the red attachments are connected to this removable pulsating core, and then it pulsates rapidly against your clitoris in soft movements.
If you turn the device around, however, you'll find a concave area. If you cup your clitoris with this concave dip, it'll provide you with subtle suction when you're submerged in water.
See below of a clip demonstrating the back-and-forth movement of the first 3 settings. This shows the concave side: under water, this movement creates suction. Note: the loud sound at the start of the video is a motorcycle passing, not the Revel.
Controls and Intensities: 
The Revel Body SOL has 6 settings. The first 3 are, by far, the most powerful, providing more rumbly/intense vibrations and suction.  The 3rd is the strongest. After that, things get buzzy and weak, with the 6th Om setting providing no pleasure whatsoever.
Noise:  
While this isn't the loudest toy I've ever owned, it won't get any prizes for quietness. The first setting is fairly quiet, but the 2nd and 3rd are noticeably loud. The 4-6th settings give off a high-pitched noise. I can't hear it through walls though, so I think you can still use this discreetly in a busy household. The sound becomes slightly deeper and softer when using it in the bath. In short: it's not whisper quiet, but it shouldn't cause you any problems if you're trying to use this under the radar.
Other Features:
Like any good high-end vibrator, the Revel Body SOL is both waterproof and rechargeable. The charging station is quite fancy. It connects via a magnetic port and has a USB plug. I'd be careful charging it using your computer's USB port though. Because this device uses very strong magnets, Revel warns that "the magnets in this device can harm or destroy magnetically stored media. Exercise caution when placing near computers, cell phones, credit cards, etc." So I strongly suggest using a USB wall adapter instead of hooking it up to your computer. Lastly, it also comes with a 2-year warranty.
Accessories
Clitoral Attachments: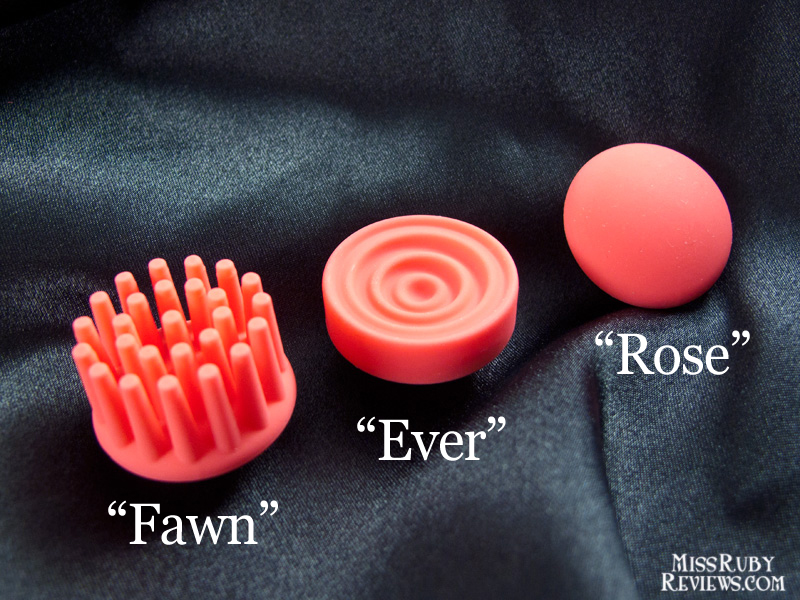 The Revel Body SOL comes with 3 clitoral attachments: Fawn, Ever, and Rose. These attachments are made from matte peachy-red silicone.
Rose is, by far, my favourite. My clitoris isn't particularly pronounced, so I need something that extends outwards towards my clitoris. I enjoy its texture-free surface.
Fawn, on the other hand, is good for cis women who enjoy light, ticklish texture. When on setting 3, my clitoris can discern a lot of texture (which is awesome), but I still prefer Rose's shape.
I think Ever is suited for cis women whose clitoris is too sensitive for direct contact, as it has a concave shape to cup the area around the clitoris. This is my least favourite accessory because I require direct contact.
Revel Body REACH: 
(Sold Separately) I also got a Revel Body REACH. This is bought separately from the Sol. I'll quickly run through my experience with it here.
The REACH expands the capabilities of the SOL. First, the SOL can be clipped in and the REACH can be used as a handle. This makes holding the Revel SOL considerably more comfortable. It also prevents my hand from getting tired from holding onto a vibrating object. I don't use the SOL without using the REACH as a handle, so this is something to consider if you have any mobility issues or need to avoid having your hand vibrate.
The Reach can also be used as a silicone vibrating dildo. As a dildo, the REACH gives impressive stimulation. The hooked shape targets the G-spot perfectly. I found it immediately stimulating in an oh-god-yup-that's-my-G-spot sort of way. It may be narrow, but it certainly knows where to hit. While the vibrations are felt the most at the mid-shaft point, they don't carry across strongly. I found that the head of the Magic Wand (review) sort of fits though, so the Revel Body REACH can be totally re-purposed as a wonky Magic Wand attachment. Seriously though, even though the SOL vibrations don't carry through very well, as a standalone dildo, it's very satisfying.
Revel Travel Case: 
(Sold Separately) Filthy Dirty also carries the Revel Body Travel Case. By default, the SOL doesn't come with any sort of storage pouch. For just under $20, you receive a zip-up case, a USB charging cable, and a wall adapter. I fell in love with this pink satin-lined case. The Sol fits snugly into one half of the case. On the other side of the case, there's a drawstring compartment for your charging cable and your clitoral attachments. I store my SOL in this case at all times and, when it's all zipped up, it's totally discreet. I wish Revel included this in the original purchase of the SOL for all customers because it's the perfect way to store it. If you can splurge an extra $20 or so, definitely grab one. Filthy Dirty sells it for $17.50. 
Packaging
The Revel Body SOL comes packaged in a clean white box. When you lift the box's cover, you find the SOL (with the rose attachment already in place) resting on a plastic holder. Beneath the holder lies the charger, an information manual, and the two other red attachments.
Material and Care
The Revel Body Sol is free of phthalates, nickel, and lead. For the life of me, I can't track down what the grey material that covers the SOL is made of. Revel warns to not use silicone-based lubricant though, so I'm assuming that it's a thin layer of firm silicone. The red core attachments for your clitoris are definitely made from a soft silicone though.
To clean the core, push it out from the SOL and clean with soap and warm water before and after each use.  Revel doesn't specify in their manual how to clean the Revel Body itself, but (because it's waterproof), I recommend cleaning it the same way: rinse with warm water and soap.
Just to note, because this contains such strong magnets, do not use it if you're wearing any magnetic implants or a pacemaker.
My Experience
I have a complicated relationship with the Revel Body SOL. In some ways, it simply doesn't work for me. In other ways, it rocks my world.
If I try to use this as a conventional vibrator, I can't orgasm. When the clitoral attachments are pulsating against my clitoris, I feel helplessly teased. It's a pleasurable sensation, but it can only get me so far because I require pressure against my clitoris to orgasm. You cannot apply pressure with this toy.
Even though I can't orgasm this way, it still feels pleasant. When it pulses against me, it feels warm, soft, and gentle. The sensation is heightened if I brush the Rose attachment across my clitoris in a continuous, side-to-side motion. For some cis women, I think this may be enough to orgasm IF they need 0% pressure and about 60% vibration intensity.
But for me, this only goes as far as increasing blood flow to my vulva and making me gung-ho about a climax. I personally have the urge to press it firmly against my clitoris, which only works to deaden the magnetic movement. In short: I find this to be a teasing sensation, but cis women who don't need to apply firm pressure may be able to orgasm this way.
After trying this as a conventional vibrator, I was worried I would never pick up this toy again.
Then I tried the concave side.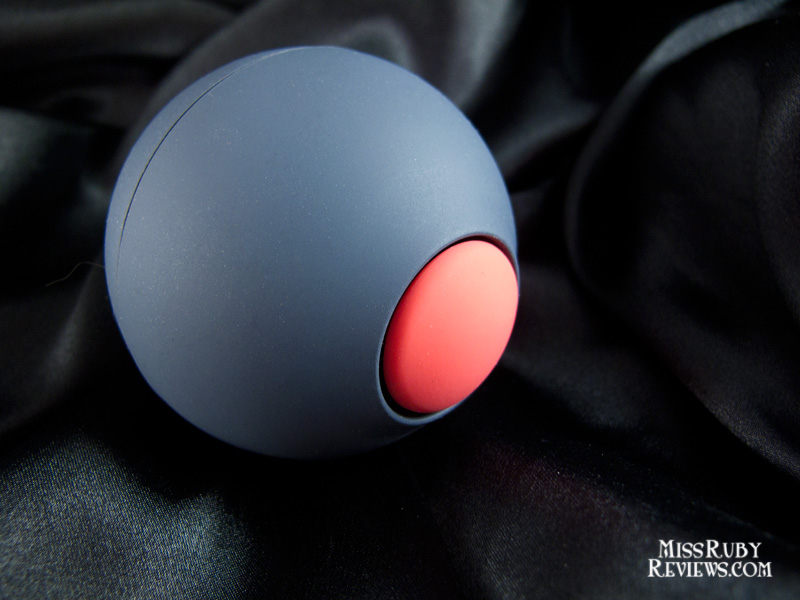 As I mentioned above, Revel states that using the concave side underwater will create a suctioning effect. The first time I tried the concave side, I was frustrated at not being able to orgasm by using the clitoral attachments. Then I ran a bath, cupped the area around my clitoris with the concave dip, switched it to setting 3, and had an orgasm 3 minutes later.
To be clear, I've never had an orgasm from suction. My typical orgasms with a vibrator involve me firmly stimulating my clitoris directly via my clitoral hood. I've never used a toy any other way.
This doesn't even need to touch my clitoris and it still makes me come.
The suction is subtle. I barely noticed it at first. In my fuzzy-headed pre-orgasmic state, I can't really pinpoint the sensation. All I can say is that, after a few moments, it starts to feel warm and pleasurable and an orgasm follows after. It doesn't hurt that the bathtub's warm water increases blood flow to the region. For me, this is the SOL's main strength, and this is what brings me going back to the SOL.
Who needs a rubber duck when you have this to play with in your bubble bath?
Overall
The Revel Body SOL surprised me. I thought it would be a dud after I realized that I couldn't apply pressure against my clitoris. But, when I switch to the suction side, the stars suddenly align and an orgasm follows. For this reason, I still come back to the Revel body SOL over and over again. The Body SOL certainly isn't without its flaws, and this won't be my everyday vibrator, but these new suction-based orgasms are a novel and exciting way for me to orgasm, one I won't be tiring of anytime soon.
To buy the Revel Body SOL, head on over to Filthy Dirty. (Update: sorry, Filthy Dirty no longer carries this product!)
Last Updated on March 14, 2020 by Miss Ruby