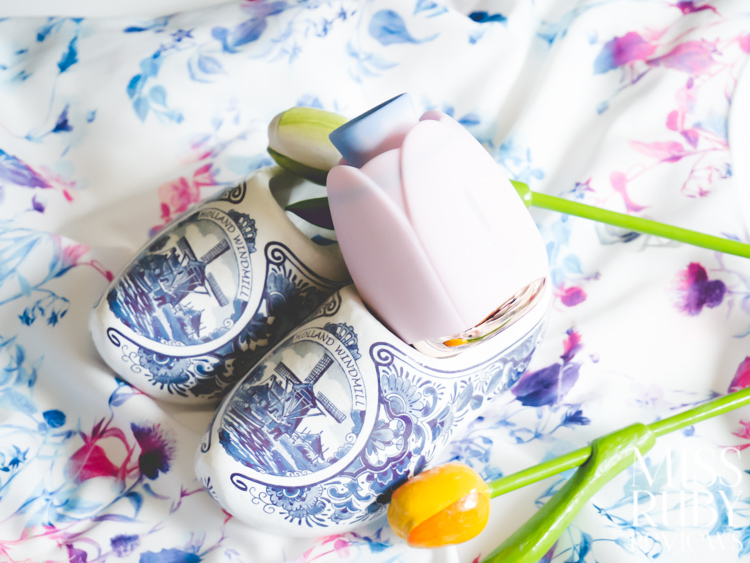 Sometimes, too much of a good thing is a bad thing. Read on for my MAIA Tulip Suction Rose Vibrator review!

Design | Accessibility | How to Use | Packaging | Material and Care | My Experience | Overall
Design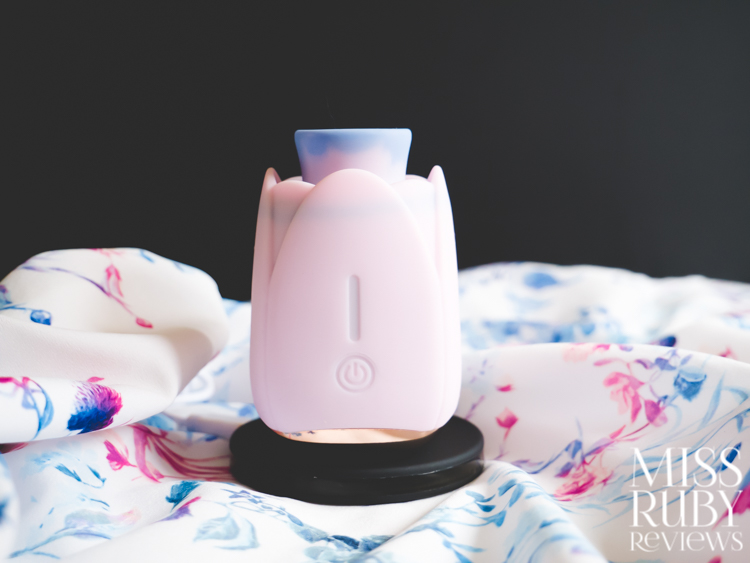 The Tulip Suction Rose Vibrator is MAIA's first foray into the competitive world of rose-like pressure wave suction vibrators.  Rose vibrators (such as the NASSTOYS Blossom, VOODOO Flower Power, and NS NOVELTIES The Rose Inya [reviewed here]) have become incredibly popular in recent years.
I've owned a couple of these standard rose vibrators and was curious about MAIA's spin on it.
---
WHAT IS PRESSURE WAVE TECHNOLOGY? Pressure wave technology provides touchless clitoral stimulation, which makes your clitoris feel like it's being sucked by air. This sex tech first emerged around 2016, and since then I've witnessed (and reviewed) the technology spread across the industry. I was skeptical at first, and the technology is pretty bizarre, but it can be SUPER effective. Unlike the first pressure wave sex toys to hit the market back in 2016, rose-style toys like this add a vibrating motor to amplify sensations. 
---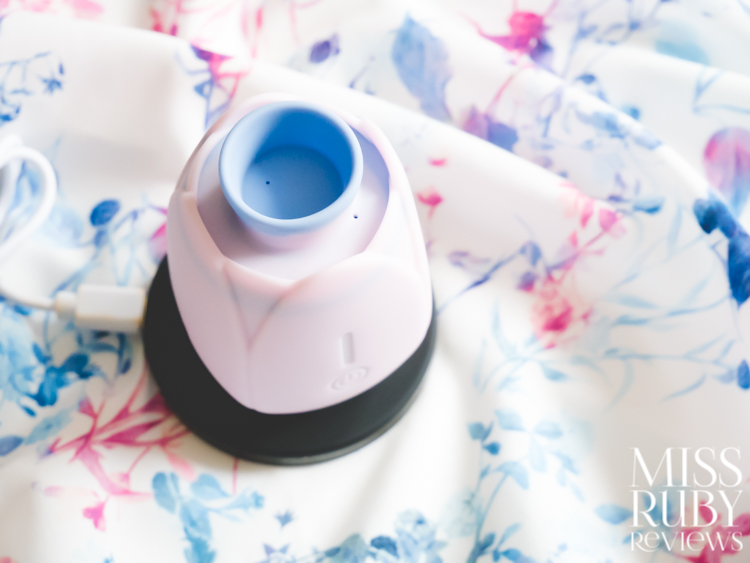 The MAIA Tulip Suction Rose Vibrator is stylized after a tulip flower. It has a beautifully delicate appearance, with four tulip petals encasing the square-ish body. The body is a light, fluffy blush pink, with marbly swirls of blue towards the top. A rose-gold coloured plastic base sits at the bottom.
At the very tip, the stimulation head / mouth protrudes. This is the part you put over your clitoris for pressure wave stimulation. Compared to most other pressure wave toys I've encountered, this head is wider and taller and has a thinner lip.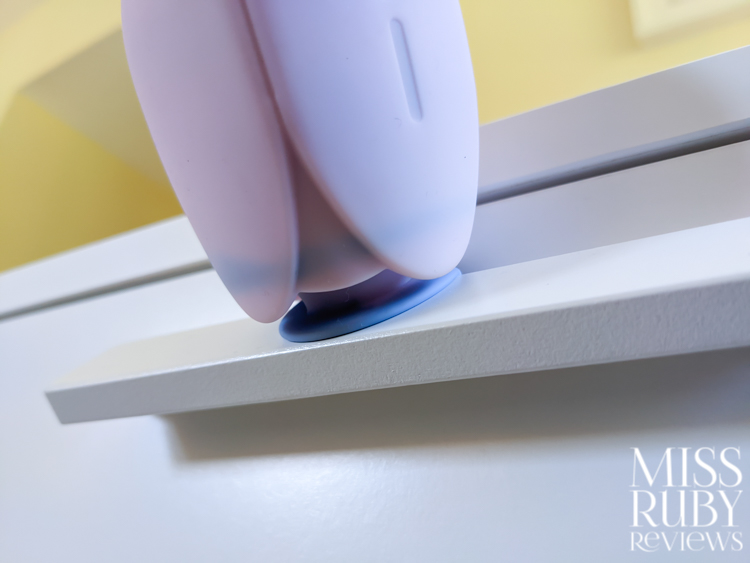 The lip is so thin and long that it actually flattens against any surface once a tight fit has been made. The above picture shows the lip flaring out when suctioned against an angled wooden dresser drawer pull.
Unlike other toys I've reviewed, the MAIA Tulip Suction Rose Vibrator charges wirelessly and comes with a wireless phone charger. If you have a compatible phone, you can keep it on your nightstand and it can double as your main phone charger. Neato!
Asides from its rechargeable motor, what other features does the MAIA Tulip Suction Rose Vibrator have? It's fully waterproof submersible, has 15 functions (3 steady states and 12 patterns) and is made of silicone. As well as the suction mode, there's a vibrating motor that turns on when the device is on, but to be frank it's so mild that I didn't even realize it until I read the box's description.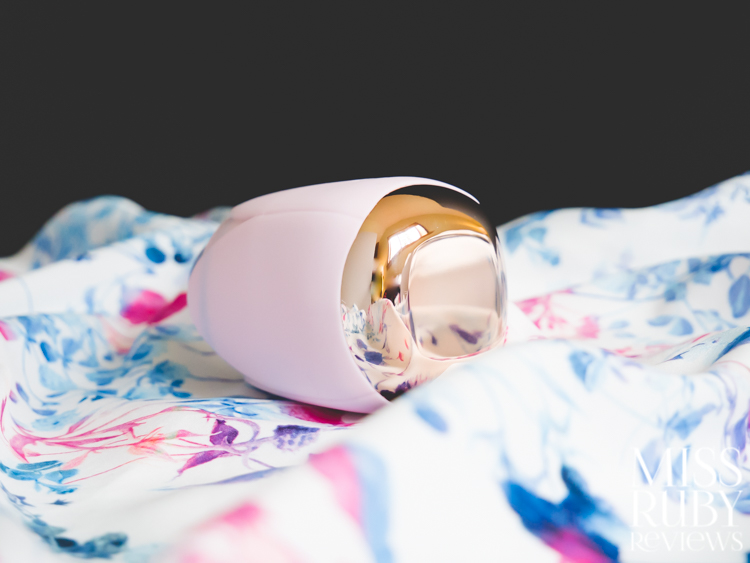 Accessibility
This section is to help folks determine if they might have any issues using/accessing this toy.
Size: The MAIA Tulip Suction Rose Vibrator is approximately  3.15" tall x 2" wide x 2″ deep. This is a typical size for a "rose" style suction toy, though petite compared to other pressure wave suction toys like Womanizer or Satisfyer models.
Mouth size: The stimulation mouth opening is about 25mm wide and 14mm deep. The lip is 2mm thin and very bendy, and flares out fully when it's got full suction.
Weight: My scale weighed this at 111 grams, making this a fairly lightweight toy.
Buttons: There is only one button: a circle power button on the side near the bottom. It's approximately 9mm wide and sits flush with the surface. It takes little pressure to press and makes a loud 'click' sound.
Vibration transfer: Though there is technically a vibrating motor inside this toy, it's hard to feel and I don't notice any vibrations transferring to the base.
How to Use the MAIA Tulip Suction Rose Vibrator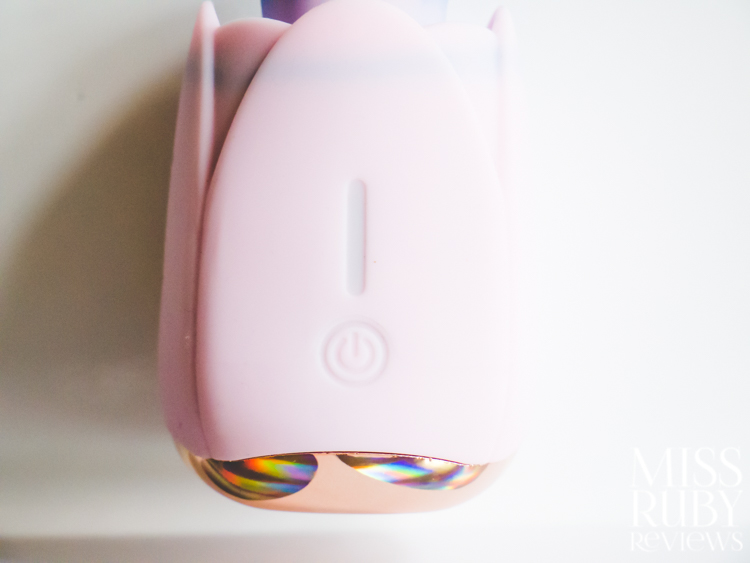 The MAIA Tulip Suction Rose Vibrator is controlled by a single power button on the side.
To turn it on or off, press and hold for 3 seconds.
Tap the button to cycle through the 3 steady states and 12 patterns.
Packaging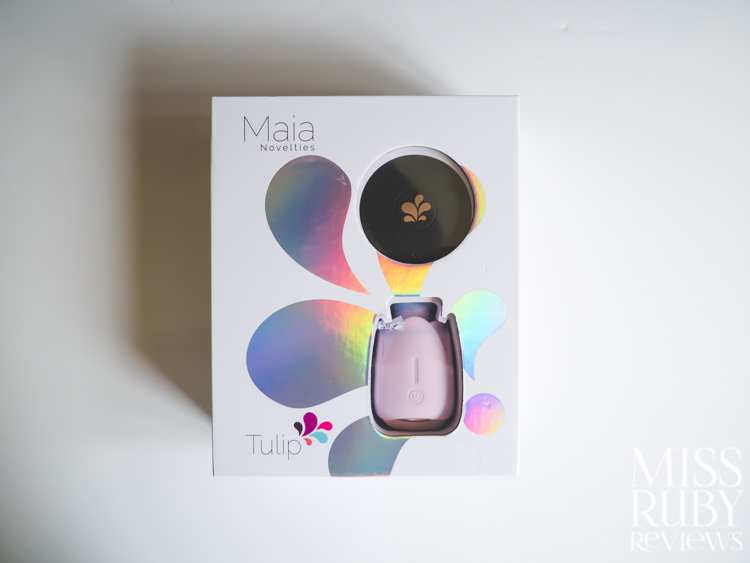 The MAIA Tulip Suction Rose Vibrator is packaged simply in a white and silver box. A clear screen on the front reveals the Tulip and the wireless phone charger. The packaging is simple, not immediately/obviously sexual, and neatly done.
Inside the box, you receive the Tulip toy, the wireless charger (a black disc), a white USB-C cord that plugs into that charger, and a small pamphlet that goes over the warranty and charging details. No separate how-to manual is included — the instructions are written on the back of the box.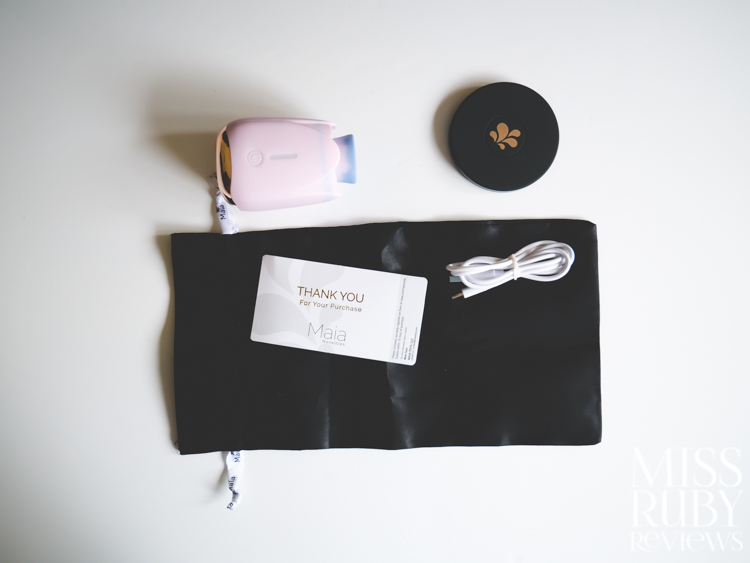 Material and Care
The MAIA Tulip Suction Rose Vibrator is made from silicone with a silky smooth finish. Silicone is a fabulous material for sex toys because it's effectively nonporous (so cleans well) and nontoxic. The base of the Tulip is shiny rose-coloured plastic.
The MAIA Tulip Suction Rose Vibrator is completely waterproof and submersible. To clean, I rinse the whole thing in warm, soapy water before and after each use.
If you'd like to add lubricant (which I always recommend), try a good quality, water-based lube like my favourite basic Sliquid H2O.
To charge, plug the white USB-C charging cable into the black wireless charger and connect to power (ie via your computer or a USB wall adapter). Then place the Tulip (standing up) on the middle of the circular wireless charger. A white LED light will gently glow.
MAIA notes that you can also use the black circular charger to wirelessly charge your phone (if your phone is compatible with wireless charging).
Rechargeable MAIA toys like this come with a limited 1-year warranty against factory defects, beginning on the purchase date. Be sure to retain proof-of-purchase and register your product.
My Experience with the MAIA Tulip Suction Rose Vibrator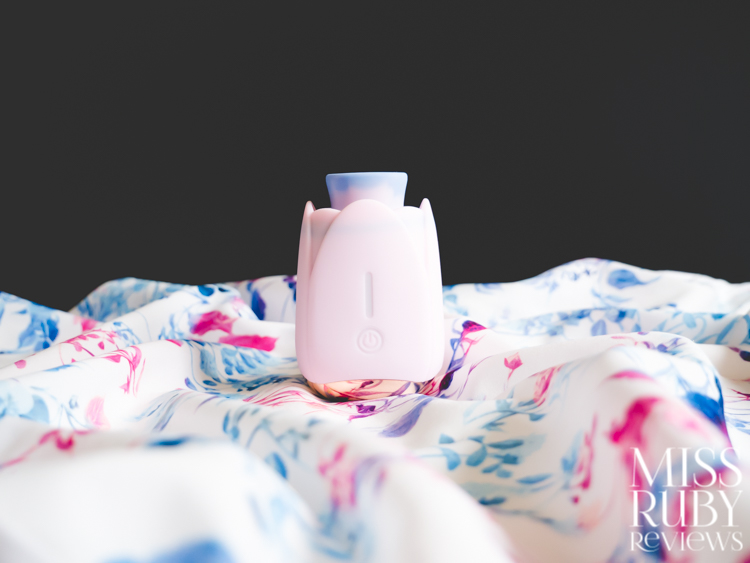 I was excited to test the MAIA Tulip Suction Rose Vibrator. Pressure wave toys can be immensely pleasurable. Toys like this, in the past, have given me amazing touchless orgasms that I can have again and again without desensitization.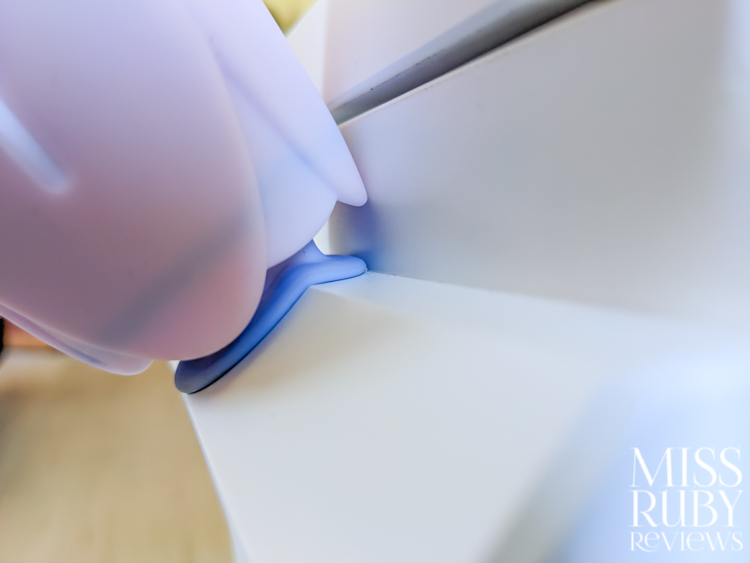 What sets the MAIA Tulip apart from most rose-style suction toys is that extra-long, thin lip around the stimulation mouth: Once it gets suction, it wraps around the surface, flares out, and gets an air-tight lock.
Usually, a tight fit with these types of toys leads to quick and effortless clitoral orgasms for me. Unfortunately, this wasn't the case for me.
When I place the MAIA Tulip over my clitoris and turn the toy on, it immediately starts pulling itself against my clitoris and forming its air-tight seal. As it does so, it starts to hurt. It's a pinching, grabbing, uncomfortable sensation and I had to remove it fairly quickly. There was no pleasure or chance of an orgasm, only discomfort. I'm guessing that the thin lip pushes and squeezes delicate skin as it's pulling itself closer to form a strong suction.
I tried putting this on my arm to see what was going on. Above is the result. After only 20 seconds on the lowest/softest speed, my arm felt uncomfortable and I removed the toy to find an angry red suction mark. This mark took 30 minutes to fade.
In my own opinion, I think this toy is a use-at-your-own-risk product. Maybe there's something about my skin that reacts poorly to such strong suction, and you might have different results, but personally, I couldn't continue to test it. I usually test toys multiple times for a review, but I didn't feel comfortable doing my usual 5x+ testing programme for this review. Ouch!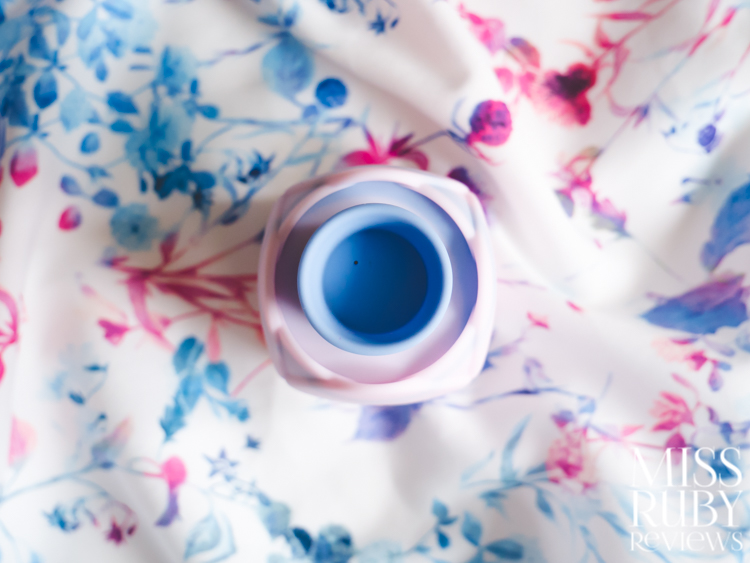 Suction toys usually feel amazing for me, not painful. In my personal opinion, the MAIA Tulip Suction Rose Vibrator gets SUCH good suction that it pulls all blood to the surface and literally forms a hickie bruise. I've never encountered this with any other pressure-wave toys. This is not pleasurable to my sensitive vulva.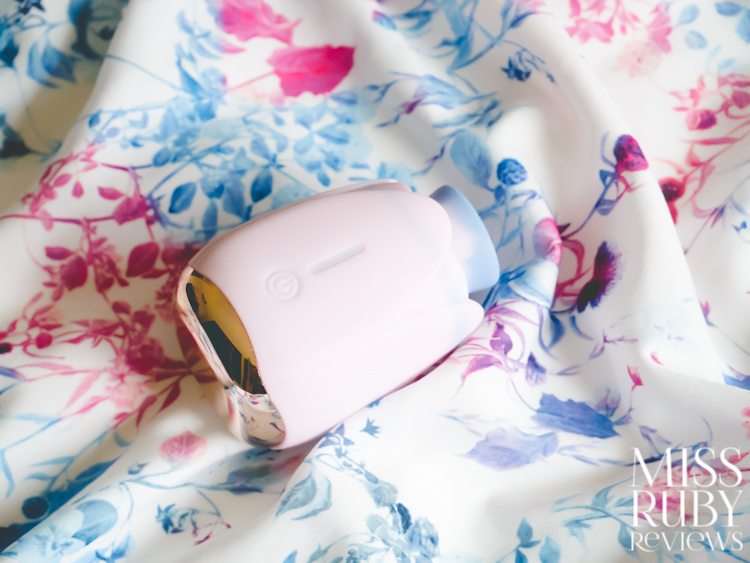 MAIA Tulip Suction Rose Vibrator Review – Overall Thoughts
I endorse pressure wave clitoral toys as a general category, but not this one. The MAIA Tulip's suction fit is so intense that, for the first time, I personally found a sex toy painful to use.
If you want a rose-style suction toy, I recommend the $39 NS Inya (review here). It's cheap, cute, discreet, and pleasurable. If you'd like a full-size pressure wave toy, I recommend the Womanizer Classic 2 (review here). Both of those I can endorse and recommend with my whole heart!
If I haven't dissuaded you, you can pick up your own MAIA Tulip Suction Rose Vibrator here! Why do I like Peepshow Toys? They ship internationally and you can get a 10% discount off your whole purchase with coupon code RUBY. 

See below for my MAIA Tulip Suction Rose Vibrator review breakdown.

MAIA Tulip Review
Overall thoughts - 1
1
$79
PROS
Silicone construction
Cute visual design
Waterproof
Rechargeable
CONS
I personally found this very painful to use
Shop Now
Last Updated on March 18, 2023 by Miss Ruby