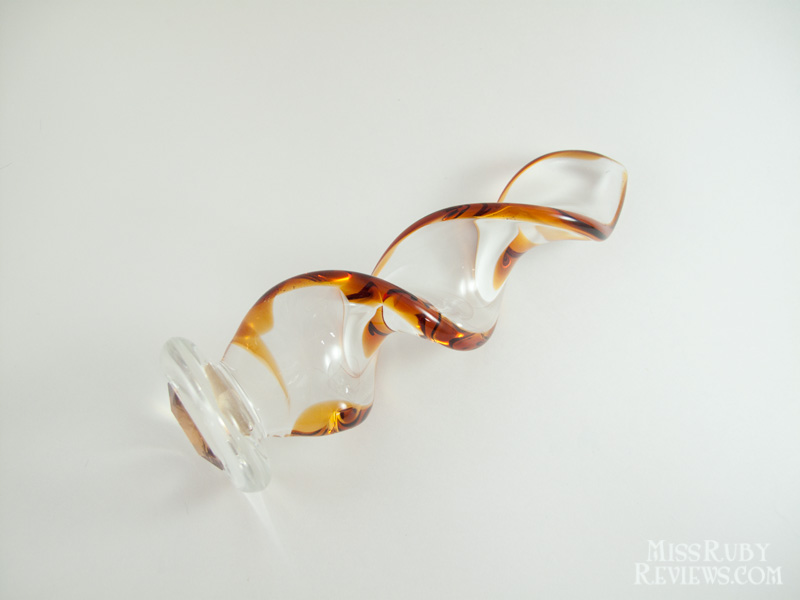 Physical Details | Material and Care | Shipping and Packaging | My Experience | Overall
About the Store: Crystal Delights
Crystal Delights is a fascinating glass sex toy company. They started out in 2008 as a successful virtual dildo company in Second Life (which is probably the coolest way to start up I've heard about so far). They moved to physical objects in 2010, and since then they've provided customers with high quality, body-safe, and stunning glass sex toy products. And their products truly are stunning. While many sex toy companies have a line of glass toys, Crystal Delights ups the ante (and the glamour) by embedding a Swarovski crystal in each design. Asides from the Crystal Twist, my personal favourites are the Pony Tail and the Rosebud Plug.
Physical Details
The Crystal Twist Color Dildo  securely belongs in my "Could Pass as Modern Art" box of sex toys. The shaft consists of 3 layers of spiraled glass, arriving at a triangular point at the head. At the bottom, the body of the dildo flares out to form an anal-safe base, complete with a Swarovski crystal.
The screw-like nature of this dildo makes it incompatible with thrusting. Instead, this design encourages you to twist the dildo in and out of your body. Yup, folks: you can literally get screwed by this toy.
And there's color involved. Though it's translucent throughout, the sides of each spiral are vibrantly pigmented in the color you choose, and the crystal at the base matches this color. It's a beautiful effect. The dildo pictured here uses Amber, but currently there is Gold, Blue, Red, and Green available.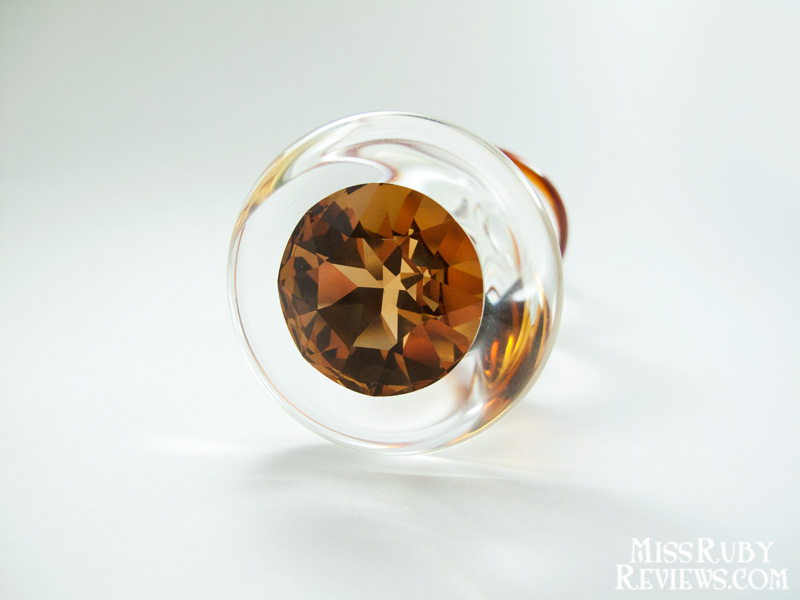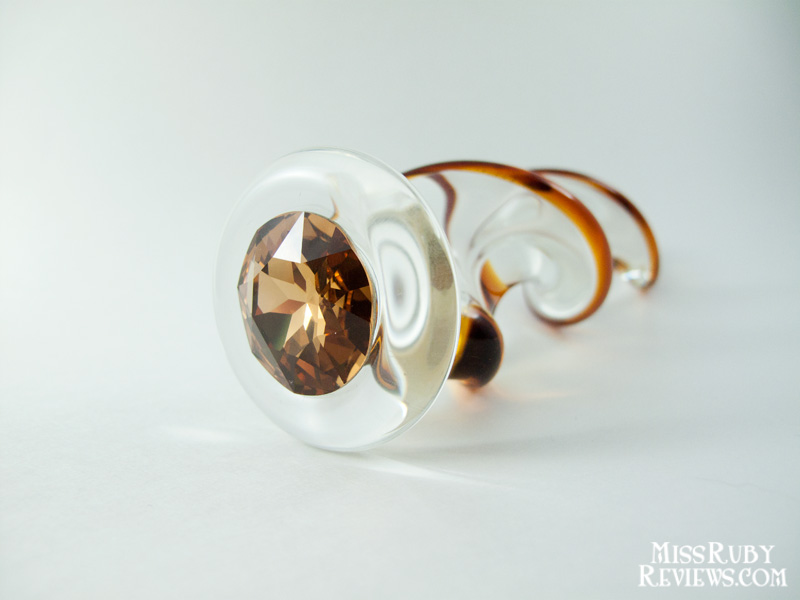 Because each product is uniquely crafted, each dildo has varying sizes. The official size is 5.1 inches insertable, but the one I received is larger. At 6 inches of insertable length and a 1.6 inch diameter, it's a solid sized dildo. It's not too long for anal use. Though it can technically be used in an O-ring strap-on harness (given you can find an O-ring about 0.9 inches in diameter to fit the base), I don't think this product is well-suited for strap-on play. This dildo needs to be twisted in and out, while strap-on play can only provide thrusting.
In sum, this dildo is unlike anything I've used before. The dildo's core function of thrusting is stripped away, leaving you with the unique alternative of twisting.
Material and Care
This dildo is made of two materials: Borosilicate glass and Swarovski crystal. The main body of the toy, made from borosilicate glass, is very easy to clean because it's a hard, non-porous material. I wash mine with warm water and soap before an after each use. To completely sterilize the toy (which I recommend doing after anal-use or shared use), wipe it down with a 10% bleach solution and then rinse it thoroughly with water. Do not boil or toss this in the dishwasher. You generally can with toys made from glass, but doing so here isn't good for the Swarovski crystal in these toys.
Glass is an excellent material for hot/cold sensory play. Crystal Delights recommends that you use hot/cold water to change the temperature of your toy, and forgo the microwave.
Lastly, the Swarovski crystal in the base of the toy is more fragile than the borosilicate glass, so make sure to not press it into a hard surface.
Shipping and Packaging
Shipping from Crystal Delights was quick and discreet. My order was processed on May 5 and I received my product on May 11. Seeing as this was an international shipment, this processing time was very quick. The box that arrived was white and plain. "Crystal Delights" wasn't mentioned anywhere on the box, and the customs declaration description was listed simply as "glass sculpture." In other words, had this box ended up in someone else's hands, they wouldn't be able to tell (without opening) what the contents were.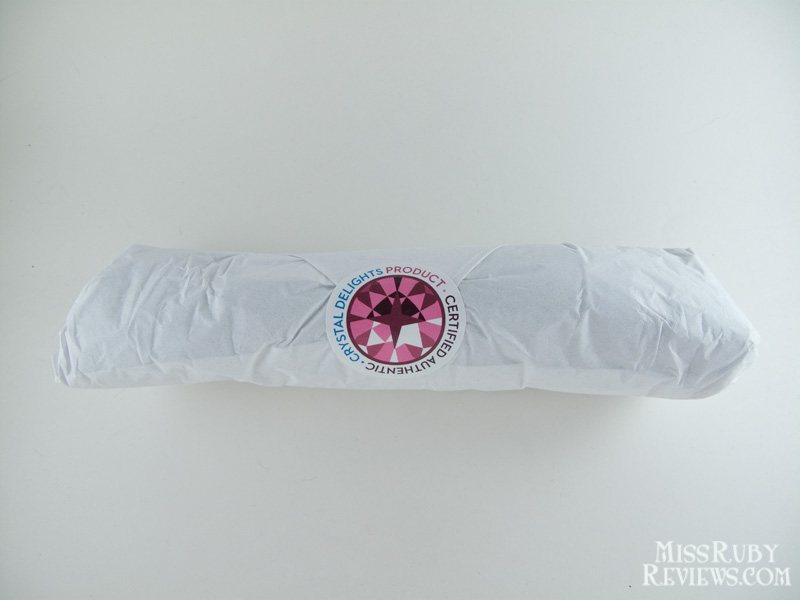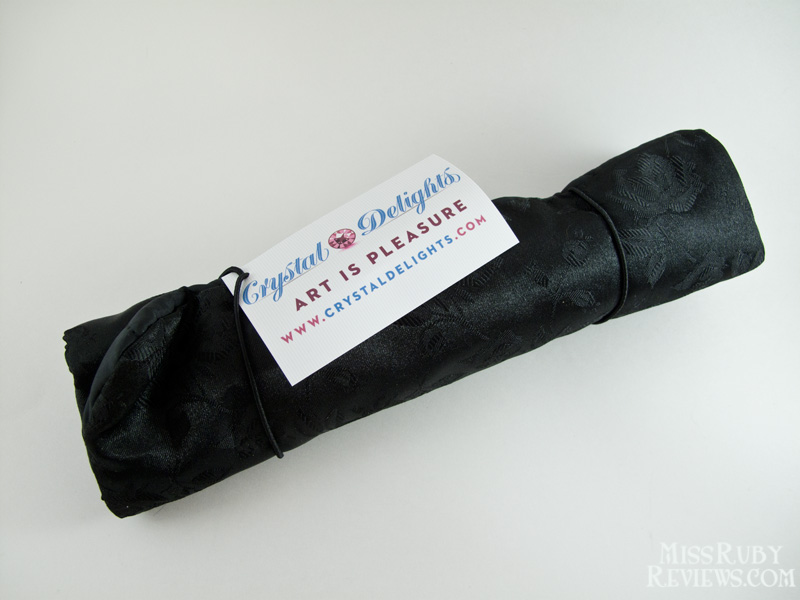 Crystal Delights seriously impressed me with their packaging. Inside the box, the Crystal Twist was wrapped in white tissue paper. Once you remove this, you'll find a black rose-embossed burrito-style bag with a card certifying its authenticity. After unraveling the bag, you'll find the Crystal Twist safely stored. This is a beautiful storage option, much safer (and prettier) than my usual clear ziplock bags.
My Experience
I was super curious about this dildo, albeit a bit skeptical. The closest thing I've ever experienced to twisting is simply wiggling a dildo back and forth against my G-spot, but that's not really the same thing. At all.
First tip: warm your dildo. The first time I tried it, I forgot the age-old lesson of "warm up your freaking glass toy." My vagina didn't appreciate the sudden chilly environment. Because glass keeps temperature very well, it takes a while for cold glass to heat up to a comfortable body temperature, even if you're warming it with your fiery chasm of a vagina. You might want a glass toy for exactly this reason, but I personally much prefer a warm toy. The neat thing about glass is that, if you place it in a bowl of warm water for a few minutes before use, it'll continue to radiate heat inside of you, which is a gloriously delicious sensation.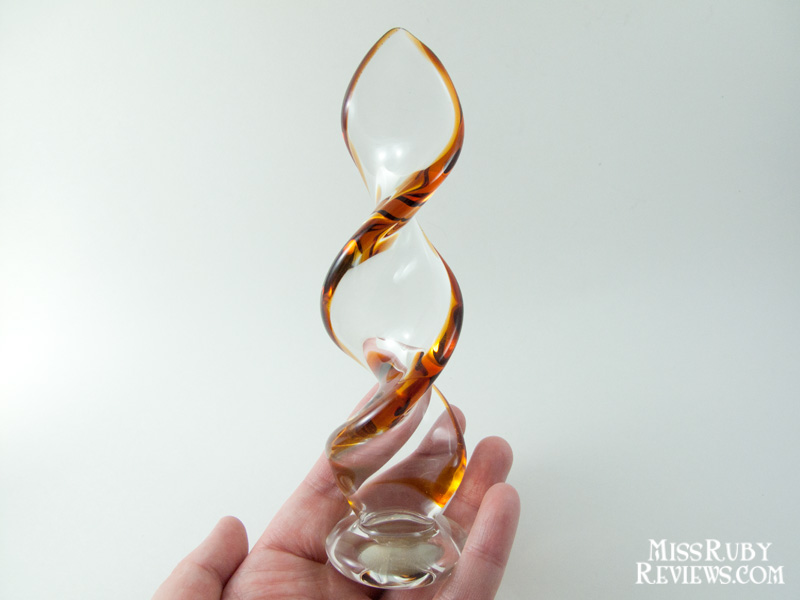 To my delight, this toy twists into my vagina with remarkable ease. I add some water-based lubricant, and it just sort of…slides in. And then holds its place, snugly tucked inside of me. Honestly, I was expecting it to feel weird and alien and possibly uncomfortable. While it does feel unique, it also feels natural and easy, as if the vagina evolved by using corkscrews in its spare time.
And during orgasms, this dildo delivers. My favourite way to use it is to (1) twirl it all the way in (2) then twist out one spiral (3) twist it back in (4) And repeat. This way, I get short, rapid twists, causing the spiral edges to slide across my G-spot in a firm, quick, diagonal manner. This speeds up my clitoral orgasms considerably. My G-spot has always had a weakness for side-to-side stimulation, and diagonal stimulation provides the same sensation.
During orgasms, this toy rocks. During climax, my PC muscle clenches its captive with an iron grip so that I can't twist it anymore. Instead, I can actually feel each individual spiral along my walls. It's a sexy sensation, and the sheer novelty of this heightens my orgasms considerably.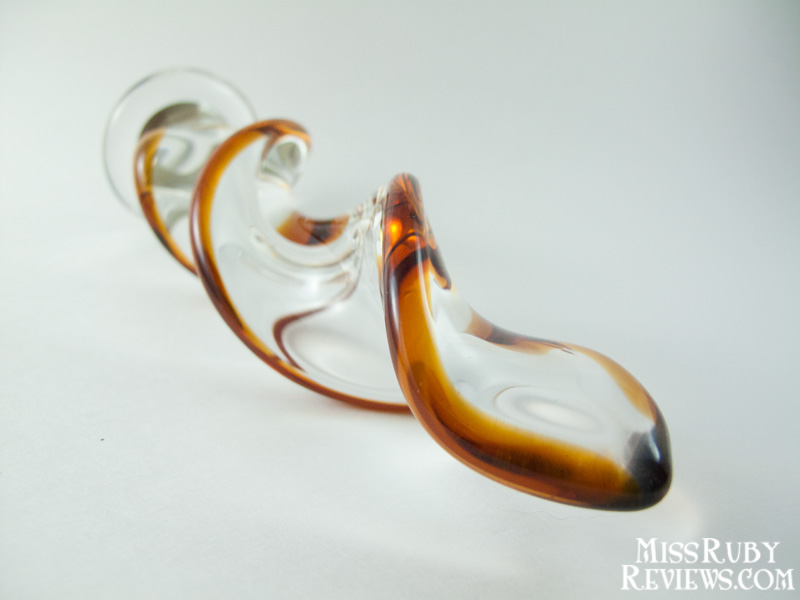 The only downside of this toy is that it gets very slippery and the handle is tiny. Because I twist it in all the way, I'm left grasping the slippery small disk that forms the base. I would love to see a longer version of this toy, one that provides a more grip-able handle.
Will this be my everyday dildo? Probably not, but only because I want to keep the novelty alive. I'll certainly come back to this toy whenever I feel like having an extra kick to my orgasms, one rife with originality and unconventional stimulation.
Overall
I shouldn't have been skeptical about this toy. The Crystal Delights Crystal Twist provides me with unforgettable sensations. It stimulates the G-spot by smoothly sliding over it in a diagonal way, the ridges pressing firmly into where they need to go. And, when I clench, I can actually feel each spiral as it presses into me. These are things no other sex toy has been able to give me. I used to think that dildos needed to be able to thrust, but I was wrong. I can wholly recommend this toy, especially for dildo-veterans who want to add something different and original to the mix.
To buy the Crystal Twist Color Dildo, head on over to Crystal Delights. You can also find several Crystal Delights products at SheVibe (USA) and Uberkinky (UK).
Last Updated on November 17, 2020 by Miss Ruby