Edit: This product has been discontinued. The closest product I can find is this (FSOG) or the LELO Mia!
Three words. Convenient. Quiet. Powerless. Read on for my Fifty Shades of Grey Wickedly Tempting review!
Packaging| Physical Details| My Experience | Overall
Shipping and Packaging
My package was shipped from the UK on March 17th and arrived at my door in Canada on March 24. One week for international delivery is very impressive. My toy was delivered in brown padded envelope. For international customs, the envelope's contents were listed as "Novelty Items." The package didn't say Lovehoney or indicate sex toys in any way. In short? Discreet, fast, and professional. If you were worried about a sexy package arriving at your door and creating a scene with your family/roommates, never fear…your secrets won't be given away by its packaging. 😉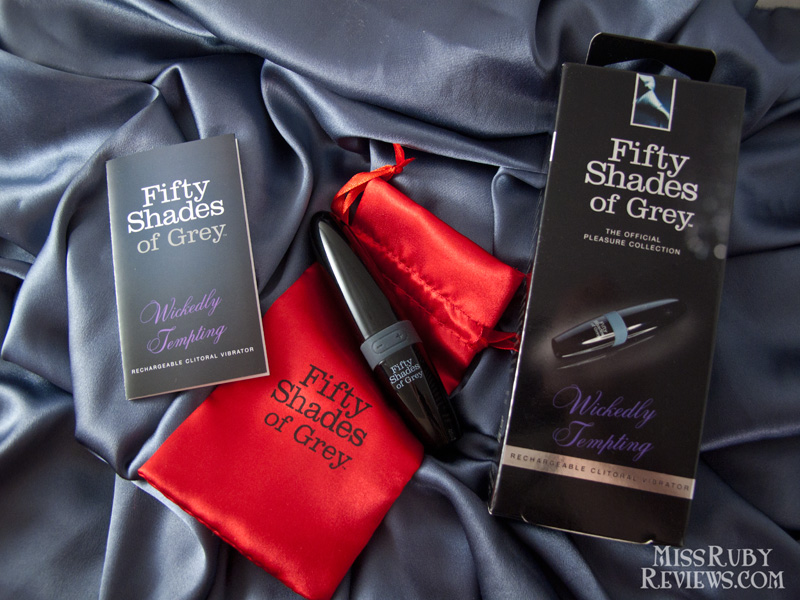 This vibe comes packaged in the standard Fifty Shades line box. In the box, you receive the vibrator, a small red satin bag, and an instruction booklet.
Physical Details
Design:
The FSoG Wickedly Tempting Rechargeable Clitoral Vibrator has a very sleek, streamlined appearance. Asides from a few minor physical details, it holds very obvious similarities to the LELO Mia. The bullet vibe is made from ABS plastic. It's divided in half by a bar that holds the (-) and (+) buttons. The vibe's shorter end comes off to reveal a USB port that you plug into your computer for charging. The other end, the one you press against you, is a thin cylinder that tapers off to a soft point. The base has a flat surface so can stand upright. I have no complaints about the design.
Function: 
To increase strength, you quickly press the (+) button. I count 11 speed increases, but it's hard to be sure because each speed isn't very distinctly different from the previous and the next. To activate the 5 pulsation patterns, you press down the (+) for a few seconds. From there, you quickly click the (+) button to cycle through the pulsation patterns. If you want to get back to the single-speed mode, click the (-) button. To switch off, you press and hold the (-) button for a few seconds.
Buzzy vs. Rumbly Vibrations:
This vibe gives off rumbly vibrations. It's easy to tell if a vibe is giving off buzzy or rumbly vibrations by holding it in your hand for a few minutes. If your hand starts to feel distinctly numb or "funny," the vibe is giving off buzzy vibrations. I avoid buzzy vibrations because buzzy makes my clitoris numb, which kills any orgasm for me. But that isn't the case with this vibe. This vibe is deep and rumbly (think "thuddy").
Vibration Strength:
This vibrator is surprisingly weak.  True, the vibrations are rumbly, which is really good, but they're far too weak to appease my clitoris. The closest vibe I have for comparison, in terms of size, shape, and function, is the We-Vibe Tango X (review here). But the Tango's lowest vibrations setting is stronger than highest vibrations here. This vibe's vibrations remind me of a very sleepy We-Vibe Tango. Or a sleepy cat that's mildly happy and graces you with the sound of a very soft purr.
Noise:
Perhaps because of its weak vibrations, this vibrator is very very quiet. The loudest part of it is the click of the buttons as your cycle through speed. On the highest speed, you can hear the vibrations if you're in the same room, but it's muffled well by blankets. You can't hear it through doors or walls, so this vibe won't raise your neighbour's eyebrows.
Additional features: 
Yes, as you can see from the pictures and its name, this vibe is rechargeable. Just plug it into your computer and let it charge for 60 minutes before play. The LED light will faintly glow red while charging. It also features a travel lock, which you activate by pressing and holding the – and + buttons at the same time for 7 seconds. To get out of travel mode, you press and hold both buttons again until the LED light comes on. Lastly, this vibe is waterproof! Make sure the USB cover end is clipped on securely and submerse away. These features make this vibe very very convenient. It's also great not having to dig around for a charger. I have so many sex toy charger cables and it's so easy to forget which specific charger is meant for which specific toy.
Care and cleaning:
I'd use water-based lubricant with this toy. Because it's waterproof, cleaning is easy. I wash mine with soap and warm water before and after each use. I store mine in the red satin bag it comes with.
My Experience with the FSoG Wickedly Tempting Rechargeable Clitoral Vibrator
I'll let you on a little secret: I hate writing negative reviews. They have to be done, I know, but it's unpleasant. It's much easier to write positive reviews because (a) I'm generally much more excited and enthusiastic to write about a toy I love and (b) I feel bad shutting down something that people put a lot of effort into in terms of design and creativity. But, at the end of the day, it has to be done.
I've used the FSoG Wickedly Tempting Rechargeable Clitoral Vibrator 5 times now, and each session with this toy was unsuccessful.  The vibrations certainly feel pleasant. Nice, even. Because they're rumbly, I don't go numb. This toy's shape also gives me pin-point stimulation, which is great.
But this vibe can't take me anywhere. This toy can't appease my clitoris in any sense of the word. Even when I'm super aroused, using this toy can only get me to around 30% of the way to orgasm, but no further.
I took a clip of this vibe in water to give you a sense of it at full strength. Some of my other vibes make water fly out of the glass, but not this one.
This toy succeeds in all but one fundamental way: power. Without power, this toy can't woo my clitoris into submission. Without power, I can't be happy or wholly recommend this toy. I desperately need more 'oomph.' If my clitoris was so sensitive that I couldn't even directly rub it, then maybe, just maybe, this vibe would be enough for me. But I'm not that sensitive. My clitoris needs strong, serious, I-mean-business TLC. Much to my regret, this vibe can't give me that.
Am I a power queen? Well, I don't know. I'm starting to think that I might be one. I've read many positive reviews of this toy, but I seem to fall in the category of people this toy can't please.

Overall – Fifty Shades of Grey Wickedly Tempting review
Can I wholeheartedly recommend this vibe to you? Nope. The only way I can see this working for you is if you have a very sensitive clitoris and you're such a huge fan of the Fifty Shades series that you have to own everything Fifty-Shades-related. Then I can recommend you give this one consideration. But think carefully. $60 is a lot of money if this ends up being a toy you won't use.
But if you think you need serious power behind your vibrator, I urge you to seek stronger alternatives. While the additional features that this vibe offers (USB plug in, waterproof, travel lock) are really neat, I personally don't think they're enough to warrant this purchase.
To purchase the FSoG Wickedly Tempting Rechargeable Clitoral Vibrator, head on over to Lovehoney USA or Lovehoney UK.
See below for my Fifty Shades of Grey Wickedly Tempting review summary!