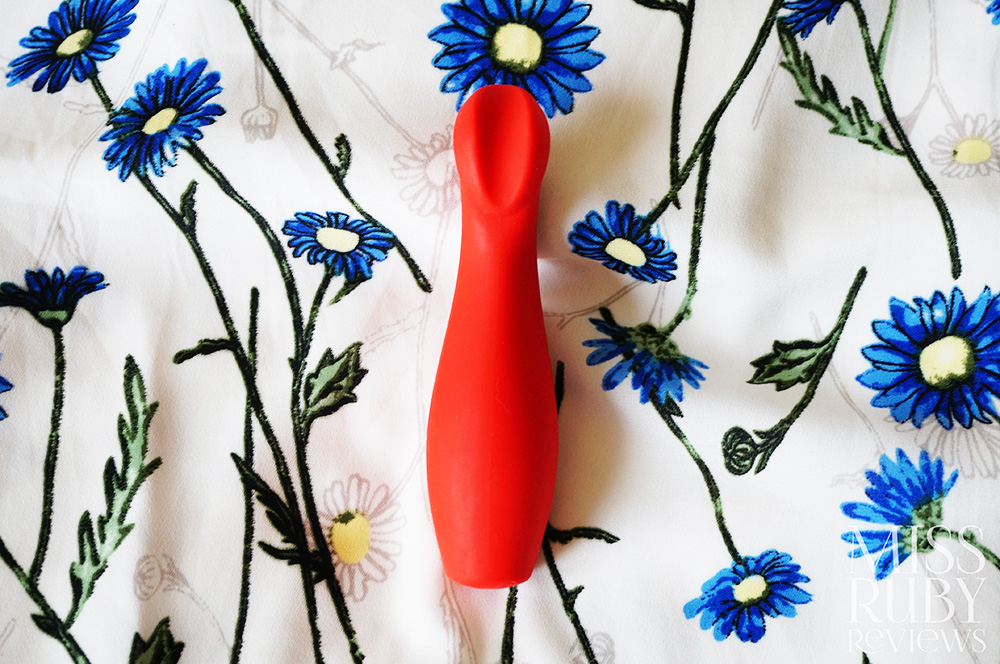 A bright red small clitoral vibrator? Dang, hitting me at my weak spots, CalExotics. Nice. Read on for my CalExotics Red Hot Ignite review!

Physical Details | How to Use | Packaging | Material and Care | My Experience | Overall
Physical Details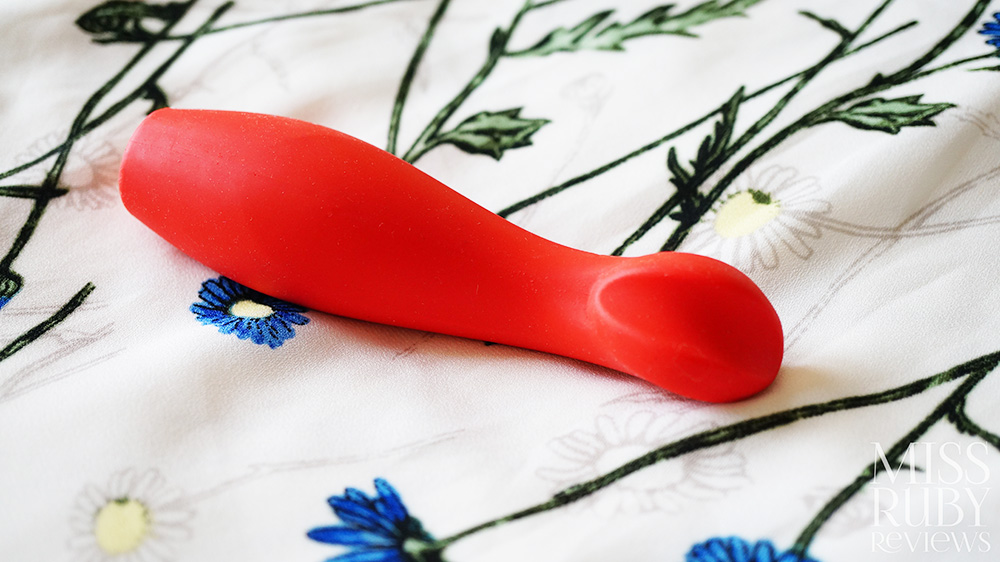 The CalExotics Red Hot Ignite is a lovely, streamlined vibrator. At about 5″ long, this toy is bigger than your average bullet-style vibrator. It's light, though, and has a nice long handle that fits comfortably in your palm.
Designed for clitoral use, it features a "scooped" head. The hollow/concave portion can cup the clitoris, providing an all-around stimulation experience.
For those of you who don't like the idea of a scooped head, the Ignite is only one in a long Red Hot series (also check out Flame, Flare, Ember, Spark, and Blaze.
While the body/handle is firm, the neck is very flexible. When you press it against your skin, the head moves away from you because the neck doesn't hold firm.
Okay, this COLOUR! Fiery, red, hot. It's a warm, orangey red, and I love it. It's great to see companies step out of the traditional pink and purple colour schemes.
Sound-wise, this is a super quiet toy (9/10). Virtually impossible to hear under a blanket.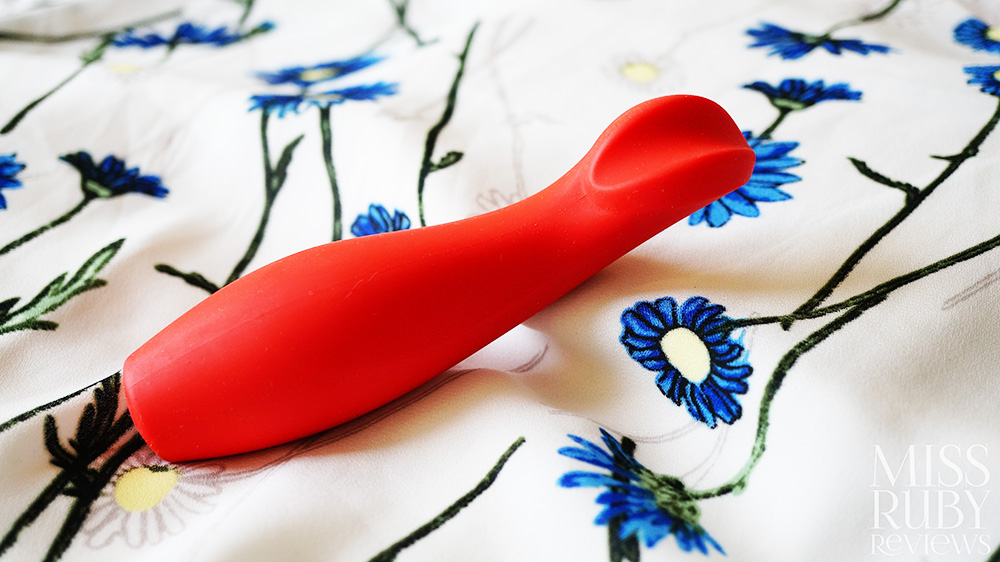 How to Use the CalExotics Red Hot Ignite
The CalExotics Red Hot Ignite won't turn on unless you hold the power button (at the base of the toy) for 3 seconds. In a way, this functions as a travel lock — pressing it accidentally for a moment in your purse won't turn it on.
Once it turns on, keep tapping the power button until you're happy with the mode you want. There are 10 functions in total, including steady states and patterns. There are 3 steady states.
Apply where you want. Though designed for clitoral use, many people with a penis enjoy vibrations against the shaft/head. I only recommend against using anally — this toy is not anal safe (no flared base).
To turn it off, hold the power button for 3 seconds.
To charge, plug in the cable (pin-side) into the tiny hole below the "CalExotics" branding.  Then plug the USB part into your computer or a USB wall adapter. An LED light in the base will flash while charging and will be solid when fully charged. For every 2.5 hours of charging, you'll get 3 hours on low speed or 30 minutes on high speed.
Packaging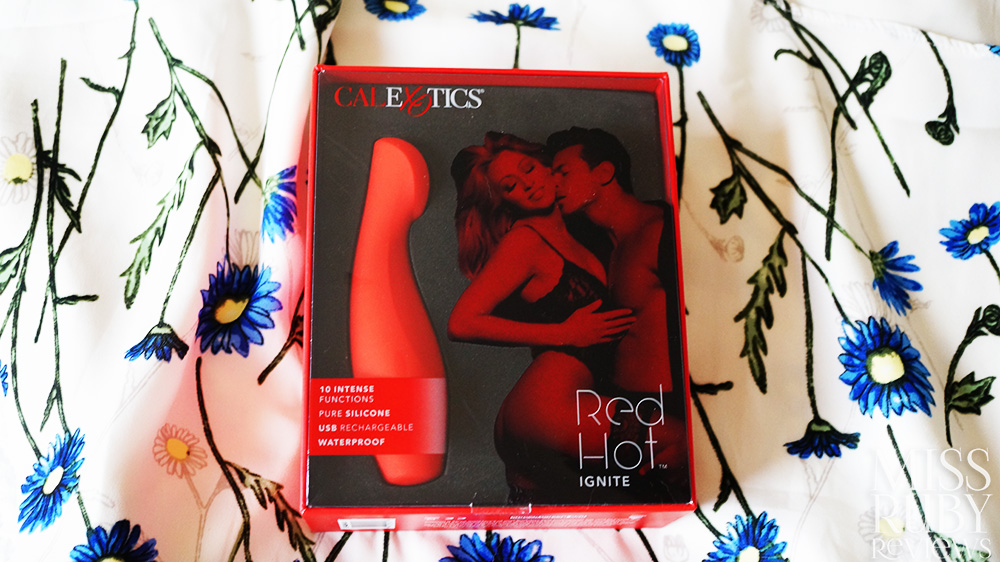 The CalExotics Red Hot Ignite has obvious this-is-for-adults packaging. A sexy lady is the focus, which is kind of rare for toys I review nowadays. (for a sex blogger, I'm weirdly averse to sexy packaging). While I'm not a huge fan, each to their own!  Inside the box, you receive the Red Hot Ignite, a USB charging cord, and a short instruction guide.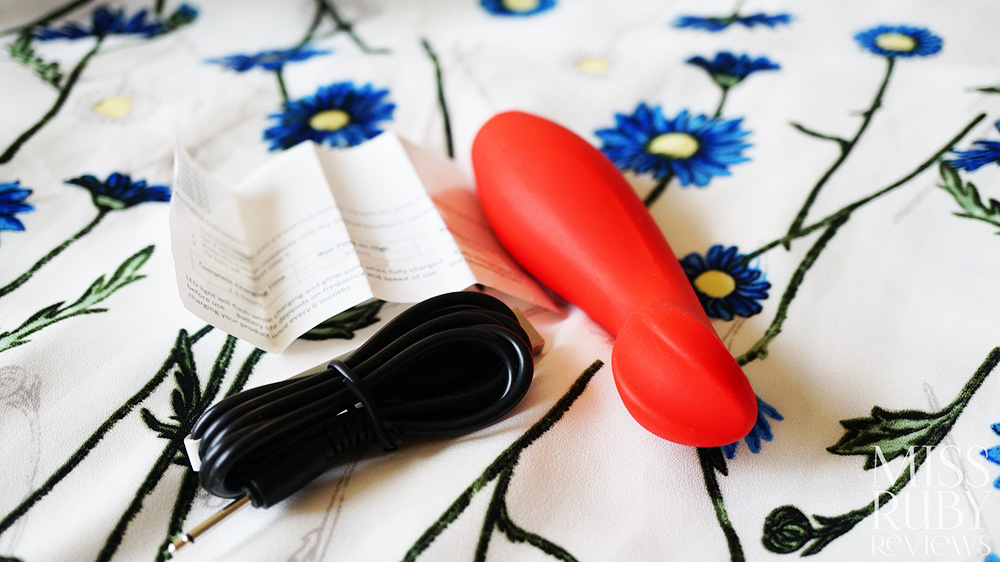 Material and Care
The CalExotics Red Hot Ignite is made of silicone (woohoo!), making it bodysafe. Silicone is non-porous, non-toxic, and basically the best material you could want for a vibrator (there's a reason silicone is used for cooking utensils… it's super safe and doesn't break down).
Because this toy is waterproof, clean by rinsing with warm, soapy water before and after each use.
Silicone toys should generally be used along with water-based lubricants (not silicone-based lubricants). I recommend a good quality one like Sliquid H2O.
My Experience with the CalExotics Red Hot Ignite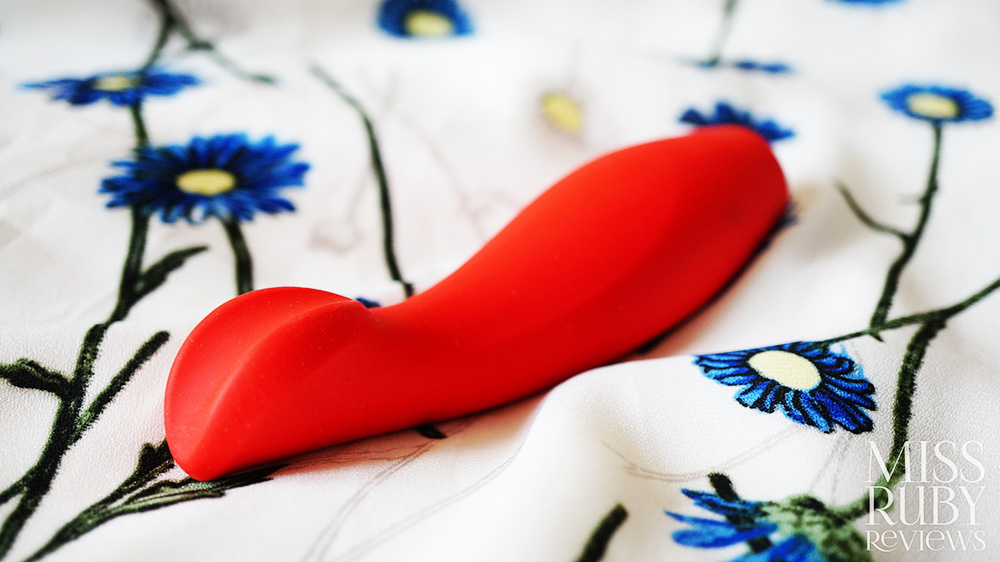 My reaction to vibrators has evolved. In the very early blogging days, I used to only be really happy with the vibrations from the We-Vibe Tango (reviewed here), whose thuddy rumbles were famous in my world.  But as I started being introduced to more budget-friendly options, I started adapting and found that less expensive options could be perfectly satisfying too.
The CalExotics Red Hot Ignite is what I'd call moderately strong (7.5/10).  I enjoyed being able to get sensation of both sides of my clitoris, thanks to the fantastic scooped design. While there's some rumble to this engine, I would say that this toy errs on the buzzy side, particularly at the higher speeds.  To some people, this may be neither strong enough nor rumbly enough. For me, it gets me to where I want to go, which is sometimes enough for me.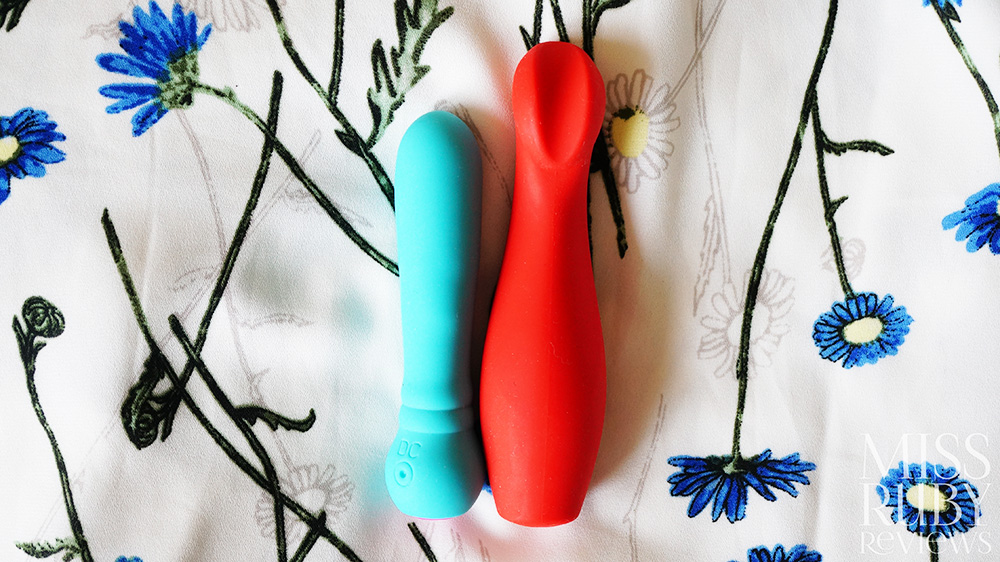 But technically delivering orgasms for one person doesn't necessarily mean it's a great toy. And when you've reviewed hundreds of toys, it's hard to not compare toys in similar price brackets.
The We-Vibe Tango is currently on sale at Betty's Toy Box for only $10 more.
The FemmeFunn Ultra Bullet is on for $15 more.
In my opinion, unless you reeeeally want the scooped head feature found in this toy, either one of those would be a better option than the CalExotics Red Hot Ignite.
Despite being moderately strong, I want it to be stronger. I want it to be less buzzy. And I find it annoying that, when I press it up against my body, the flexible neck pushes the head away, which means I cant get super firm pressure.
CalExotics Red Hot Ignite review summary – Overall thoughts
The CalExotics Red Hot Ignite isn't a bad toy exactly. It comes with a lot of luxury features — it's truly quiet, it's rechargeable, and it's waterproof.  It has a stunning design, and I really love that colour. It's even moderately strong. Honestly, though, I still find myself reaching for the FemmeFunn Ultra Bullet or the We-Vibe Tango. Yes, they're $10-$15 more and don't look nearly as cool… but the vibrations pack a much stronger, rumbly punch.
For any of these toys, whether you opt for the Red Hot Ignite, Ultra Bullet, or Tango, remember that you can get 15% off your whole purchase using discount coupon code RUBY.
To purchase the CalExotics Red Hot Ignite, head on over to Betty's Toy Box.
See below for my CalExotics Red Hot Ignite review summary.
CalExotics Red Hot Ignite review summary
OVERALL - 6.5
6.5
$49
PROS
Inexpensive (<$40)
Waterproof
Rechargeable
Bodysafe silicone
CONS
A bit buzzy
Can't get firm pressure due to flexible neck
Stronger alternatives out there for not much more
Shop Now