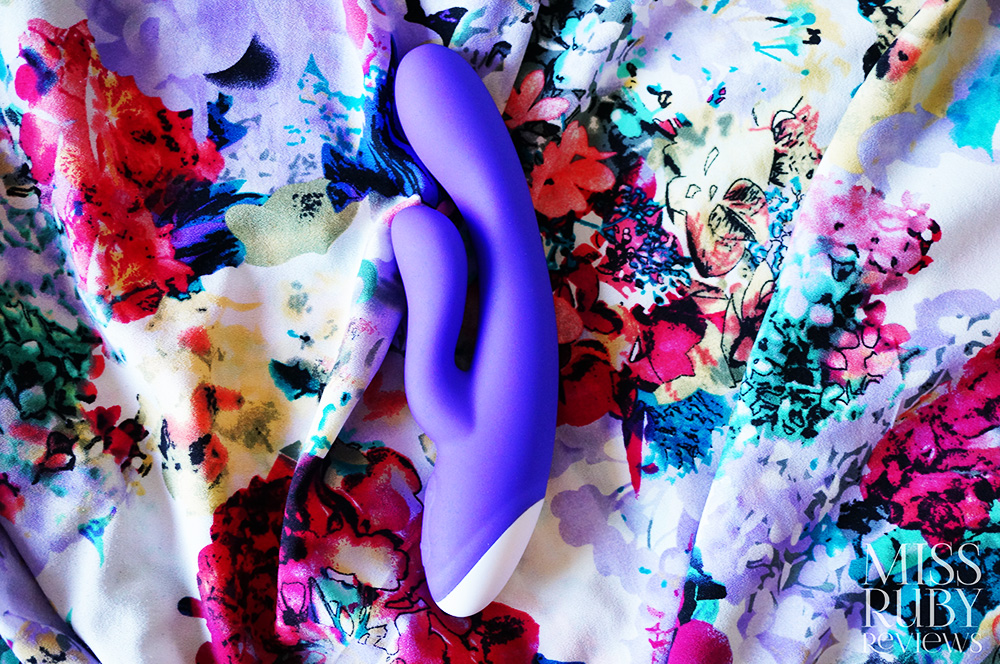 It's been a while since I tried a rabbit. I tend to stay away, but the Hop Trix caught my eye with that delicious periwinkle purple colour and its budget-friendly cost. Read on for my Blush Novelties Hop Trix review!

Physical Details | How to Use | Packaging | Material and Care | My Experience | Overall
Physical Details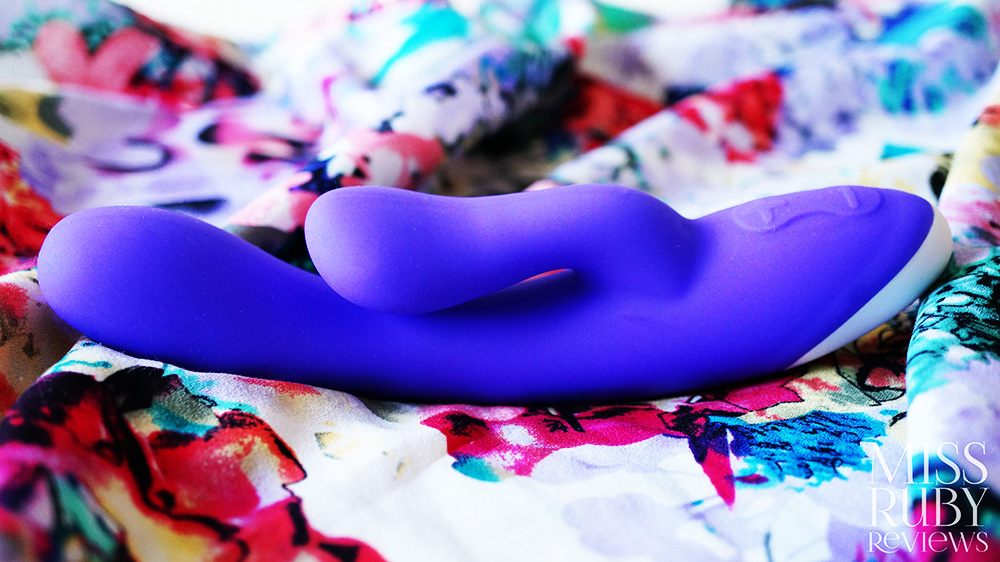 The Hop Trix Silicone Dual Stimulation Vibrator by Blush Novelties is a budget-friendly bodysafe rabbit vibe.
It's an attractive, streamlined design. It's curvy, bulbous, and fairly seamless (and waterproof!).
As far as rabbits go, the Hop Trix is medium-sized, with 4.25 inches insertable length and about 1.25 inches wide.
The clitoral arm is an impressive 2″ long, which is much longer than many other rabbit toys. It's also 1 inch wide at the widest point, which increases the chance of finding the clit.
The length of this arm is important because not all vulvas have the same measurements. Some clitorises are less than 1 inch from the vaginal opening, but for others (like myself, much to my frustration) the distance is longer, closer to 2 inches. A longer clitoral arm on a rabbit toy means it can reach those farther distances. But of course, then, the motor's strongest point will miss people with a very short distance.
See the complexity? It's incredibly hard to find a rabbit vibrator that fits each person's body perfectly. They're not a one-size-fits-all, and so they can be super tricky to buy for.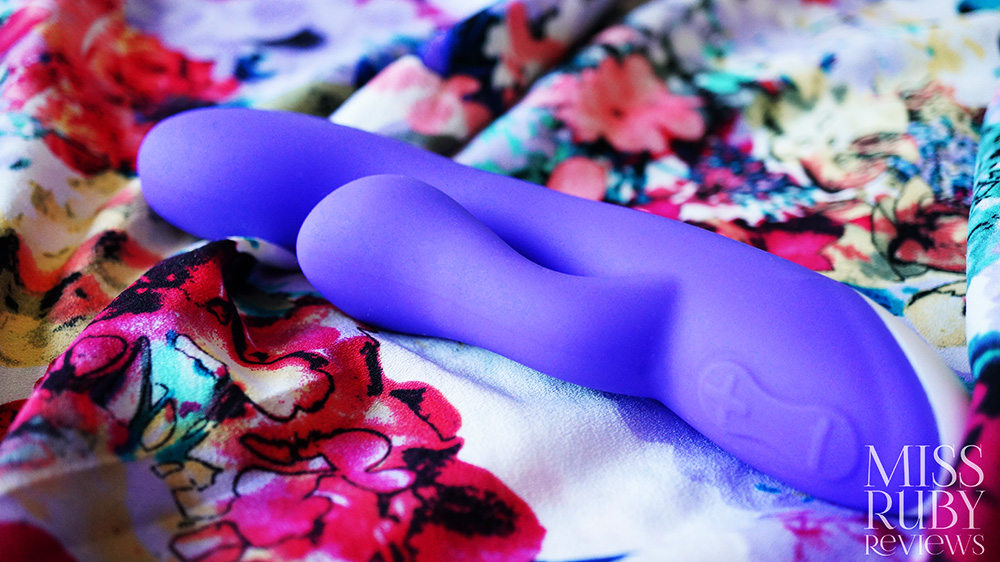 So if your clitoris is super close to your vaginal opening (say, less than 1″), stop reading this post and look for something with a shorter clitoral arm. If you don't know your distance, whip out a ruler and a hand mirror, and measure yourself.
The Hop Trix is a pretty bendy toy. The clitoral arm feels nothing but squishy at the connection joint, which means it flips up very easily. The internal shaft also has a kind of pivot-point near the middle, giving it some decent bend. This is handy (as you thrust it, it bends a little with your body).
Also, look at that beeautiful colour. I despise purple sex toys, but this is more of a…. blurple? Periwinkle blue-ish? It's called "Midnight," but it also comes in a pink "Cerise."
How to Use the Blush Hop Trix
To turn on the Blush Hop Trix, hold the (+) button for 3 seconds. Then use (+) and (–) to cycle through the 7 vibration modes (3 speeds, 4 patterns).
To turn it off, hit the (–) button for 3 seconds.
When it needs recharging, use the magnetic USB charging cord. Snap the magnetic part against the small metal plate at the base of the vibrator, and insert the cable into your computer or a USB wall adapter. It'll blink while charging. For every full charge (1.5 hours), you'll get up to 1 hour of playtime. You'll know it's fully charged when the light stays on.
Magnetic chargers are a bit hit and miss because they lose connection so easily. I would have preferred this to have one of those insertable pins, but c'est la vie.
Packaging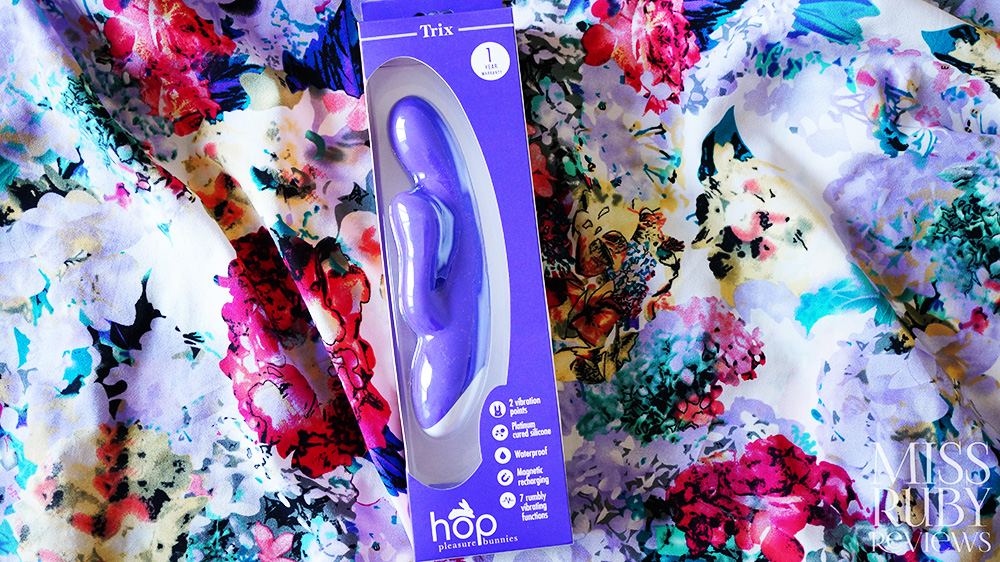 The Blush Hop Trix comes in fun, simple, colourful packaging. It's not flashy, just cute.
Inside the box, you receive the Hop Trix, the charging cable, and a manual. You'll want to keep the manual because it gives instructions on the 1-year warranty.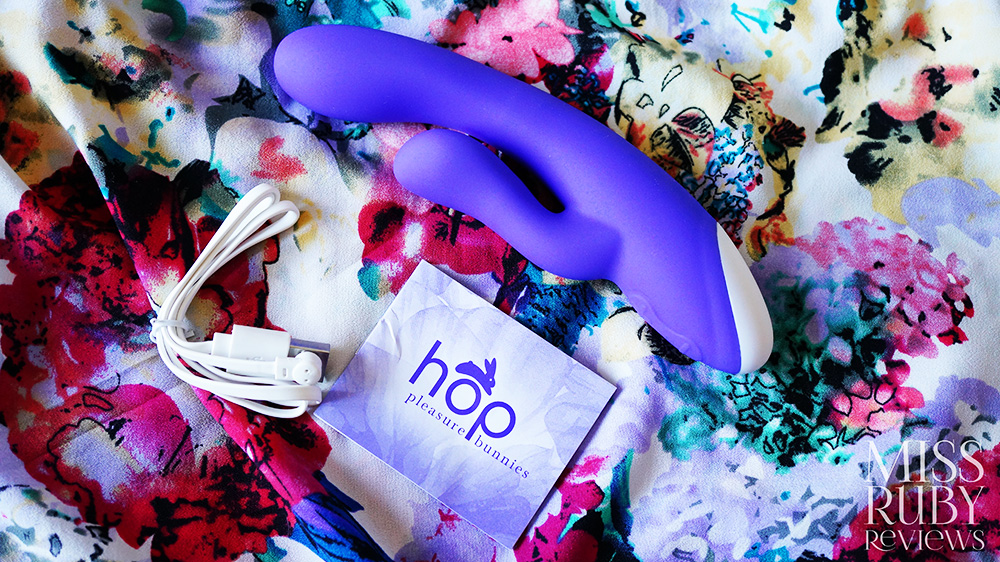 Material and Care
The Blush Hop Trix is made of silicone, making it non-porous, non-toxic, and bodysafe. This specific silicone has suuuuper silky, soft texture to it, one that makes it feel super luxe. It doesn't attract too much dust.
The Blush Hop Trix is waterproof. I give it a rinse in warm, soapy water before and after use, then allow it to air dry.
When choosing a lubricant, I recommend opting for a good quality water-based lube like my favourite Sliquid H2O.
My Experience with the Blush Hop Trix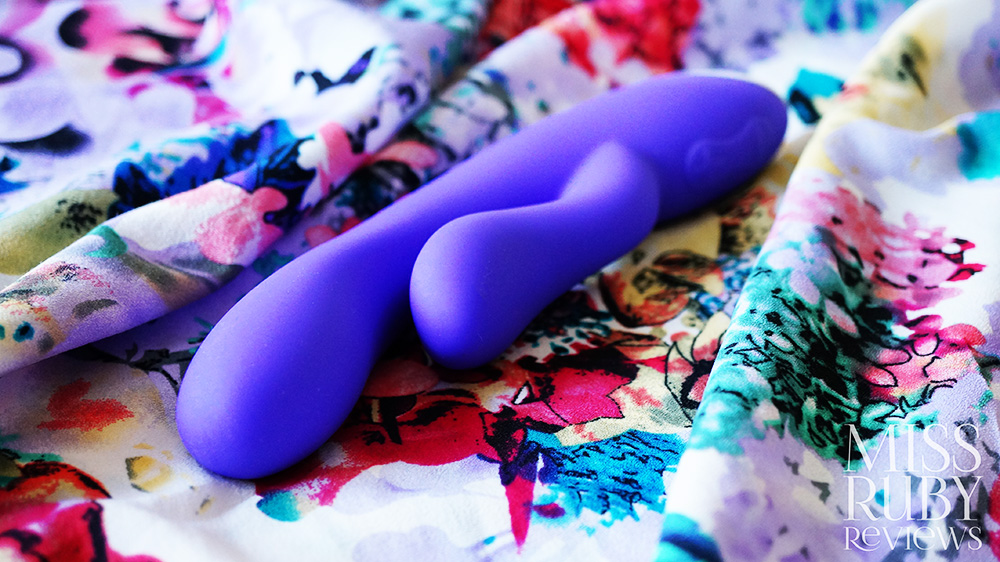 In use, the Blush Hop Trix's main shaft is AMAZING. It's very strong (8.5/10), moderately rumbly, and feels absolutely divine against the G-spot. It doesn't hurt that the internal shaft is bulbous at the tip, which helps it target the G-spot.
I cheat and just use the main shaft outside my body, against the clitoris, and orgasms have come quick and strong. Wowza.
Noise-wise, you'll definitely want your door closed. It's not the loudest toy I've come across, but someone in the same room as you will definitely be able to hear it. Given that it takes a good 3 seconds to turn this toy off, you'll want to keep this in mind.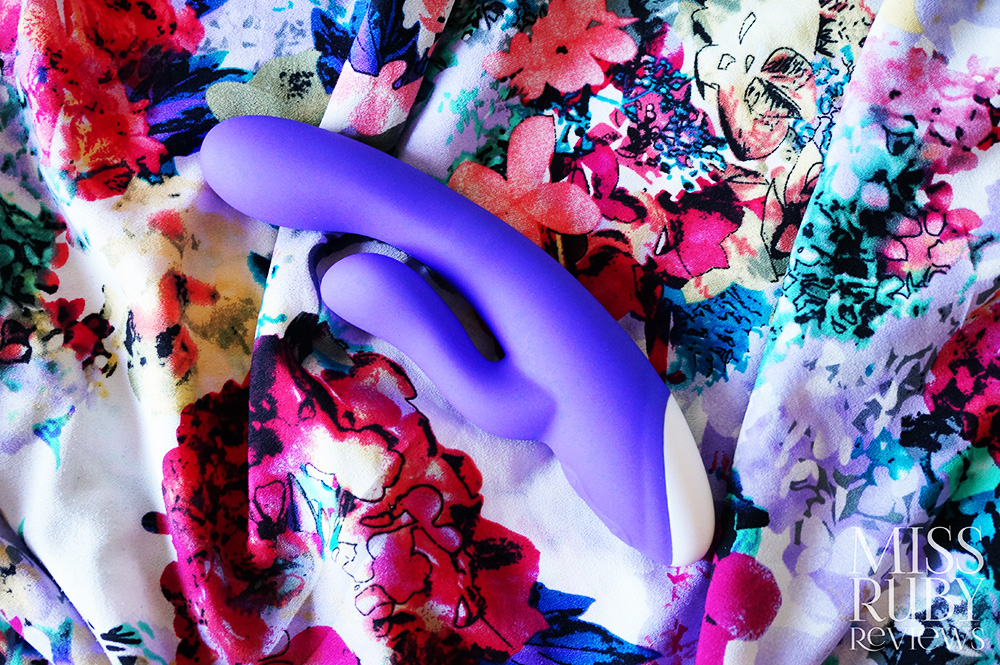 So what about its use as a dual stimulator? That's where we start to run into problems.
The clitoral arm is nowhere as strong as the main shaft. It's not completely weak, mind you, and it can bring me pretty close to orgasm, but it doesn't have the kick that the main shaft does. This isn't news or really out of the ordinary — most rabbits have this problem — but it's still frustrating. It makes me wish that the clitoral shaft wasn't here so I could go ahead and just use one of my favourite clitoral vibes (like the Tango or the FemmeFunn Ultra), but I can't because the clitoral shaft gets in the way.
I do love that the clitoral arm is long and wide though. It means it can reach me, which in itself is a victory. I just wish it was stronger.
Blush Novelties Hop Trix review – Overall thoughts
There's a lot to love about the Blush Hop Trix. First, it's below $50 USB, which for a silicone sex toy is pretty superb. It's also got a really solid, strong internal shaft, and its shape is great for the G-spot (though I often just use it against the clitoris for a quick clit orgasm). Unfortunately, the shorter clitoral arm just doesn't pack enough punch compared to the main shaft.
If you'd like to purchase one though, head on over to SheVibe! At the time of this post, it's on for $49.99 USD.
If you're interested in trying out a rabbit vibe with a pretty strong clitoral shaft, I recommend the We-Vibe Nova, which remains my favourite dual stimulator to date.
See below for my Blush Novelties Hop Trix review summary!