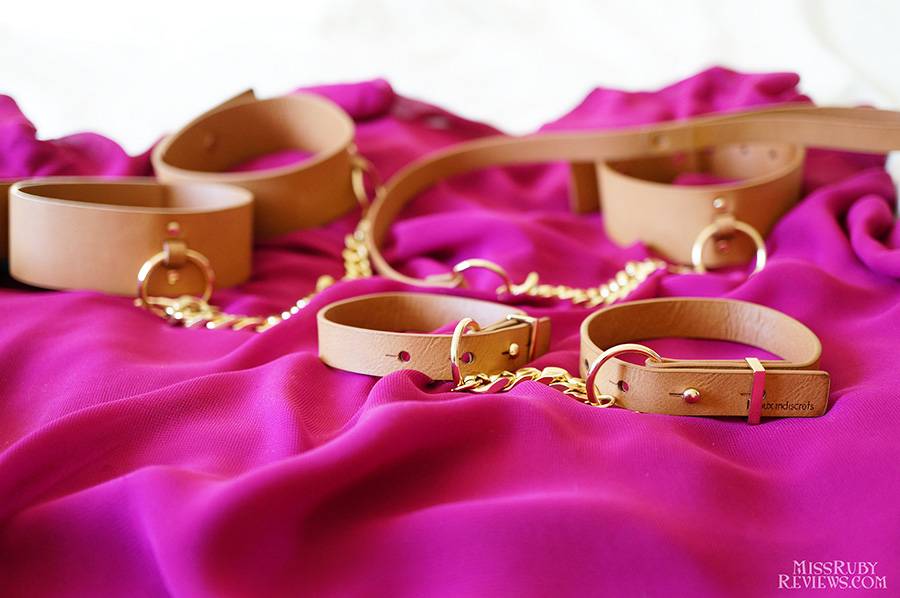 I'm increasingly falling in love with pretty kink items!
About | Choker | Ankle Cuffs | Handcuffs | Material and Care | Packaging | Overall
About Bijoux Indiscrets Maze
The vast majority of bondage kits are black. What drew me to this particular Bijoux Indiscrets Maze line was that it comes in brown! I can't help but feel that it's a more natural, organic, medieval looking colour, and I knew I had to have it immediately.
Peepshow Toys carries four central products in this line: handcuffs, ankle cuffs, and two collars: a choker and leash and a tassel choker.
All are available in either black or brown. This shade is a beautiful, warm, honey brown, and I couldn't be more pleased with it. It looks like leather, which was my goal. However, it's faux leather (polyurethane). It's bendable, comfortable against the skin, and breathes well.
All Bijoux Indiscrets Maze products are 100% vegan. No materials come from animals.
Choker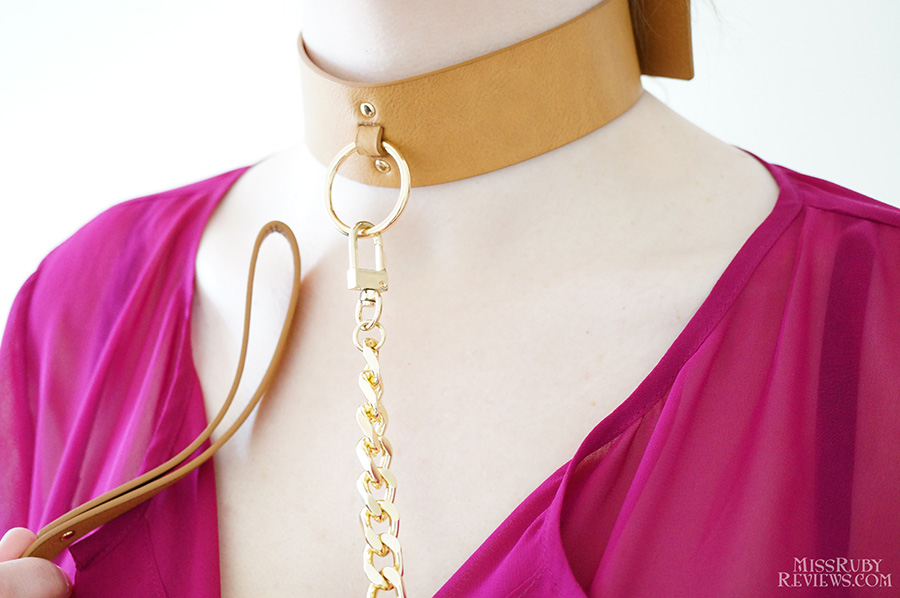 The choker and leash (collar) is my favourite item of the set. It's 1.5 inches wide and will fit necks of approximately 11.5″ – 15.5″ circumference. The choker fastens using metal knobs that slot securely into holes (see ankle cuff pictures below – it's the same mechanism). The front of the collar holds a ring. The ring can be used for the included leash (or one of your own, if you want a different length).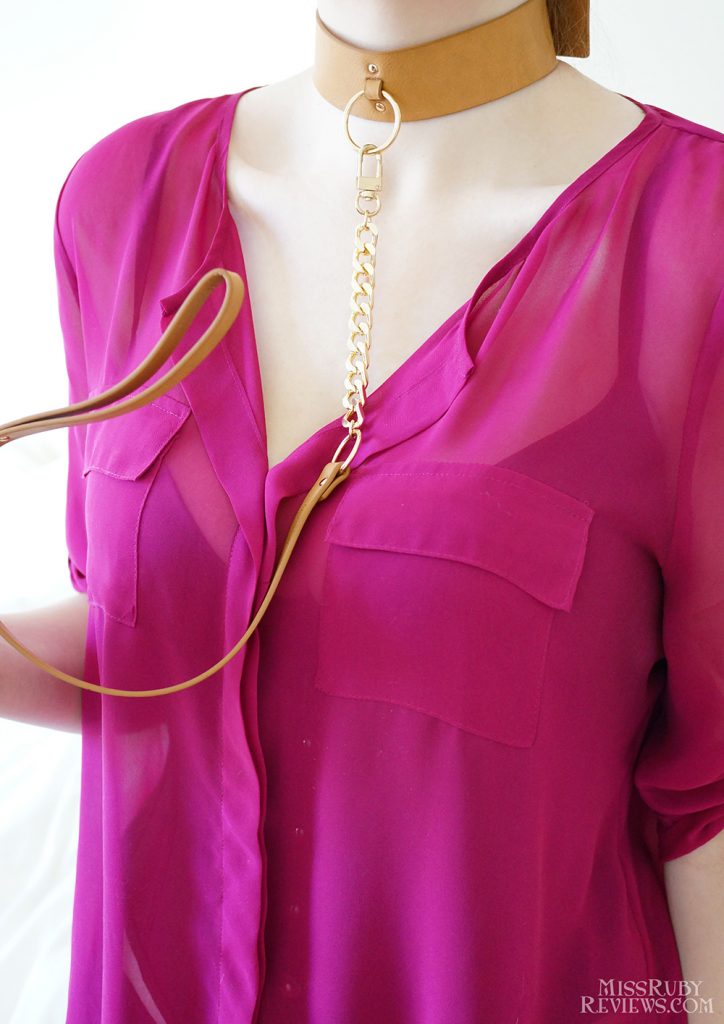 The removable leash is made from metal and more brown polyurethane; a series of sparkling gold links attach to a looped handle. While the metal links are sturdy (pulling on them with all my might does nothing), these are recommended for light play. Still, I think can handle a lot.
I find the collar comfortable to wear. There's no padding and the polyurethane is fairly firm, but the material is very bendy and pliable. I wear it so that there's enough space between my skin and the collar to comfortably breathe and move my neck.
If you want a different sort of handle, you can instead opt for the tassel choker.
Ankle Cuffs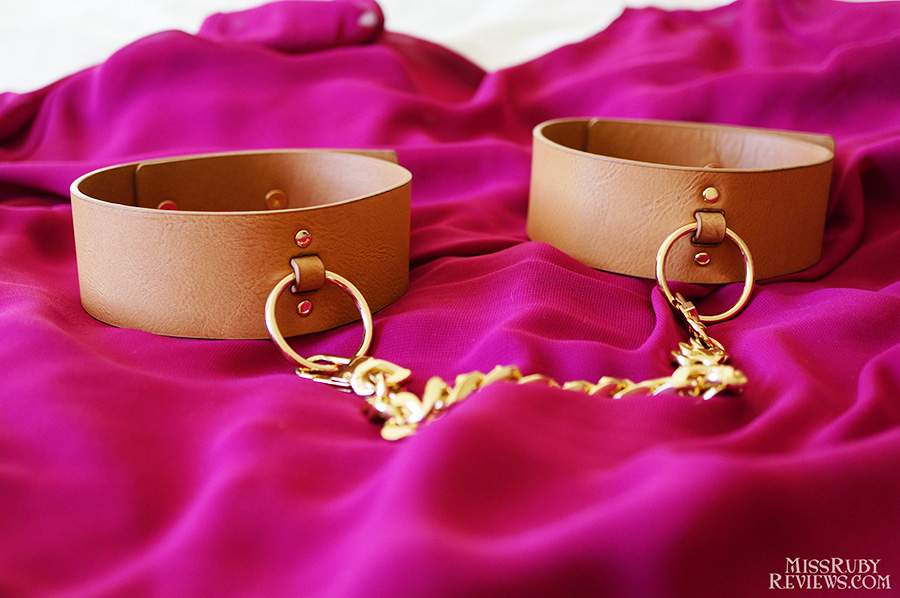 The ankle cuffs are thick and visually impressive. They're structured as two joined collars: they're as wide as the collar and each has the same ring in the center. The rings clip onto a removable gold chain.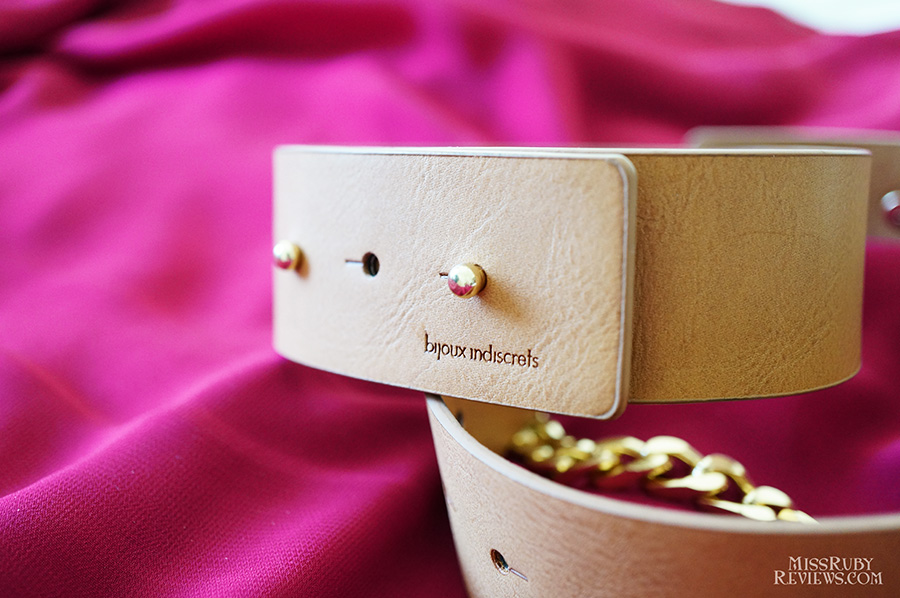 The dimensions are puzzling: At its smallest fit, it's a circumference of 11 inches. At it's largest (with only one knob secured), it's 14 inches. I have a large bone structure and still, even the tightest fit is slightly big for me. These are better suited to knees than ankles.
Handcuffs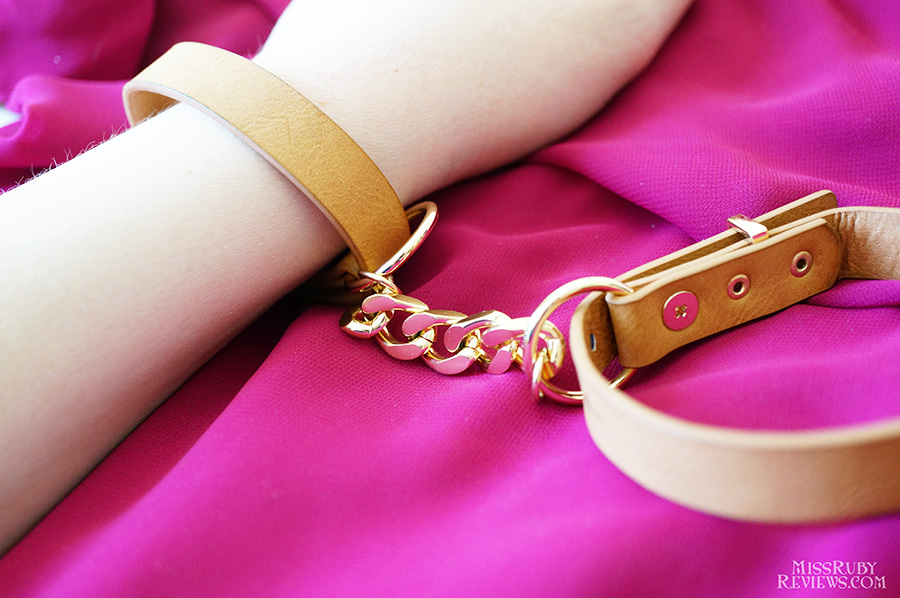 The handcuffs are thin (0.5″ wide) but fully adjustable in terms of length. It'll fit people with wrists measuring 7″ – 9.5″ in circumference. Unlike the ankle cuffs, these don't have a clip to separate them. Once they're on you, your hands are secured together. Gold-coloured metal rings secure your hands together. Again, these are recommended for light use, but they're certainly sturdy enough for my purposes.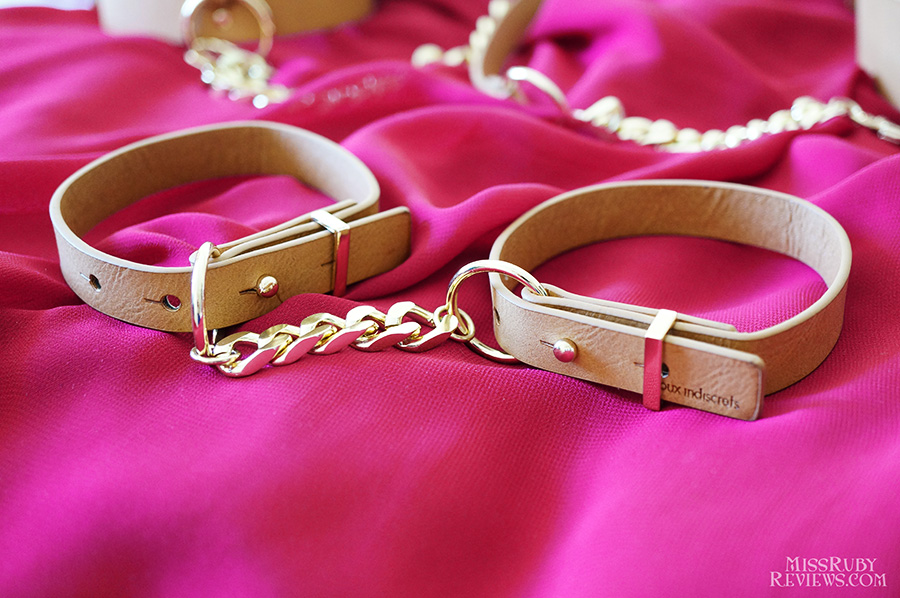 I actually found that the handcuffs fit my ankles considerably better than the ankle cuffs. If you're alright with them not being able to separate via a clip, your best bet might be to purchase two handcuff sets (one for your wrists, the other for your ankles).
Material and Care
These vegan products are made from polyurethane. It's soft and pliable. I clean them by wiping them down with a damp cloth and mild soap. Be sure to not scrub the product harshly, as this will wear away at the surface.
Packaging
I'm not a huge fan of the outer box packaging. The front is good: a plain, simple black and gold surface. The back shows the products on a model. It's not original to feature yet more disembodied, thin, white body parts. That being said, the inside of the box is cute and simple. Each product (sold and packaged separately) lies within thick black paper with gold accents.
Unfortunately, there's no storing mechanism provided. I recommend you hunt for a velvet or satin storage pouch to store your Bijoux Indiscrets Maze products as I've done.
Overall
I think this set is adorable. I love that it comes in brown and is vegan. It suits my purposes (for light-to-moderate use) and I'm pretty enthralled with the leash. That being said, skip the ankle cuffs. If you want a full set, I recommend getting the collar ($39) and two handcuff sets ($35) instead.
Head to Peepshow Toys to purchase this set and be sure to use the 10% off coupon code below!