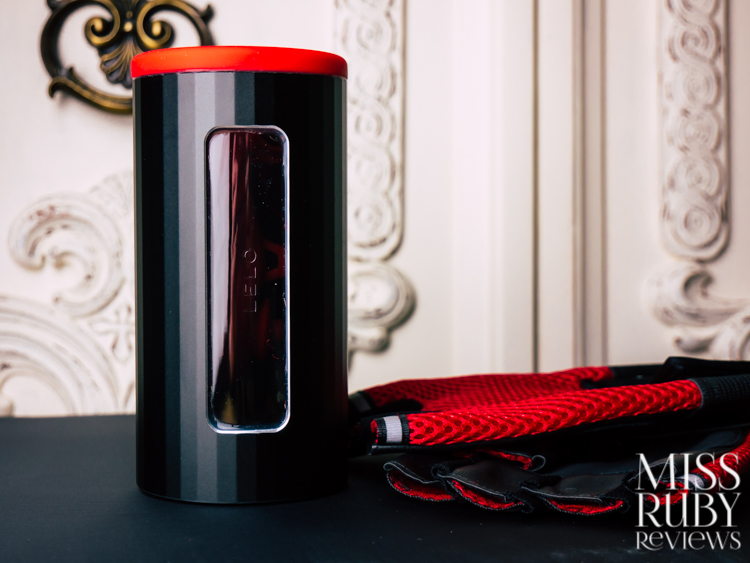 Does the LELO F1s really give your penis overwhelming orgasms? Read on for our LELO F1s Developer's Kit Red review!

---
Design | 360° View | How to Use | Packaging | Material and Care | My Experience | Overall
---
Pre-Review Note
This review is not an endorsement of LELO as a company. I cannot, at present, say that I support the company. Googling "ethical issues with LELO" will take you to extensive writing about LELO, most notably about their HEX condoms and their PR choices. This review will cover my experience with the LELO F1s RED product only, and I will try to not let my personal feelings about the brand impact my views on the product itself.
Design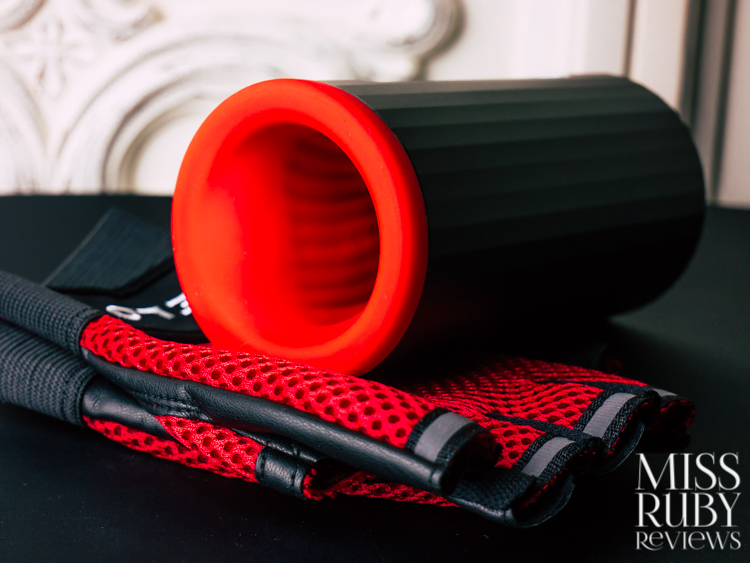 The tech
First off, penis masturbators… These sex toys are generally grouped into non-vibrating sleeves (like this silicone stroker) and vibrating sleeves (like the Nalone Oxxy or the Falcon Ninja).
So I'm totally used to coming across sex toys for penises that vibrate.
But the LELO F1s isn't just a vibrator. While it does have a conventional vibration, it has another motor which adds "SenSonic technology."
Sound familiar? That's because LELO used this technology in the LELO Sona, which uses sonic pulses and waves to resonate deep into the internal clitoral structures.
The LELO F1s brings together vibrations and sonic waves. The motor near the base of your penis vibrates, and the motor near the head of your penis emits sonic waves. The sonic waves are meant to resonate from all directions at once, supposedly giving your penis a deep and all-consuming pleasure overload.
This should give, in their words exactly: "360° panoramic pleasure" and "the most overwhelming orgasms of your life."
LELO then also adds Cruise Control (the same thing seen in the Sona 2 Cruise) so that the F1s' power never drops, even if you're using it vigorously. It can sense how hard you're pressing against the motors, and boosts those motors in case the added pressure was going to diffuse strength.
On top of all of this, the "Developer Kit" version in this post gives you access to LELO SDK, which essentially means you can use this toy as a controller and code your own programs (GitHub link here). Only a few consumers will be able to do this (because you need to know how to program), but those people can tinker around and customize their experience (i.e., syncing it up VR devices).
LELO's trailer for the F1s is below:
So basically the LELO F1s' backstory is that it's a racecar?? (It also revs like a racecar when you first turn it on). The marketing around the LELO F1s is a little cheesy, but it could be a lot worse (i.e. lazy sexist marketing like some other brands do).
Physical specs
The LELO F1s consists of hard, black, aluminum casing and an internal red sleeve. It's totally waterproof, rechargeable, and bodysafe.
The silicone sleeve is the red portion that starts at the lip and dives inward. It's silky smooth and very flexible… kind of like a thin membrane. It also has a ribbed texture… a series of grooves to add sensation. When I insert my fingers, I can easily feel some of the mechanical parts within it, but they have some give to it to avoid discomfort. The sleeve is not removable.
The case is black and sleek. There's a window on the side of it. LELO says the window is so you can "see your pleasure in action," but to be clear… you can't see your penis through this window. You can see the silicone sleeve that your penis goes in, and you can see movements from within that sleeve, but you don't see your actual penis. Nonetheless, when you turn it on and the internal lights come on, it's cool to be able to see all the mechanical bits start up.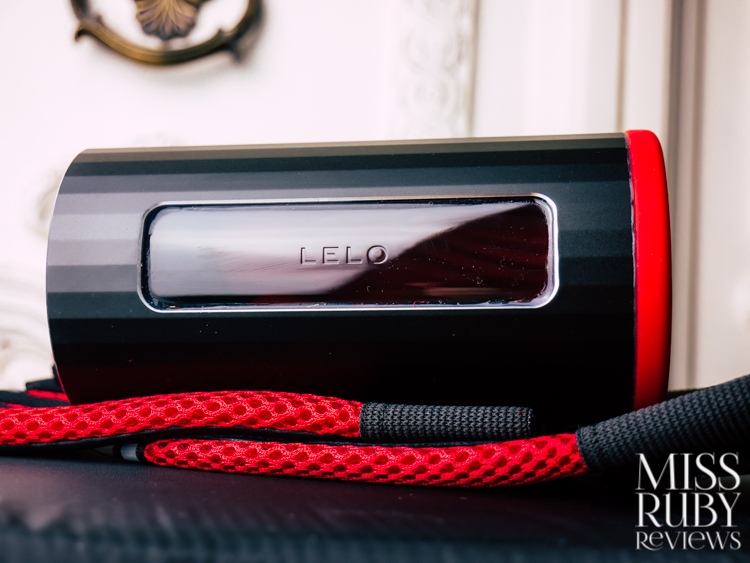 By my measurement, the LELO F1s' dimensions are:
Length: around 5.5″
Width: nearly 3″
Insertable length: around 4.25″. This means that, unless your penis is 4″ long or less, you won't be inserting yourself entirely inside the LELO F1s. But the most sensitive parts of your shaft and head will get stimulated.
Recommended penis size for the LELO F1s: Ehhh you don't want to be too girthy for this toy. The mouth is kind of oval-shaped, just over 1.75″ wide and nearly 1.5″ tall. I think this will fit most penises, but if you are particularly big, measure yourself first. If your penis has more than 1.5″ girth diameter at its shortest side (whip out those callipers!), things might be too snug.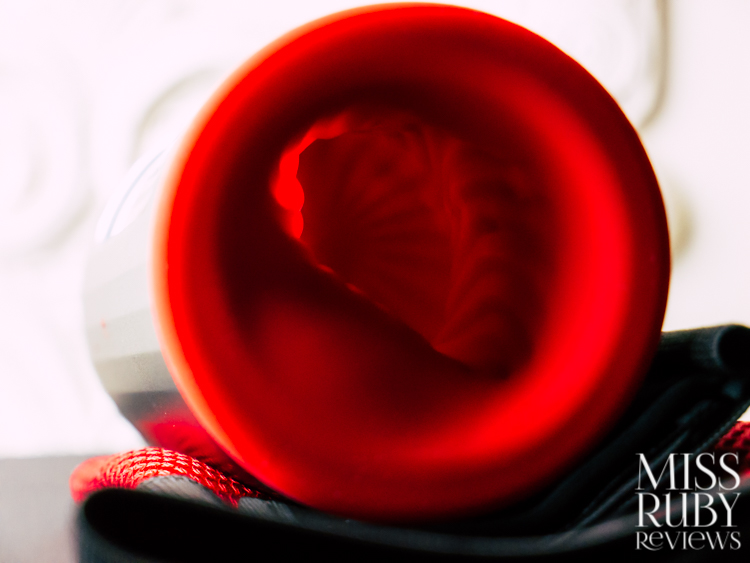 Interactive 360° View
Click and hold the image above to move it around.
How to Use the
LELO F1s
Developer's 
Kit 
Red
1) Via App
Watch LELO's video on how to how to connect the F1s to the App:
By following the above instructions, you'll be able to use the LELO F1s using your phone.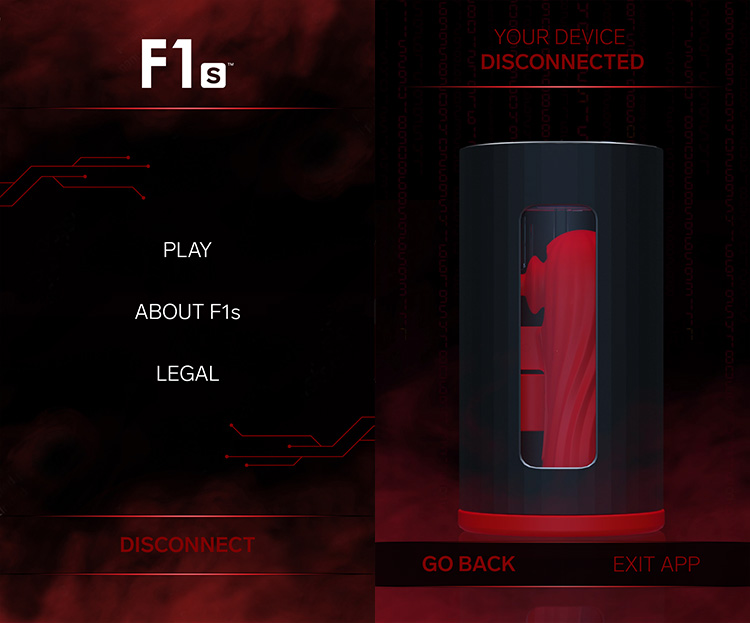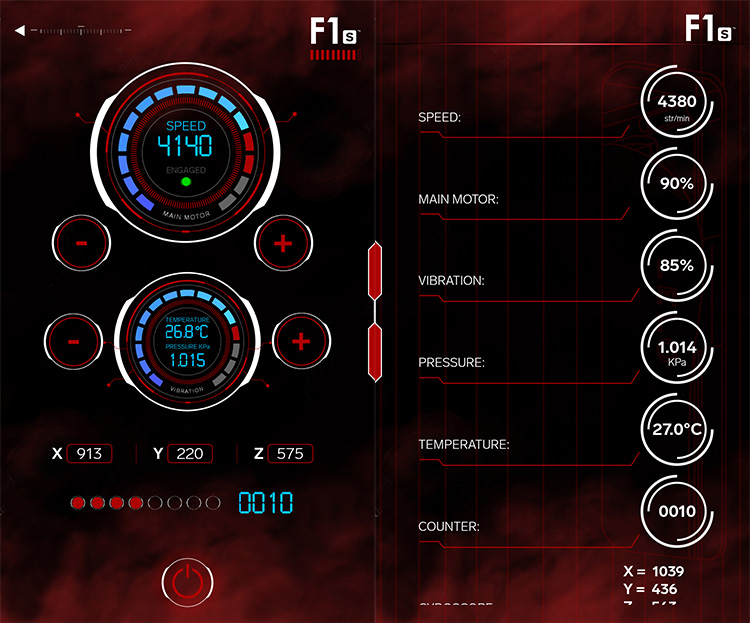 Once you're all connected and set up, you get the user interface above. Mr. Ruby says it looks like his video card's overclocking utility program. It's all very… future/techy/race-car themed. Vroom!
The neat thing the LELO F1s app gives you (that you don't get otherwise) is the ability to individually control either motor. See the two plus signs in the image above? Each of those buttons increases a motor. You can keep one motor off and the other on, or just put them both on at whatever strength you choose.
The app also gives you a bunch of stats, such as:
The overall speed of the motors you're using.
How much pressure your penis is giving against the sensors inside the F1s.
The temperature of the F1s.
The counter. I could be wrong, but it seems to try to count every thrust in a single session.
X, Y, and Z so you can tell where in space you're holding the device. Not totally sure why you'd need this, but okay.
If this is all too much for you, you can also use the LELO F1s offline, without any phone.
2) Without App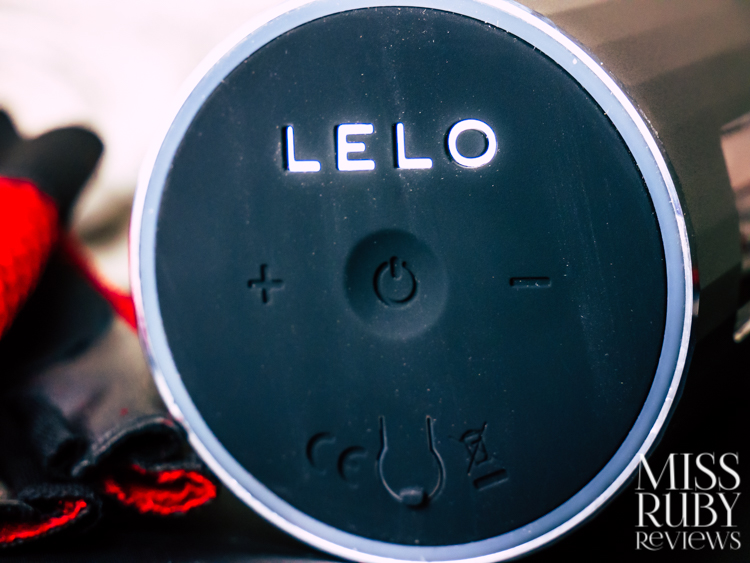 To skip using the app, simply press the middle power button to wake it up.
Press the power button again to start the LELO F1s. It'll power up and ramp up to full speed before settling down to its softest mode.
Apply lube generously inside the device and around the head of your penis.
Insert your penis. If this is the first time using it, insert yourself slowly just in case it turns out you're way too big for this toy.
Once you're inside, press the + button to increase strength. This baby gets VERY strong, so ramp it up carefully.
If you need to decrease strength, press the – button.
You can simply hold your penis inside, or you can thrust into it.
When you're done, hold the center button down for 3 seconds to turn the F1s off.
Packaging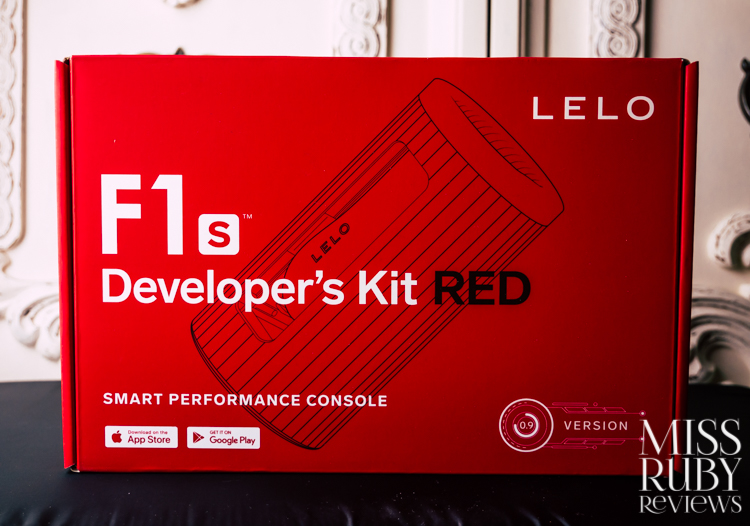 The LELO F1s Developer's Kit RED comes packaged beautifully in a bright red box. You can't tell at quick glance that it is, indeed, a sex toy. It's only when you read the fine print at the back that you see words like "pleasure" and "cybersexy apps" that you understand.
When you open the box, your new toy is nestled in a cardboard platform along with lube and a pair of gloves.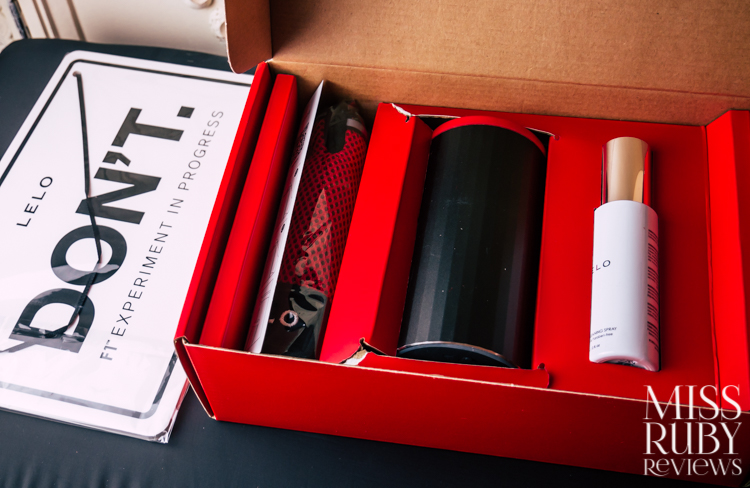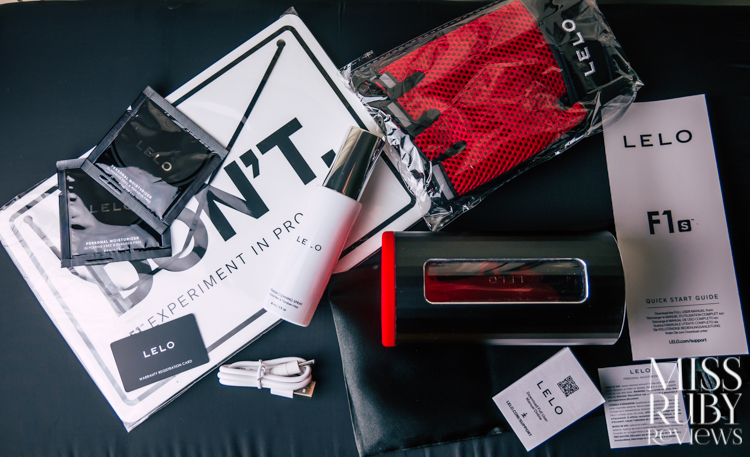 There is a TON of stuff in this box.
All in all, you receive the LELO F1s; a pair of red racing-style gloves; a sign for your door that says "LELO. Don't. F1 experiment in progress"; a full bottle of LELO's personal cleaning spray; a USB charging cord; a satin drawstring pouch; your 1-year warranty card; a quickstart guide; another brief guide; and two packets of LELO's lube (plus a guide on how to use it, plus a coupon code for 30% off a bottle of it from LELO's website).
That's a lot of swag. Why the gloves? I think to get a better grip on the smooth aluminum case during use (and to further drive down the racecar marketing angle).
Material and Care
The LELO F1s' internal (red) sleeve is silicone. This is a nonporous, non-toxic, bodysafe material. In terms of hygiene, this is far superior to what penis sleeves are usually made from (real-skin type materials, which are porous and cannot be sterilized after the initial use).
The case itself is made of aluminum. It's hard and sturdy, but lightweight, which is nice.
The LELO F1s is waterproof, which really helps the cleaning process. LELO suggests you rinse and spray it with the bottle of LELO Toy Cleaner (included in the box), then rinse again and allow it to dry. You can also just use regular ordinary warm, soapy water as well.
Because the internal sleeve is made from silicone, you'll want to avoid silicone-based lubricants. Always stick to a good quality water-based lubricant, like my favourite Sliquid H2O. LELO does include two small packets of lube in the box, but you'll definitely need to stock up on extra if you don't already have some.
When the battery is running low, the white LEDs will blink slowly. Remove the little charging flap (beneath the power button) and insert the included USB charging cord. Plug it into your computer or a USB wall outlet. You'll want to do this straight out of the box anyway for 2 hours. Two hours charging will get you about two hours of playtime.
The LELO F1s has a travel lock. To activate or deactivate it, press and hold the + and – buttons together for 5 seconds.
This toy comes with a 1-year manufacturer's warranty, which is great.
Our Experience with the LELO
F1s 
Developer's 
Kit 
Red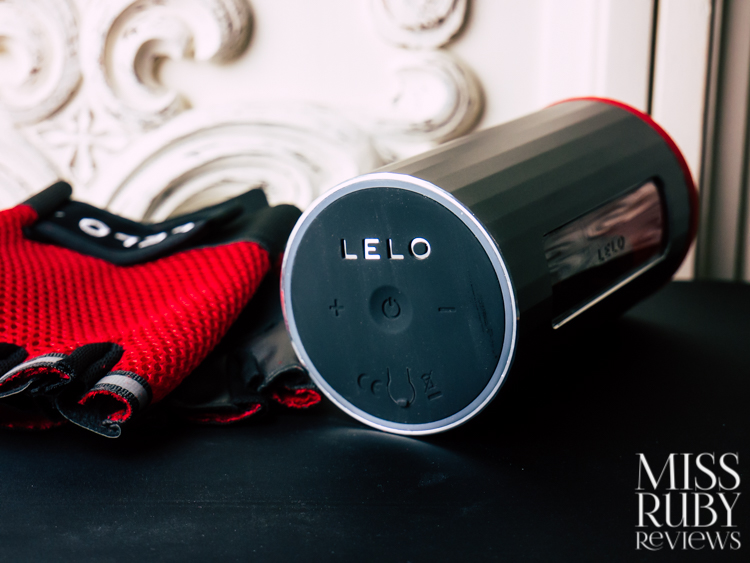 With the F1s, LELO is appealing to sex-tech nerds (like us) looking for a mind-blowing sexual experience. And I can definitely attest that a lot of thought and design went into this toy; it's a mechanically complicated beast.
LELO claimed that this toy would provide: "360° panoramic pleasure" and "the most overwhelming orgasms of your life."
So, as we reviewed this device (thank you to Mr. Ruby for helping out), those are the expectations we had as a consumer.
First, what did we like about the LELO F1s Developer's Kit Red?
Here's some stuff we liked about the LELO F1s:
Mr. Ruby liked the vibrations. He says that the ones near the base are really deep and rumbly, which feel nice. This compliment didn't extend to the sonic motor at the far tip though. That, he says, just feels surface-level. He'd rather prefer the vibrating motor at both ends.
Mr. Ruby liked the sleeve's ribbed texture, which felt better than it would have had it been smooth.
The lip around the rim of the case was really soft and cozy.
It's completely waterproof, which made clean up SO much easier.
It's rechargeable, and we got a decent amount of playtime (2 hours) on one charge.
The motor itself was pretty quiet.
HOWEVER – we ran into some major issues with the LELO F1s.
Problem #1 
(major)

: The "Splat" sounds

Starting from the first thrust into the LELO F1s, Mr. Ruby and I heard an earth-shattering wet "splat" sound. This was caused by air (trapped inside the silicone sleeve) plus lubricant being forced out around the edges of his shaft. It wasn't a sexy, sultry, lubed up kind of sound… it very much sounded like wet flatulence or diarrhea.

It's not uncommon for penis masturbators to make silly squelching sounds, but this is the worst/loudest we've ever heard. I can hear it through the walls.

We find it hilarious and dubbed it the "Wind Simulator 2020" — but it's ridiculously distracting, a bit nauseating for us, and puts a huge damper on our sexy mood.

To minimize the splats, Mr. Ruby has to either thrust really fast or not thrust at all. But if you're a fan of slow-to-medium thrusts, you'll also find this "splat" problem a major issue.

You could also just put in earplugs or super loud music, but this isn't something we should have to deal with.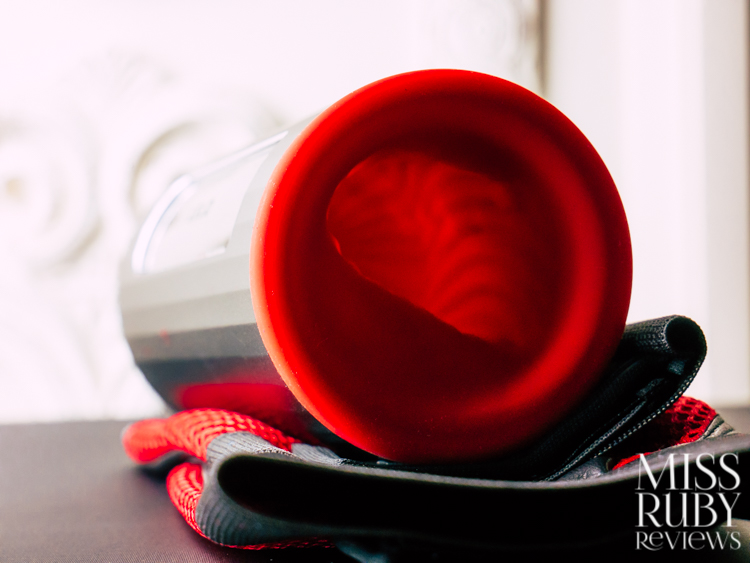 Problem #2 (major): Air trapped at the head
The LELO F1s doesn't have any sort of pressure vent or valve inside the silicone sleeve. This means that, when you thrust your penis into it, any air that doesn't escape via "splat" sounds is trapped at the far tip of the sleeve. Through the window, I could literally see the air ballooning within the thin silicone membrane.
Sounds benign enough, but the problem is that as soon as Mr. Ruby's penis creates an air-tight fit inside the sleeve, it becomes super hard to thrust all the way in. Air that's still stuck at the tip prevents him from thrusting with ease. When I handle the device for him, I'm concerned that the silicone membrane inside will pop from all the air pressure (it doesn't, of course, but it puts up a lot of resistance).
Does this help or hinder his pleasure? Maybe it'd make it feel like suction at the tip of his head? Nope… Mr. Ruby says it just hindered everything and made "it really awkward to thrust with."  This was the biggest obstacle to his pleasure.
This problem isn't something you come across often in penis sleeves. Silicone is non-porous and airproof, and that's why silicone strokers like this one are open-ended on both sides. The Maia Piper looks like it gets around this problem with a tiny hole at the tip of the internal sleeve. And plastic-encased sleeves (like Fleshlights) typically have adjustable pressure valves at the end.
To be fair, the problem eventually did resolve (after enough vibration and "splats" worked every ounce of air out of there). But then every time he had to re-lube, the problem started all over again.
Now, if you just insert your penis in, work out all the trapped air through "splats," and hold it in there, this problem goes away. But Mr. Ruby tried this and couldn't get to orgasm via vibrations and the SenSonic motor themselves. The sensations simply weren't enough — he personally needed the added stimulation of stroking/thrusting, which meant we couldn't get around this problem.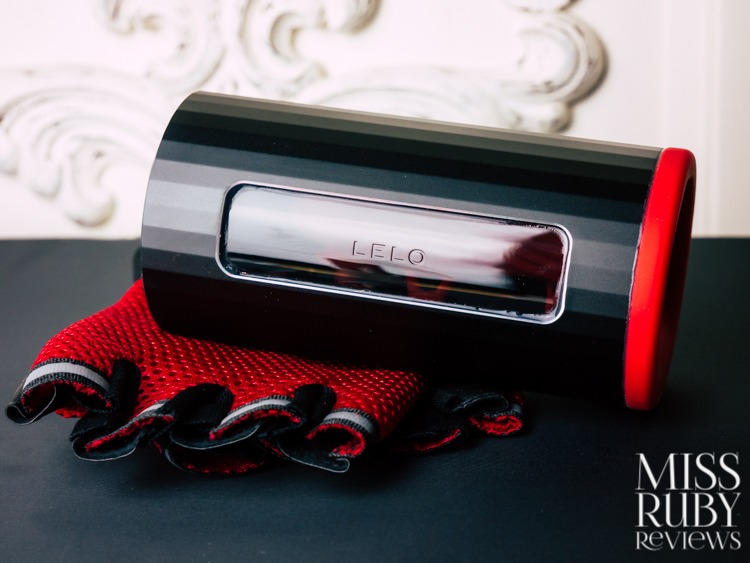 Problem #3 (minor): Lagged Cruise Control
This isn't a major issue, but I should note it here.
On the lower vibration modes, the LELO F1s' cruise control feature didn't seem to work. This feature is designed to stop the motor from stopping/dampening when it feels pressure against it.
Well, during every thrust on the lower vibration modes, the motor just totally stopped for a good second before it kicked in. This will be annoying for anyone who enjoys starting with milder sensations.
This wasn't an issue on the stronger vibration modes.
Problems #4 and #5 (minor)
Now I'm really nit-picking, but we found that the "counter" feature on the app didn't really work well. During one session, the X, Y and Z utility didn't work at all. This is all supposed to count your thrusts (because this is a "world where every statistic counts") but it rarely actually worked for us, let alone accurately.
My other gripe is that the window is either on the right or left side of his shaft (the sleeve's mouth is oval, so it's more comfortable to insert your penis one orientation than the other). This means that the user can't really watch their own penis easily.
I suspect the technology still has a few kinks to work out with its connection, so experiences may vary depending on what phone you use.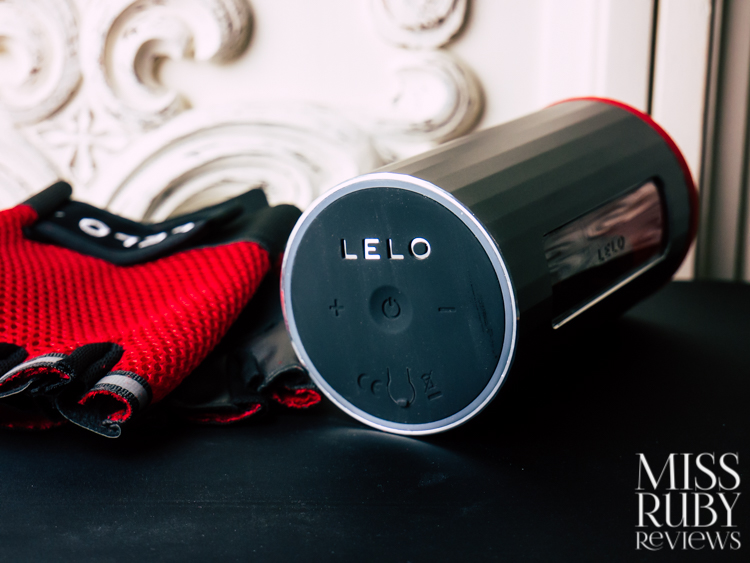 Claim #1: Did it provide "360° panoramic pleasure"?
Surprisingly, the LELO F1s lived up to its "360° panoramic" promise. Despite the motors only existing on one side of the silicone sleeve, Mr. Ruby says he somehow felt sensations from all sides. Obviously, it was concentrated on the sides the motors were on, but the sensations did extend to wrap around his penis.
This means that the SenSonic motor was working as intended.
Claim #2: Did it provide "overwhelming orgasms"?
The short answer is that no, the LELO F1s didn't provide Mr. Ruby with overwhelming orgasms.
The LELO F1s didn't provide him with any orgasms, in fact. Despite the nice vibrations and sensations that wrapped around him, during our testing sessions he never got even close to orgasm.
To give you a bit of reference, and because some people with penises naturally take shorter or longer times to orgasm than others… Had this provided decent pleasure, Mr. Ruby should have been able to get close within 7-10 minutes (and then take things slower to extend the time). But no amount of time could get him there.
This was really disappointing. The LELO F1s is super expensive, and (based on LELO's promises) I'd promised Mr. Ruby an amazing experience… but that didn't happen. Mr. Ruby was relieved when we finally gave up.
To be fair, Mr. Ruby is pretty picky about vibrations and prefers vibrations + strokes, so that could have biased his experience. If you already know that you loooove vibrations against your penis (and don't need any stroking movement), you might have a different experience.
LELO F1s

Developer's 

Kit 

Red

Review – Overall Thoughts

We really wanted to love the LELO F1s. The world needs more silicone bodysafe masturbators out there.

This review might come across as really harsh. It always sucks to have to write such a negative review. But Mr. Ruby is unflinchingly blunt when it comes to what sex toys do and don't work for him, and we both believe that if you're going to spend this much money on a pleasure product, you should be informed. As always, I encourage you to read other reviews and get a wide range of opinions. You might have better luck with something like the Maia Piper, which is made by a brand we love.

If you spot The LELO F1s on sale, there's a chance you might still find some enjoyment, but only if:
You know you LOVE vibrations against your penis.
You're happy to go without stroking motions.
You're curious about wrap-around sensations.
You'll wear earplugs (or listen to loud porn/music).
You like monitoring your stats (and don't mind them being finicky).
You can pick up your own LELO F1s at Peepshow Toys! Why do I like Peepshow Toys? They ship internationally, only carry body-safe products, and you can get a 10% discount off your whole purchase with coupon code RUBY. 

See below for my LELO F1s Developer's Kit Red review summary.
LELO F1s Developer's Kit Red review summary
Overall thoughts - 4
4
$189
PROS
Gender neutral design
Strong motors
Sensation wraps around shaft
Waterproof & easy to clean
Bodysafe & rechargeable
1 year warranty
Use with or without app
CONS
Splat/flatulence sounds
Trapped air within sleeve
Awkward to thrust with
Won't fit huge penises
LELO's past company ethics are shady
Shop Now

Last Updated on March 18, 2023 by Miss Ruby