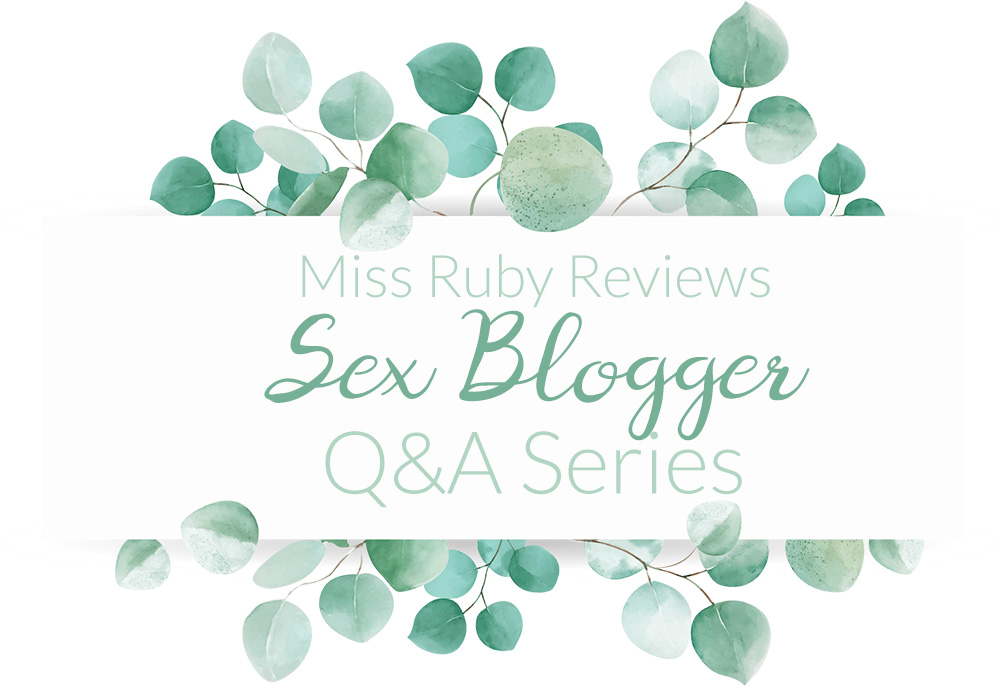 This series was created to highlight sex bloggers (new and old) to my readers. If you'd like your sex blog featured, please read my instructions and get in touch!
INNOCENT LOVERBOY
Which sex-related blog(s) do you run and how long have you been at it? By what name may we call you?
You can call me "Innocent Loverboy" if you want, but if that's too many letters, "ILB" is an acceptable abbreviation. Because I am unashamedly original and put a lot of thought into things, my blog is called "Innocent Loverboy."
Sum up your blog (such as theme, goal, focus, quirkiness, uniqueness).
It's impossible to sum up, really, other than "stuff I've written". Primarily real-life experiences, really, but with occasional flash fiction, op-ed pieces (insofar as any of my opinions could be at all educational), and a little smattering of soft porn – in a way!
What is your blog's "creation story"? Why was it born? Did any already-established bloggers inspire you?
I started my blog before the majority of extant blogs – back in 2007. The more famous ones – Abby Lee and Belle de Jour – were still blogging back then, and I decided to have a go at riding the wave myself. I wasn't having any sex, but I had a lot to say about it. And I was a boy, which (at that time) made me different!
What is your favourite post on your blog to date? Why? (Include a link)
Oh, this is a difficult one, since I don't like anything I write. One of the posts that seems almost tolerable – one of my most popular – is this one… about 'sexercise'
What does "sex-positive" mean to you?
It's a bit of an umbrella term but, as far as a definition goes, I've always thought of 'sex-positive' as being open to stigma-free discourse regarding sex. I'm not entirely sure there's an antithesis: 'sex-negative' isn't something I would try to define, as there are so many ways to be negative about sex! Being sex-positive is not doing any of those tings!
Have you found any friends (or heroes) in the sex blogging community?
Yes – all of them! I love the support and contact afforded by being a part of the community, and I've made so many new friends – and my last three girlfriends have been sex bloggers too!
How important (or unimportant) is anonymity to you?
Anonymity – by definition – not so much. I use a pseudonym (believe it or not, my real name isn't "Innocent Loverboy"; sorry to shatter any illusions). To me, pseudonymity is very important. One of the most cowardly things to do is attempting to out someone!
If one of these readers becomes your biggest fan, where can they follow you on social media?
While I'm fairly sure that none of the 747 people who follow me on Twitter are my biggest fan, I'm @innocentlb there. I'm also on Ello as @innocentlb, in case anyone still uses that.
Do you consider yourself an advocate/supporter/ally for any minority groups?
Of course – all of them! How would I be sex-positive if I wasn't? I'm passionate about supporting the LGBTQIA+ community (my girlfriend is openly queer), any and all left-wing and liberal groups (I'm a socialist, pacifist and Green Party member) and, perhaps uniquely, the sex-positive Christian community… something hard to find among the blogging world!
Have you ever had anything bizarre or horrible or funny or amazing happen as a result of blogging?
Oh yes – so many things! There are some (realistically, many) things I've done, either as a result of blogging or because I think it will make a good blog post!
One of the craziest things I ever did was as a result of blogging. I'd had a bad week and was chatting to another sex blogger. She invited me to see her – it was 9pm – so I asked my mum to drive me to the local tube station! She did, and I went to Oxford to meet my sex blogging friend. We had some snacks, a chat and a hug, and we ended up having sex… we were together for two and a half years after all that!
Has sex blogging shaped/influenced you in a broader "real-life" sense? (i.e, your worldview, your personality, your confidence?)
Yes. I've never had much confidence, but blogging has really given me much more of it – sexually, and in a broader sense. But I think that the best thing sex blogging has given me is more of a sense of purpose… before I started I didn't have much of an idea where I was going. My blog has been a lifeline, there for me when I need it most. That's why I put so much love into it!
Introvert or extrovert? Cats or dogs? Coffee or tea?
Extrovert when in front of people, introvert when not; cats – I love my cat Willow; tea! I always blog while drinking tea!
If you could magically and instantaneously change something about this industry (i.e., sex toy industry, erotica, porn, sex education, etc), what would you change?
Yes – I'd have sex shops sell soft porn! It's impossible to find otherwise!
What are the top 1-3 factors that keep you blogging? What's keeping you here?
Only three?
I'm actually going to be running a session at Eroticon 2016 about this. There are so many reasons to keep blogging that it's hard to narrow them down to three. But I think that three of my own must be a lot of community spirit, a deep and ingrained love of the written word… and maybe just a dash of egocentricity.
Lastly, what advice would you give to readers who are considering starting a sex blog of their own?
Don't start a sex blog just to stop writing it after one or two posts! I've seen a lot of really promising bloggers start and then fizzle out because they're not getting the views, comments or ideas that they wanted. Whoever you are, I promise you, you do have something to say! This idiot's been writing at least once a week since 2007, so I'm sure you can too!