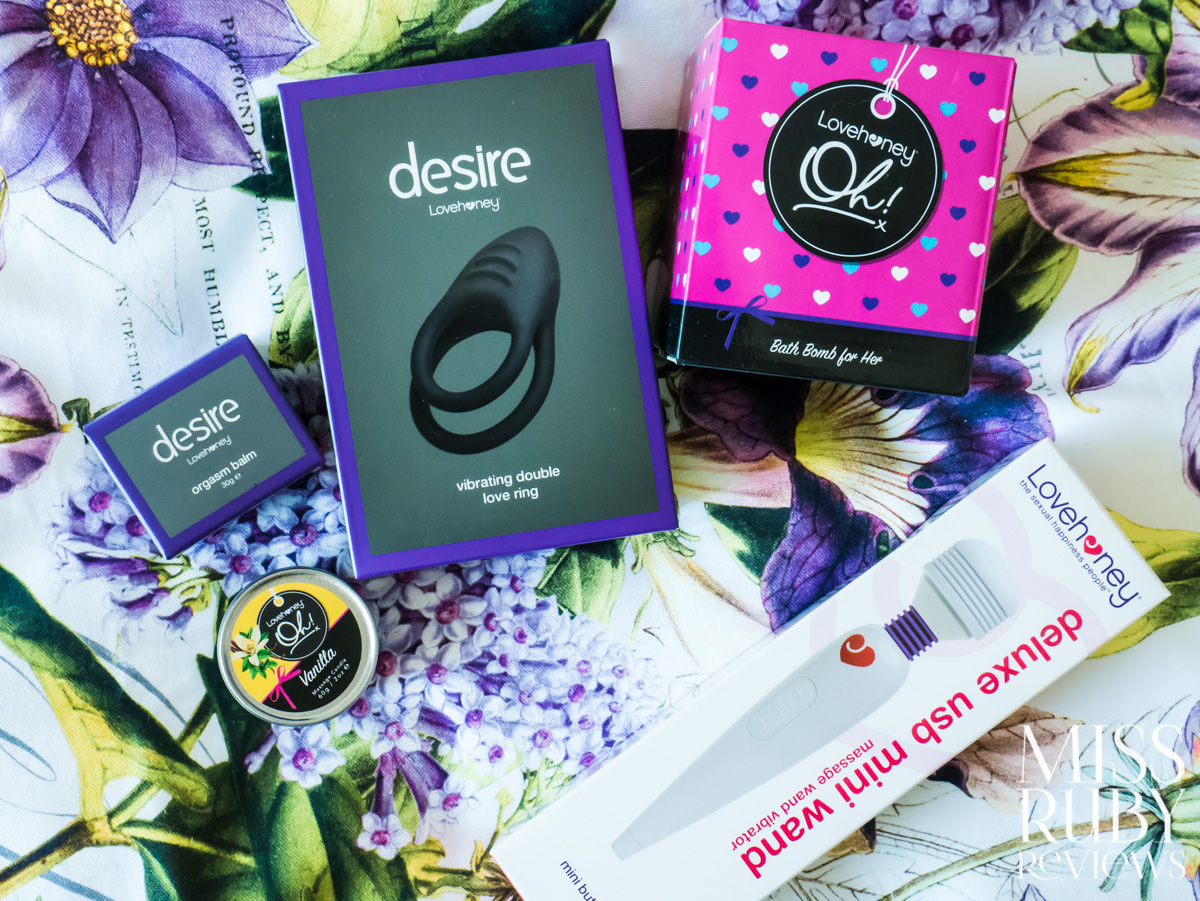 Hi readers! To ease me slowly back into blogging, here's a quick post on a box of goodies from Lovehoney. If you've been curious about some of Lovehoney's items, read my Lovehoney Desire Ring and Mini Wand review / overview below!
First – an apology. Sorry I've been quiet for so long (a couple of months, eep!). June and July were absolutely hectic with a wedding, several weeks of travelling and adventuring, and then a surprise move to a different region. Suffice to say, my blog and emails have been really pushed to the side in all the chaos and upheaval. But I'm back now, and I was thrilled to see I hit 7,000 followers on Twitter while I was away, woohoo! Thanks to all my readers (old and new) for your continued support and interest!
Skip to: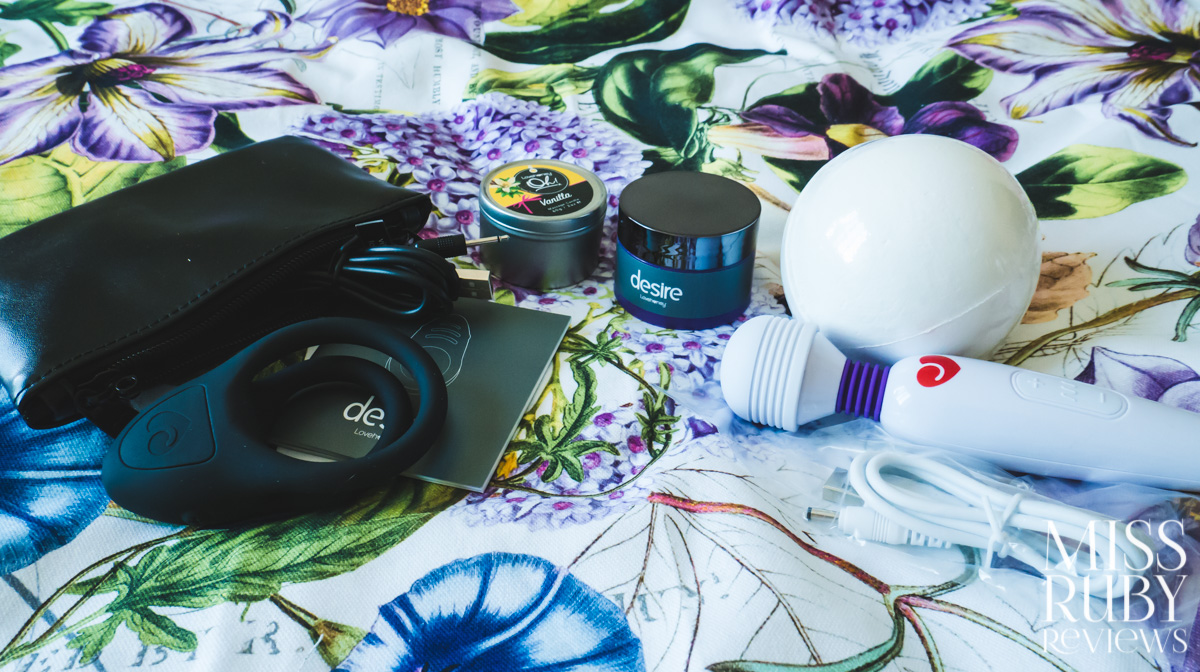 #1. Lovehoney Desire Vibrating Double Love Ring
First I checked out Lovehoney's Desire Luxury Rechargeable Vibrating Double Love Ring. This is a strong, sturdy, doubled-ringed toy meant to provide pleasure to both partners during penis-in-vagina (PIV) sex. Love rings typically encourage stronger/longer erections by constricting blood flow, making it harder for blood to leave the penis.
This Love Ring has two rings – the larger ring slips over the testicles, while the small ring lies snugly around the base of the penis. When the bands are completely relaxed, the larger ring is 4.8 cm across and 3.9 cm across (inside dimensions). The small and large rings are thick, yet still stretchy, and they easily stretch up to 5 cm (ish) and 7 cm (ish) wide, respectively.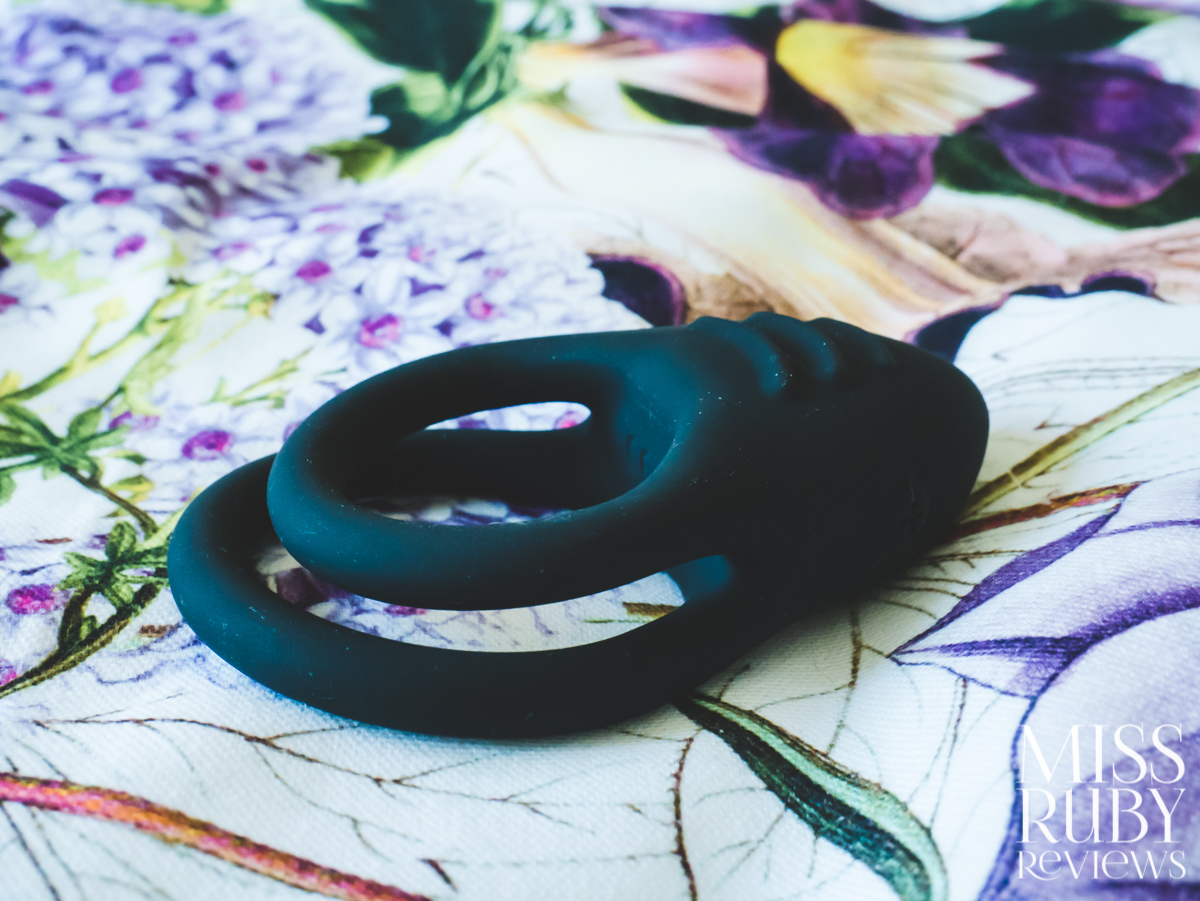 The Love Ring's triangular body houses a vibrator, which gives several vibration speeds and patterns. While the vibrations are, overall, on the buzzy side, they're still rumblier than other love rings we've tried. The vibrations are also refreshingly strong, which allows them to travel through the silicone rings and stimulate the penis.
The top of the base has 3 little ridges. If you're having PIV missionary-style sex, this side would tap against your partner's clitoris during thrusts.
This Love Ring is made from silicone (so it's bodysafe, yay!). It's waterproof, USB rechargeable via the included cable, and has a travel lock feature. It also comes with a snazzy leather black pouch for discreet storage.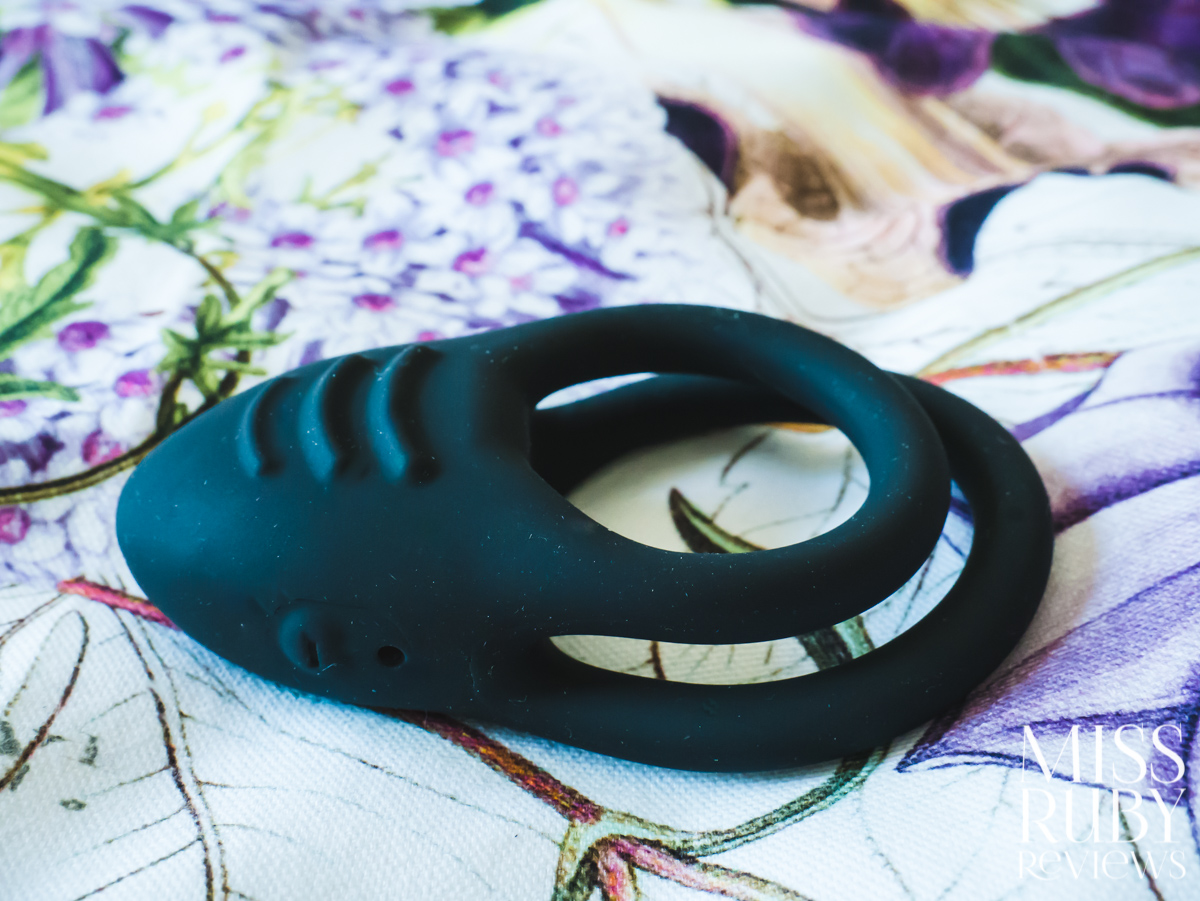 At $65 USD, the Desire Luxury Vibrating Double Love Ring is certainly one of the better love rings I've come across.
Just a note on (all) love rings though — please read the safety instructions carefully. Limit use to 30 minutes (as per this toy's instructions), and stop using it immediately if you feel discomfort.
#2. Lovehoney Deluxe USB Mini Wand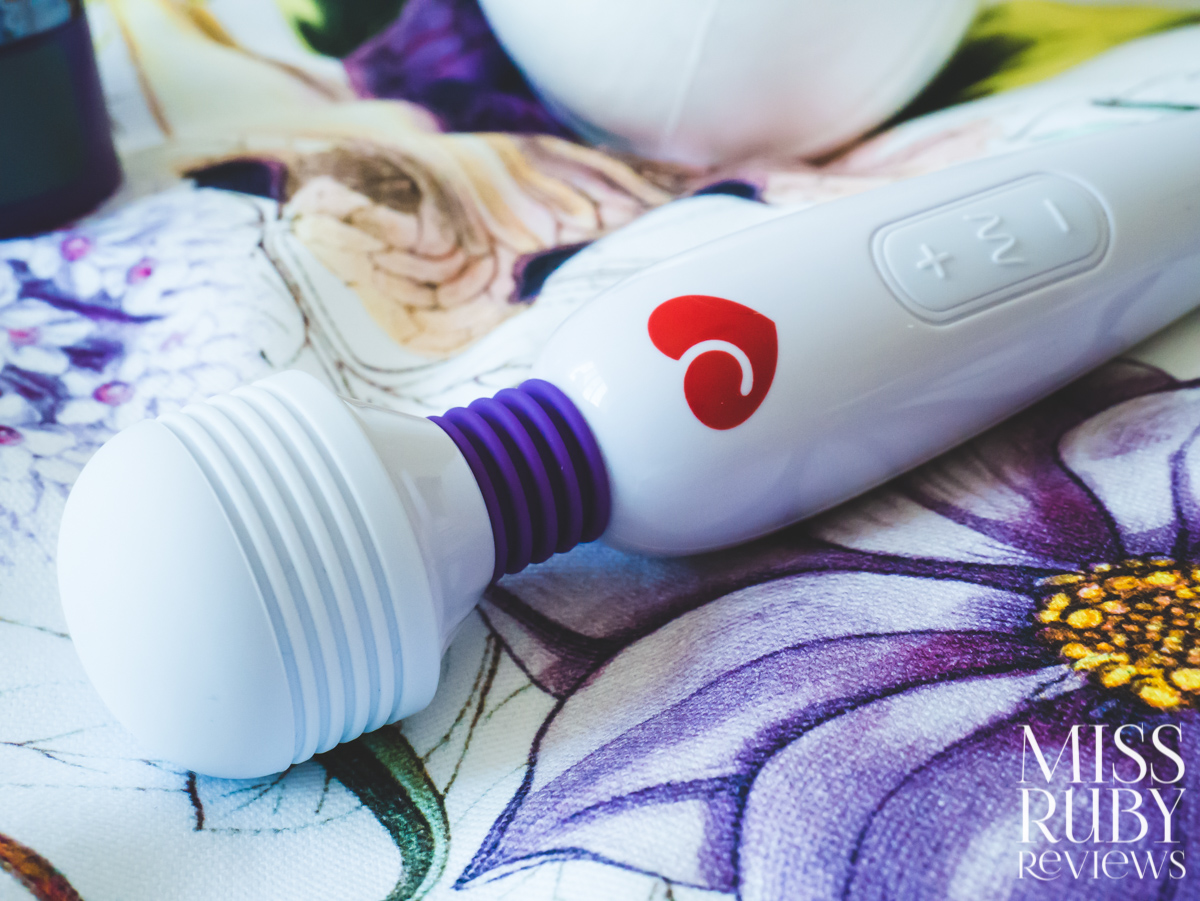 Next is the Lovehoney Deluxe Rechargeable Mini Massage Wand Vibrator, which is possibly the smallest wand I've ever used. At only 7.5 inches long, it's basically bite-sized, and can easily fit into your purse or a suitcase pocket, making it a great choice for a quick travel toy. If you have a partner, its small size also makes it easier to use during sex.
It's also USB rechargeable (just plug it into your computer using the cord provided), splashproof, and has multiple speeds/patterns.
Better yet, it's bodysafe. The smooth, silky head and flexible neck are coated in a layer of silicone, making this toy a non-porous and non-toxic option. The body itself is shiny hard ABS plastic, which is also bodysafe.
To operate, just hit the + button. The wand will turn on at a steady vibration at its lowest speed. Keep hitting + to increase speed, or hit the ~ button to start cycling through patterns.
In use, the Lovehoney Deluxe Mini Wand packs a nice little punch. It's stronger (7/10) and rumblier than I expected. While it can't give the same intensity as the full-sized, corded version, it has the benefits of being much smaller and much quieter. It also gives you more options, with its patterns and cordless body.
My only complaint? Those pretty little grooves around the head are tricky to clean. It also takes a while to turn off, taking about 5 seconds of pressing the — button to go from full speed to off. It's also only splashproof, so you need to be careful while cleaning.
Still, for only $50 USD, this isn't a bad option if you're looking for a tidy little wand vibrator.
#3. Lovehoney Massage Candle, Orgasm Balm, and Bath Bomb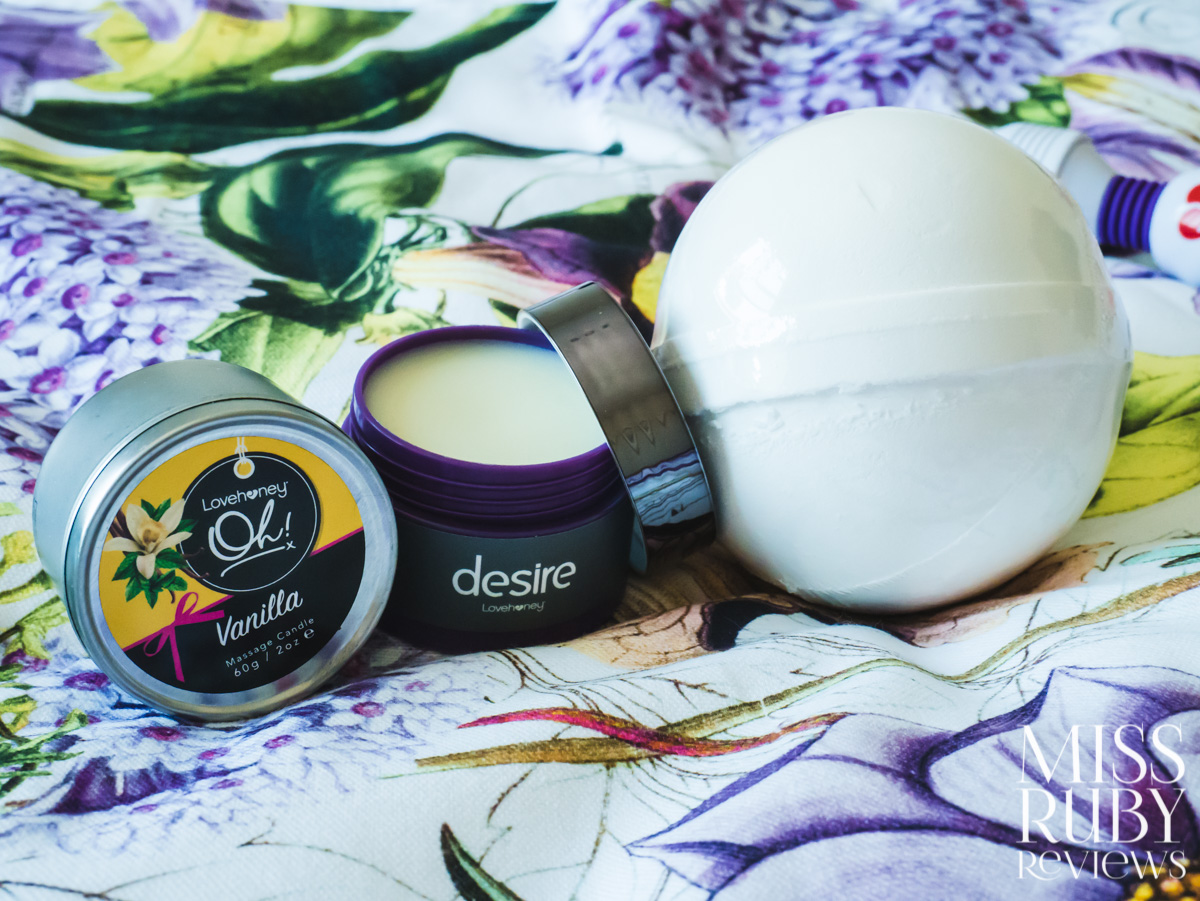 Lovehoney also sent me the Lovehoney Oh! Vanilla Lickable Massage Candle, the Lovehoney Luxury Orgasm Balm, and the Lovehoney Oh! Sex Bomb Sexy Surprise Bath Bomb for Her.
I can confirm that the Massage Candle smells delicious. Once lighted, the wax turns into a warm (but not too hot) liquid that can be comfortably dripped onto skin, then licked off.  This is not condom safe, because the oils will break down most condom materials. But for only $9, this is a cute romantic gift.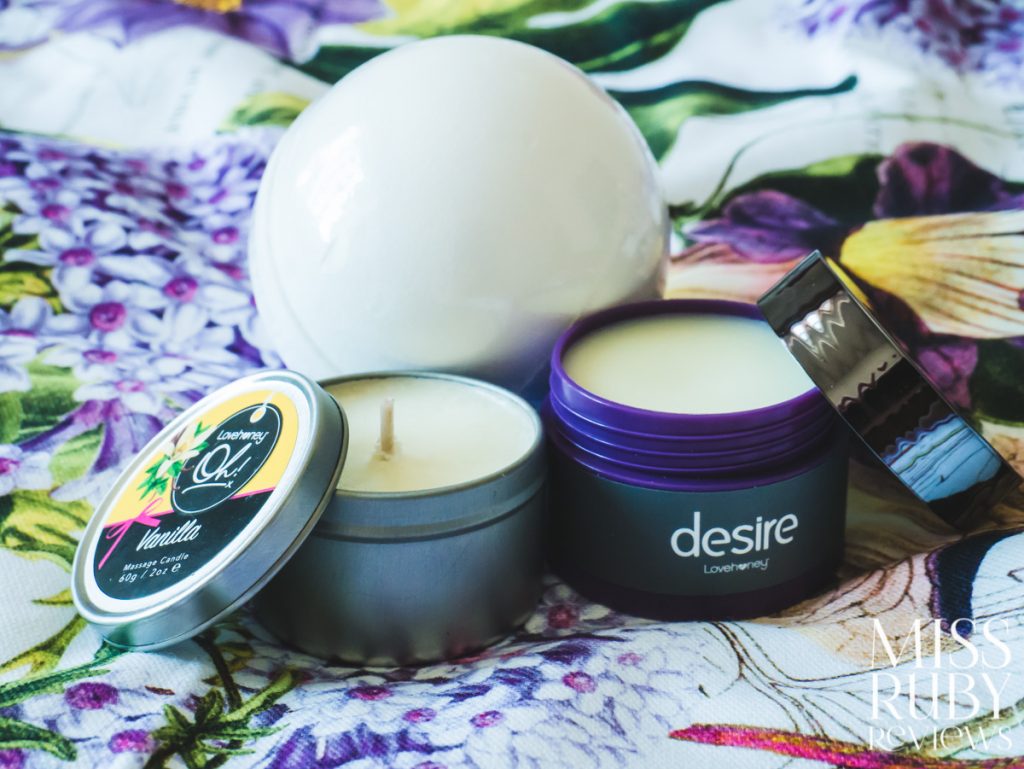 I've never tried any kind of sensitizing lotions or balms, so I was a little apprehensive to try the Lovehoney Luxury Orgasm Balm. This came in a purple 30 gram pot and has a light, refreshing minty menthol smell. It's also quite rich and creamy, given that it has lots of oils (such as peppermint, coconut, avocado, hemp seed, Jojoba, apricot, and shea butter).
I applied a test spot on my wrist and waited 5 minutes. After no immediate red flags, I tried it against my clitoris. It quickly creates a distinct warming effect, as if a heat source is being held extremely close to your vulva. While this was certainly attention-grabbing, I can't say that this is a sensation I enjoy. I found it unsettling and washed it off pretty quick using soap and warm water. This was just my personal preference, of course — if you enjoy sensation play, this might be something you'd like. The 30-gram pot is $25, but a little goes a long way and I imagine this would have lasted a while if I kept using it. Take note that this is for external use only (don't try inserting some of this into your vagina) and shouldn't be used around condoms (condoms and oil don't mix well).
Lastly, the Surprise Bath Bomb is quite large and has a strong, perfumed scent. When it's dropped into warm water, the bath bomb starts to disintegrate to reveal a little kinder egg-like container with a finger vibe inside. While I love this idea, the finger vibe looks to be made from TPE (which isn't a material I recommend) so I can't get behind this $20 purchase.  I suggest skipping this one.
Overall thoughts – Lovehoney Desire Ring and Mini Wand review
I enjoyed the Lovehoney Deluxe Mini Wand and the Desire Luxury Vibrating Double Love Ring because they were bodysafe, well made, and gave decent vibrations.
I hope you read something useful in this Lovehoney Desire Ring and Mini Wand review!
The links in this post point to Lovehoney USA, but if you live outside the USA, Lovehoney has several international sites as well:
Lovehoney USA
Lovehoney UK
Lovehoney Canada
Lovehoney Australia
Lovehoney EU