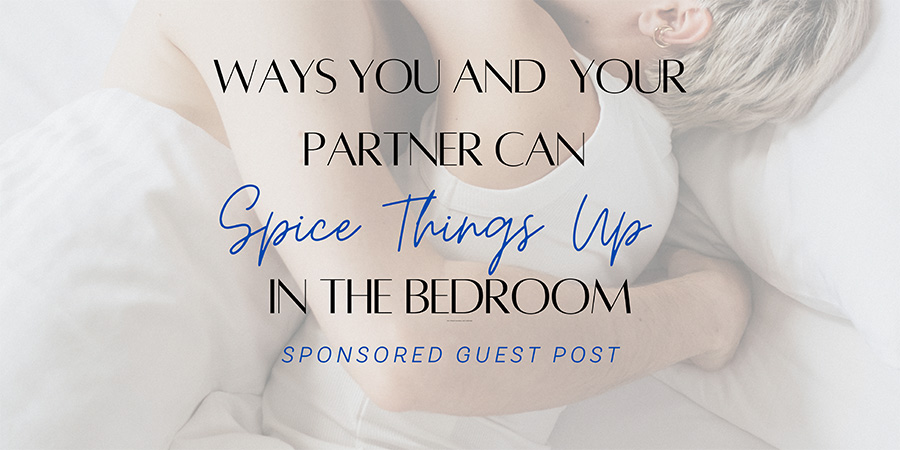 Are you looking to add some excitement and passion to your love life? It's natural for people to want to explore new experiences and keep the spark alive in the bedroom. If you're ready to take your intimate moments to the next level, here are some fun and adventurous ideas to try with your partner.
Experiment with footplay
Engaging in footplay can indeed be a surprisingly sensual and pleasurable experience for both partners. The feet are an erogenous zone for many people and incorporating foot play into your intimate activities can add a new dimension of pleasure and excitement. Take the time to explore each other's feet, using gentle touches, massages or even experimenting with different sensations like ice or feathers. If you're looking for inspiration, you can visit websites or watch foot fetish porn together to get some ideas. Remember, communication is key, so make sure to discuss your boundaries and desires with your partner before diving into this new adventure.
Add to the ambiance by lighting candles
Creating a romantic atmosphere can greatly enhance your intimate moments. Lighting candles can add a soft and warm glow to the room, creating a sensual and intimate ambiance. Choose scented candles to add an extra layer of sensory pleasure. The flickering light and enticing scents can help you and your partner relax and connect on a deeper level. These small yet meaningful details can set the stage for a more romantic and passionate experience, deepening your emotional connection with your partner.
Try out dirty talk
Dirty talk can indeed be a powerful tool to enhance passion and desire in the bedroom. It can help create a sense of intimacy and excitement between partners, allowing them to explore their fantasies and express their desires. However, it is important to remember that communication and consent are key. Before engaging in dirty talk, it is crucial to have open and honest conversations with your partner about boundaries, comfort levels, and what language or phrases are off-limits. It is also important to gauge your partner's reactions and responses during the act to ensure that they are enjoying and reciprocating the dirty talk. Ultimately, dirty talk can be a fun and enjoyable addition to a sexual relationship, but it should always be consensual and respectful.
Role play as characters
Role-playing can indeed be a thrilling and exciting way to explore different personas and scenarios with your partner. It allows you to step outside of your usual roles and engage in new experiences together. Whether you choose to play out a fantasy, act as different characters, or recreate a specific scenario, role-playing can add a sense of adventure and novelty to your relationship. It can also help to enhance communication, build trust, and deepen intimacy between partners. By stepping into different roles, you can explore different aspects of yourself and discover new desires and fantasies. It's important to establish clear boundaries, establish consent, and maintain open communication throughout the role-playing experience. This ensures that both partners feel comfortable and safe and that the experience remains enjoyable for everyone involved. So, if you and your partner are open to it, give role-playing a try and see where your imagination takes you!
Introduce toys
Sex toys can be a great addition to your intimate moments, adding new sensations and experiences to your repertoire. From vibrators to handcuffs, there is a wide range of toys available to suit different preferences and desires. Take the time to explore different options together and find what works best for both of you. Remember, open communication and consent are crucial when introducing toys into your bedroom activities.
Spend more time on foreplay
Foreplay is often overlooked but can be a game-changer when it comes to enhancing pleasure and intimacy. Slow down and take the time to explore each other's bodies, focusing on different erogenous zones and building anticipation. Experiment with different techniques, such as sensual massages or oral stimulation, to heighten arousal and create a more fulfilling experience for both partners.
Amp up your non-sexual forms of intimacy
Intimacy is not just about the physical aspect of a relationship. Building emotional connections and deepening your bond outside of the bedroom can greatly enhance your intimate moments. Take the time to engage in activities that promote emotional intimacy, such as cuddling, holding hands, or having meaningful conversations. By nurturing your emotional connection, you'll create a stronger foundation for a satisfying and passionate love life.
Remember, exploring new experiences and spicing things up in the bedroom should always be consensual and based on open communication with your partner. Take the time to discuss your desires, boundaries, and fantasies, and be respectful of each other's comfort levels. With a sense of adventure and a willingness to try new things, you can create a more exciting and fulfilling love life together.
---
This sponsored guest post was provided. These words are not my own. 
Last Updated on November 13, 2023 by Miss Ruby