Well, this is out of the norm for me!
The Creators
A couple of months ago, I received an email from Daniel, the co-founder of Weapons of Mass Seduction, asking me to try out his new card game. Daniel Dranove , one of the creators of Cards Against Humanity, developed a sex card game with his girlfriend, Kaitlin Johnson. To be honest, I've played neither CAH nor a sex card game, but after checking out their Kickstarter page, I was curious. This game has actually been around for a couple of years now, albeit privately. Kaitlin and Daniel made it for themselves for Valentine's Day back in 2013, but now they've taken things (much) further and arranged to have it professionally designed and marketed.
So What's This Game About?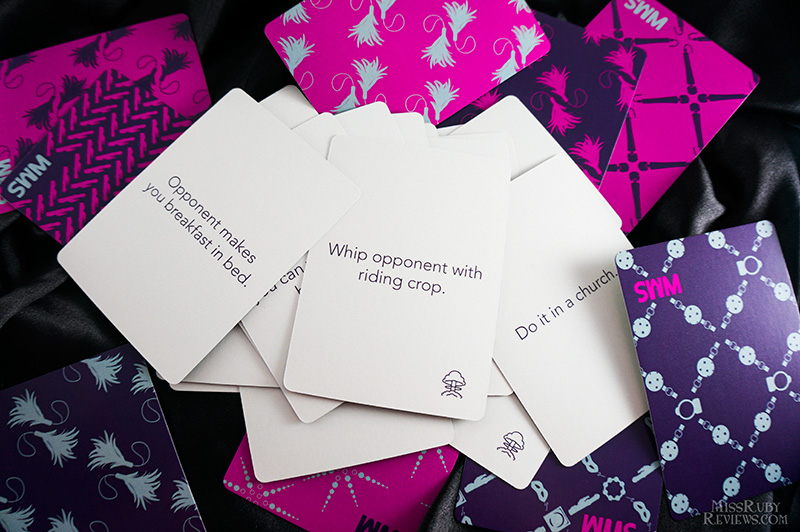 There are two ways to play this game: The Quick and Dirty version and the The Long and Hard version. I received instructions for the Quick version, so that is what my partner and I played, but you can try out demos of both versions on the official website.
The Quick and Dirty version of this game is an elaborate "Would You Rather?" You each take 4 cards from the deck and place down (face down) 1 card that you most want to do and 1 card that you least want to do. Your opponent does the same. Then you both turn over one of your opponent's card. Essentially, from there, you have to guess whether you think your opponent's card is what they most or least want to do. If you're correct, you get to keep the card that you put forth as a favor that you'd like to do. This can be repeated over and over again until the card deck runs out.
It sounds almost too simple, but it's surprisingly fun and engaging in the moment. For example, when my partner turned over one of my cards and saw that it read "Engage in Exhibitionism," he suddenly had to figure out just how much this was something I wanted to do. There was a chance my other card read something that I'd want way more, and it was up to him to determine if exhibitionism was a real interest of mine. His incentive to do so was that he got to keep his favourite card if he guessed correctly. At the end of the round, you disclose which card you actually wanted to do the most.
So, as you can imagine, suddenly you're talking about interests that might not usually come up over breakfast.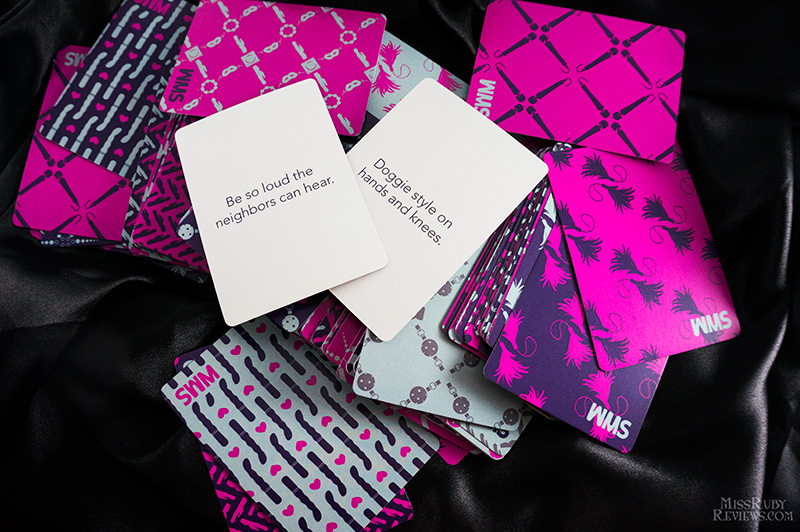 This isn't a card game where you actually engage in sexual activity during the game. Instead, when you finish your game, the point is that you'll finish with a few cards (or "favors") that you can follow through with your partner in the following days. The better you are at guessing your partner's interests, the more favors that you'll finish with.
Obviously, this could cause issues. "Cashing in" your cards has a strong air of obligation to it, which is never a good thing. Fortunately, Daniel and Kaitlin had the brains to bring consent into the front and center. Nothing about this game encourages a player to pressure another into doing something they're not comfortable with.
To do this, the instructions are really clear from the beginning: Weed out cards that you don't feel comfortable with.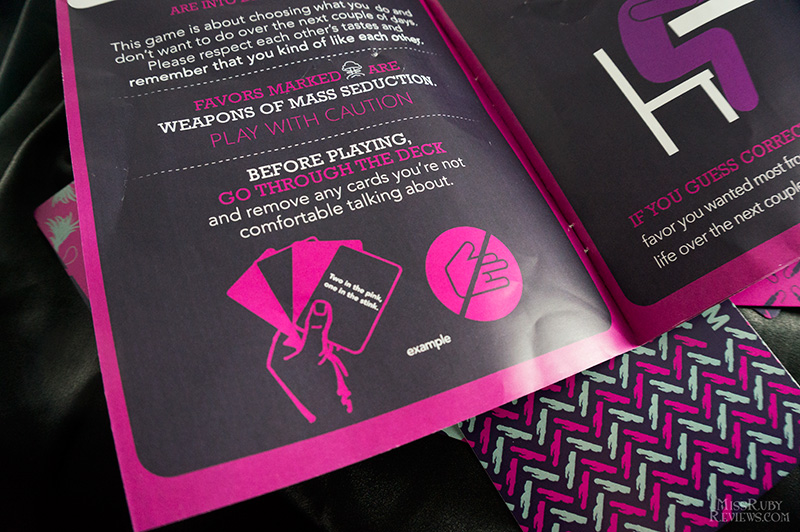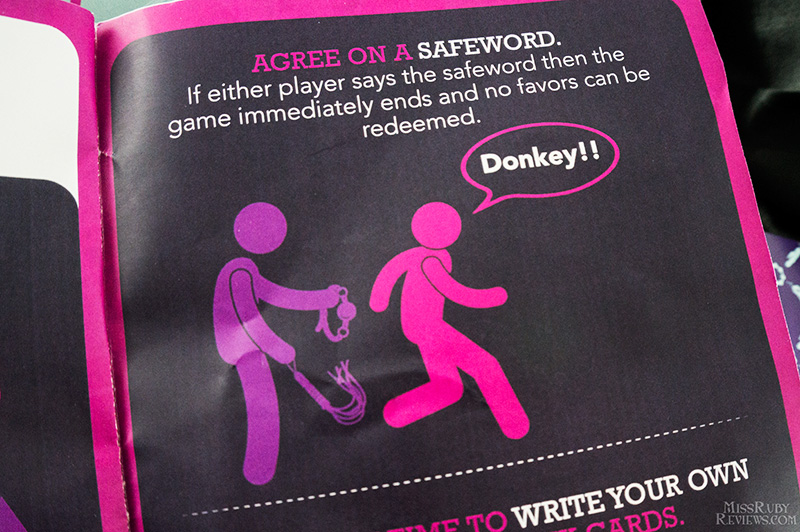 There's around 200 cards in the deck. Some are totally non-sexual ("Opponent makes you breakfast in bed") and others are explicitly sexual ("rim job").  Some cards involve sex toys, but most don't. If you're good with most of the sexual cards but you're not comfortable with any cards to do with anal or threesomes, take them out. The point is that all the playable cards at the beginning of the game are ones that ALL players want to do. Some cards you might want to do more than others, but all cards are things you're comfortable with. Personally, my partner and I cut out nearly half of the playing cards because there were so many we just wouldn't want to pursue. We definitely kept all the sex toy cards (I love having reasons to use my favourite vibe). So, thanks to the large amount of cards, there were still plenty of ones that we were comfortable with (though some definitely made me blush and giggle).
There's also about 50 blank cards, meaning you can write down your own specific fetishes or desires if you don't see them in the stack of pre-printed cards.
Once you've weeded out the cards and you've played the game, the point is to follow through with those favors in the following few days. However, Daniel and Kaitlin have instructed players to agree on a safeword — "If either player says the safeword, then the game immediately ends and no favors can be redeemed."
Having a safeword from the get-go ensures that 100% consent follows throughout the whole process. If a few days down the road you don't feel like doing something, the other player knows to back off when they hear the safeword. Personally, my partner and I would prefer there to be 2 safewords: 1 that stops all favors and 1 that says, "hey, not right now, maybe later." That way, it gives both players the freedom to put off sexual favors until they're in the mood, rather than just scrapping the whole thing forever.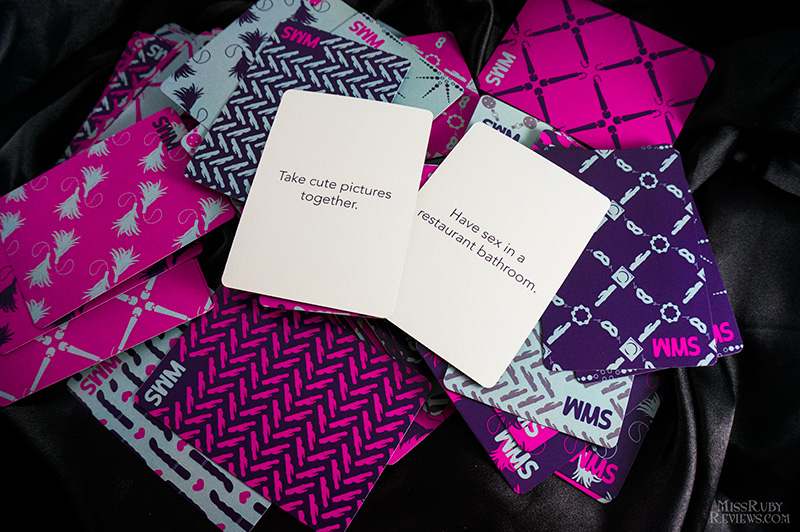 So what did a couple of rounds of this game teach us? This game taught us that we both have sexual wants that we haven't necessarily explored or discussed yet. We laughed, we whispered, we caught glimpses of each other's unexplored sexual interests. This may surprise my readers, but I'm exceptionally private about my sexual wants. I'm super shy, even with my partner, and so playing a game like this gave me an indirect way to point out those wants to my partner. We don't feel that we necessarily need to follow through with those acts after the game ends — the point is that we explore and talk about them in the first place.
So why do I think you should back this? Well, mostly because I'd love to see where this duo-team will take things once they receive funding. They've expressed interest in expanding their current card selection to wider and more diverse range of options, including BDSM and a greater selection of fetishes. They may also explore options for an online version for LDR couples. They certainly look open to seeing what prospective customers want, and I'd love to see where things take off.
But more importantly, I think this game's main value lies is that it opens up communication. It forces you to be honest about your desires, and it encourages you to be upfront about your boundaries. It takes consent seriously while, at the same time, explores new possible avenues of pleasurable fun with your partner(s). As far as I'm aware, that's not all too common in card games.
To back Weapons of Mass Seduction, head on over to their Kickstarter page.