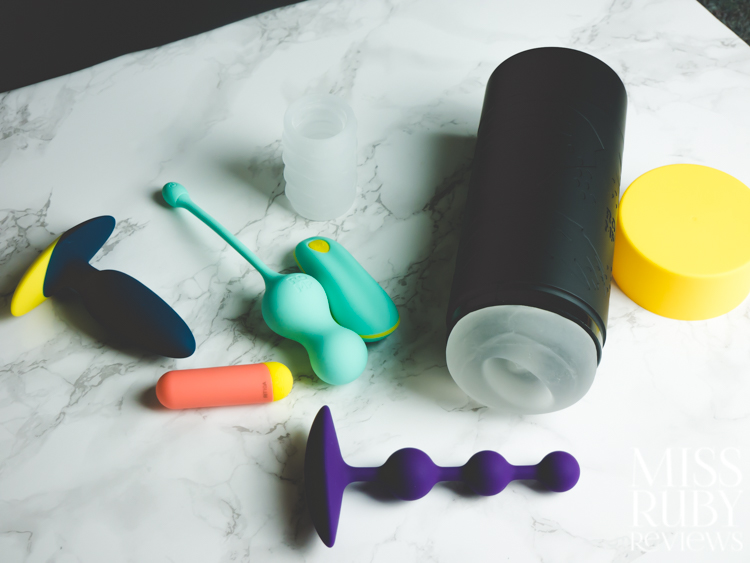 Been curious about the new ROMP toys? Read on for my overview of the ROMP Cello, Riot, Mosh, Amp, Bass, and Dash!

---
Skip to: 
---

About ROMP
If you haven't heard of ROMP, they're a good company to know of. Though they're part of the WOW Tech group (mostly known for high-end, luxury pleasure products like We-Vibe and Womanizer), ROMP sets itself apart by offering low-cost, bodysafe sex toy products. Bodysafe products are becoming financially accessible to more people, thank goodness! Their products range from $12 to $60 and I've been impressed at the quality of their toys.
Also, on a personal taste level, I just looooove their aesthetics. It's all bright pops of colour, modern clean lines, and gender-neutral styles.
I've already tested some of ROMP's earlier products, and I was excited to get my hands on even more toys.
Here are lots of goodies from ROMP to feast your eyes on!
ROMP Cello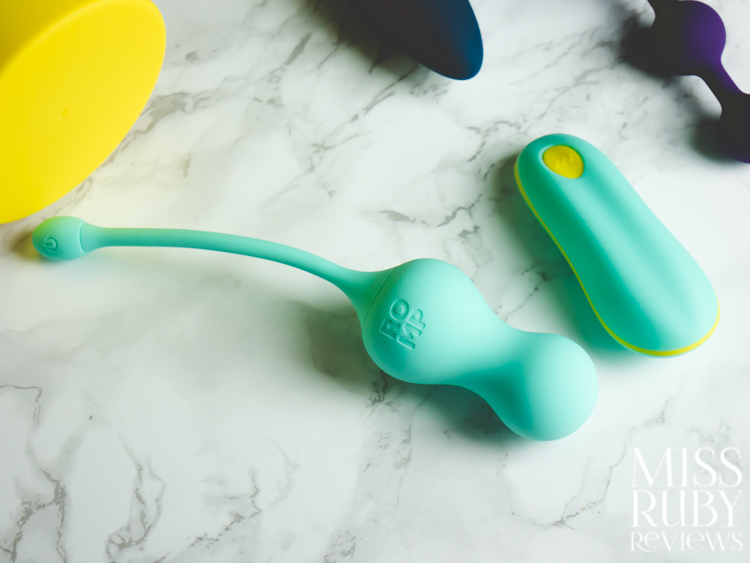 The ROMP Cello is a cute little wearable G-spot vibrator.
Its design reminds me of earlier bead-like Kegel toys — its body is made of two balls joined in the middle. You insert the two balls vaginally and hold them with your Kegels, letting the vibrating motor play against your G-spot. There's also a long tail (for pulling it out) with a control button at the end.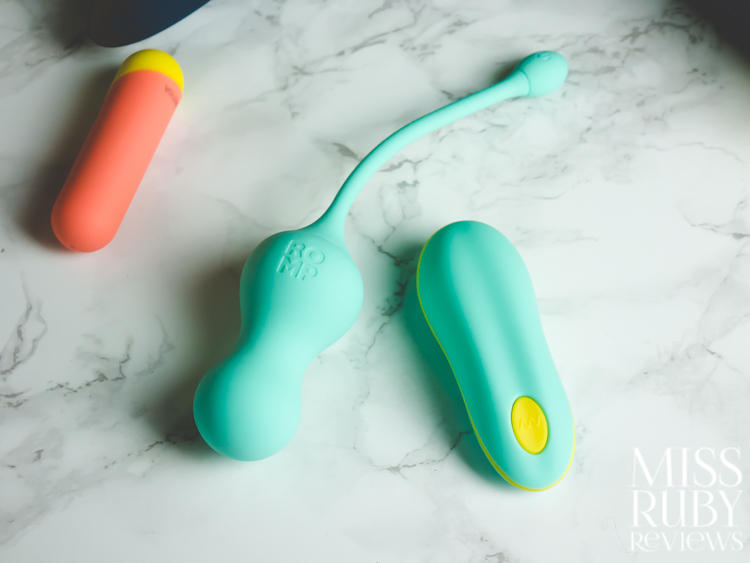 It's also remote-controlled, which is handy. So if you and a partner are walking on the beach, they can control the strength of the motor inside of you. There are 6 speeds and 4 patterns to cycle through. It's made of bodysafe silicone and it's also waterproof and rechargeable. It comes in a vibrant turquoise colour.
The ROMP Cello is $39 USD, making this one of the less expensive wearable G-spot options out there. Its vibrations aren't particularly strong or rumbly, and it's not whisper quiet, but it could be a less-expensive option to try if you're new to this kind of vibrator and want to see if you like it (and don't want to break your wallet investing in a high-end one).
ROMP Riot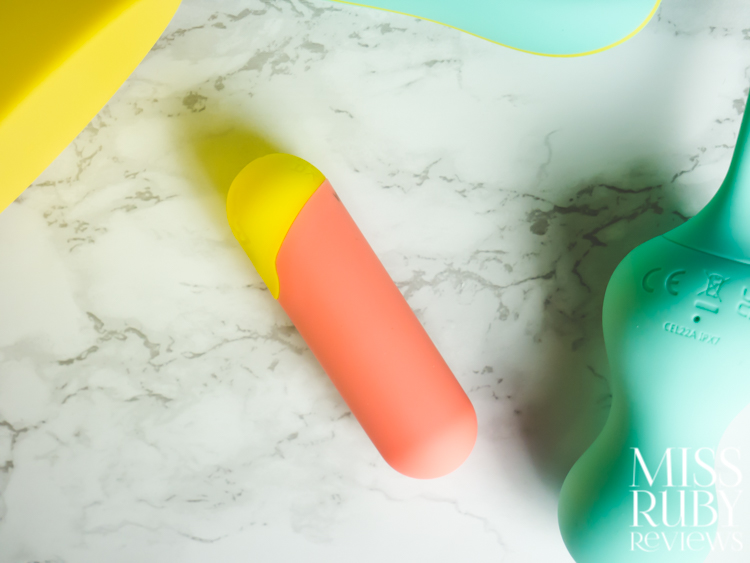 The ROMP Riot is ROMP's smallest clitoral vibrator to date (only 2.5″ long!). Perfectly sized for a small pocket or purse.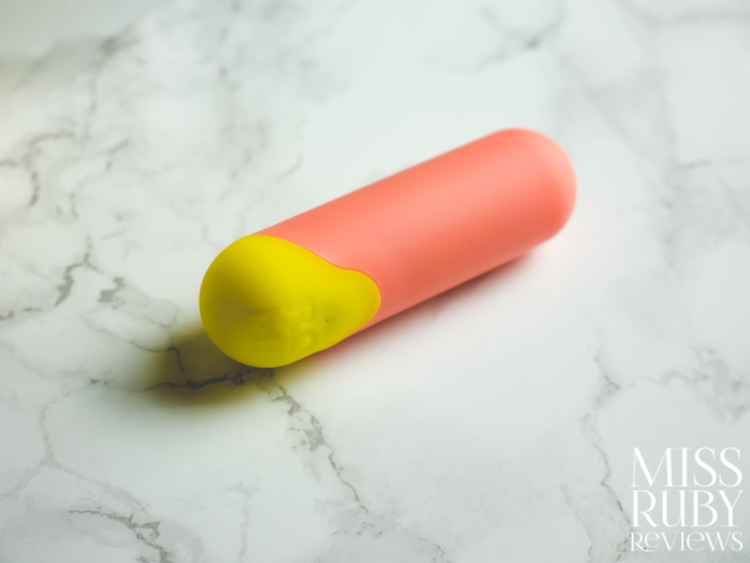 This bullet vibrator was surprisingly a great deal stronger and rumblier than the Cello, especially considering it's so small. Certainly strong/rumbly enough for me to orgasm, which is impressive seeing as it's only $19 USD.
It's also rechargeable, splashproof, and coated in bodysafe ABS plastic. It comes in a bright and fun peach-and-lemon colour combo.
ROMP Mosh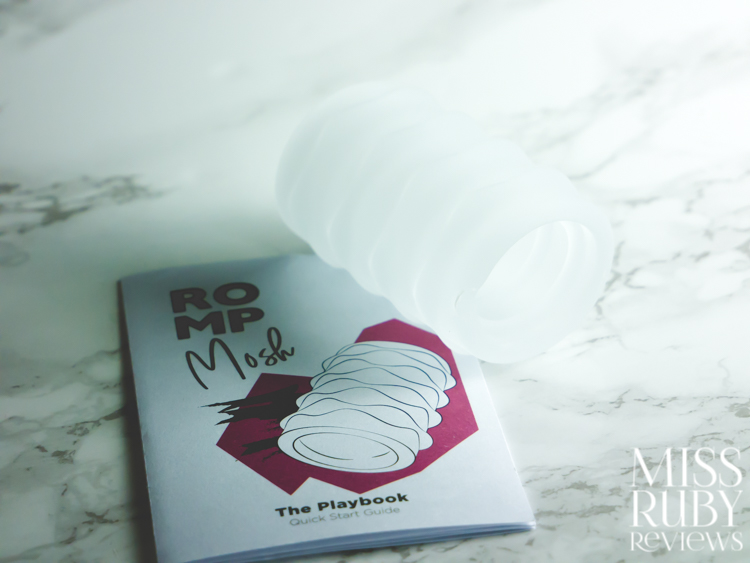 The ROMP Mosh is a stretchy manual penis stroker. Though it looks very small at first (1″ inside diameter), it's extremely stretchy in all directions, so I can't imagine it'll be too small for anyone. The larger you are, the snugger it will feel, though everyone with a penis would be able to adjust the grip of their hand to change sensation/snugness.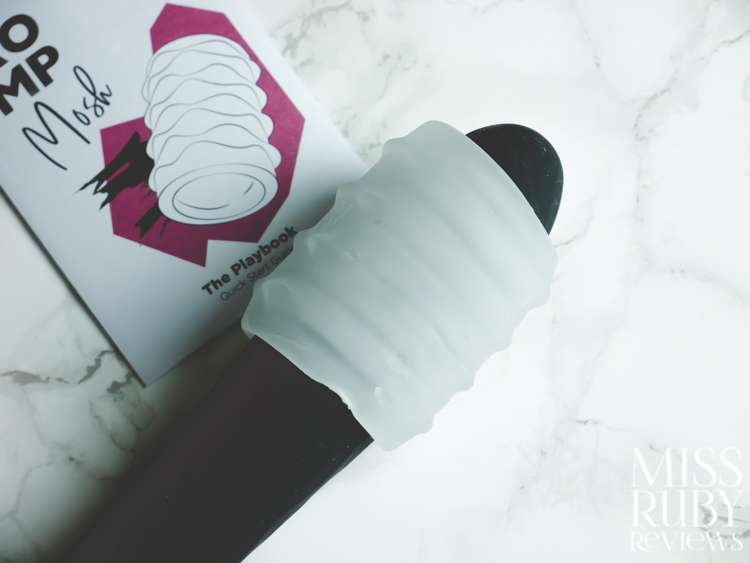 It's reversible (there's a different texture on the outside that you can flip inside-out to enjoy). The default, inner texture is ribbed and regular, whereas the second texture has wavy bumps.
It's made of TPE, which I would generally recommend avoiding when it's by non-trusted brands (ie, lots of the stuff on Amazon). But there are a few brands of TPE penis products I do trust — Tenga, Fleshlight, and now ROMP.
We also love the gender-neutral design and the tiny price point ($12.99). I'm not sure how many times the Mosh is designed to last — At this price, I'm assuming it's not supposed to last forever. So if you've been using it for a while and notice any signs of tearing, etc, it's time to pick up another one.
ROMP Amp and Bass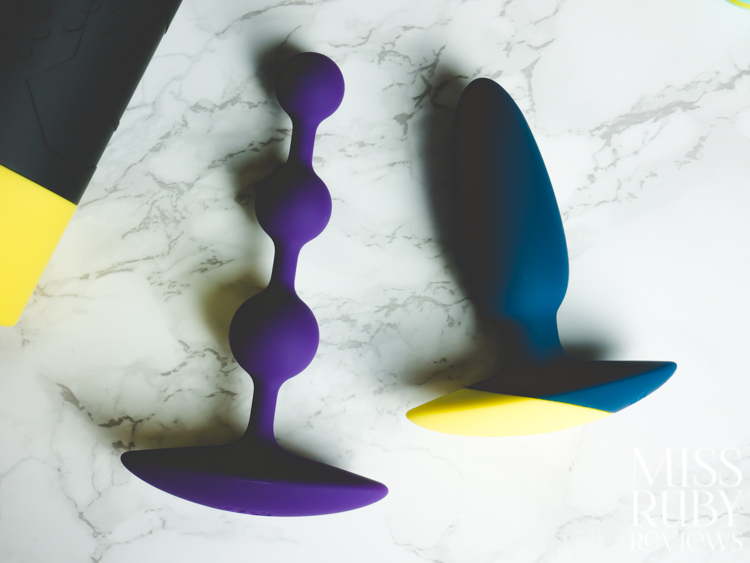 The ROMP Amp (purple) and the ROMP Bass (green and yellow) are currently ROMP's anal toys lineup. I'm loving these colours!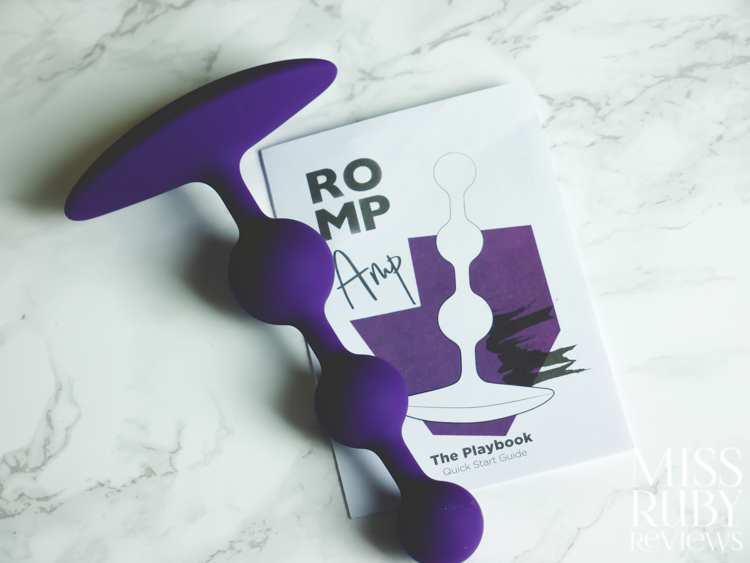 The Amp ($15.99) is a long, thin, flexible set of beads. There's no vibrating motor, and ROMP markets this as an introduction to anal toys. The smallest bead has a 20 mm diameter. The second bead goes up to 22 mm in diameter, and the third bead is 26 mm in diameter.
Like any good anal toy, the ROMP Amp has a wide flared base and is made of a bodysafe, non-porous material (in this case, silicone).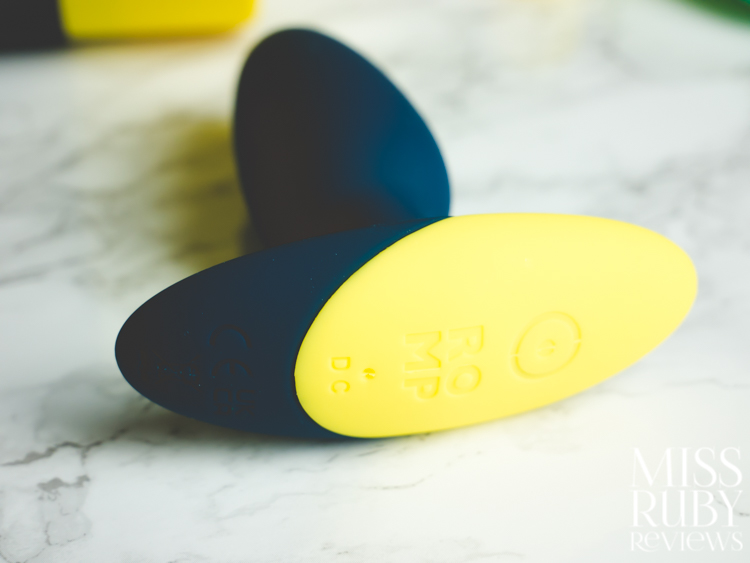 The ROMP Bass ($29.99) is a vibrating anal plug. The plug itself is about 7cm long and 3cm wide (diameter at its widest point). Under the plug, there's a short neck and a generously sized flared base for safety. The motor is pretty good for the price — there are 6 intensities and 4 patterns and it's decently rumbly.
It's also waterproof submersible for easy cleaning, USB rechargeable, and of course coated in silky smooth silicone.
ROMP Dash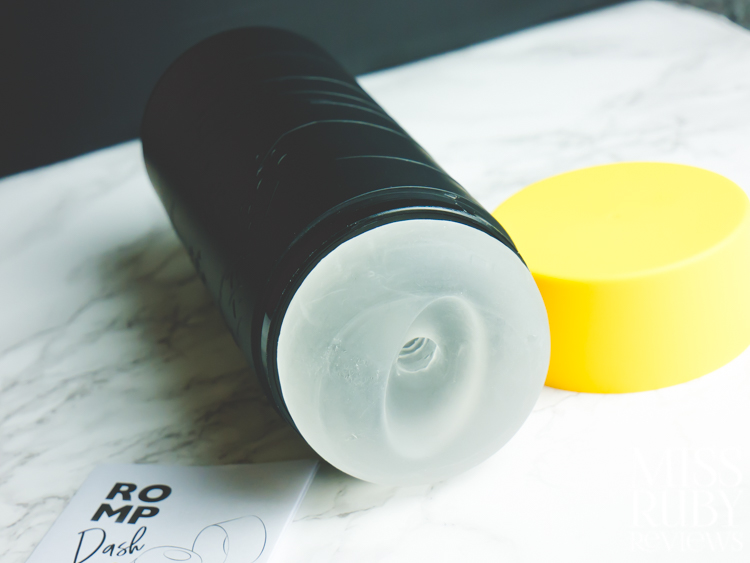 The ROMP Dash is ROMP's larger, more serious penis toy. There's a soft, squishy interior enclosed in a hard case.
The interior is kind of ribbed and the entrance is gender-neutral.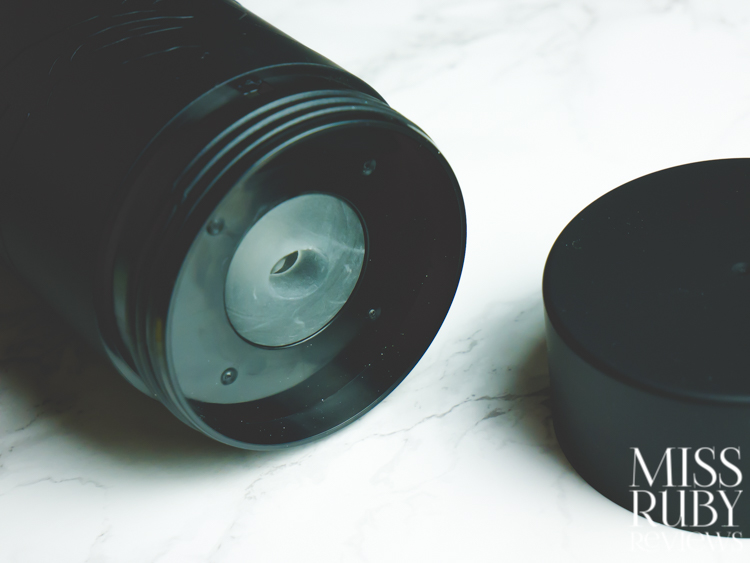 The ROMP Dash doesn't have motors. Instead, it uses a twisty lid at the far end to customize suction strength. You can also remove the cap entirely if you want to see yourself pop out at the end.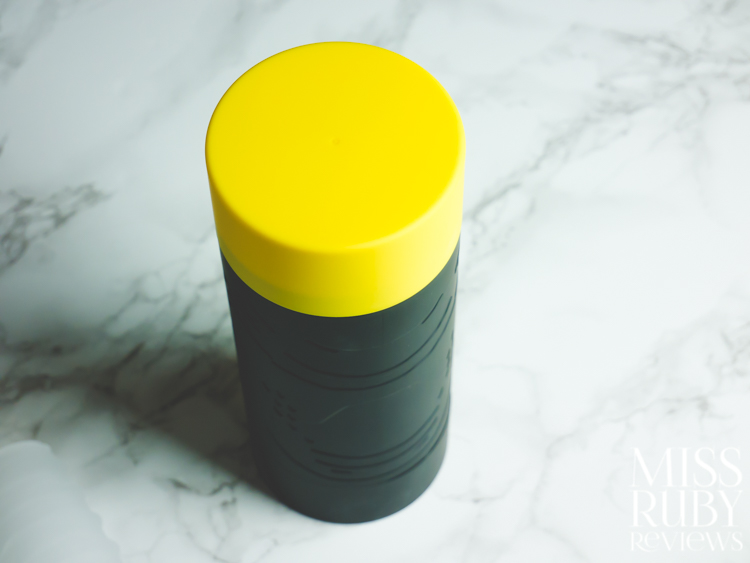 There's also a handy yellow lid on the other side that covers the entrance. This makes travel and storage way easier — my husband thought it was a thermos at first!
Packaging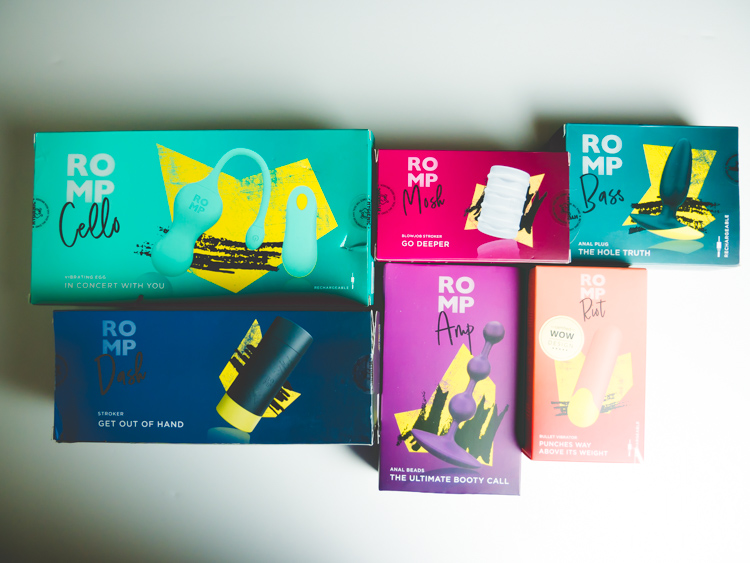 A word on packaging — ROMP's toys are packaged in lovely, bright colours. I love their design scheme. It's not super discreet, but it's fun and not at all tacky.
ROMP Cello, Riot, Mosh, Amp, Dash, and Bass – Overall Thoughts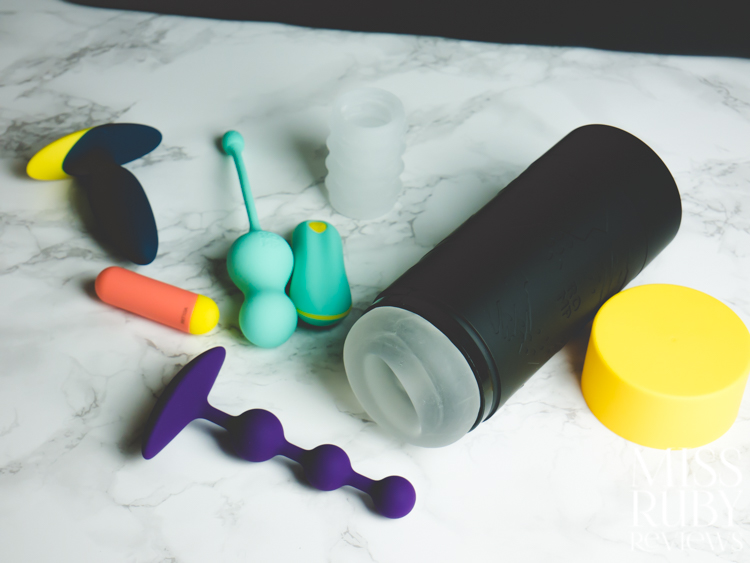 I hope this overview post answered some questions you had about this new lineup of ROMP toys!
You can pick up your own ROMP Cello, Riot, Mosh, Amp, Bass, and Dash right here! Why do I like ROMP? They offer affordable products so that more people can enjoy bodysafe sex toys. They also ship in discreet plain boxes so your purchase remains private!

See below for my ROMP toys overview breakdown.
ROMP Toys Overview
Overall Thoughts - 9
9
$12+
PROS
Low price points
Bodysafe materials
Fun, colourful aesthetics
Gender neutral designs
2 year manufacturer's warranty on their rechargeable items
CONS
Products only come in one colour option per toy
Shop Now