I'm blown away! Thank you to all my readers who voted for me in the Top 100 Sex Blogging Superheroes of 2015 contest! This contest ranks all participating sex bloggers (such as sex toy reviewers and erotica writers) on one big list. One month ago, I called out for your votes, and your support was overwhelming!
This year, Kinkly used a different ranking method than usual. Those with a certain number of public votes went on to be judged by the Kinkly staff based on writing quality, posting frequency and sex-positive content.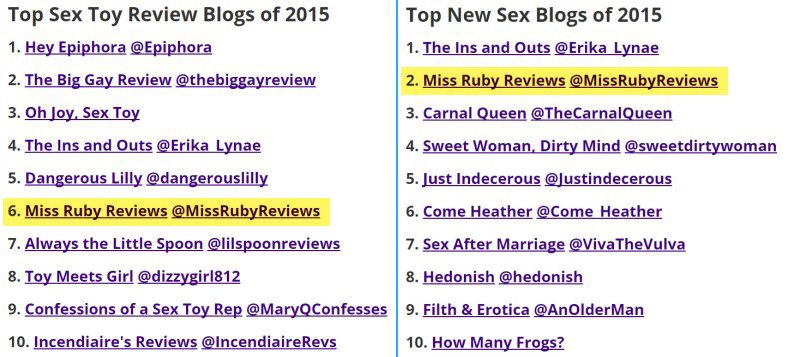 The results are in! I placed:
#31 overall in the Top 100 Sex Blogging Superheroes of 2015 list
#2 for Top New Sex Blogs of 2015
and #6 for Top Sex Toy Review Blogs of 2015
I'm startled and humbled by these ranks. I'm actually super stunned (but very pleased) for making it in the Top 10 Sex Toy Review blogs. I still feel like the new girl on the block and I certainly have moments where I feel quite poorly about my blog and question what I'm doing. But these results really motivate me to continue what I'm doing, and to continue to try improve and grow.
Thank you so much to everyone!