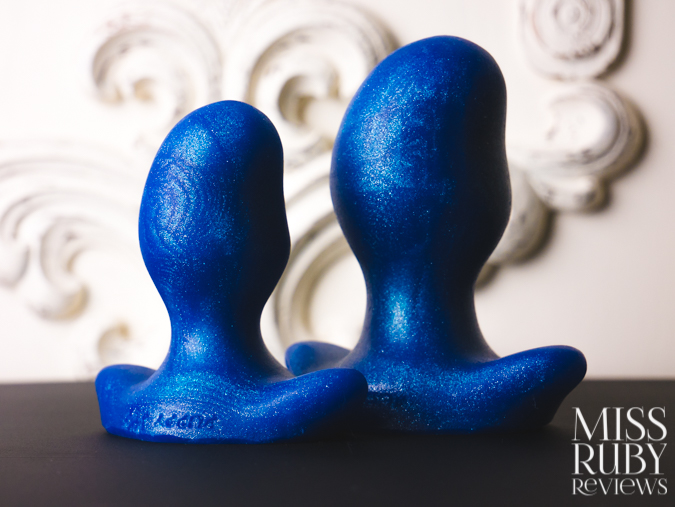 Look at these beautiful Oxballs Ergo plugs! Look at the colour! Swirling majestic metallic blue…
Just launched
The Oxballs Ergo Soft Blueballs Silicone Butt Plugs are a new line of American-made butt plugs. This particular colour release is exclusive to Peepshow Toys, so you won't find them anywhere else. These look pretty amazing. If you've been curious about getting your first butt plug, or you're just wanting to expand your collection, keep reading!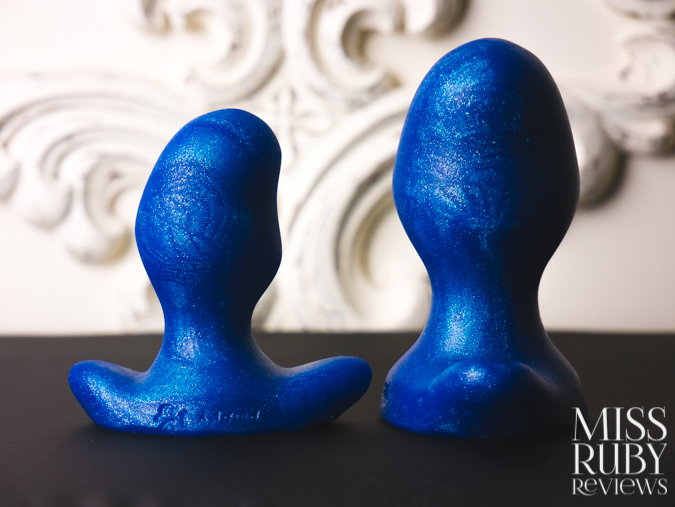 Who is Peepshow Toys?
Peepshow Toys is one of my favourite online sex toy stores. They're headquartered in the USA and you can find pretty much everything under the sun in their store, from classic vibrators to bondage kits to sex furniture.
I've often encouraged my readers to shop at Peepshow Toys because 100% of the toys they stock are body-safe. You won't find any unsafe jelly or rubber toys with them. You won't accidentally buy something that's toxic (which I've totally done when shopping online at other stores).
Peepshow Toys' prices are also fair. If you live outside the USA, they offer affordable international shipping. They ship in discreet plain boxes. And, you can use coupon code RUBY to get 10% off your whole order!
What makes the Oxballs Ergo so fabulous?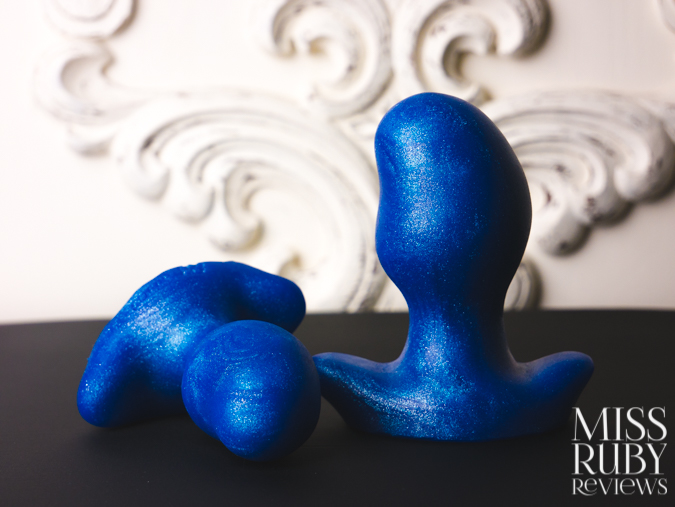 Here are a few things that drew me to this toy:
Designed for comfort
The Oxballs Ergo Soft Blueballs are made from a squishy, blubbery platinum-cured silicone for a super comfortable fit. Silicone comes in a wide range of densities. This silicone, in particular, has a very soft and supple feel, even stretchy. The bulbous body reminds me of a giant blue gummy bear. But it's not so squishy that it won't feel full or satisfying once in place… It keeps its shape well.
Despite its squishiness, it feels sturdy and durable. And with that thin neck and flanged T-base, you can wear this comfortably and safely for long periods.
5 Sizes for the perfect fit
The Oxballs Ergo Soft Blueballs come in a wide range of sizes to suit your body and experience:
Extra Small: 1.3" maximum width; 2.75" insertable length; 3.75" total length
Small: 1.67" maximum width; 3" insertable length; 4" total length
Medium: 2" maximum width; 3.75" insertable length; 4.25" total length
Large: 2.3" maximum width; 4.75" insertable length; 5.5" total length
Extra Large: 2.7" maximum width; 5.75" insertable length; 6" total length
My pictures show these plugs in Extra Small and Small. Unless you're already experienced with plugs, I recommend sticking to Extra Small. It's a big jump from Extra Small to Small!

Hand Poured
This isn't a mass-produced product. It's not even made by machine. The Oxballs Ergo Soft Blueballs are hand-poured in small batches and carefully finished by hand, creating small variations in colour. Each plug is one of a kind! It's great to see such care and artisanal dedication like this.
Colour of the Oxballs Ergo Blueballs
HELLO BLUE MAGIC. The Oxballs Ergo Soft Blueballs are made with sparkly, metallic silicone. It's a rich and vivid shade of blue, and the result is mesmerizing. If you want a butt plug that can remind you of ocean waves, otherworldly galaxies, or a sparkly glitter queen, you've found your match.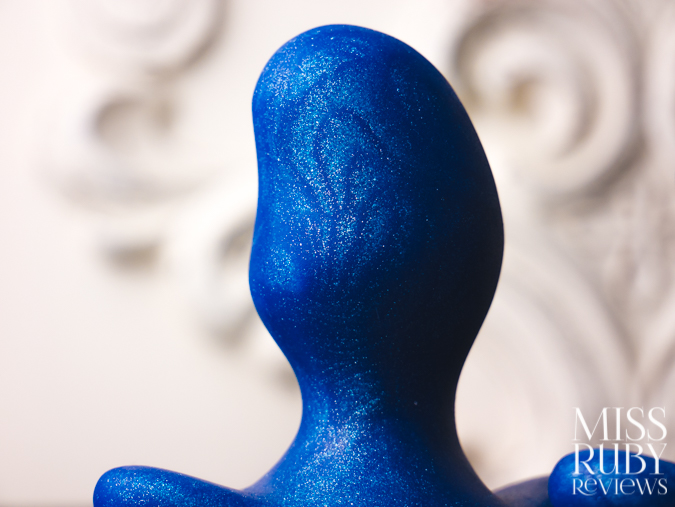 Is silicone all that great?
YES. It is. Silicone is a fantastic material for butt plugs.
Silicone plugs are hygienic.
Platinum-cured silicone is non-porous and non-toxic, making the Oxballs Ergo Soft Blueballs bodysafe.
Unsafe materials like jelly and rubber can retain bacteria because they're porous, but silicone plugs can be thoroughly cleaned. Rinse with hot, soapy water for basic cleaning… or sterilize them by throwing them in the dishwasher. Proper sterilization means they won't retain bacteria, which keeps your GI tract safe.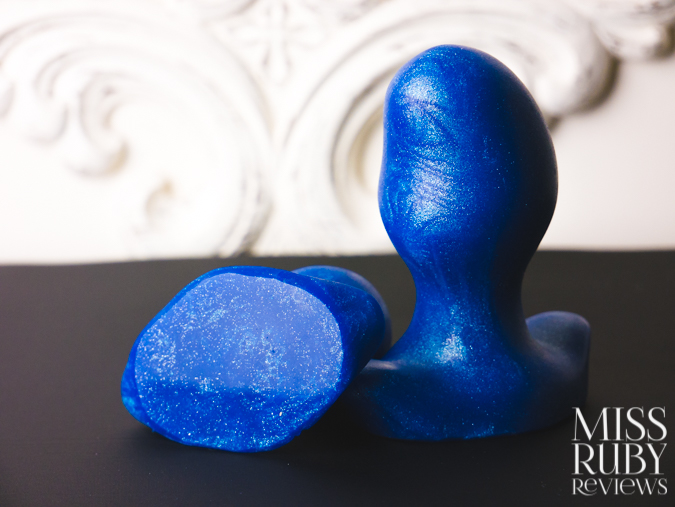 Silicone plugs are more affordable.
Silicone can be way cheaper than stainless steel or (quality) glass options, and that's reflected here. The Oxballs Ergo Soft Blueballs start at only $36.99 USD, whereas similarly-sized stainless steel options can be nearly double the price.
Silicone plugs are comfortable.
Because silicone is flexible and has some give to it, it can move with your body and can be easier to insert. The soft material also makes it easier for long-time wear, so if you want something to wear all day, stick to silicone!
Get your own Oxballs Ergo Soft Blueballs!
If your curiosity has been piqued, you can get your own Oxballs Ergo Soft Blueballs exclusively from Peepshow Toys.
Depending on the size you choose, prices range from $36.99 to $96.99 USD. This includes FedEx 2-Day Air shipping to anywhere in the United States.
Lastly, for an additional 10% off your whole order, don't forget to use my coupon code RUBY at checkout!
This post was sponsored by Peepshow Toys. All opinions are my own.